Franco in lofty company with 20-homer season
Schmidt, Rolen among other Phillies third basemen to reach mark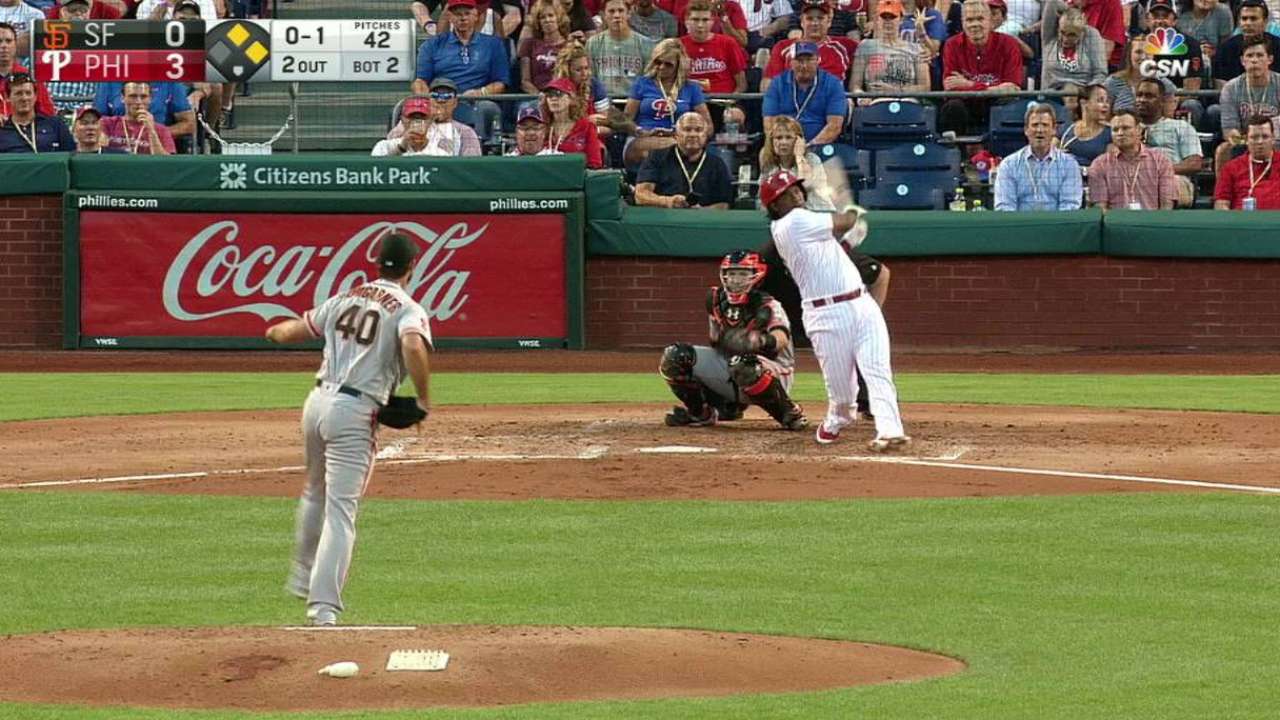 PHILADELPHIA -- He is only 23 years old, but Maikel Franco ascended into the ranks of Scott Rolen and Mike Schmidt, fittingly, in a 13-8 slugfest of a win over the Giants on Tuesday.
In 133 years of Phillies baseball, 28 times has their third baseman hit at least 20 home runs in a season. Schmidt did it 13 times. Rolen five times. And Franco once. Rolen and Dick Allen are the only two to do it as young as Franco. Allen left the yard 20 or more times as a 22- and 23-year-old, then twice more. Rolen's five came consecutively, from his age 22 to 26 seasons. His power peaked in Philadelphia at the same age Franco is now: 23, when Rolen hit 31 jacks. Franco is on pace for 30 this season.
"I feel pretty good about that," Franco said. "I get excited. I understand the situation, but I'm just coming in every day and doing everything I can do."
The milestone night couldn't have come in a better fashion. Not only did Franco put his 20th ball over the wall, he reached base five times in a 4-for-4, four-RBI performance. It was the first time Franco had ever reached base five times in a game.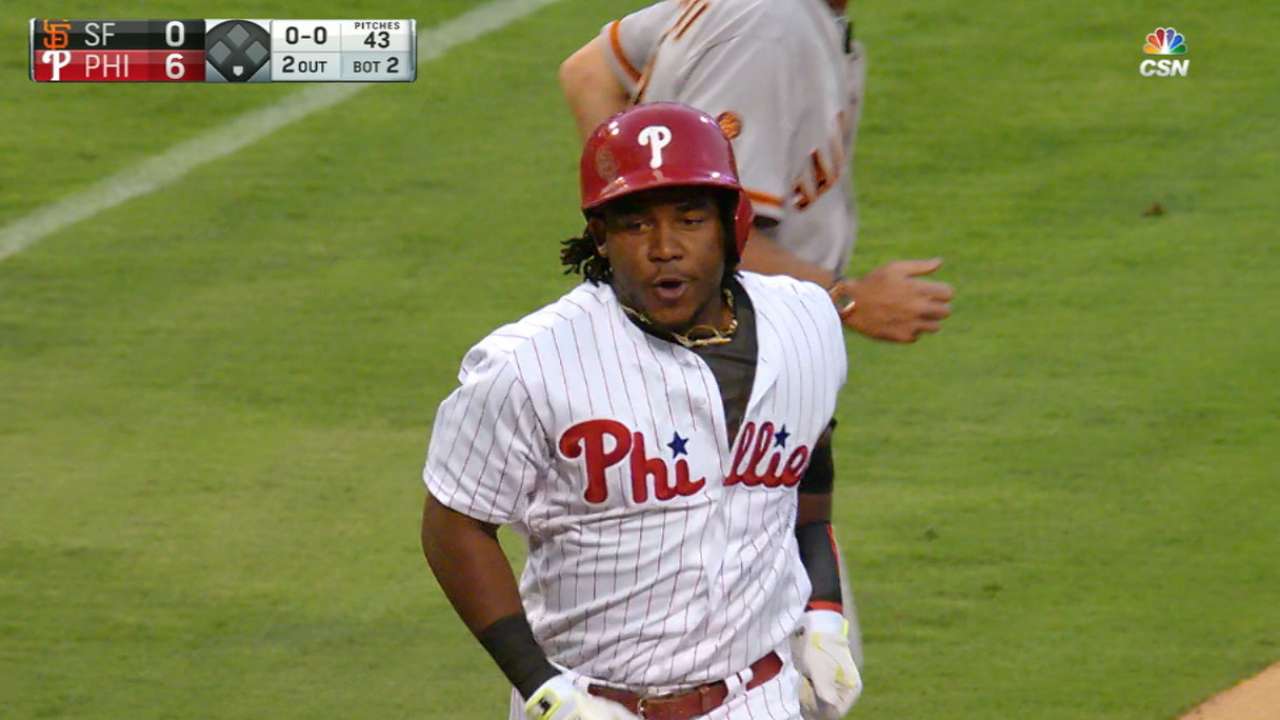 With Franco hitting third, Aaron Altherr second and Cesar Hernandez leading off, the trio combined to go 11-for-14 and drove in nine of the Phillies' 13 runs.
"Especially at the top of the lineup, it's huge, being the tablesetters to get on base and drive runs in," said Altherr, who went 3-for-5 with five RBIs himself.
"Being a young team, we feed off all the energy we can get," Altherr continued. "We're just going to keep getting better and better as we play with each other more."
Altherr said he could definitely envision a top third of the order like Tuesday night's -- a top of the order that can grow together. Altherr is 25, Hernandez is 26. And don't forget about Odubel Herrera, who has helped set the table all season and is 24 years old. Pinch-hitting, he dove into first to beat out a single in the eighth.
But Franco has always been the centerpiece of the rebuild. His top-prospect status brought a glimmer of hope to a dim season when he was called up last year. In his first full Major League season, despite some ups and downs, he is by and large living up to the hype.
"Franco, it's great to see him bust out after I think he was 0-for-20 in his last 20 at-bats to get four hits, hit the home run," manager Pete Mackanin said. "It's good to see everyone kind of get it together."
The latest slump Franco had been mired in -- it was 0-for-17, not 0-for-20, but also 8-for-his-last-52 -- coincided with yet another downturn for the Phillies offense. It was averaging just three runs a game over its past 15 before Tuesday's 13-run outburst.
For Franco, he said he didn't change anything. Some nights the ball just looks like a beach ball. On Tuesday, it just happened to be Madison Bumgarner's -- he of the second-leading ERA in baseball, behind only Clayton Kershaw -- whose pitches were enlarged to practically the entire Phillies order.
Evan Webeck is a reporter for MLB.com based in Philadelphia. This story was not subject to the approval of Major League Baseball or its clubs.