Local product Frazier delivers vs. Braves
Pirates infielder drives in two decisive runs during 4-run fifth inning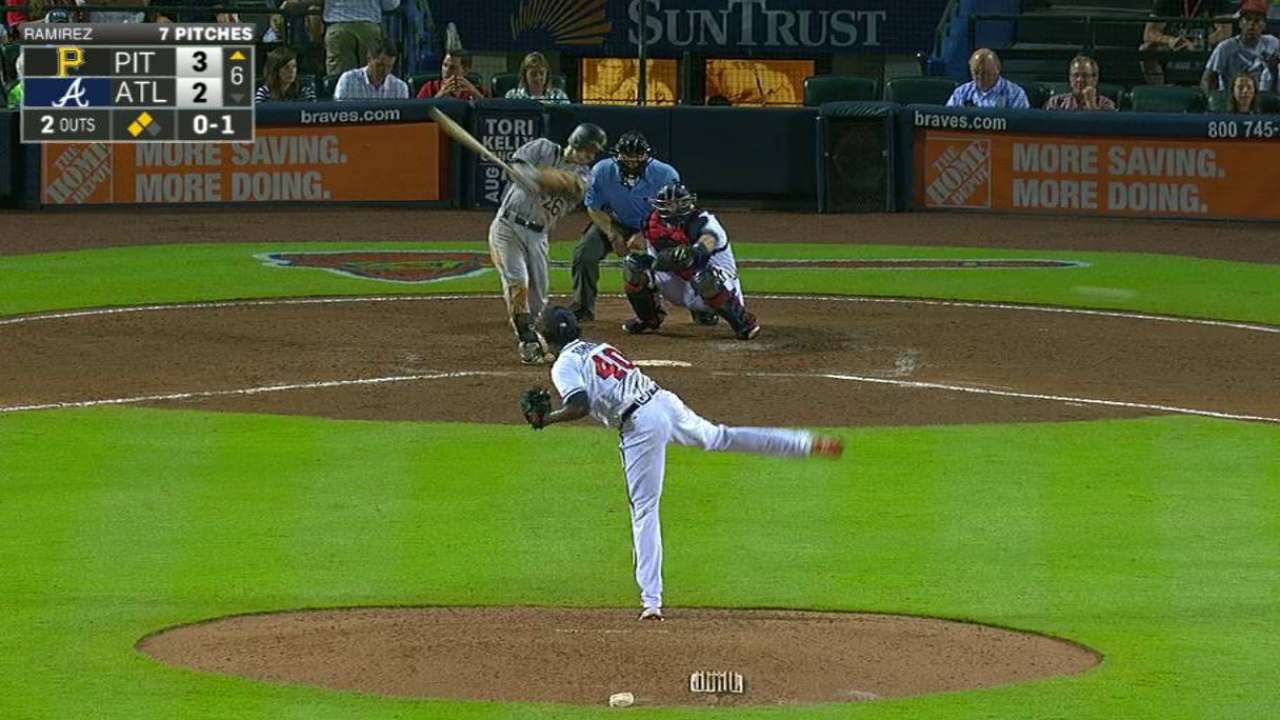 ATLANTA -- Adam Frazier wasn't going to be deterred.
With the Pirates trailing in the fifth inning on Tuesday night at Turner Field, the utility man and native of Athens, Ga., dug into the box with a runner on first looking to provide an offensive spark by registering his team's first hit of the game.
Pitch after pitch, he kept the at-bat alive. But after fouling off nine of Mike Foltynewicz's previous 12 deliveries, he realized his goal, lining a double to right field on the 13th pitch of the at-bat to set the stage for Pittsburgh's first run in a 5-3 win over the Braves.
"That's a big at-bat," said Pirates manager Clint Hurdle. "You've got to get to that point, as well, but that was a big tipping point in the game. He's swung the bat well for us, and he's found a way to hunt some RBIs in some pretty key situations, as well."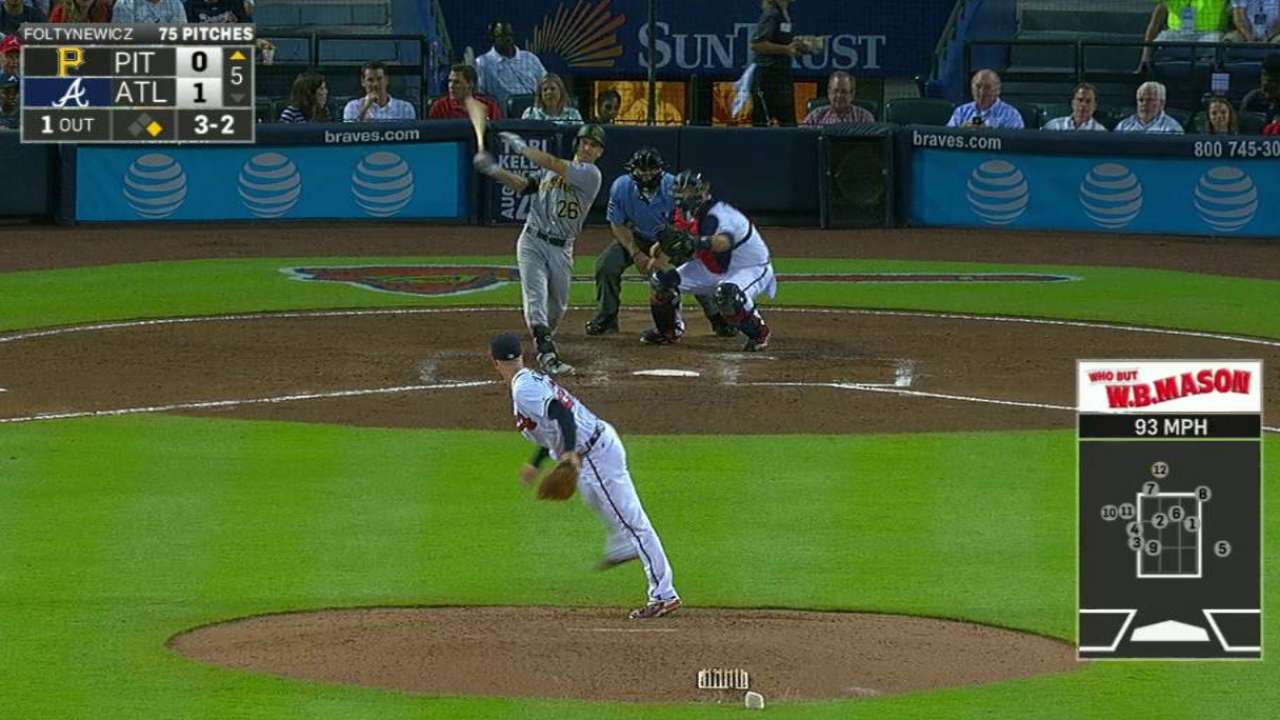 Frazier came through for his team once again an inning later, when he capped a pivotal four-run sixth with a two-out, two-run single down the third-base line that gave Pittsburgh a 5-2 lead.
But before his aggressiveness gave way to his heroics, the 24-year-old learned yet another lesson in his young career.
In the top of the fifth, A.J. Pierzynski bounced a slow chopper toward the middle of the infield. Frazier, as assertive as always, came charging toward the ball at full speed despite shortstop Jordy Mercer calling him off. But his cries fell on deaf ears.
The ball ricocheted off the base of Frazier's glove and rolled into left field, allowing Ender Inciarte to score the first run of the game from first base.
"I've had experiences where I've done that before," Frazier said. "The quicker you bounce back, the better. You just can't let that bother you. … It was tough, but you've got to let it go."
And when he came to the plate in the bottom of the frame, eyeing his team's first hit, Frazier had already put the play behind him, turning his focus to the plate.
On a team with established starters at each position and a deep bench, he continued to make himself stand out with his 2-for-4 effort on Tuesday. Frazier -- who has played right field, left field and second base this year -- is batting .367 in his first 24 Major League games and has hit .379 with six extra-base hits over his past 11.
And even his fifth-inning miscue wasn't going to deter him.
"He went to make a play, and that's one he can learn from," Hurdle said. "He didn't let it back him off the flame, though. He did not hit the air breaks. … I think he's got a very good internal clock for the game and he's very aggressive."
Pat James is a reporter for MLB.com based in Atlanta. This story was not subject to the approval of Major League Baseball or its clubs.