Anibal avoids big inning, sets Tigers up for success
DETROIT -- Anibal Sanchez looked around and saw White Sox baserunners at first and second. He looked at the plate and saw pesky rookie Tim Anderson, with Melky Cabrera looming on deck. The big inning that had plagued Sanchez in so many starts this season was at hand.
It got lost by the end of Tuesday's 11-5 Tigers win over the White Sox, but the game turned in the fifth -- not just the six runs Detroit scored in the bottom of the inning, but the runs Sanchez prevented at the top.
"For me, that's the key of the game," said Sanchez, whose six innings of one-run ball earned him his first win as a starter since April 28.
Not only had Sanchez not won a start in over three months, the Tigers had lost every one of his 11 starts since, in large part due to the big inning. So often, it happened during the third trip through a batting order, which in Tuesday's case had just begun with Adam Eaton before his walk moved Tyler Saladino to second base with nobody out in the fifth and the White Sox already holding a 1-0 lead.
Somewhere, Sanchez needed an out, a chance to take a breath. He found it out of the corner of his eye when Saladino took off for third. The throw was lobbed, but effective, starting a rundown that ended up with Saladino retired and Eaton on second.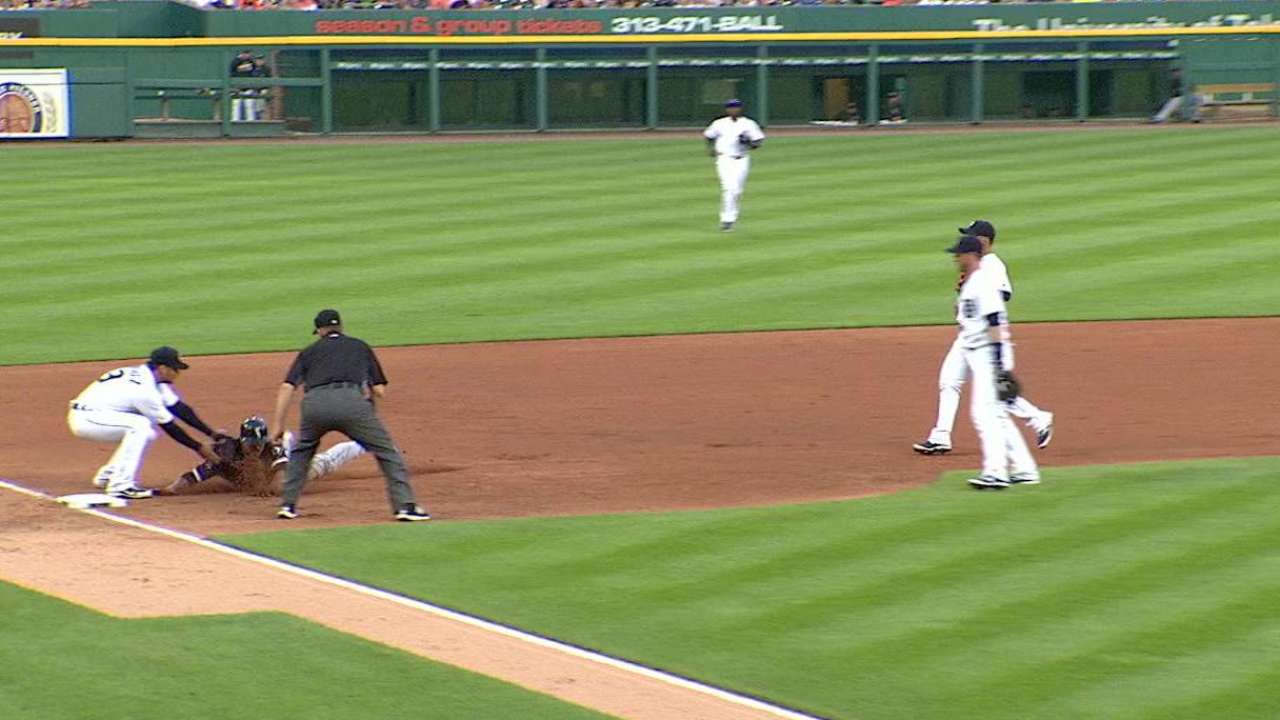 "Those two guys are faster," Sanchez said. "Take one of those guys, put me with one out and a runner on second."
Step by step, Sanchez worked his way out of it. With first base now open and one runner on, he had a little leeway with Anderson, who had hit into an inning-ending double play his previous time up. This time, he jammed Anderson with a fastball, inducing a popout to catcher James McCann behind home plate.
"After that, I just want to throw a really good pitch to get out of the inning," Sanchez said.
He had to throw it to Melky Cabrera, who was 15-for-34 off Sanchez entering the night. Cabrera gave his first pitch a ride to left, sending Justin Upton to the warning track, but it stayed in for the third out.
It was the closest the White Sox came to a home run off Sanchez, who lost to the Sox a week and a half ago with help from a three-run homer by Eaton. While Sanchez's strikeout total was down in the rematch, he gave up only one extra-base hit, and he erased two baserunners with double plays. It was enough to keep his rotation spot with Mike Pelfrey going to the 15-day disabled list.
"I feel good right now," Sanchez said. "I threw my best game of the year, and that's all I can say."
Jason Beck has covered the Tigers for MLB.com since 2002. Read Beck's Blog, follow him on Twitter @beckjason and listen to his podcast. This story was not subject to the approval of Major League Baseball or its clubs.