Youngsters will be on display in stretch run
Marte, Bandy homer, Bedrosian earns first save in win over A's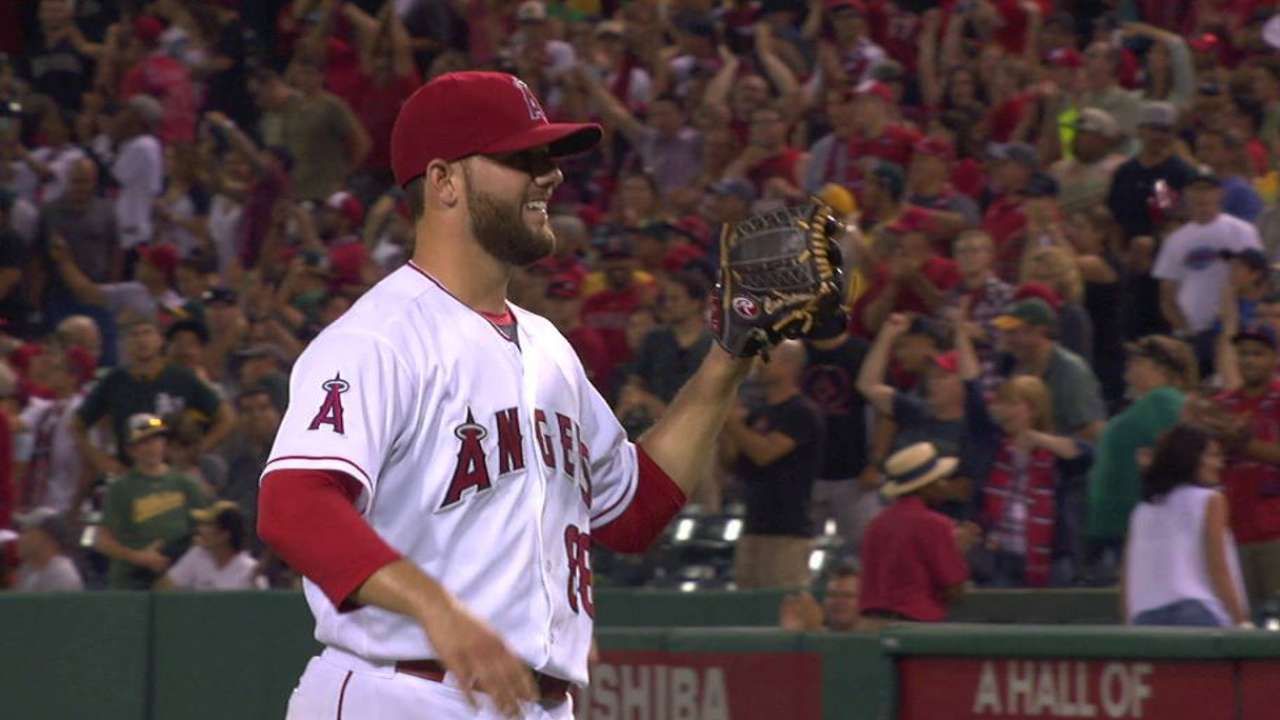 ANAHEIM -- The non-waiver Trade Deadline often forces teams to pick a path. The moves that are made -- and usually the ones that are not -- typically convey how respective front offices feel about their rosters, either good enough to compete in the immediate summer or better off clinging to hopes for the seasons that follow. And with all that comes a sense of closure.
The Angels -- 11 games below .500 and 14 1/2 out of first place when July finished, even though they won four more games than they lost that month -- are there now. It is, unofficially, time to see what they have in the young players who could determine the team's future. And that's why nights like Tuesday, which ended in a 5-4 win over the division-rival A's, are so encouraging.
Jett Bandy, seeing more time behind the plate because Geovany Soto has a sore right knee, tied the game with a two-run homer. Jefry Marte, drawing starts against lefties because C.J. Cron broke his hand, provided the lead with a three-run shot. And Cam Bedrosian, the de-facto closer because Huston Street was placed on the disabled list before the game, struck out the side to hold a one-run advantage in the ninth, recording his first career save.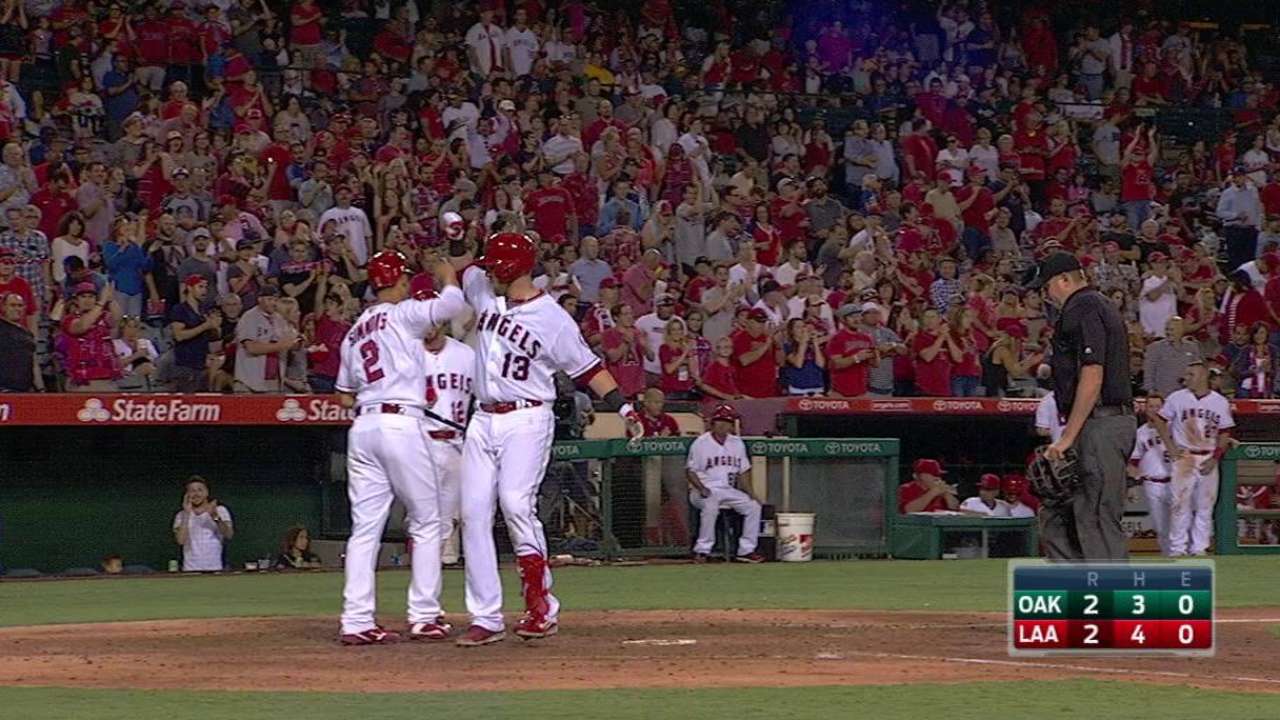 Prior to the game, Angels manager Mike Scioscia was adamant in saying that "there's absolutely no white flag being rung up" by his club, even though the trades of Hector Santiago and Joe Smith appeared to hint at such.
Scioscia stressed that every roster decision the Angels make will continue to be motivated by the prospect of winning in the present, and that young players will only get playing time if they help that cause.
"These guys are in the big leagues to help us win games now, and that's going to be our focus," Scioscia said. "I really believe by doing that we're going to get a read on these guys, and hopefully they'll help us win now and improve for the future."
Bedrosian's ERA is down to 0.90. He's struck out eight consecutive batters, tying the franchise record set twice by Hall of Fame pitcher Nolan Ryan. And he's gone 24 consecutive appearances without allowing a run, striking out 30 batters and walking only five of them in 22 2/3 innings.
The Angels took Bedrosian -- son of Cy Young Award-winning closer Steve Bedrosian -- with the 29th overall pick in 2010, then watched him struggle to a 5.81 ERA through 51 appearances over the last two seasons. He has since gained command of his breaking ball and thrown strikes more consistently, and because of that, his confidence has emerged.
"The stuff obviously is there," said Street, who's hoping a cortisone shot can heal some inflammation in his right knee. "But this year he's really continued to attack the zone, attack the zone, and force the issue from the other end."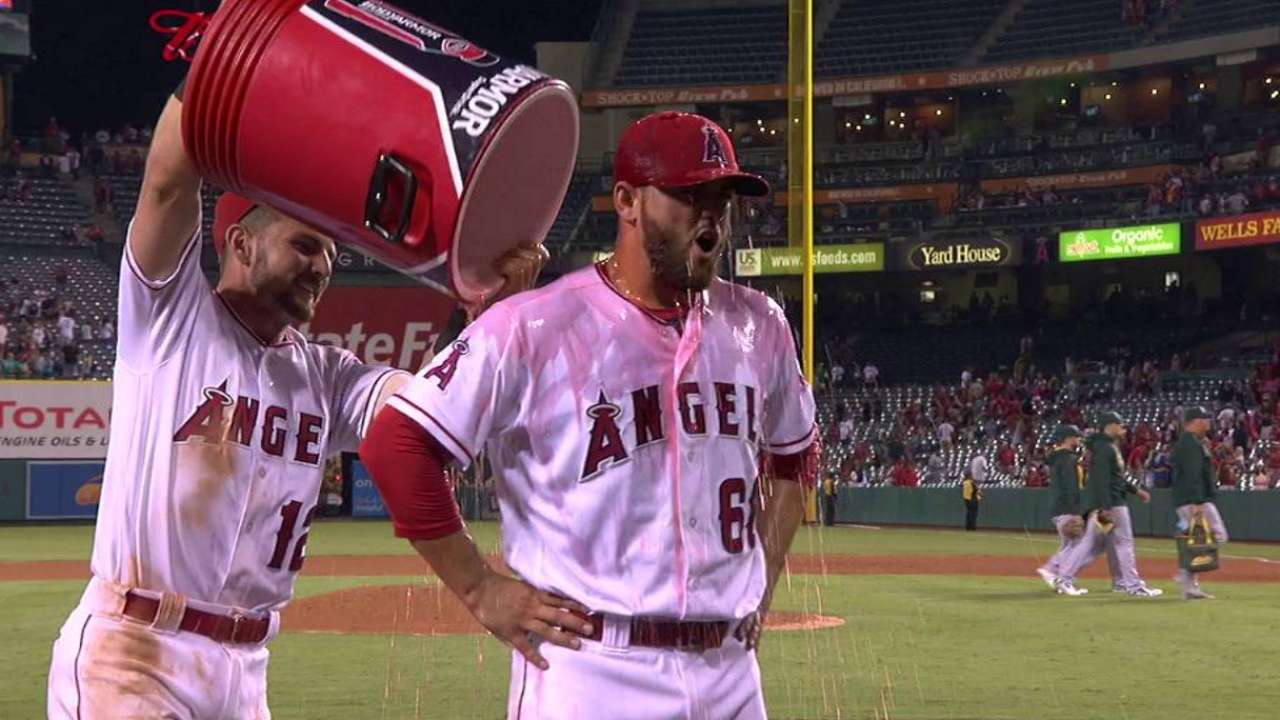 Bandy and Marte, both rookie-eligible, were nowhere near as heralded as Bedrosian.
Bandy, 26, was a 31st-round Draft pick who wasn't supposed to be good enough to even reach the Major Leagues. But he made profound improvements defensively, and he's batting .294 with three home runs over his last 15 starts, while basically splitting time with Carlos Perez.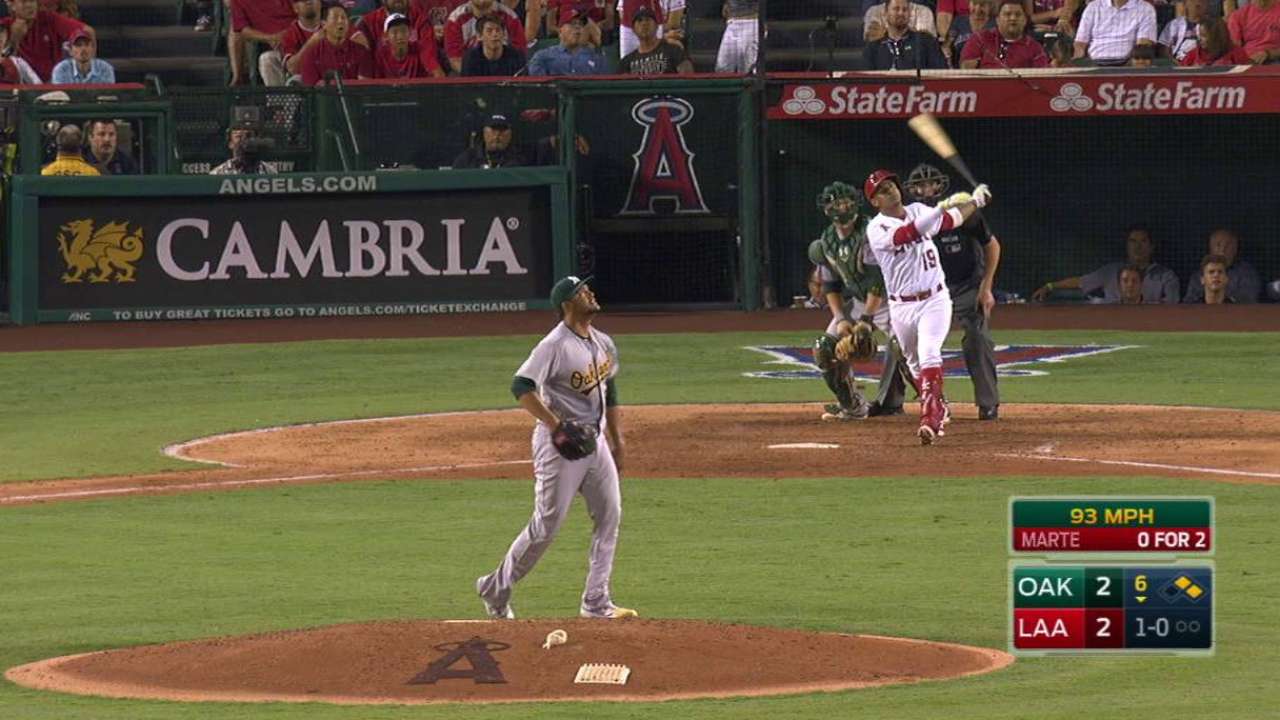 Marte, 25, was claimed off waivers by the Tigers and probably wouldn't have played for the Angels had their first baseman not been hurt or their left-field production been so poor. But he's shaken off some struggles and has provided enough power to keep a job, going 10-for-27 with five extra-base hits over his last 10 games.
"These guys are here because they're Major League players, and they're good Major League players," Scioscia said. "Maybe they don't have as much experience, but they're playing at a high level, and that's really what's important to us right now."
Alden Gonzalez has covered the Angels for MLB.com since 2012. Follow him on Twitter and Facebook, and listen to his podcast. This story was not subject to the approval of Major League Baseball or its clubs.