Royals rookie Strahm holds fine line vs. Rays
Lefty rewards manager's faith with 2 strikeouts to end threat in 7th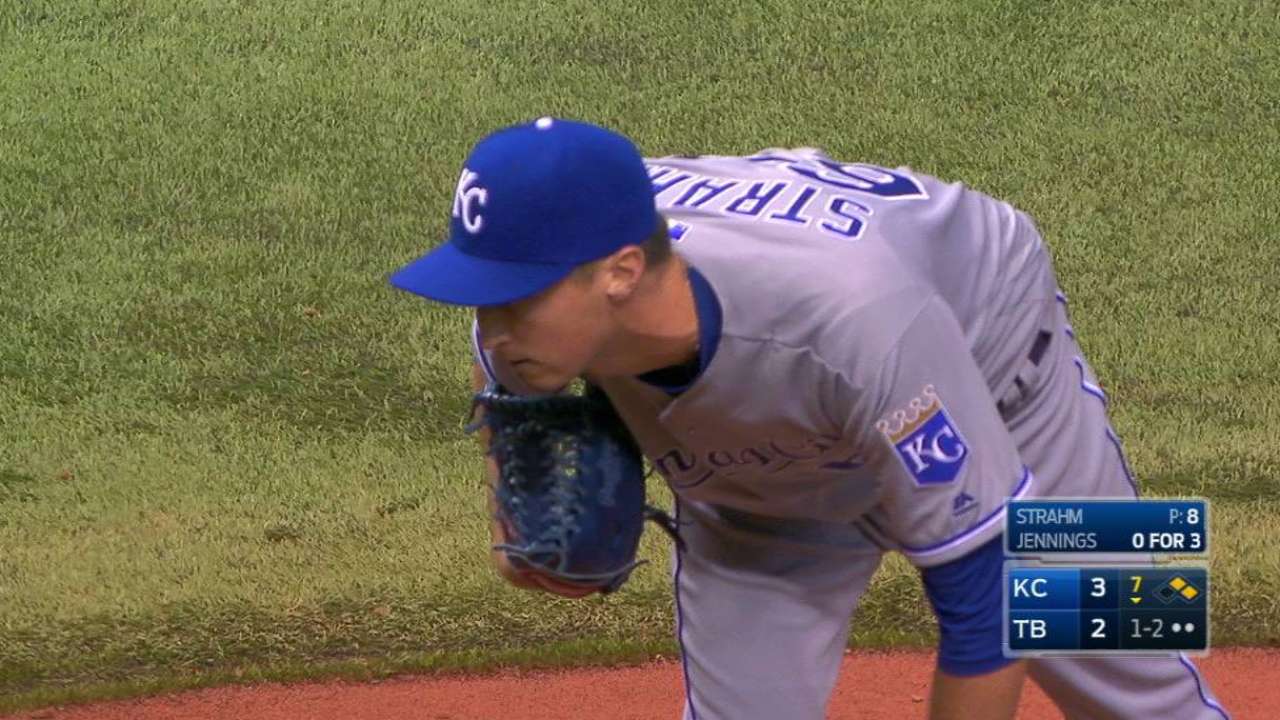 ST. PETERSBURG -- It's come to this for the 2016 Royals: With their bullpen depleted by injuries, they turned to 24-year-old rookie left-hander Matt Strahm in a high-stress, high-leverage situation in Tuesday night's 3-2 win over the Rays, even though it was just his second appearance.
With two on and one out and the Royals holding onto a one-run lead in the seventh inning, manager Ned Yost summoned Strahm, whose parents, Ted and Linda, happened to be in the stands after a long flight from West Fargo, N.D.
Strahm showed the cold steel of a veteran reliever. First, Strahm struck out left-handed hitter Brad Miller on a 97-mph fastball. Then, after two wipeout sliders got the next hitter, Desmond Jennings in the hole, Strahm blew another 97-mph fastball by him. End of threat.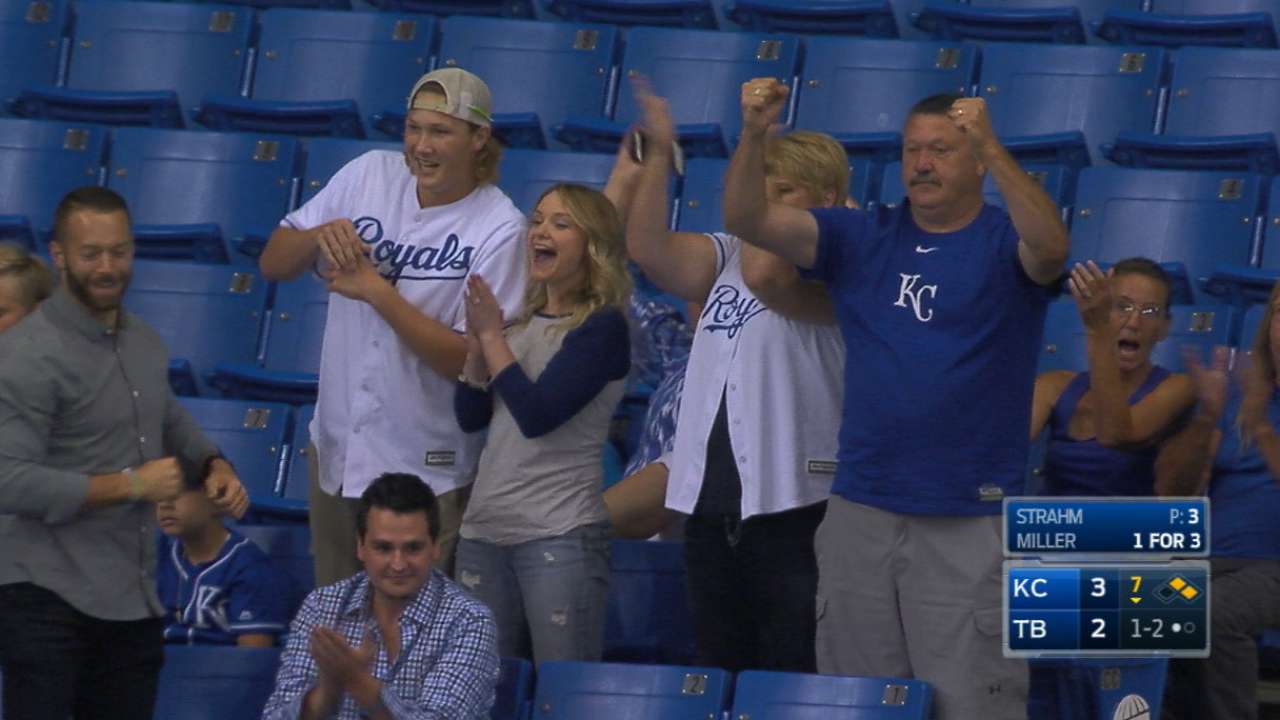 The Royals then hung on to record back-to-back wins for the first time since June 29-30, and Strahm had his first hold in the Majors.
"I got rid of the nerves down in the bullpen," Strahm said. "Once I got out there, I just let my adrenaline take over.
"I knew the situation. Ned told it to me when I got out there. And I was just out there ready to go."
Yost had little choice but to test the rookie's resolve. Closer Wade Davis is on the disabled list and setup man Luke Hochevar is out for the season.
Next man up.
"It's about opportunity, man," Yost said. "Take advantage of it. That's what it's about. Here's your opportunity. It's a tough situation, but we've got confidence you can come in with your stuff and get outs."
Strahm did just that with proud parents in the stands.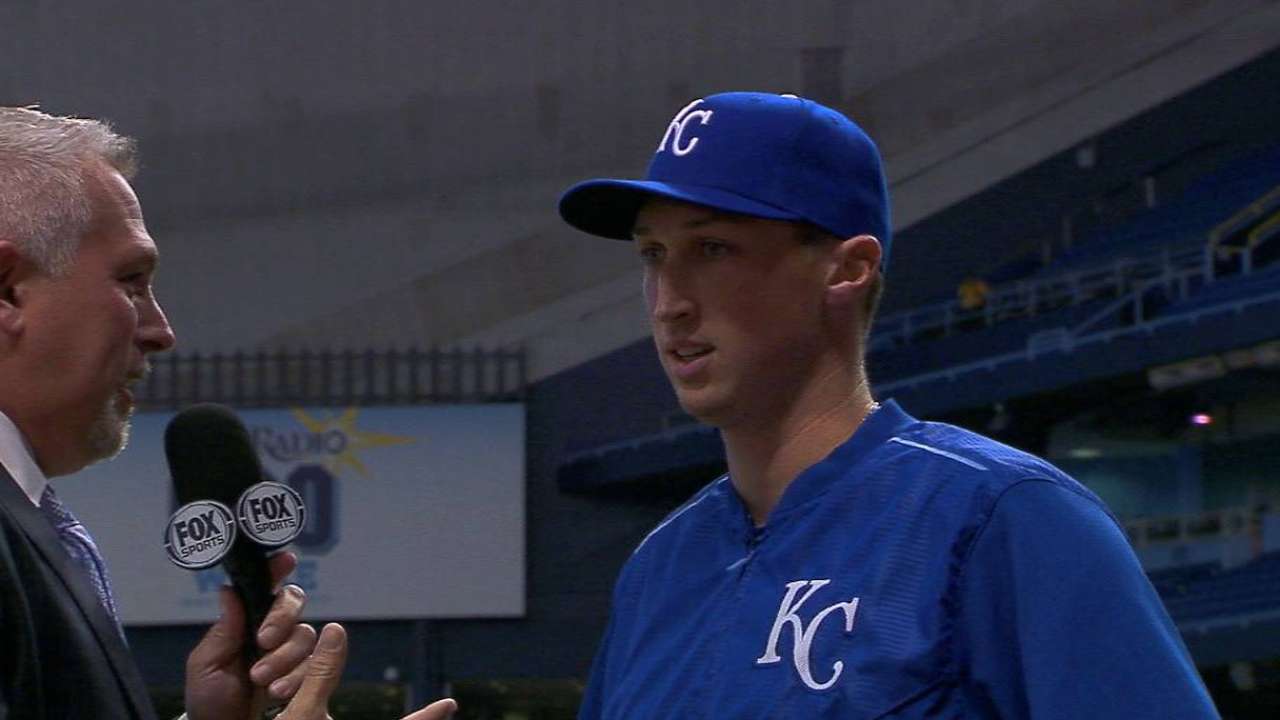 "It was even more special having my parents there," Strahm said. "And it was my dad's birthday.
"We tried to find a flight for them Sunday [when Strahm made his debut against the Rangers] into Dallas from Fargo, North Dakota. It was tough. It didn't work. But they made it here."
Strahm said he had a little mantra when he actually got to the mound.
"I was just really concentrating on keeping the ball down," Strahm said. "I kept repeating that to myself. And I just tried to throw it where [catcher] Salvy [Perez] set up. It worked."
Jeffrey Flanagan has covered the Royals since 1991, and for MLB.com since 2015. Follow him on Twitter @FlannyMLB. This story was not subject to the approval of Major League Baseball or its clubs.