Andriese solid in his return to Rays' rotation
Right-hander works 4 innings in no-decision against Royals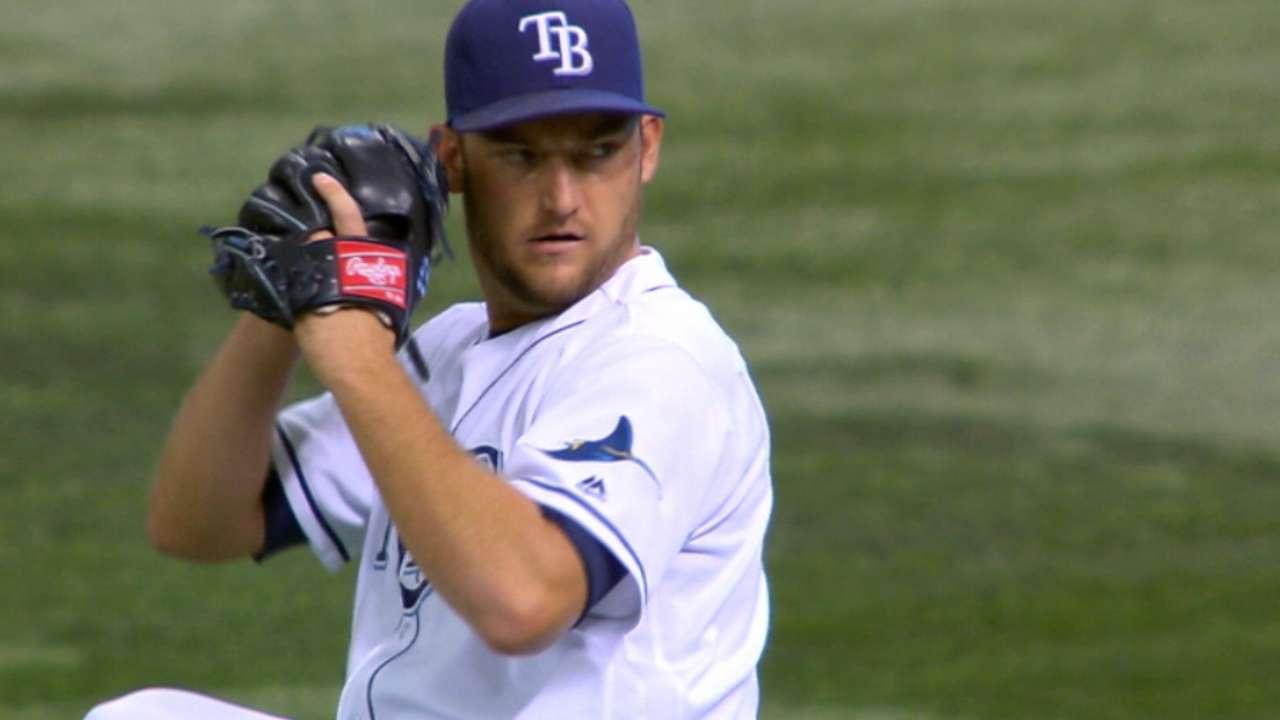 ST. PETERSBURG -- Amid the hustle of Monday's non-waiver Trade Deadline, where the Rays shipped off three core players -- including a top starting pitcher -- an opportunity was created for Matt Andriese.
The right-hander had been bumped from the rotation in mid-June after going 5-0 with a 2.82 ERA. Andriese thrived in his bullpen role, but the departure of Matt Moore to the Giants left a hole in the rotation, and Andriese picked up where he left off in a 3-2 loss to the Royals on Tuesday night at Tropicana Field.
"It felt good to get back in a good routine," Andriese said. "Just go out there. I knew I wasn't going to be able to go that deep in the game. It's a good one to build off of for the next one."
Andriese threw just 58 pitches (42 strikes) in his four innings. He yielded one run with three strikeouts and no walks. He had pitched two innings in relief on Saturday, and was limited after not starting a game since June 10. Andriese hopes to throw around 80-90 pitches the next time out against Minnesota on Sunday.
After throwing 21 pitches in the first inning against Kansas City, Andriese settled down and threw only 37 pitches over the next three innings. Two of the three hits he gave up were in the first inning, including an RBI single to Eric Hosmer.
"I thought Matt Andriese pitched a game plan and executed about as well as he could have, and maybe about as well as anyone we've seen over four innings this year," Rays manager Kevin Cash said. "He did a tremendous job."
Andriese said he probably could have pitched another inning. But he agreed with the coaches to come out after the fourth inning. The Rays even had the bullpen getting warmed up as he pitched in the fourth.
With Moore dealt just over 24 hours before his scheduled start on Tuesday, the Rays needed someone to step up.
Andriese gave up just six earned runs out of the bullpen in 10 appearances. He's also pitched a shutout this season. He's done everything he's been asked to do. And did that again against Kansas City.
"I'm really looking forward to getting back in a good routine," Andriese said. "Get back in a good rhythm."
Sam Blum is a reporter for MLB.com based in St. Petersburg. This story was not subject to the approval of Major League Baseball or its clubs.