Scoring change gives Padres a steal of home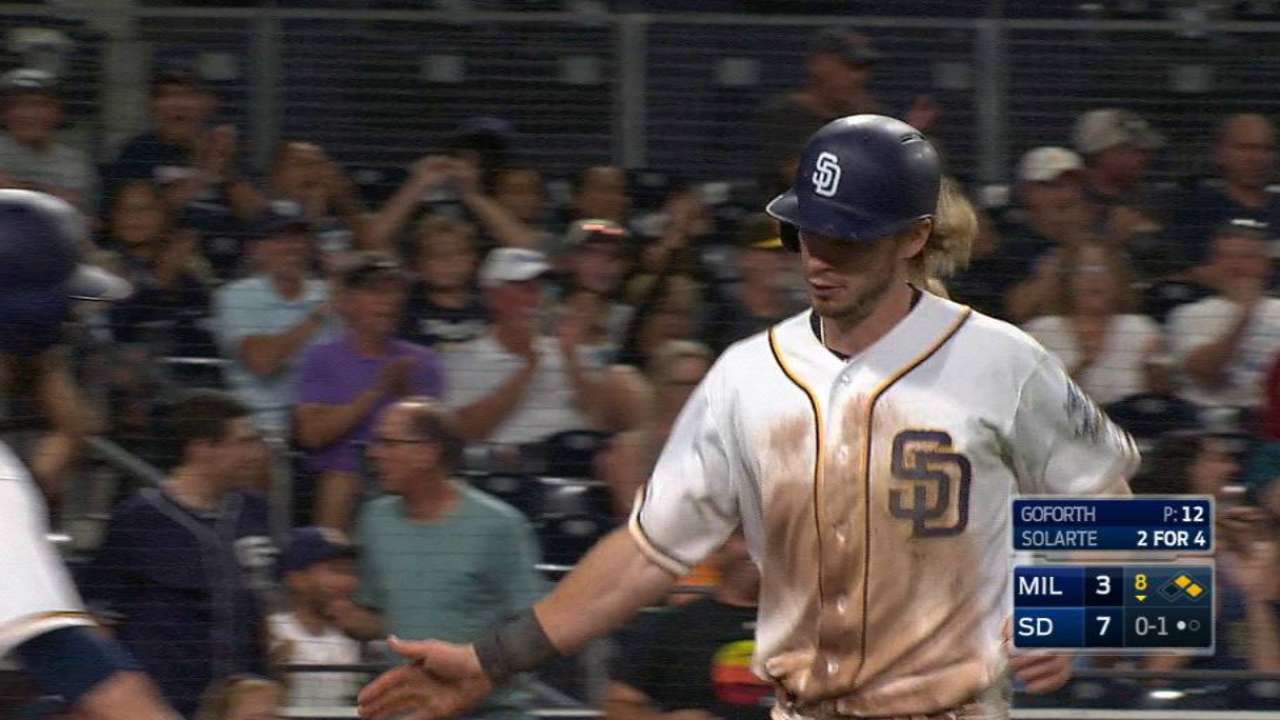 The Padres' Travis Jankowski was credited with a steal of home on Tuesday, a day after crossing home plate in the eighth inning of a 7-3 win over the Brewers.
The scoring change gave Jankowski three steals in the game, and 21 for the season. It also gave the Padres three steals of home in 2016, including one in two consecutive games, after Wil Myers accomplished the feat during Sunday's 3-2 win over the Reds.
But while Myers received immediate credit for his theft, Jankowski had to wait awhile, thanks to the unconventional nature of the play.
With the Padres leading 6-3 in the bottom of the eighth, Jankowski stood on second and Myers on first. Both runners took off on a double steal, and with the Brewers playing an infield shift against left-handed batter Yangervis Solarte, Milwaukee catcher Martin Maldonado chose to go after Myers, firing to second. When Myers stopped and got into a rundown between first and second, Jankowski kept chugging around third and beat first baseman Chris Carter's throw home.
"That's just taking advantage on the defense and using my tools," Jankowski said. "I'm always trying to put pressure on the defense and stay aggressive."
Jankowski, batting leadoff, went 3-for-3 with a pair of walks and a career-high three steals. He became the first Padres player to record at least three steals in a game since Everth Cabrera against the Nationals on May 19, 2013.
San Diego, which also got a steal of home from Melvin Upton Jr. on June 3, leads the Majors in that category this season. The Yankees (two) are the only other club with more than one. Before this year, the Padres had not stolen home even once since Cabrera did it in 2013.
The last time the Padres stole home at least three times in a season was in 1999, when they had five. Those five players were Damian Jackson, Gary Matthews, Eric Owens, Ruben Rivera and Quilvio Veras.
Andrew Simon is a reporter for MLB.com. Follow him on Twitter @AndrewSimonMLB. This story was not subject to the approval of Major League Baseball or its clubs.