Braun homers as Brewers edge Padres
SAN DIEGO -- Ryan Braun put the Brewers ahead with his bat in the sixth inning Tuesday night. Then, he used his glove to make sure they'd stay there.
In his first game back from a five-day absence with a sore ribcage, Braun launched a go-ahead solo shot into the Padres bullpen. He'd later add a diving grab in left field, as the Brewers topped the Padres, 3-2, to even their series at Petco Park.
"Sometimes trying to find timing and rhythm [after a layoff] is a little bit challenging, and when that happens, I think you just try to simplify the game," said Braun, who has 15 home runs this season but only two since June 29. "Literally just see it and hit it. Trust your eyes that they'll take you to where you need to be to put the barrel of the bat on the ball."
Of his inning-ending catch in the seventh, he said, "It's obviously one of those plays that's a do or die play. It's a one-run game, seventh inning. If I don't come up with it, it's an extra-base hit and obviously puts the tying run in scoring position. So I was glad I was able to get there. Anytime you dive, it always feels better when you end up coming up with the ball when you get up."
Braun's theatrics made a winner out of right-hander Zach Davies, who appears to have carried his brilliant July over into August. Davies allowed two runs on six hits over 5 2/3 innings, and now owns a 1.97 ERA over his past five starts.
The Padres, meanwhile, gave their own 23-year-old righty a long leash Tuesday night, allowing rookie Luis Perdomo to throw a career high 113 pitches. For the most part, Perdomo was solid again, surrendering three runs over 6 2/3 frames.
Perdomo has been brilliant this season when he's relied upon his sinker, and he used it to great effect again Tuesday, recording nine groundouts to just two flyouts. He only ran into trouble in the sixth when he tried to sneak a first-pitch breaking ball past Braun.
"It's getting better every day," Perdomo said of his sinker. "All my pitches are. One thing I need to focus on [later in games] is staying on top of my pitches and finishing."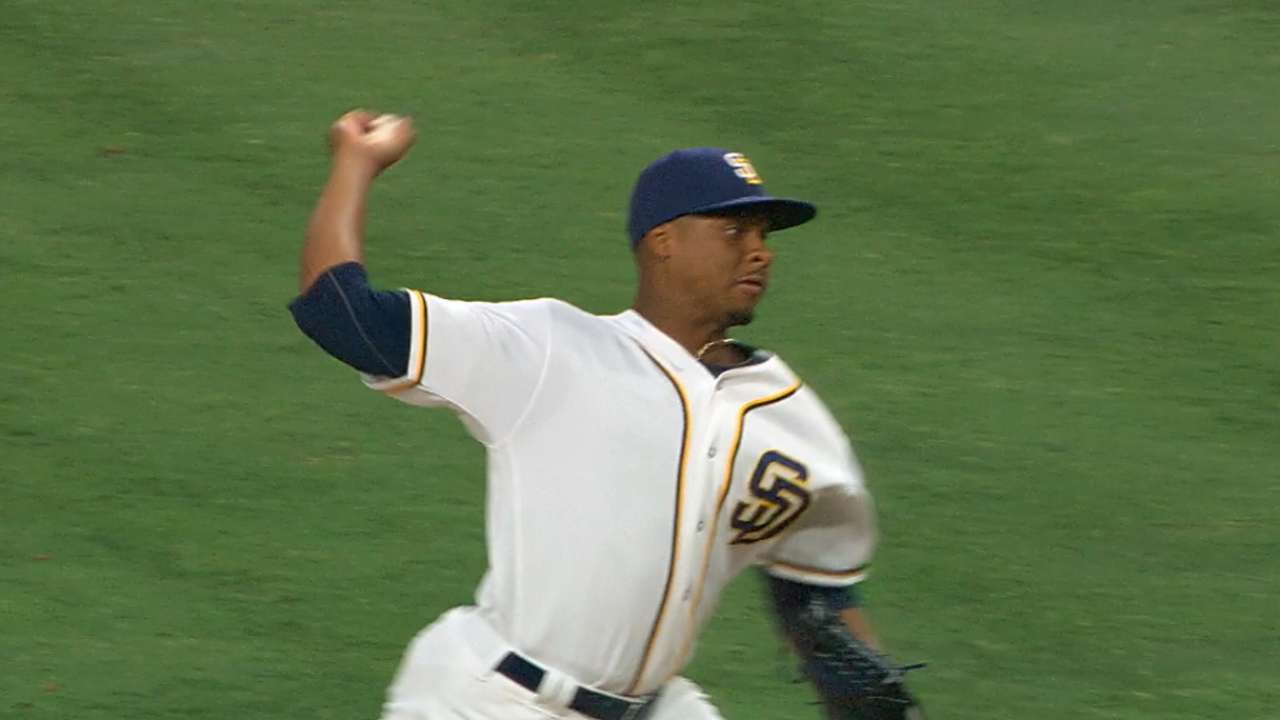 MOMENTS THAT MATTERED
Shutting the door: Tuesday offered the first look at how Brewers manager Craig Counsell will handle a bullpen missing closer Jeremy Jeffress and left-handed setup man Will Smith, each of whom were traded at Monday's nonwaiver Trade Deadline. Counsell wants flexibility to play with roles as needed, but on this night he used Carlos Torres, Corey Knebel and Tyler Thornburg in that order, and they retired all 10 batters they faced. Torres stranded the tying runner in scoring position in the sixth inning and combined with Knebel to record seven outs on 14 pitches. Thornburg got the first crack at closing in the ninth and recorded his third save on 14 more pitches.
"All the guys in the bullpen who have been pitching in games when we've been down, I feel like they've done such a fantastic job and they've really earned the opportunity to throw in closer games," Thornburg said. "It's nice to see guys like Corey get that opportunity, because they definitely deserve it. Torres coming in and closing it out in the sixth and then going back out for the seventh, that was impressive."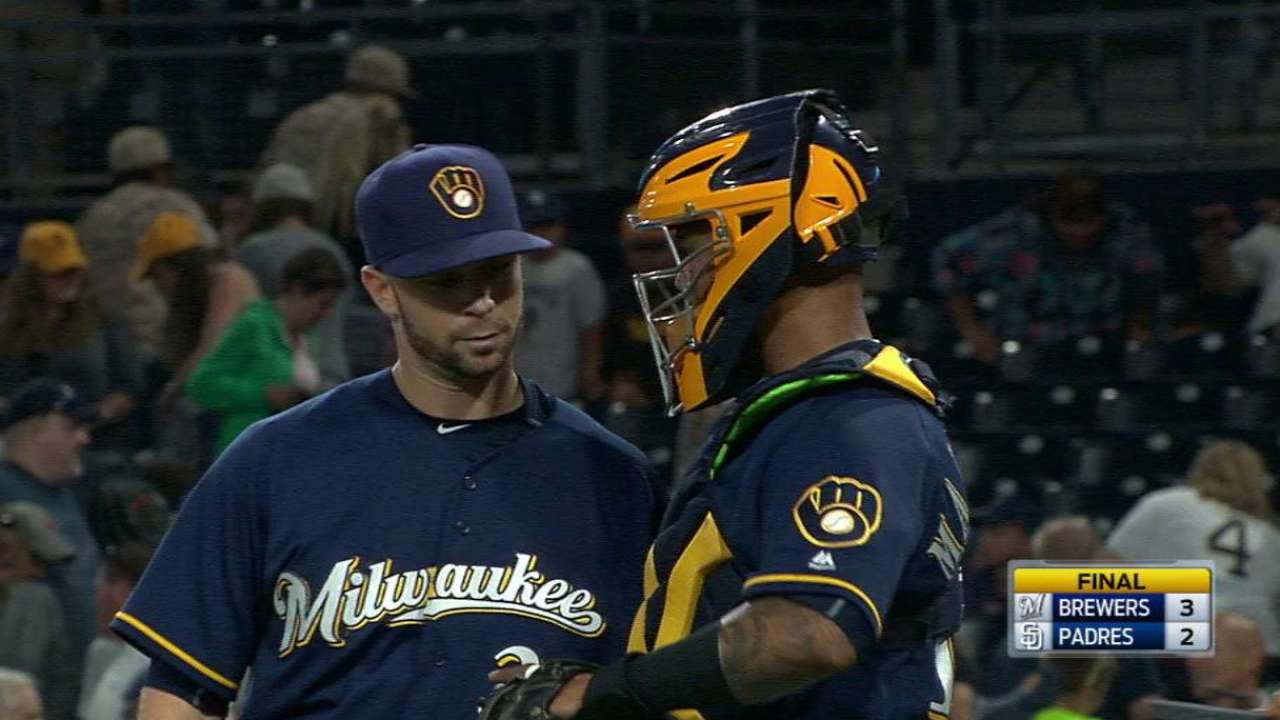 Welcome to the Show: Nine years after Braun made his big league debut on the same field, top Brewers prospect Orlando Arcia did the same on Tuesday night, striking out in his first career at-bat in the second inning and finishing 0-for-4 with groundouts in each of his final three at-bats. He's the 13th ranked prospect in baseball by MLBPipeline.com.
"I didn't hit very well, but I was able to play good defense and we were able to get the win," Arcia said. "It always feels good to win." More >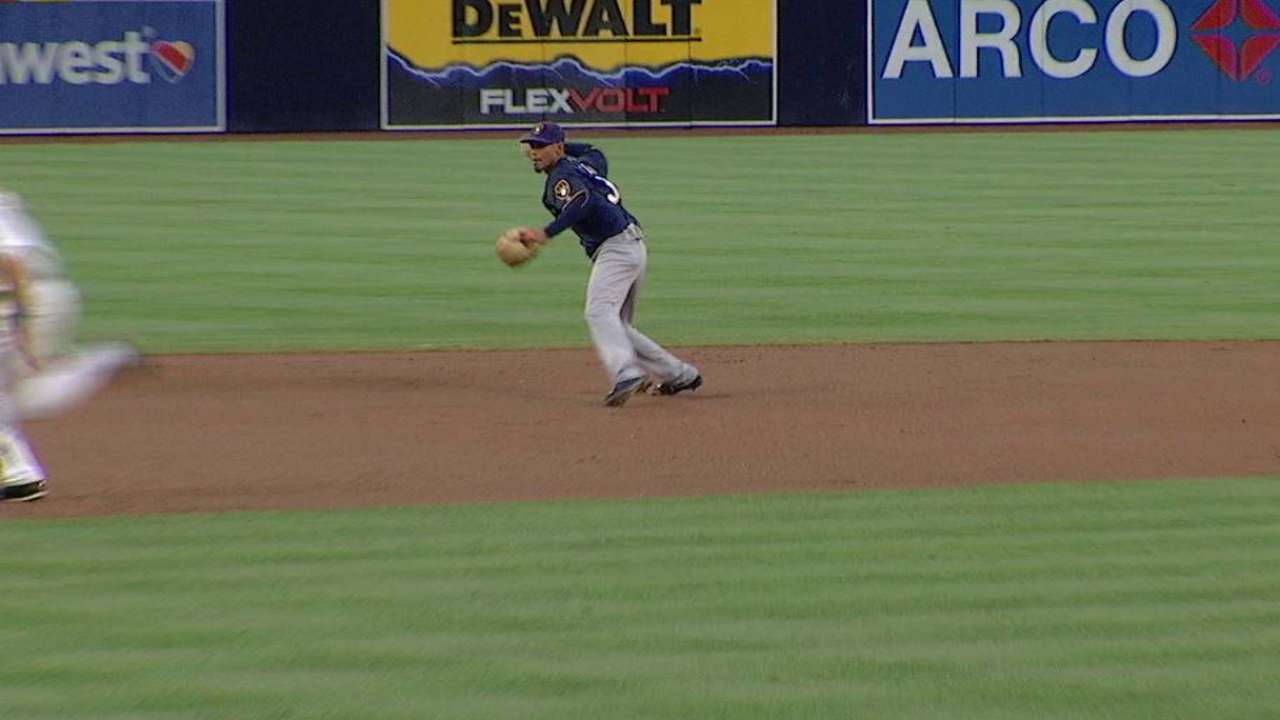 Controversy brewing: With men on the corners and one out in the second, Padres shortstop Jose Rondon hit a chopper that bounced in front of the plate and ricocheted off his bat on the follow through. Rondon was declared out, with the umpires believing -- incorrectly -- that the ball had caromed off his body. The play, which should've been declared a dead ball, wasn't reviewable.
"A little frustration with the replay system because everybody in the ballpark knows what happens except the four guys on the field," Green said. "And they're not supposed to look up on the screen to find out. ... We're getting almost every single call right, yet that one can't be looked at. And that one would have been quickly reversed. He would have been back in the box with runners on first and third and an opportunity to put a run on the board."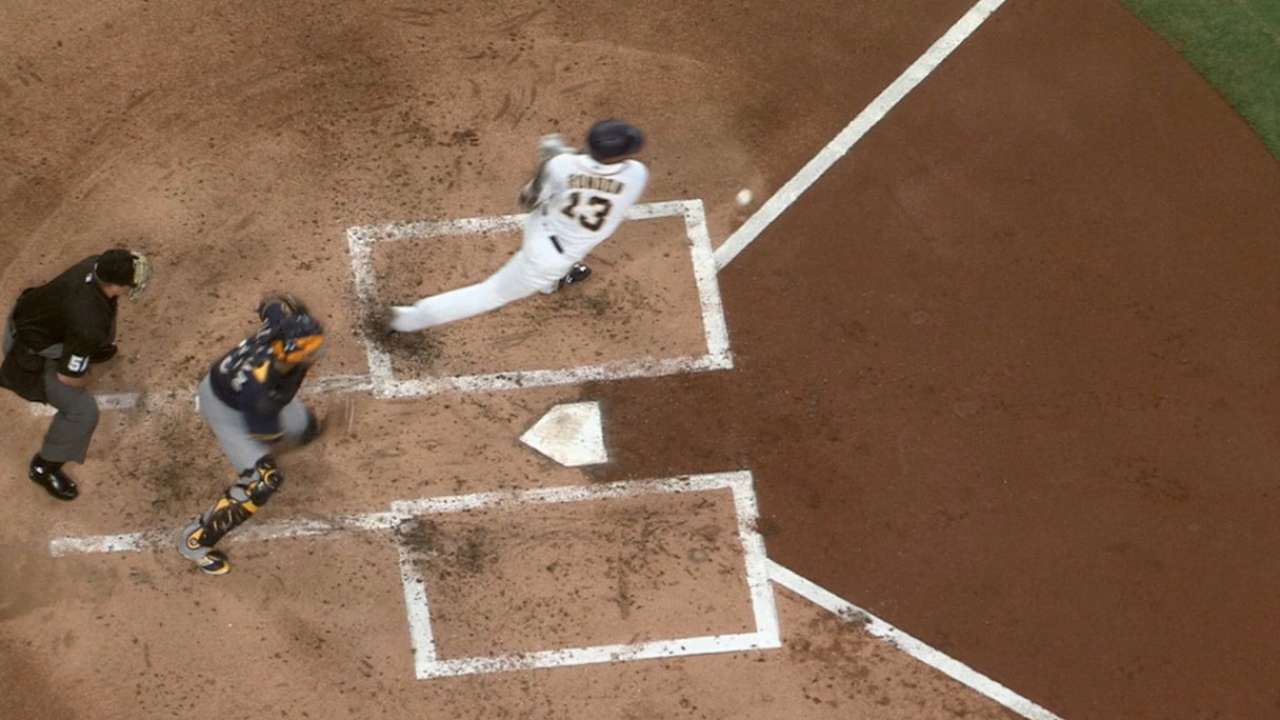 QUOTABLE
"The one pitch he probably wants back is first-pitch breaking ball to Braun -- probably wasn't our greatest pitch selection. But you look through a whole game and you criticize 113 pitches and you pick on one? That's pretty good, especially from a young guy on the mound." -- Green on Perdomo
"Perdomo was pretty good tonight. His sinker was good. But Brauny got a slider. That's why Brauny's really good." -- Brewers manager Craig Counsell, on that same pitch
WHAT'S NEXT
Brewers: Manny Pina, the catcher called up after the Brewers traded Jonathan Lucroy, could be in line for his first Major League start in nearly five years when the series concludes at 2:40 p.m. CT on Wednesday. He's old friends with scheduled Brewers starter Junior Guerra. The two have known each other since they were young prospects in Venezuela.
Padres: Edwin Jackson takes the hill Wednesday afternoon, looking to bounce back from his worst outing as a Padre. First pitch is slated for 12:40 p.m. PT. Jackson allowed four runs in the first inning against the Reds on Friday, before finding a bit of a groove after that.
Watch every out-of-market regular-season game live on MLB.TV.
Adam McCalvy has covered the Brewers for MLB.com since 2001.

AJ Cassavell covers the Padres for MLB.com.

This story was not subject to the approval of Major League Baseball or its clubs.