Nolasco happy to be back home near family
Angels starter grew up in Southern California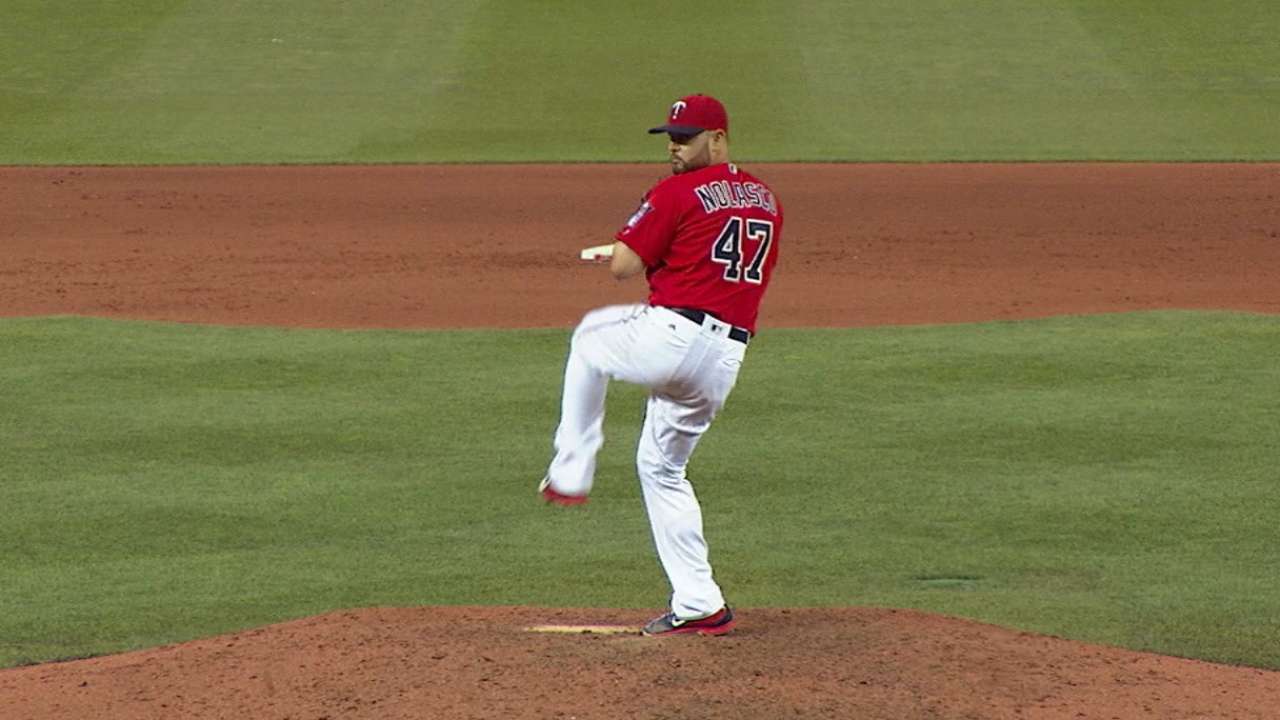 ANAHEIM -- On his first day with the Angels, veteran starting pitcher Ricky Nolasco was asked about his struggles in Minnesota and why it never went the way he might have hoped.
"It's cold," Nolasco said, perhaps because he misheard the question and caught only the "Minnesota" part. "That's one thing, for sure -- it's pretty cold."
Nolasco is in warmer climates now, pitching in Southern California, at a ballpark that resides about 50 miles away from his hometown of Rialto, Calif., in San Bernardino County. Nolasco came over alongside former first-round pick Alex Meyer in the trade that sent prized Angels starting pitcher Hector Santiago to the Twins on Tuesday.
The deal was geared mainly toward cashing in on Meyer's potential upside, but Nolasco's mom "flipped out" when she found out her son would be coming back to Southern California.
"It means a lot to my family," said Nolasco, who also spent the last three months of the 2013 season with the cross-town Dodgers. "Obviously I'm happy. If they're happy, I'm happy. My parents went crazy. I know they miss me a lot. So I'm happy. Any time I'm in California, I'm happy. And if my family is happy, I'm even more happy."
Nolasco was a stalwart in the Marlins' rotation from 2008-12, averaging 13 wins, 190 innings and a 4.42 ERA each season. He signed a four-year, $49 million contract with the Twins in November 2013 -- a franchise record for an outside free agent -- but was either hurt or ineffective thereafter.
The 33-year-old right-hander had a 5.38 ERA in 159 innings in 2014, was limited to less than 40 innings because of an ankle injury that required surgery in 2015 and posted a 5.13 ERA in his first 21 starts of 2016, with a 1.35 WHIP and a 3.21 strikeout-to-walk ratio.
"I think I pitched better than the numbers say, but it is what it is," Nolasco said. "I understand what happened. I'm not focusing on that anymore. I'm just focusing on my next start."
That next start will come Thursday, for the series finale against the A's at Angel Stadium.
Nolasco got his customary No. 47 from rookie catcher Jett Bandy and will compensate him somehow. He never attended an Angels game as a kid, but frequently attended Angel Stadium's offseason motocross events. His brother, David, will handle ticket requests for the family, which is basically split among Dodgers and Angels fans.
"There's a mix," Nolasco said, "but they're all Angels fans now."
Alden Gonzalez has covered the Angels for MLB.com since 2012. Follow him on Twitter and Facebook, and listen to his podcast. This story was not subject to the approval of Major League Baseball or its clubs.