Miranda set to start Thursday in Seattle debut
Lefty acquired Sunday from Baltimore in Miley trade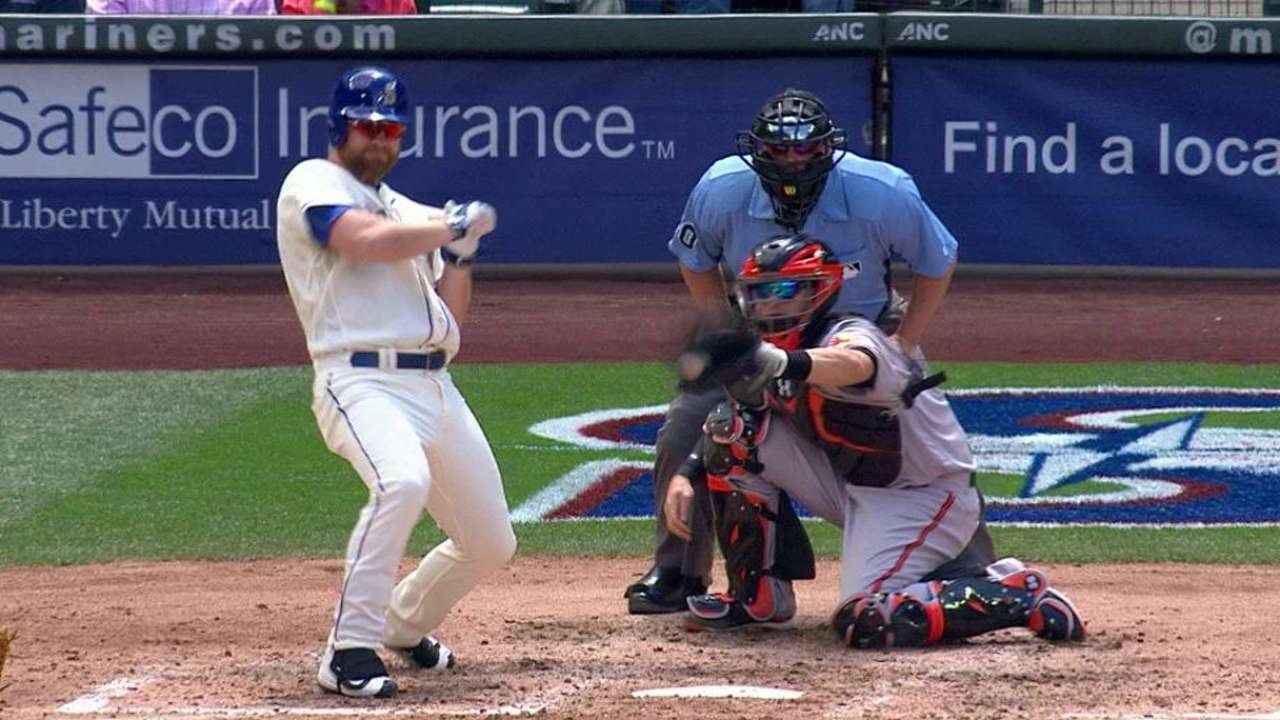 SEATTLE -- Recently acquired left-handed pitcher Ariel Miranda will start for the Mariners Thursday night against the Red Sox, manager Scott Servais announced Tuesday.
Miranda was optioned to Triple-A Tacoma after the Mariners acquired him in the trade of pitcher Wade Miley to Baltimore on Sunday. They will recall Miranda to start in what had been Miley's spot in the rotation.
"I think if we turn him loose in a bullpen role we'll see some velocity, maybe towards the higher end, like we saw here," general manager Jerry Dipoto said after the trade deadline Monday. "He was 93, 95 [mph] in June. Or we let him start and continue to do the things he's doing -- he threw seven shutout innings Friday night for the Orioles' Triple-A club -- and we'll see where we go from there with Ariel."
Miranda made his first and only career Major League appearance against Seattle on July 3 at Safeco Field, allowing three runs on four hits in two innings. He had a 3.93 ERA over 19 starts in Triple-A Norfolk.
The 27-year-old played in the Cuban National Series for seven years before defecting from Cuba to come to the United States.
Worth Noting:
• Taijuan Walker is ready to return to the Mariners' rotation. The right-hander said he felt good in a 4 1/3-inning start for Triple-A Tacoma Monday, working back from another stint on the 15-day disabled list with tendinitis in his right foot. He allowed two runs on three hits. Walker will be on a limited pitch count when he returns.
"I don't think it's smart to run him out there for 100 pitches first time out," Servais said. "But we'll continue to talk about it and see where we can slide him in."
• Right-handed reliever Nick Vincent's simulated game Tuesday went well, and he is scheduled to make a rehab appearance in Class A Everett on Friday. He has been on the 15-day DL with a mid-back strain since June 27.
• Shortstop Ketel Marte (mononucleosis) and Servias said they were happy with Marte's live batting practice off Vincent.
"I was surprised because, when you're not playing for a long time, when you come back it's hard to see the ball," Marte said. "But I was good. I saw the ball well."
Marte is on the 15-day DL, retroactive to July 20. He will play in two rehab games this week and could be back as early as Sunday.
Maddie Lee is a reporter for MLB.com based in Seattle. This story was not subject to the approval of Major League Baseball or its clubs.