Arcia goes hitless in debut for Brewers
Braun shares advice with prospect before debut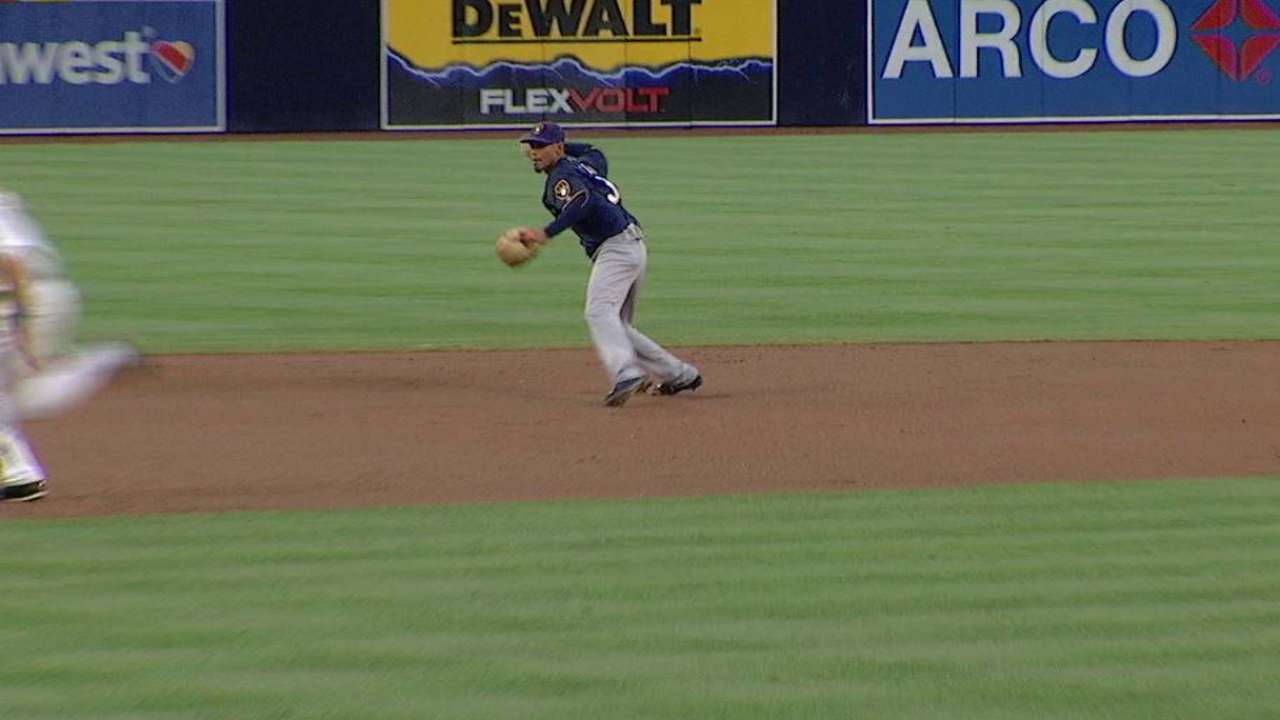 SAN DIEGO -- It was at this same stadium nine seasons ago that Ryan Braun made his own Major League debut. So when the latest Brewers phenom arrived Tuesday at Petco Park, Braun though it appropriate to stop Orlando Arcia in the clubhouse and offer a few words of advice.
Maintain a strict routine, Braun said. Don't alter the thought process that got you here. Above all, keep your emotions in check.
"Easier said than done," Braun said. "There's a ton of adrenaline, a ton of emotion, a lot of thoughts that are running through your head. Hey, it's even exciting for all of us to see a guy with his potential show up. It's something we can all feed off of."
In the end, it was Braun, not Arcia, providing the excitement in a 3-2 win over the Padres. Braun homered and made a critical diving catch while Arcia went 0-for-4 with a strikeout in his first Major League at-bat followed by three groundouts. He made three routine plays in the field and showed off his strong arm, but never had a chance to flash the highlight-reel defense that is his hallmark.
One debuted here nine years ago. The other debuts tonight. pic.twitter.com/EN1yJj8GmJ

- Adam McCalvy (@AdamMcCalvy) August 3, 2016
"I didn't hit very well, but I was able to play good defense and we were able to get the win. It always feels good to win," Arcia said.
Asked what was going on in his chest and in his head as he stepped to the plate for the first time in the Majors, Arcia shrugged and said, "Not much." He was just trying to find a good pitch to barrel-up.
Arcia will see plenty more pitches. He'll man shortstop for the rest of the season, with Jonathan Villar shifted to third.
"You want to get that first game out of the way and go to the next day and more normal feelings coming to the park and everything like that," Brewers manager Craig Counsell said. "He had a nice defensive game. We had a really nice defensive game overall."
Arcia is No. 13 on MLBPipeline.com's list of the top 100 prospects in baseball, and No. 1 on the Brewers' list for the second straight season. He manned shortstop and batted second in his big league debut, two days before his 22nd birthday against the Padres on Tuesday.
He told reporters he was eager to get out on the field for batting practice. Unfortunately, that was still more than an hour away.
"A lot of emotion, but at the same time you've got to take it like another game and you've just got to be able to go out there and play your best," he said through Brewers translator Carlos Brizuela. "It's a different level, but you've got to be able to play hard and give it your best every day."
Of his pedestrian production this season at Triple-A Colorado Springs, Arcia said, "It wasn't a good year, it wasn't a bad year. Obviously I wanted to hit a little better. But that's part of baseball. Other than that I was just trying to get up here, and trying to keep learning and keep playing every day."
"For a player of his caliber, I'm sure it's a day he's been looking forward to forever," Braun said. "Whether it's at home or on the road, I don't think there's any such thing as a bad place to debut."
Arcia's arrival had Braun reminiscing about his own debut on May 25, 2007. He doubled and drove in a pair of runs as the Brewers' starting third baseman.
"I remember every single thing about it," Braun said. "It's just scary to think it was 10 years ago. It was so great that it was here in Southern California and I could have so many family and friends to share it with me. That's one of the best days of my life."
Adam McCalvy is a reporter for MLB.com. Follow him on Twitter @AdamMcCalvy, like him on Facebook and listen to his podcast. This story was not subject to the approval of Major League Baseball or its clubs.