New York keeps calling Clippard back
Reliever, who's pitched for both NY clubs, is once again with Yankees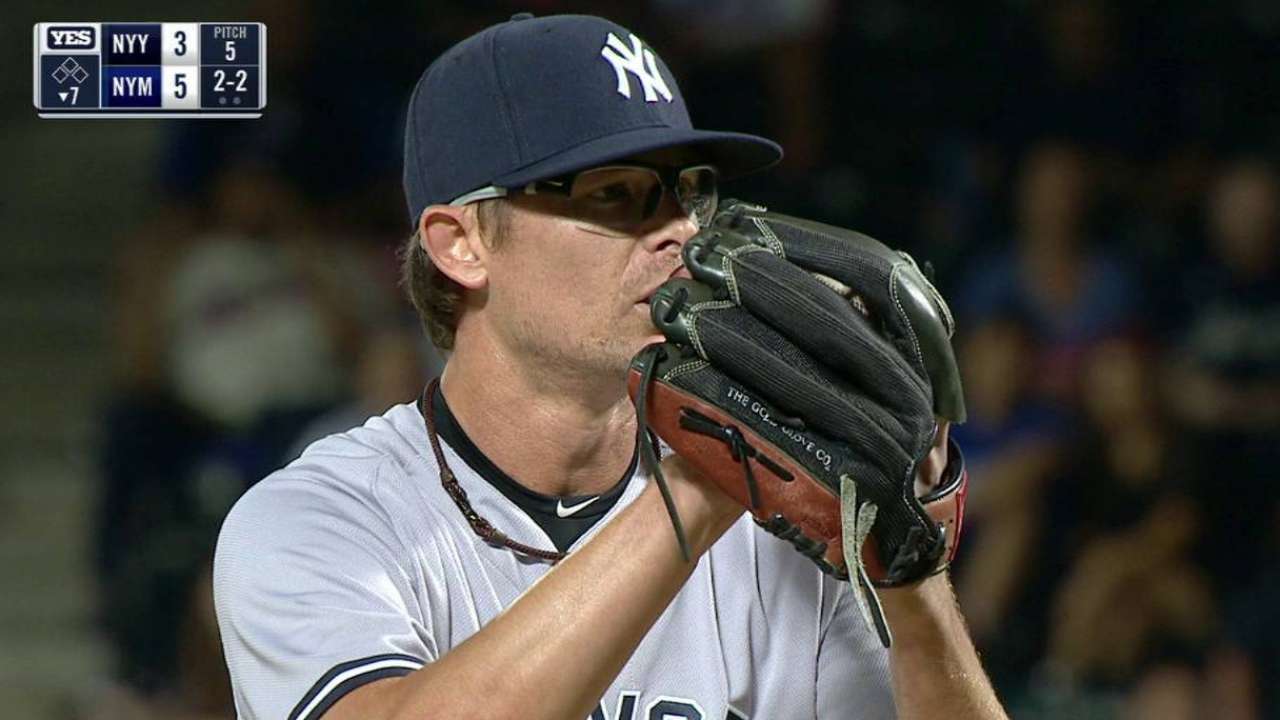 NEW YORK -- At the time, Tyler Clippard didn't have a proper grasp of the situation. To him, May 20, 2007, was just "another game." But nearly 10 years later, some of Clippard's friends and family are still talking about his Major League debut with the Yankees, which came in the Subway Series.
So it was fitting that Clippard's return to the Bronx Bombers on Monday night also came in Queens. Traded to the Yankees from the D-backs on Sunday, the right-hander was activated the following day and pitched a scoreless seventh inning in the Yankees' 6-5 win over the Mets at Citi Field.
"I keep leaving and they keep calling me back to the city," said Clippard, who appeared in 32 games for the Mets last year. "It's good to be back and feel the energy of New York. It's always fun."
Clippard allowed one earned run over six innings in his Major League debut, but was eventually sent down to the Minors before getting traded to the Nationals, where he pitched out of the bullpen until 2014. He was a two-time All-Star during his stint in Washington.
He spent 2015 with the Athletics and Mets, then signed a two-year, $12.25 million contract with the D-backs prior to this season.
Clippard, who was traded for Vicente Campos, pitched to a 4.30 ERA in 37 2/3 innings with Arizona. He said he wasn't sure the role he'd assume with the Yankees, but Monday's showing suggested he could fortify the back end of the bullpen with Aroldis Chapman and Andrew Miller gone.
Clippard retired Wilmer Flores and Travis d'Arnaud before allowing a single to James Loney. He then struck out Matt Reynolds on three pitches.
"However [manager] Joe [Girardi] wants to use me, that's what I'm going to do," Clippard said. "I'm a bullpen guy so I know how it can be, very chaotic lifestyle we live down there. But you just got to prepare every day to do what the manager asks you to do."
Joshua Needelman is a reporter for MLB.com based in New York. This story was not subject to the approval of Major League Baseball or its clubs.