Difo steps up at second base, adds three hits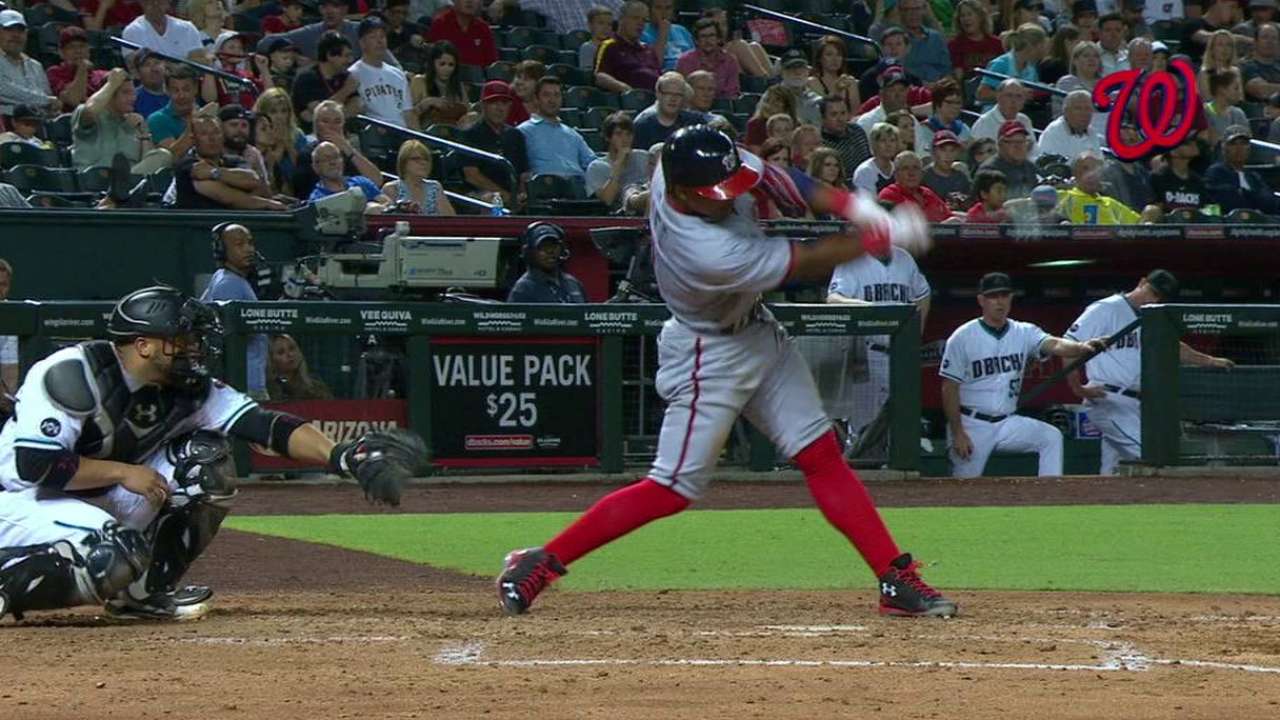 PHOENIX -- Just before batting practice prior to Tuesday night's 10-4 victory over the D-backs, Nationals manger Dusty Baker called Wilmer Difo over to the dugout to ask him whether he was comfortable playing second base.
Bryce Harper had come down with an illness and needed to be scratched from the starting lineup, so Baker had to move second baseman Trea Turner to the outfield and wanted to insert Difo, but he had not played second since Spring Training.
"He told me he could catch if I asked him," Baker said. "He just wanted to be put in the lineup."
Difo responded promptly in the first inning, when he made a diving stop to turn a crucial double play with the bases loaded and nobody out. Never mind that the 95 games he had played for Double-A Harrisburg this season and two games for the Nationals had all been at shortstop.
"It's a little difficult. The angles are a little different," Difo said through an interpreter. "I just try to get there and make the plays. I do feel a little more uncomfortable at second. I feel like there's a little more pressure, because I'm not used to it. I'm used to playing shortstop. It's just playing with the angles a little bit more."
At the plate, he went 3-for-5, stealing a base, scoring a run and driving in another. Difo is only the seventh Nationals player to collect three hits, a run, a steal and an RBI within the first 20 games of his career. The last to do so was Roger Bernadina in 2008.
"The main thing I try to do is stay ready for whenever I'm called upon," Difo said. "That's what I know how to do: play baseball. So I prepare myself properly and just be ready when I'm called upon to start or to play at any point."
Difo was recalled last week to replace second baseman Stephen Drew, who went on the disabled list with vertigo-like symptoms. If Difo shows the Nationals and Baker that he can provide the sort of spark he did Tuesday night, he will almost certainly find his way into the lineup more often.
"You need that young exuberance," Baker said. "You need their energy, you need their speed to kind of pick us up to ignite some of the older guys. That's what they've given us."
Jamal Collier covers the Nationals for MLB.com. Follow him on Twitter at @jamalcollier. This story was not subject to the approval of Major League Baseball or its clubs.