Pollock faces pitching for first time since injury
D-backs' outfielder making strides in recovery from broken right elbow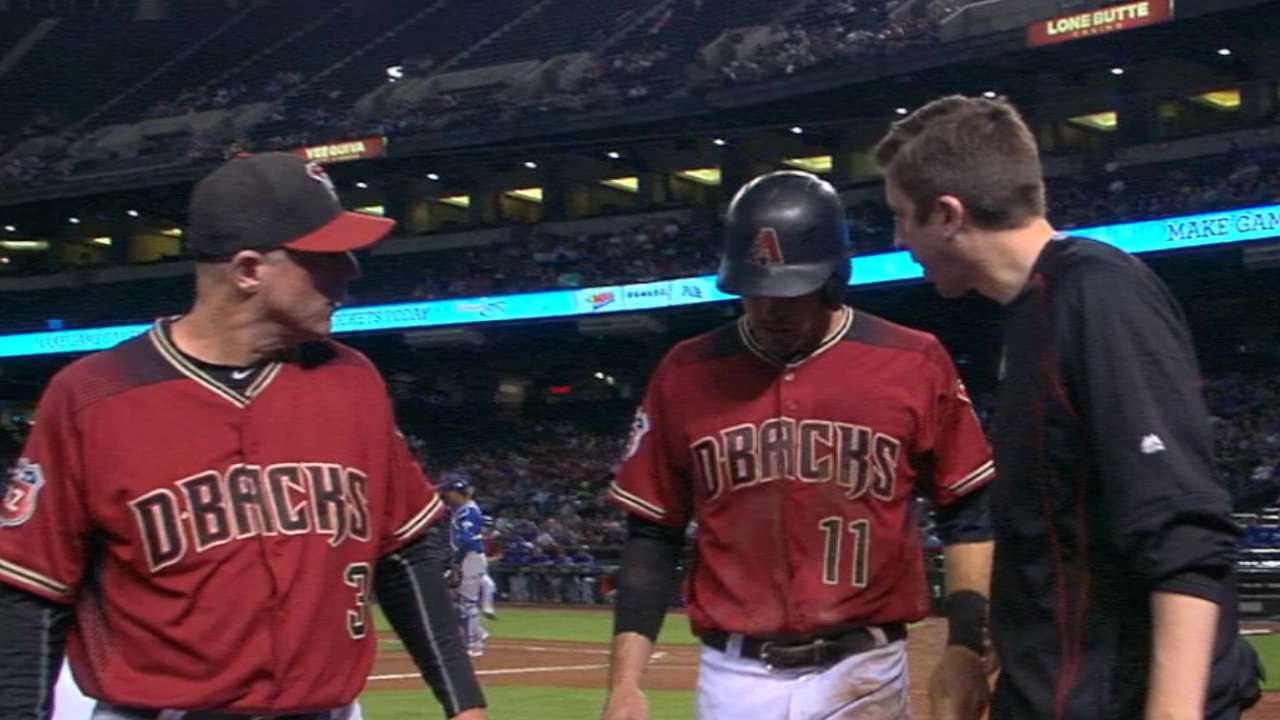 PHOENIX -- D-backs outfielder A.J. Pollock faced live pitching on Tuesday, taking another step forward in his rehab from the fractured right elbow he sustained in an exhibition game on April 1.
Pollock faced rehabbing starting pitcher Rubby De La Rosa at the team's facility at Salt River Fields in nearby Scottsdale. Pollock's next step will be to play in the Arizona Rookie League, likely later this week, in his first game action since undergoing surgery.
"Physically, I feel really good," Pollock said. "It's just fun to get out there and start hitting again. Start with the AZL, that's the next step. I think they said Friday, starting at DH there. Then after a couple games, they'll let me play the field."
There was some uncertainty earlier in the season whether Pollock would be back in the Majors before the end of the season. But the Arizona center fielder has said on numerous occasions that he had no doubt he would return in 2016, and his confidence has only grown as his rehab has progressed.
"It's tough going through an injury and saying you're really fortunate to be where you're at, but it's the truth," Pollock said. "The cards I was dealt wasn't really the most ideal, but I had an unbelievable doctor that went in there and just did a great job with my arm."
D-backs manager Chip Hale has said Pollock will likely need a rehab stint equivalent to a "full Spring Training" before he'll be ready to return to the Majors. There is not yet a set schedule for where Pollock will go after playing in the AZL, or how many games he will be need at that level.
Worth noting
• De La Rosa (right elbow inflammation) faced Pollock and injured catcher/outfielder Chris Herrmann in live batting practice. The right-hander threw 40 pitches, using his fastball, slider and changeup.
"He was spotting his fastball, nasty slider," Pollock said.
Hale said De La Rosa may do another simulated batting practice, then likely will need a few rehab games.
Herrmann (right hamstring strain) did agility drills on Monday and was scheduled for running before Tuesday's game. He will need to go on a rehab assignment before returning to the Majors.
• Reliever Andrew Chafin (left shoulder tendinitis) pitched in his first rehab game on Monday in the AZL. He threw a scoreless inning with a pair of strikeouts. Hale said Chafin will pitch there again later this week.
•Starter Zack Greinke (left oblique strain) is still set to pitch for Triple-A Reno in Salt Lake City on Wednesday. If all goes well, he likely will make his next start in the Majors.
Jake Rill is a reporter for MLB.com based in Phoenix. This story was not subject to the approval of Major League Baseball or its clubs.