Prioritizing D, Rays shift Miller to 1B as Duffy arrives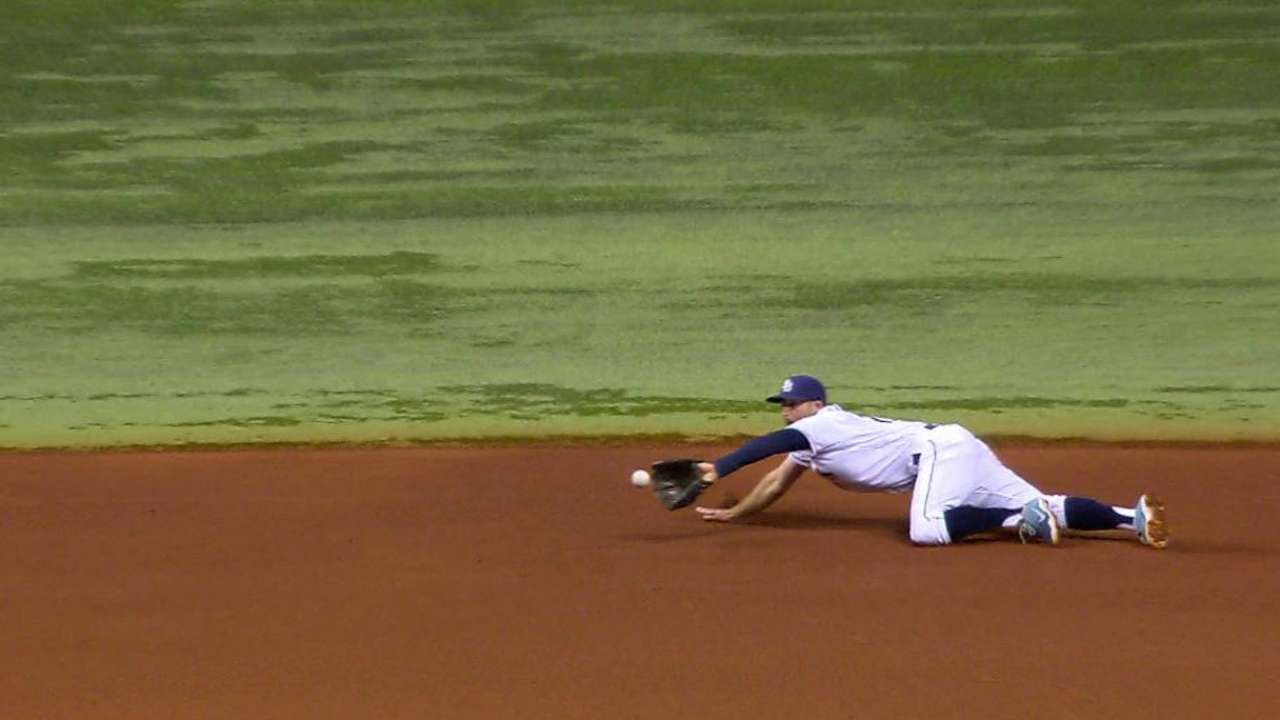 ST. PETERSBURG -- Matt Duffy is in at shortstop. Brad Miller is out.
Rays president of baseball operations Matt Silverman said as much on Monday shortly after the club acquired Duffy, who is currently on the disabled list, in a non-waiver Trade Deadline deal with the Giants. Miller will now transition to a role primarily at first base.
"Extremely disappointed," Miller said before Tuesday's game against the Royals. "Obviously, I'm a shortstop. I've been working hard and doing everything, and playing well there. Yesterday was kind of a punch to the gut, them telling me he was their shortstop now."
The Rays did not sugar coat their intentions when telling Miller the news.
"They said him playing shortstop was our best chance to win," Miller said.
Miller has played 90 games at shortstop this season, starting there 82 times. Though he had 13 errors entering Tuesday, Miller had not made one since July 6.
"I've been playing well and feel like I've only gotten better," Miller said. "So that's why it's kind of disappointing."
Rays manager Kevin Cash agreed that Miller has shown improvement.
"I thought Brad, over the last month, month and a half, has done a really nice job at short," Cash said. "And I understand the disappointment with him. But we're constantly going to make decisions that are going to improve our entire club.
"We can't just focus on an individual. So I understand where he's coming from. I appreciate it. But at the same time, we feel like we're going to be a better defense with this new alignment."
Cash complimented Miller for handling the news "like a pro."
"There's a lot of pride and passion in being a Major League shortstop," Cash said. "We felt it's best for the organization to get him over to first. Allow Duffy the opportunity to play short."
Cash noted that once Logan Morrison returns from the disabled list, the Rays will have to "balance" who plays where so that Miller and Morrison both get their at-bats.
What makes the move intriguing is the fact Miller has set a Rays single-season record for home runs hit by a shortstop (He's hit 17, 16 of them while playing shortstop).
Infield coach Tom Foley isn't worried about Miller making the move.
"He's a middle infielder," Foley said. "I've always said, if you can play shortstop, or the middle of the field, you should be able to play the corners. Being the athlete that he is, and the hands that he has, I don't have any hesitation that he can play there. In fact, I don't have any hesitation about him playing anywhere."
Though disappointed, Miller allowed that he would go all out at wherever the Rays want him to play. And over the long term, that appears to be as their first baseman.
"We're optimistic that this is going to work out and our overall infield defense is going to drastically improve because we're putting a guy who can play shortstop over at first base," Cash said. "And it's going to obviously improve our range and athleticism."
Bill Chastain is a reporter for MLB.com. This story was not subject to the approval of Major League Baseball or its clubs.