Hammel Time: Cubs hold off Jose, Marlins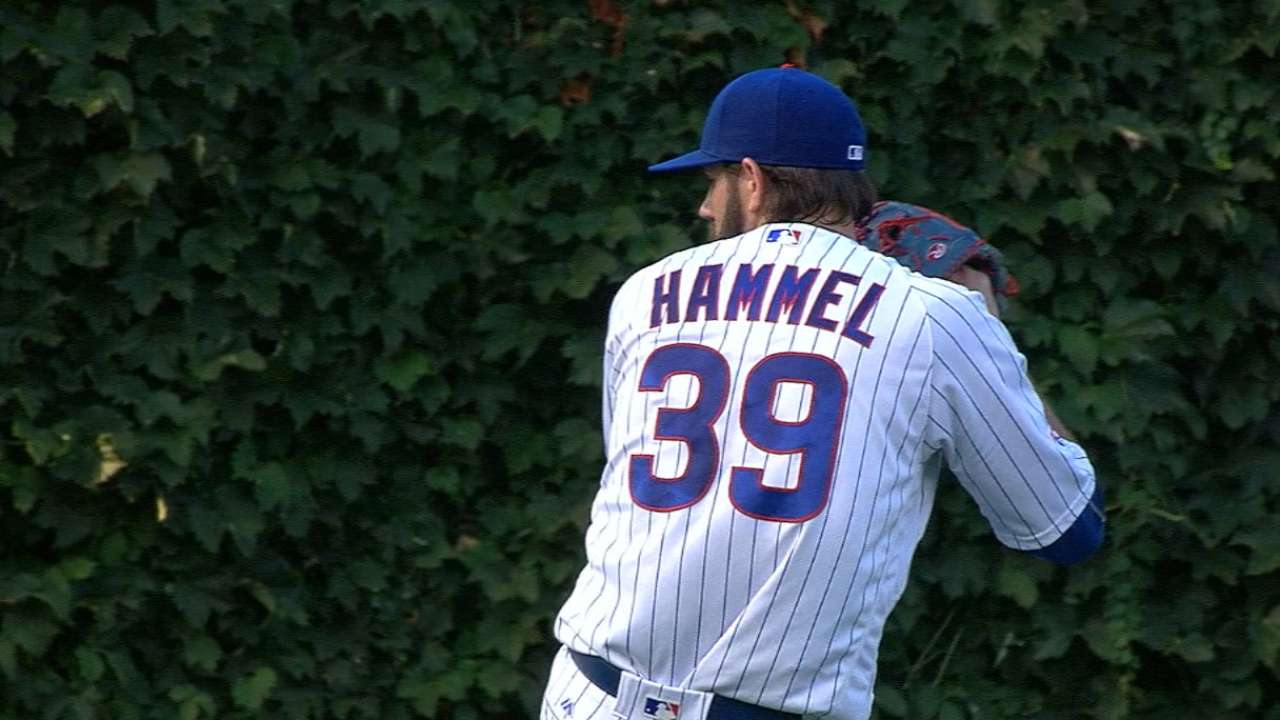 CHICAGO -- When Jose Fernandez and Jason Hammel squared off in Miami in June, Fernandez struck out 13 in a Marlins' win over the Cubs. But Chicago's Dexter Fowler wasn't available that day, sidelined with a hamstring injury. Fowler made up for it on Tuesday night.
Fowler had three hits, including a triple, scored two runs and drove in another, to back Hammel and lead the Cubs to a 3-2 victory over the Marlins at Wrigley Field. It is the first time Fernandez has dropped consecutive starts since the third and fourth games of his Major League career, April 18 and April 23, 2013.
"I feel good where I am right now," Fernandez said. "The result wasn't there. I'm not too happy about the result today, but we'll get there."
Fowler tripled to lead off the Chicago first and scored on Willson Contreras' single, then scored on a crazy play in the third, and added an RBI single in the fifth.
"He's the engine of this machine, and as he goes, we go," Hammel said of Fowler. "That's hard to find. It's nice to have him back."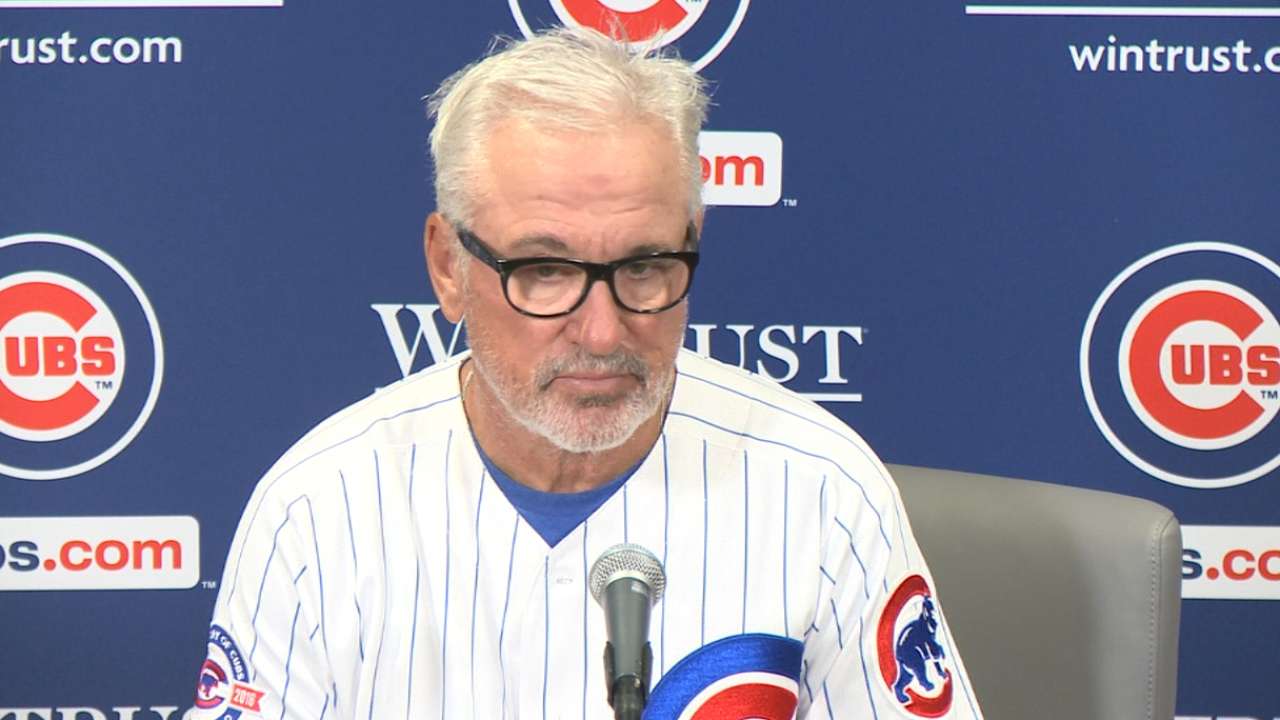 Kyle Hendricks shut out the Marlins on Monday, and Hammel followed with six scoreless innings on Tuesday for his career-high 11th win, although he had a tough time getting a feel for his breaking pitches.
"[Hammel] spotted it up pretty good, I thought," Marlins manager Don Mattingly said. "He's got a good curveball, good slider. Once they pinch-hit there, we get a couple off [Pedro] Strop and just couldn't get another one."
• Fowler ignites Cubs as offensive 'nuisance'
MOMENTS THAT MATTERED
Save opportunity: Aroldis Chapman pitched the ninth for his second save in three opportunities since joining the Cubs, but manager Joe Maddon credited third baseman Javier Baez with the play of the game. Baez scooped up Adeiny Hechavarria's grounder and made an off-balance throw to get him for the first out of the ninth. It made up for an 0-for-4 night at the plate.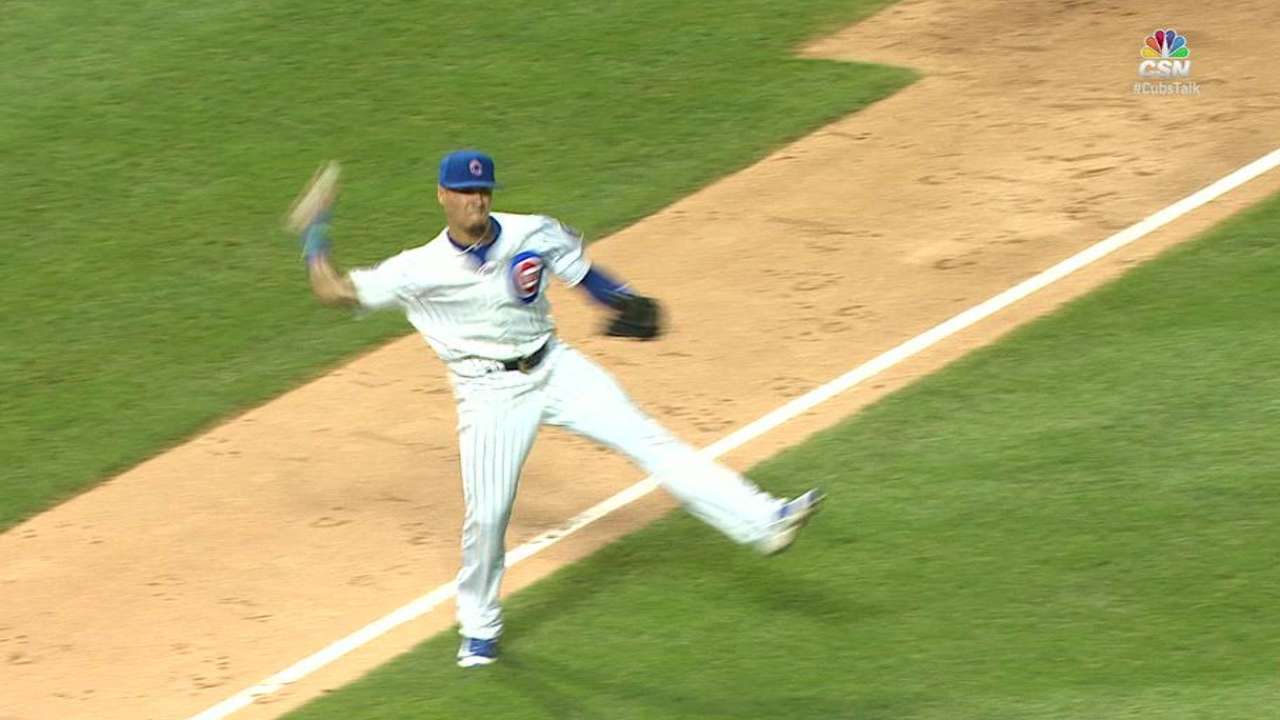 "He's a great runner," Baez said. "I was playing in, and the night I had at the plate, not a very good one, but I don't ever finish playing defense. I always say, no matter what happens at the plate, I'm going to play defense."
Said Maddon: "He saved the game with that [play]."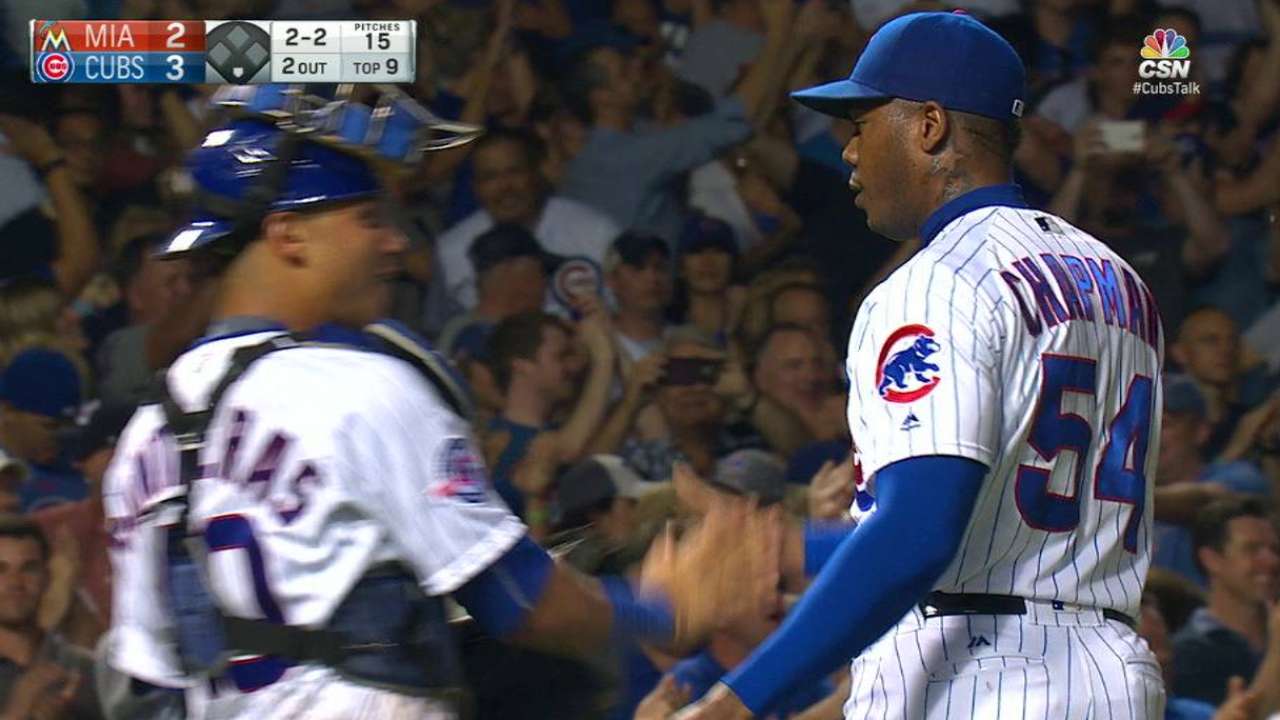 Balk ends up biting Jose: In his last start, a loss at home on July 28 to the Cardinals, Fernandez had a balk overturned, and it ended up saving him a run. The 24-year-old Miami ace wasn't as fortunate on Tuesday night. In the fifth, with Chris Coghlan on first, Fernandez balked and this time there was no dispute. Coghlan was awarded second, and with two outs, Fowler ripped an RBI single, driving home Chicago's third and decisive run.
"I've been pitching like that the longest [of time]," Fernandez said. "They called a balk, and I asked them what I did. He said I started already and then I step off." More >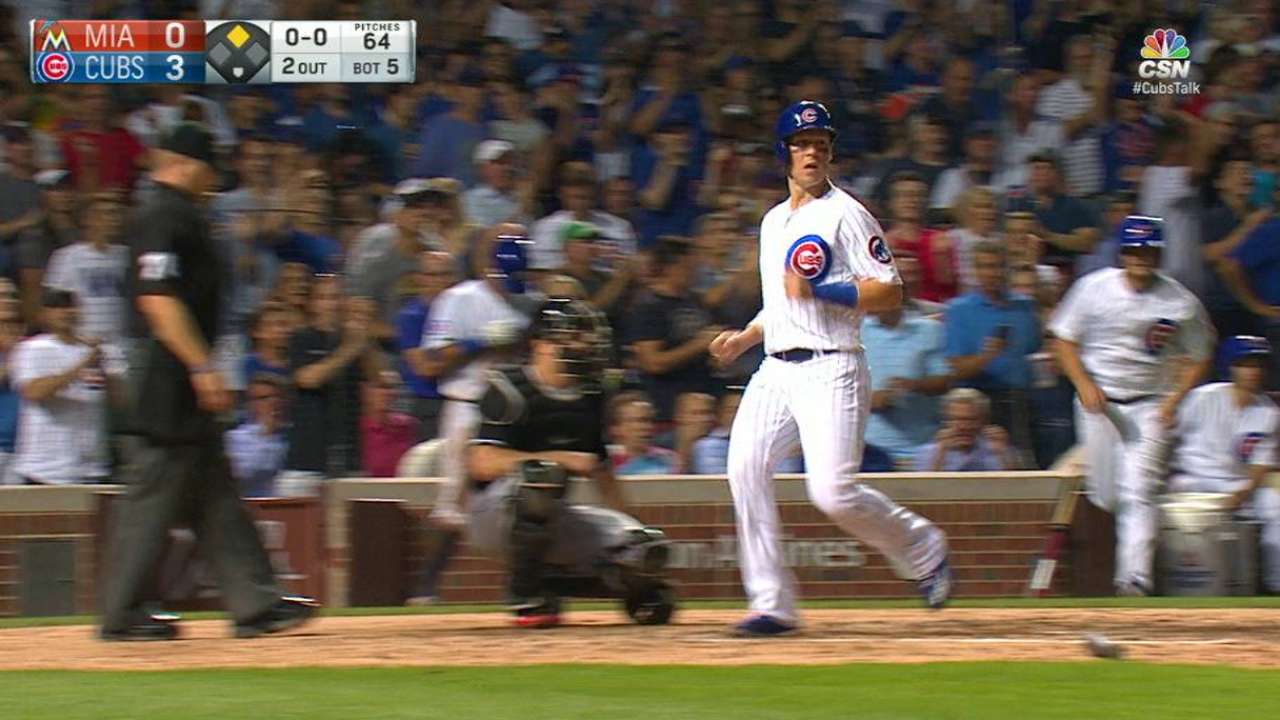 Wild play costs Marlins: A missed chance at an inning-ending double play cost the Marlins a run in the third. Fernandez was looking at a first-and-third, one-out situation when Anthony Rizzo lifted a fly ball to short left field. Christian Yelich ran in to make the catch, and immediately saw Contreras had taken off for second. With Fowler on third, Yelich made the long throw to first base, but it sailed high and pulled first baseman Chris Johnson off the bag. Fowler darted home and Johnson threw to J.T. Realmuto, who couldn't hang onto the ball. After Fowler scored, Fernandez retrieved the ball and threw Contreras out trying to advance to second. When the dust settled, the Marlins did get two outs on the play, but not before Chicago tacked on its second run.
"Just a bad play," Yelich said. "I should have set my feet and thrown it. I just kind of lobbed it over there. There is no excuse; it cost us the game."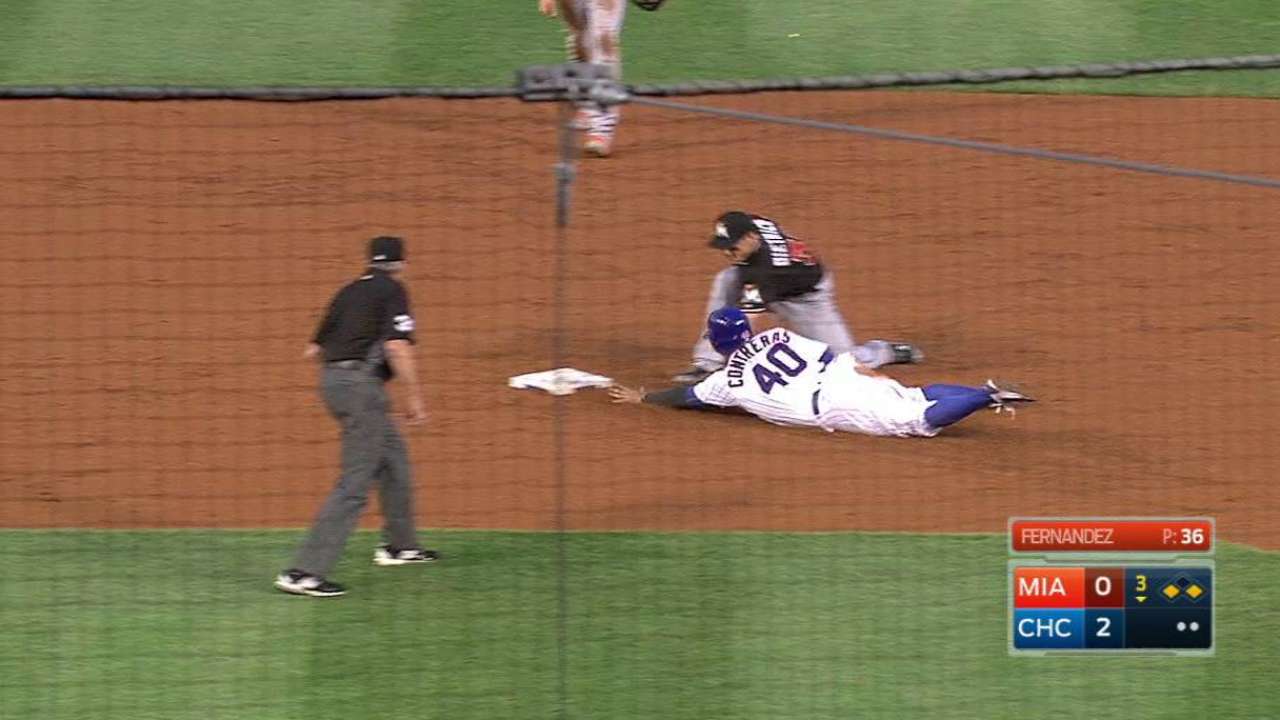 Breakthrough: Pedro Strop took over for Hammel in the seventh, and Derek Dietrich greeted him with a single. Johnson then hit a comebacker to Strop, who threw toward second for a potential double play. But the ball sailed into center for an error, and Dietrich reached third and Johnson was safe on a fielder's choice. Hechavarria and Realmuto followed with RBI singles. Strop exited after striking out Martin Prado, and Travis Wood got Yelich to fly out to left. Coghlan made a tumbling catch of Yelich's ball to end the inning.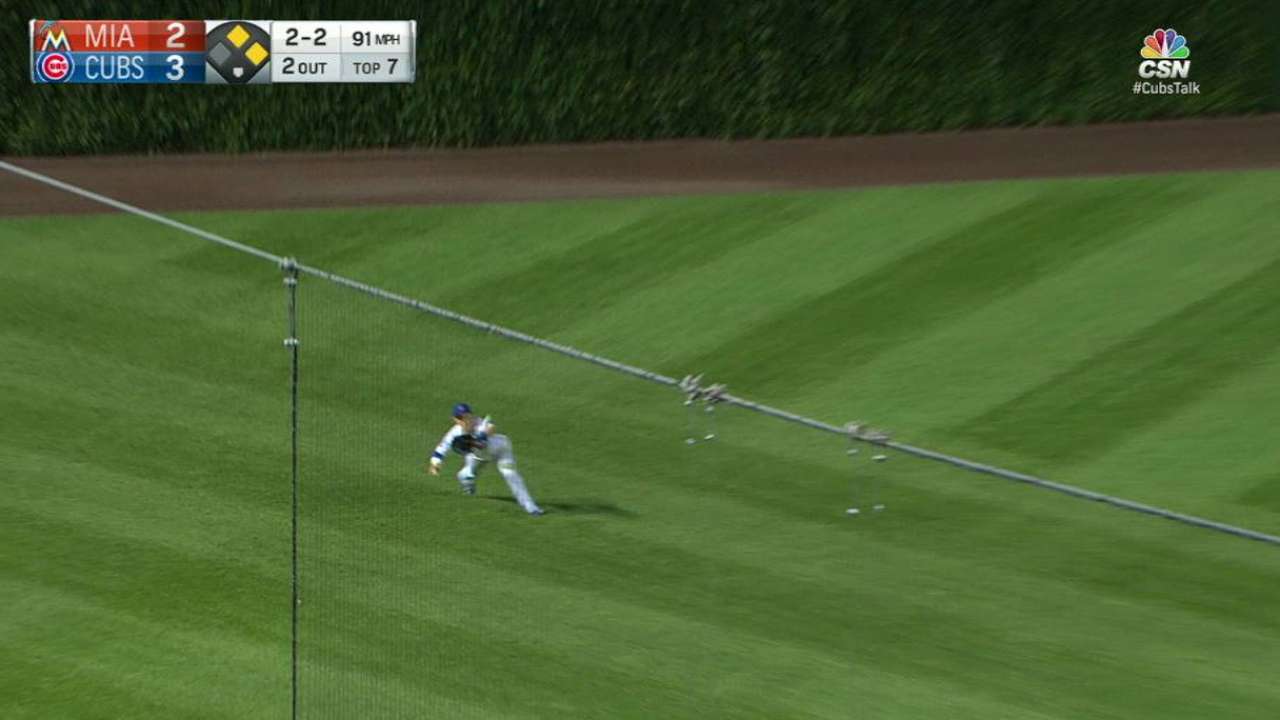 QUOTABLE
"I don't really look at those as mental. Yelly is trying to make a play. He's throwing the ball to the right place. He doesn't throw the ball where he wants to. Dee [Gordon] is trying to get a lead. That's going to happen. Neither one of those, in my mind, are mental. Just physical mistakes." -- Mattingly, on Yelich's high throw that helped set up Chicago's second run and Gordon getting picked off in the eighth inning
"As long as we keep taking care of our business and not looking outside to see where other teams are located, nothing else matters. If the surge is now, if the surge is in September, if we surge all the way from August through September to October, that'd be great. We'll just keep going one game at a time." -- Hammel, on the Cubs' recent play
SOUND SMART WITH YOUR FRIENDS
With eight strikeouts on Tuesday, Fernandez now has 192 on the season, moving him eight away from becoming the sixth pitcher in Marlins history to reach 200. The most recent is Anibal Sanchez, who had 202 in 2011. The club record is 209, set by Ryan Dempster in 2000.
ICHIRO COUNTDOWN
The Marlins' Ichiro Suzuki did not start, but pinch-hit in the seventh and was greeted by cheers from the crowd of 40,419 at Wrigley Field. Strop then struck him out, and Ichiro remained at 2,998 career hits. The only player to collect their 3,000th career hit at Wrigley Field is Stan Musial, who did so May 13, 1958, off Cubs pitcher Moe Drabowsky with a pinch-hit double in the sixth.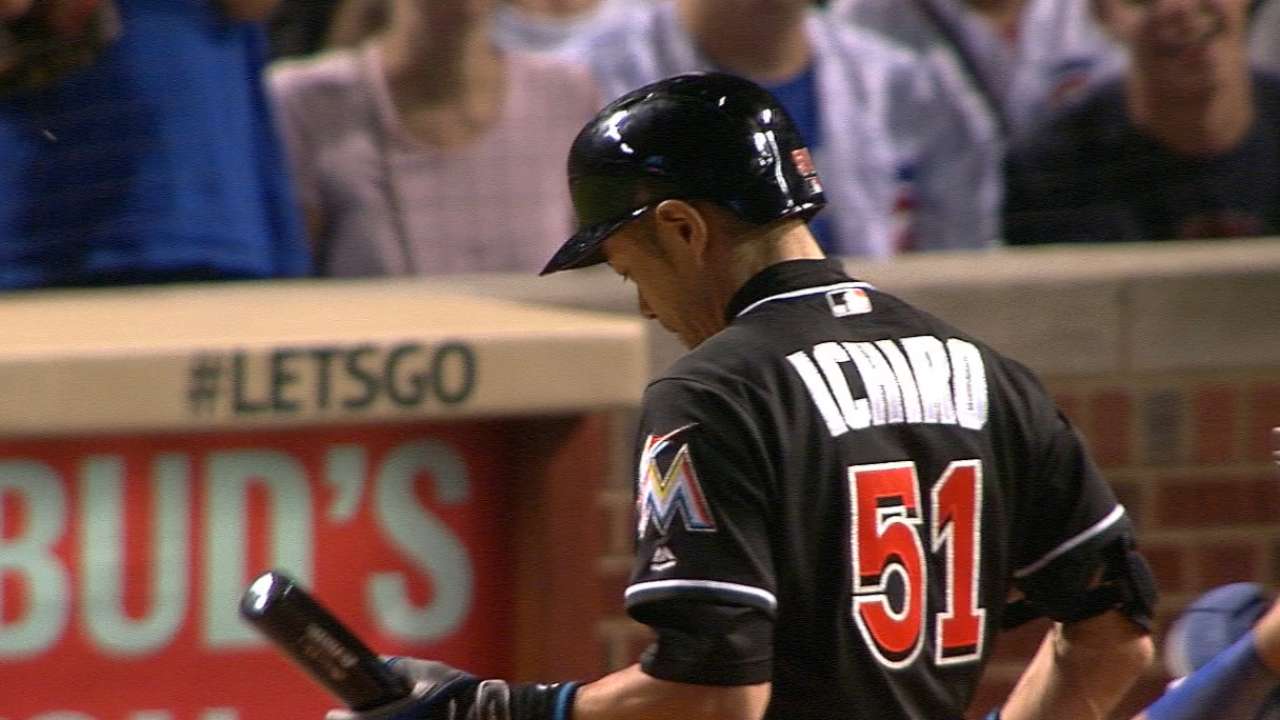 REPLAY REVIEW
With one out in the Marlins' eighth, Marcell Ozuna singled and was lifted for pinch-runner Dee Gordon, who was called out after a pickoff throw from Hector Rondon to Rizzo at first. The Marlins challenged the ruling, and after a review, the call stands.
WHAT'S NEXT
Marlins: In the series finale at 2:20 p.m. ET on Wednesday, the Marlins are going with right-hander Tom Koehler (8-8, 4.18), who is pitching on seven days' rest. Koehler dealt with a minor left pectoral issue, which prompted the club to give him a couple of extra days of rest. He is 1-0 with a 4.24 ERA in five career games against the Cubs, including four starts.
Cubs: John Lackey will close the series, making his team-leading 22nd start. Don't be surprised if Ichiro is in the Marlins' lineup. Ichiro has more at-bats against the right-hander than any other pitcher (121) and has a .306 batting average against him. Lackey is coming off a win over the White Sox. First pitch is scheduled for 1:20 p.m. CT.
Watch every out-of-market regular-season game live on MLB.TV.
Joe Frisaro has covered the Marlins for MLB.com since 2002. He writes a blog, called The Fish Pond. Follow him on Twitter @JoeFrisaro and listen to his podcast.

Carrie Muskat has covered the Cubs since 1987, and for MLB.com since 2001. She writes a blog, Muskat Ramblings. You can follow her on Twitter @CarrieMuskat and listen to her podcast. This story was not subject to the approval of Major League Baseball or its clubs.