Amarista injury creates depth problems
Padres could promote Rondon or outfielder if third baseman goes on DL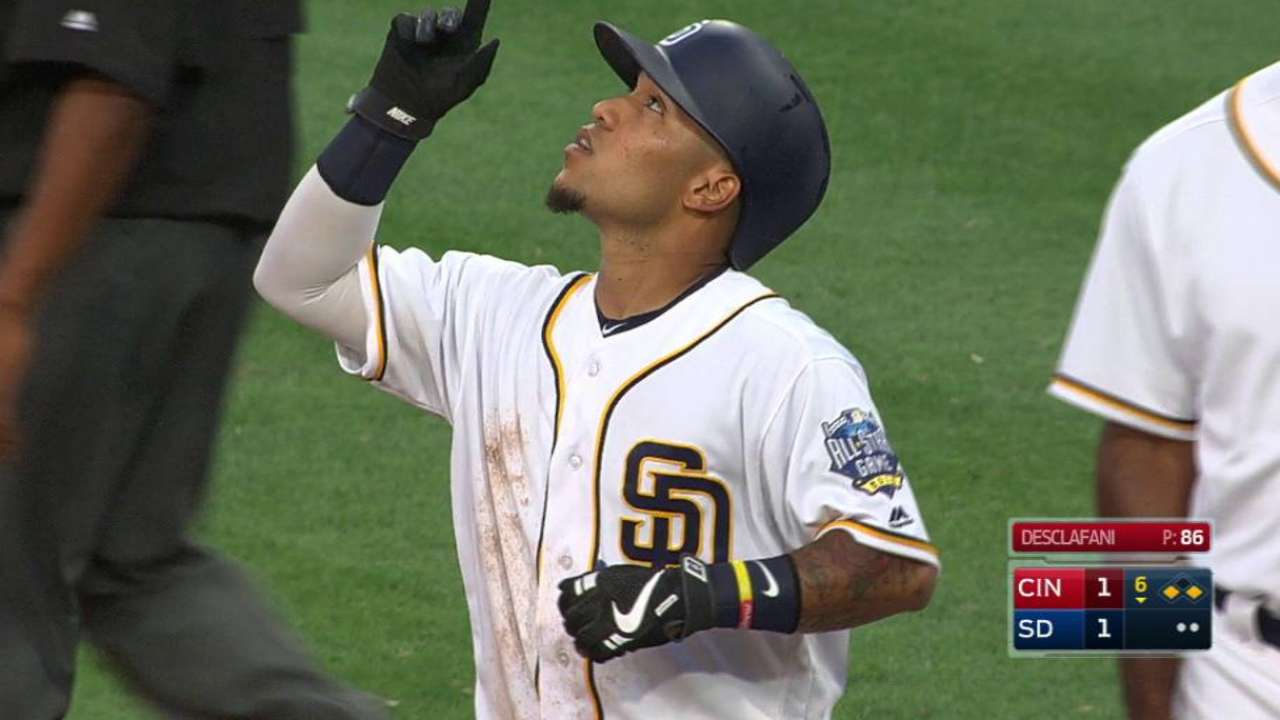 Bill Center, longtime sportswriter for U-T San Diego, is an employee of the Padres.
Another hamstring -- that was my reaction Monday as Alexi Amarista limped to third in the fifth inning, clutching his left hamstring.
Amarista immediately came out of the game, and we will learn later Tuesday if Amarista will be going on the disabled list for a second time this season with a hamstring issue.
Yangervis Solarte, Jemile Weeks and Andrew Cashner also went on the DL with hamstring strains. Cory Spangenberg has been out the longest, but his injury is a quad strain.
Amarista was subbing in left for Alex Dickerson, who could return Tuesday after missing three starts with a bruised left hip after colliding in left-center field with Travis Jankowski in the first inning on Friday night.
When Amarista came out on Monday night, catcher Christian Bethancourt had to go into left, because the Padres didn't have another outfielder with Dickerson unavailable. Even if Dickerson is ready to play, the Padres, who are carrying eight relievers and a four-man bench, won't have a spare outfielder other than Bethancourt if Amarista is placed on the DL.
Due to the injury clause, the Padres could recall shortstop Jose Rondon, who was optioned back to Double-A San Antonio on Monday when Solarte returned from family leave. But that wouldn't address the possible need for a backup outfielder.
Meanwhile, Amarista had been 7-for-12 since returning from Triple-A El Paso on July 27.
Notes from the scorebook
Right-handed closer Brandon Maurer pitched a scoreless inning on Monday night in a non-save situation. Since June 15, Maurer has allowed one run on 10 hits and one walk with 19 strikeouts in 20 innings for a 0.45 ERA and a .145 batting average. This trend has lowered Maurer's season ERA from 6.97 to 4.41.
Solarte returned to the Padres on Monday after missing four games while on family leave. Solarte was 2-for-5 with two RBIs and a run scored on Monday to extend his hitting streak to seven straight games. He is 10-for-31 during the streak, with a double, a homer, four RBIs and five runs scored.
Second baseman Ryan Schimpf was 2-for-4 with a double and a triple on Monday night. Nineteen of his 26 hits have gone for extra bases -- eight doubles, two triples and nine home runs. Schimpf's nine home runs in July was the most in the Major Leagues, and he set a Padres franchise record for the most homers by a rookie in any calendar month. He is hitting .288 (21-for-73) since July 4, with five doubles, two triples, eight homers, 17 RBIs and 18 runs scored.