Bruce excited to be back in postseason hunt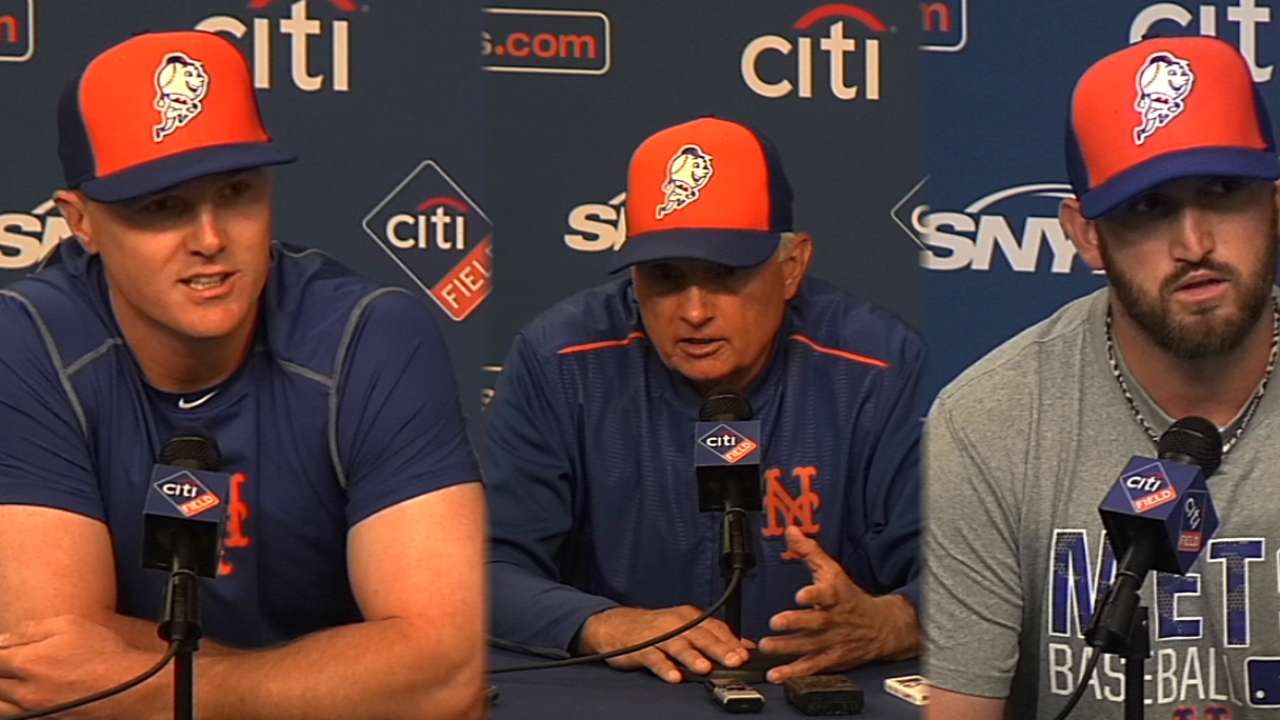 NEW YORK -- When the day Jay Bruce long knew was coming finally came, the career-long Reds outfielder arrived in Queens and walked into a world of orange and blue.
Bruce had been prepping to end up here in certain ways for a while, his name a constant presence in trade rumors for more than a year. So when he punched the clock at Citi Field for his first day of work Tuesday, threw his travel bags into his locker next to Curtis Granderson, met with manager Terry Collins and exhaled before the Mets' 7-1 win over the Yankees, Bruce felt finished with a least the first part of his next journey.
"I feel like I've been traded to the Mets for over a year now," said Bruce, who went 0-for-4 in his Mets debut. "You never know what's going to happen until it actually happens."
What happened Monday was supposed to happen earlier. The Mets tried to acquire Bruce at last year's non-waiver Trade Deadline. Then after he was almost traded to the Blue Jays in the winter, Bruce continued to field questions about trade rumors for months.
"When [the deal] happened, I was very, very excited," Bruce said. "There were a lot of emotions. There is a group of guys I grew up with over there in Cincinnati. But I'm in a new place. It seems like a great group of guys. I'm excited to be a part of this."
Bruce is now a part of a contending team -- something he experienced early in his career, but not recently. Some of his best seasons came for the National League Central-champion Reds of 2010 and '12, and the '13 club that made the Wild Card Game. Bruce's resurgent '16 campaign, in which he's leading the NL with 80 RBIs, continues with the reigning NL champion Mets, a team desperate for run production and looking to claw its way back into the postseason.
Bruce smirked Tuesday when recalling an ironic bit of chance from last season -- him striking out to end the Mets' division-clinching win in Cincinnati on Sept. 26, 2015.
"One of the nastiest pitches I've ever faced in my life, from Jeurys Familia," Bruce said. "Hopefully I get to be a part of that this year."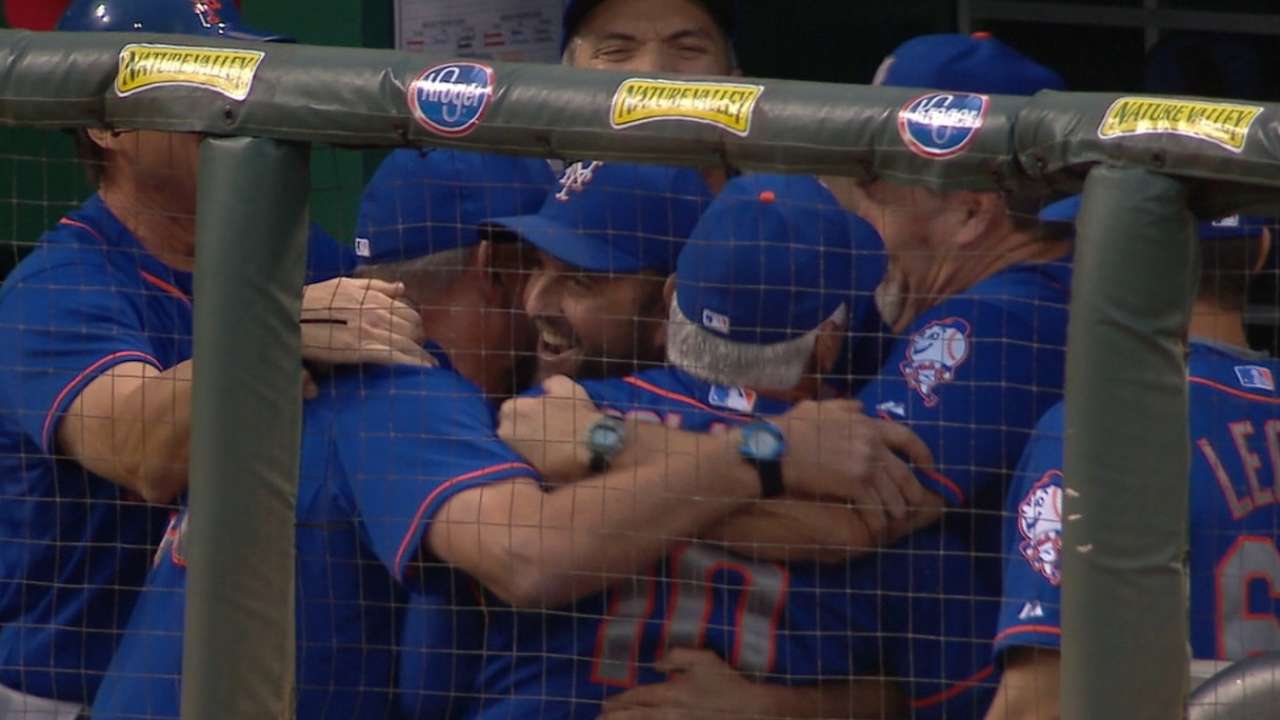 In some ways, his new life does bear some similarities to his old one. Bruce has good relationships with David Wright, Granderson, James Loney and other Mets. Collins immediately inserted his new slugger into right field, where Bruce has played 1,168 games. Upon making his first defensive putout Tuesday, Bruce was serenaded with cheers of "Bruuuuuce" from the home fans, something he's heard since the start of his professional career. Consider those small dashes of normalcy sprinkled into Bruce's new world, and welcomed ones at that.
"I think it's an adjustment. Today was a whirlwind of a day," Bruce said afterward. "I felt a little out of place for the first couple of innings, honestly. After that was gone it felt like I was just playing ball. Besides from running into the other dugout, I was pretty comfortable."
Bruce also told Collins he would be comfortable playing center field, if the Mets need to spot him there. More likely, though, Bruce will find himself in left from time to time, given the unsteadiness of Yoenis Cespedes' strained quad and the glut of corner outfielders Collins has to find a way to juggle.
• Bruce presents Mets with outfield dilemma
"I'm ready for wherever he puts me," said Bruce, who has started 35 big league games in center. "I'm ready for anything."
He'll have to be. Because unfairly or not, Bruce's performance down the stretch will always be compared, to an extent, to Cespedes' last season, when he put the Mets on his back after being acquired at the Trade Deadline from the Tigers. Those expectations loom as a large part of Bruce's new world.
"People can ask and expect whatever they want. I'm going to come in here and be myself," Bruce said. "There is an instant recharge of the battery getting into a pennant race and playing baseball that matters."
Joe Trezza is a reporter for MLB.com based in New York. Follow him on Twitter at @joetrezz. This story was not subject to the approval of Major League Baseball or its clubs.