Pujols closing in on top 10 all-time homers list
Designated hitter catching up to McGwire's total of 583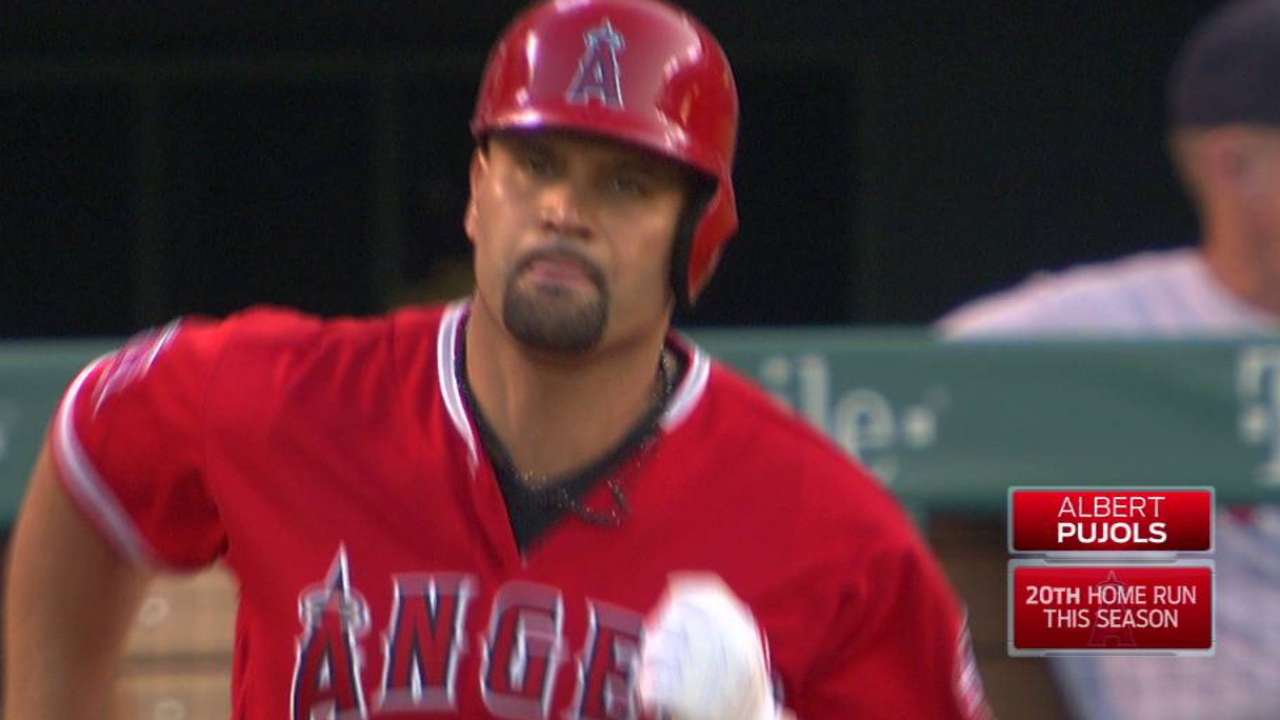 ANAHEIM -- It was in Jupiter, Fla., in March 2001, and a 21-year-old Albert Pujols was playing left field, because the Cardinals didn't know where to put him, and because, as Pujols tells it now, "They wanted to see if I would screw up."
However, Pujols made a diving catch, threw a runner out on the bases, and at that point, as the story goes, Mark McGwire turned to Tony La Russa and said, "If he's not on this ballclub, that's going to be the biggest mistake you've ever made."
"He just gave me one of those stares," McGwire recalled. "Like a dad looking at his son, when the son is trying to give him advice."
Pujols eventually cracked that Opening Day roster, despite being a 13th-round Draft pick in 1999, and then playing all of one summer in the Minor Leagues. He went on to carve out one of the most impressive 10-year runs, and he hasn't really stopped lifting baseballs over fences since, despite the litany of lower-body ailments that thwart his ability to even sprint.
Now, with three more, Pujols will have 583 home runs in his career, and that will tie him for 10th all time, right alongside McGwire, who remains one of his closest friends.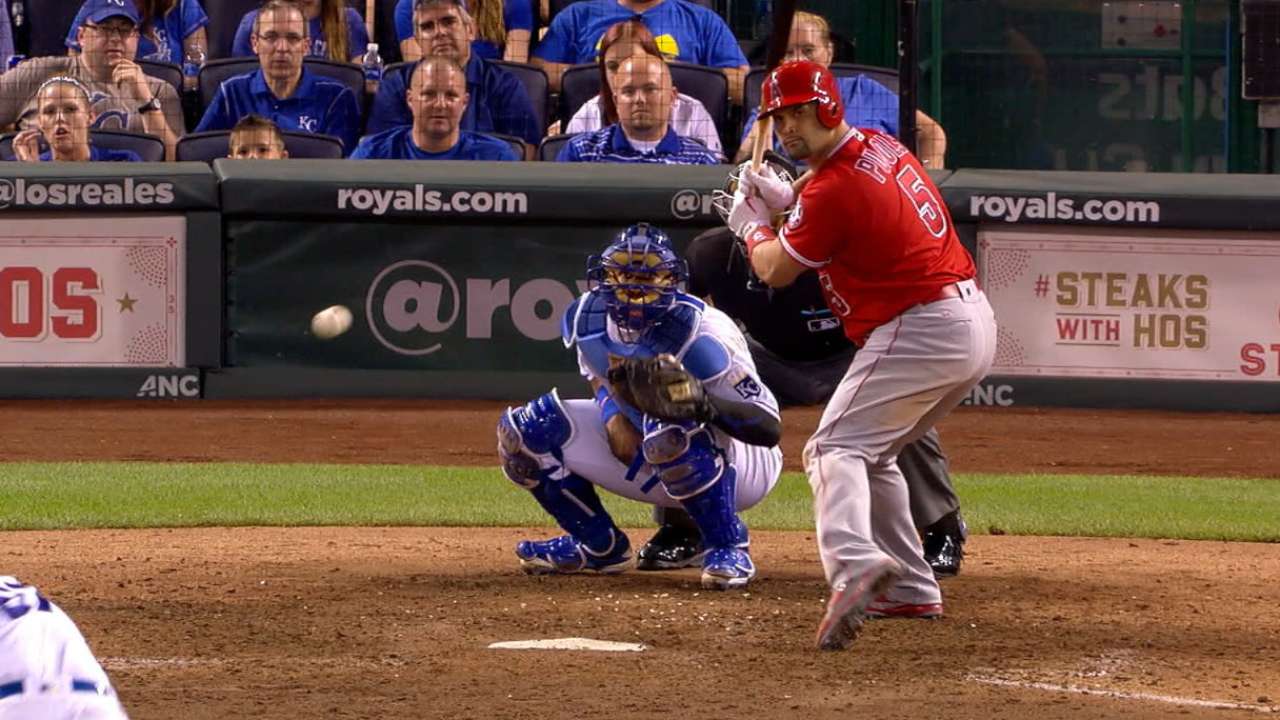 Reached by phone last week, McGwire, who at one point held the single-season home run record with 70 in 1998, used the word "honored" to describe how he felt about Pujols approaching his career mark, an atypical response for a development like this.
"I'm honored, because I can't say enough great things about [Pujols]," McGwire, now the Padres' bench coach, said. "I wish I would've played longer with him."
Pujols and McGwire only had that 2001 season together as teammates, Pujols' first and McGwire's last in the Major Leagues. Pujols didn't believe it was a rookie's place to ask questions, so he merely observed, and he kept his eyes fixed on McGwire. He noticed how early he arrived to the ballpark, how diligently he watched video, and how he closed his eyes when he stood in the on-deck circle, visualizing the forthcoming at-bat.
Towards the end of the 2009 season, La Russa approached Pujols about possibly hiring McGwire as the Cardinals' hitting coach, and Pujols spoke glowingly about McGwire's preparation and intelligence.
Pujols expects McGwire to manage someday.
"And he's going to be a heck of a manager, too," Pujols said. "Watch. I'm telling you right now, 2016, watch when he gets his opportunity, if he does get it."
Pujols had McGwire as his hitting coach in what would be his last two seasons in St. Louis, from 2010-11. McGwire had been out of the game for nine years, but he found himself learning by watching Pujols hit.
"He just keeps on ticking, man," McGwire said. "Born hitter. It wasn't hard to see back in 2001."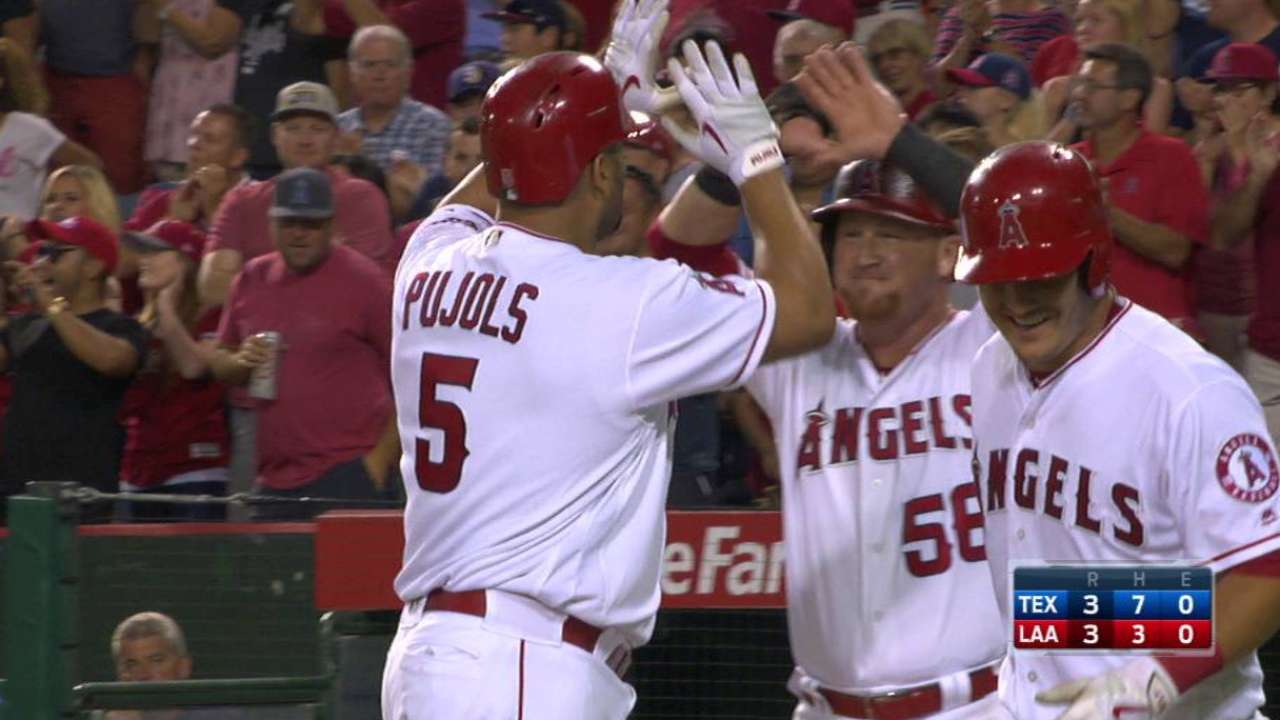 When Pujols signed a 10-year, $240 million contract to join the Angels in December 2011, McGwire stayed in touch. When McGwire's coaching career took him to the West Coast, first with the Dodgers and then with the Padres, he moved into Pujols' neighborhood in Irvine, Calif. McGwire's two sons, Max and Mason, remain close with Pujols' oldest, A.J.
And every spring, McGwire and Pujols carve out time to meet for dinner in Arizona.
They'll meet at 6 and stay until 11, almost always talking about hitting. This year, Pujols was coming off surgery on his right foot in November, and McGwire told him he needed to embrace life as a designated hitter, so his legs would stay fresh.
Pujols listened. He started 76 of his first 102 games at DH, including 32 of his last 33, ever since a nagging hamstring forced him to sit for two days.
"I don't have any concerns," McGwire said of Pujols' ability to play consistently over the life of his contract. "The more and more that he accepts to become a DH, I think it's going to absolutely help him out health-wise."
Pujols made up for a slow start with a solid July, which ended with a .297/.360/.505 slash line and a Major League-leading 31 RBIs. At 36, he is on pace for 31 home runs and 125 RBIs, while batting a respectable .260/.331/.439.
Pujols called 2016 "a rollercoaster -- up and down." He's proud of how quickly he returned from a procedure that was supposed to keep him out until May, but he is disappointed in a season that has left the Angels out of contention. Along the way, he has passed Reggie Jackson, Rafael Palmeiro and Harmon Killebrew on the all-time home runs list.
This next one is a little personal.
"Maybe I can call him and just brag about it, talk crap about it, but as of right now, I really haven't put too much thought into it," Pujols said about tying, and eventually passing, McGwire. "I never thought I was going to hit as many home runs as I have, but obviously I've worked my butt off."
Alden Gonzalez has covered the Angels for MLB.com since 2012. Follow him on Twitter and Facebook, and listen to his podcast. This story was not subject to the approval of Major League Baseball or its clubs.