What to expect from Brewers' Arcia in big leagues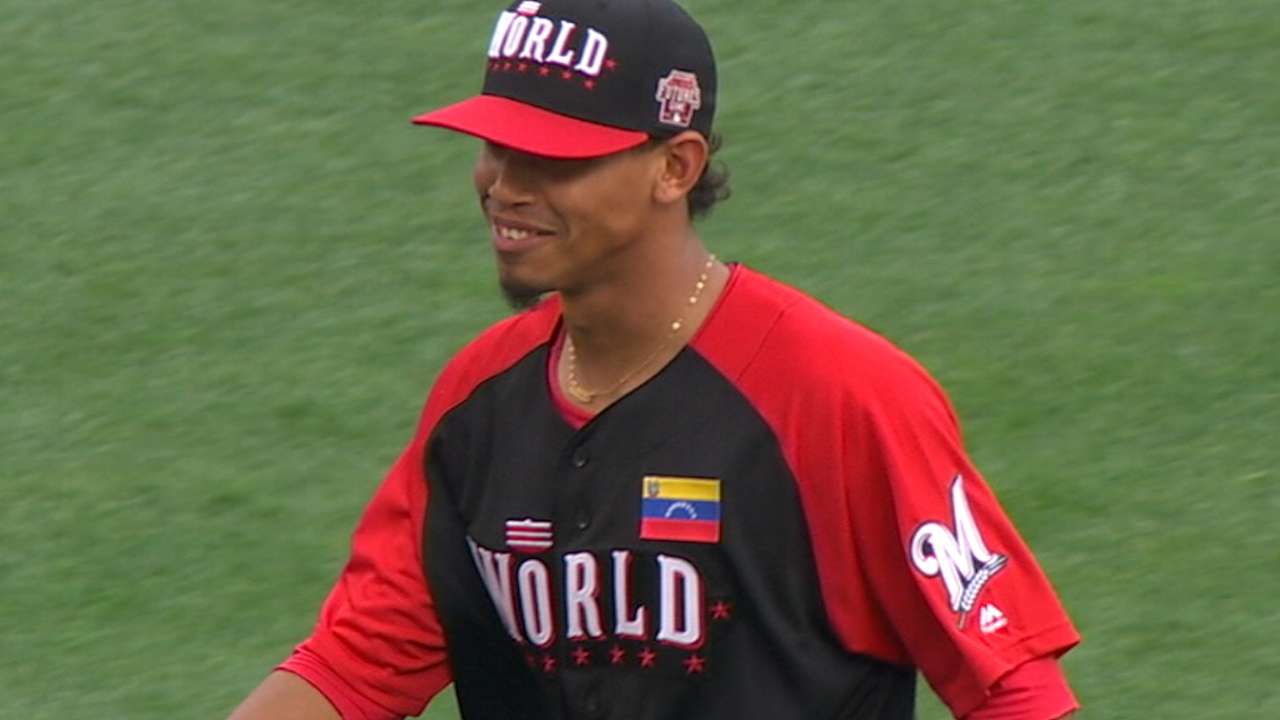 After a busy Trade Deadline that saw them part with Jonathan Lucroy and Jeremy Jeffress as well as Will Smith in two separate deals, the Milwaukee Brewers are set to usher in a new era with the promotion of top prospect Orlando Arcia.
Arcia is expected to join the Brewers for Tuesday night's game against the Padres, and manager Craig Counsell already has stated that the 21-year-old will take over as the team's everyday shortstop upon arrival, with Jonathan Villar sliding over to third base.
The No. 13 overall prospect has spent all of 2016 at Triple-A Colorado Springs, where he compiled a .267/.320/.403 batting line over 100 games. He also hit eight home runs, 19 doubles and six triples, while scoring 59 runs and stealing 15 bases in 23 attempts. Though he didn't exactly tear the cover off the ball during his time in the hitter-friendly Pacific Coast League, Arcia has a strong track record of producing as a younger player in advanced leagues.
Signed out of Venezuela in October 2010, Arcia, the younger brother of Rays outfielder Oswaldo Arcia, has moved through the Minor Leagues at a steady one-level-per-year pace during his career, though it wasn't until 2015 that he put himself on the map as an elite prospect.
Arcia showed signs of breaking out during his 2014 campaign in the Class A Advanced Florida State League at age 19, and then continued to make strides that offseason playing in his native Venezuelan Winter League. He put everything together with the move up to Double-A Biloxi the following year, when he led the Southern League with 37 doubles and ranked fifth with a .307 average as a 20-year-old. Arcia also finished among the leaders with 157 hits (second), 52 extra-base hits (third), 74 runs (fifth) and 69 RBIs (fifth).
However, where Arcia truly shines is on the dirt. Having long been revered as one of the premier defensive shortstops in the Minor Leagues, Arcia now will get the chance to showcase his immense skills at the highest level.
A true plus defender, Arcia possesses the necessary soft hands, excellent range and strong arm to become a Gold Glove-caliber shortstop in the big leagues -- with scouts giving his defensive chops a 65 on the 20-80 scouting scale, where 50 is average -- and there aren't enough good things that can be said about his instincts and overall feel for the position. In general, Arcia possesses four tools which grade as a 60 or better in his bat, arm strength, speed and his aforementioned defense. Scouts, meanwhile, love his makeup and maturity, and the belief is that those intangibles will allow him to make a smooth transition to the Major Leagues.
Though Arcia's power is his lone below-average attribute, the 6-foot, 165-pound right-handed hitter has experienced an uptick in his over-the-fence pop as he's climbed the Minor League ladder, doubling his career-high home run total in 2015 (eight) and then matching that total once again in '16 at Triple-A. And given Arcia's innate knack for getting the barrel to the ball during his young career, it's believed that he will tap into more of his raw power once he settles in against big league pitching.
Arcia may experience some growing pains during the final two months of the regular season, but the Brewers believe he's more than ready to handle any and all challenges the Major Leagues present. Meanwhile, with a farm system that now boasts eight Top 100 Prospects in the wake of Monday's non-waiver Trade Deadline, the 21-year-old shortstop's arrival marks the beginning of a new era for the Brewers, who are poised to graduate a slew of high-end talent to big leagues in the coming years.
Mike Rosenbaum is a reporter for MLB.com. Follow him on Twitter at @GoldenSombrero. This story was not subject to the approval of Major League Baseball or its clubs.