'Absurd' Hendricks thrusting self into Cy mix
With 2nd career SHO, righty has MLB-best 1.04 ERA over last 9 outings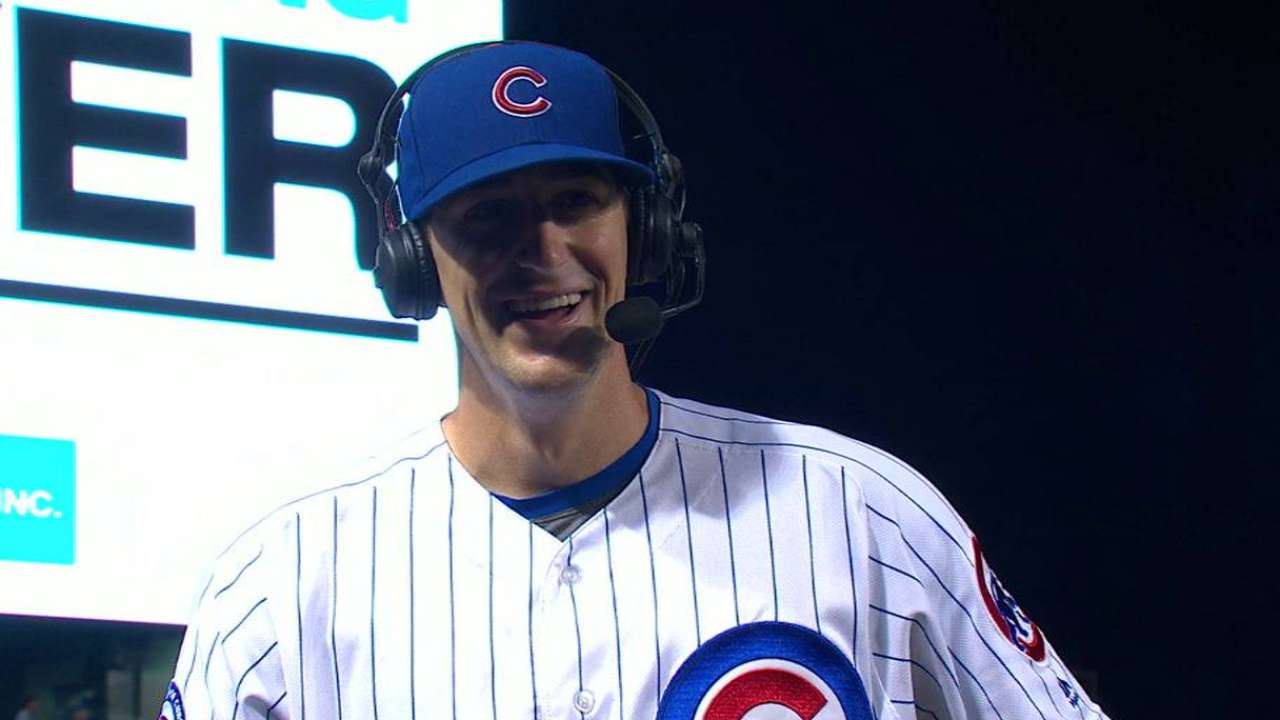 CHICAGO -- After the All-Star break last year, Jake Arrieta went on a dazzling run, posting a 12-1 record and 0.75 ERA. This season, the Cubs' fifth starter, Kyle Hendricks, appears to be on the same streak.
Hendricks threw his third career complete game and second shutout on Monday night, leading the Cubs to a 5-0 victory over the Marlins. The right-hander, who also had an RBI single, improved to 6-1 with a 1.04 ERA in nine games (eight starts) since June 19. That's the best ERA in baseball during that span.
"He's on his way," Cubs manager Joe Maddon said of Hendricks, who scattered seven hits and struck out five. "Look at the numbers. Look at the numbers at home -- they're absurd. It's a different version of what Jake did last year. Number-wise, innings-wise, as [Hendricks] gets stretched out like this, maybe we'll let him go a little bit more."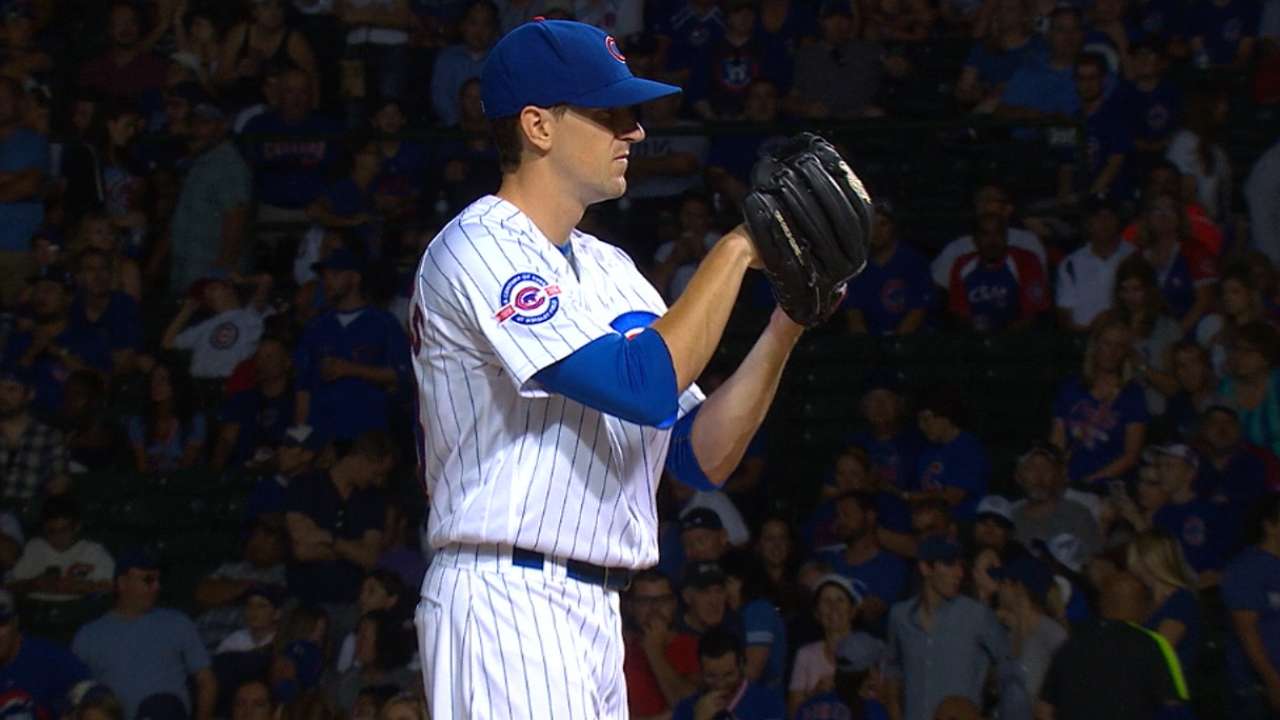 There's no place like Wrigley Field for Hendricks, who has a 1.19 ERA at home, the best mark in the Major Leagues.
"I like to see him finish it there," Cubs first baseman Anthony Rizzo said of Hendricks. "He's been one of the better pitchers all season. He keeps going out and does his thing. He prepares every day and works hard."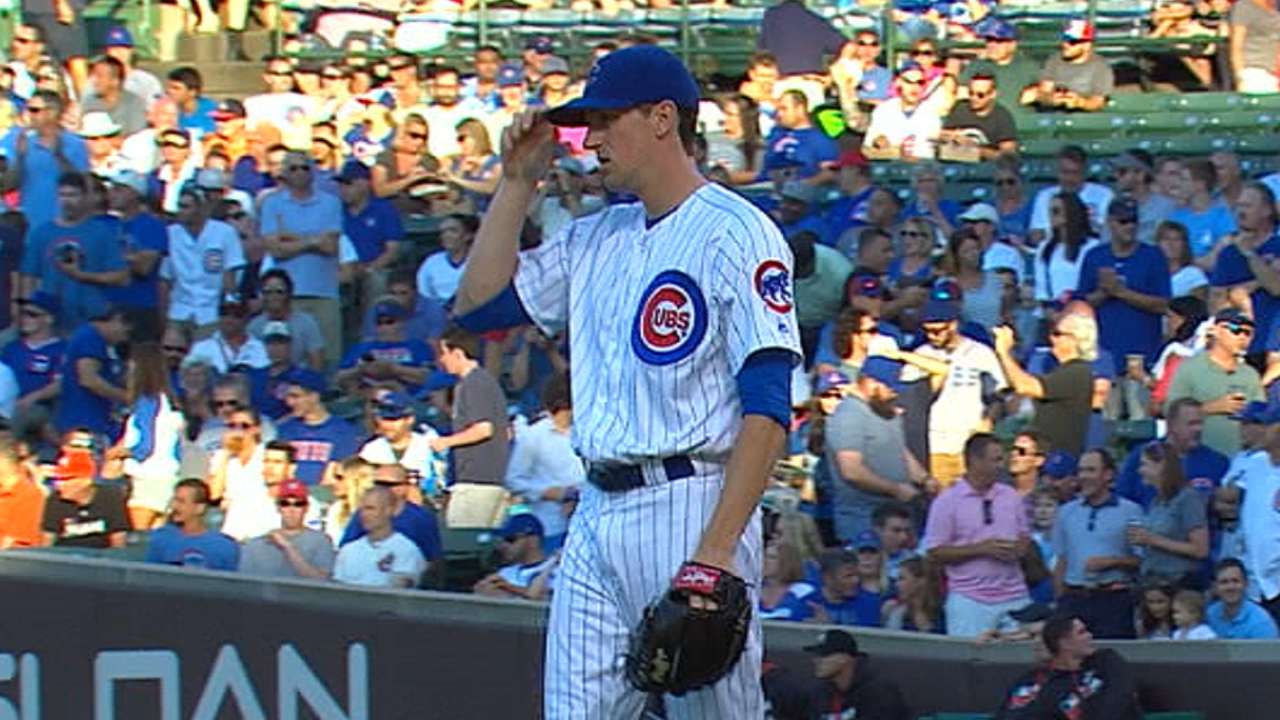 It was perfect timing, too, for Hendricks to go the distance. The Cubs beat the Mariners on Sunday night in 12 innings, using all but Hendricks, Arrieta and John Lackey in the game, and Lackey was in the bullpen warming up if needed.
"With the bullpen being somewhat depleted, we needed that tonight and he absolutely nailed it," Maddon said of Hendricks. "He's really grown up and has been very impressive. Right now, he's one of the best pitchers in the National League, period."
Which should prompt Hendricks to be included in Cy Young talk. There probably aren't many fifth starters who are considered for the top pitching award.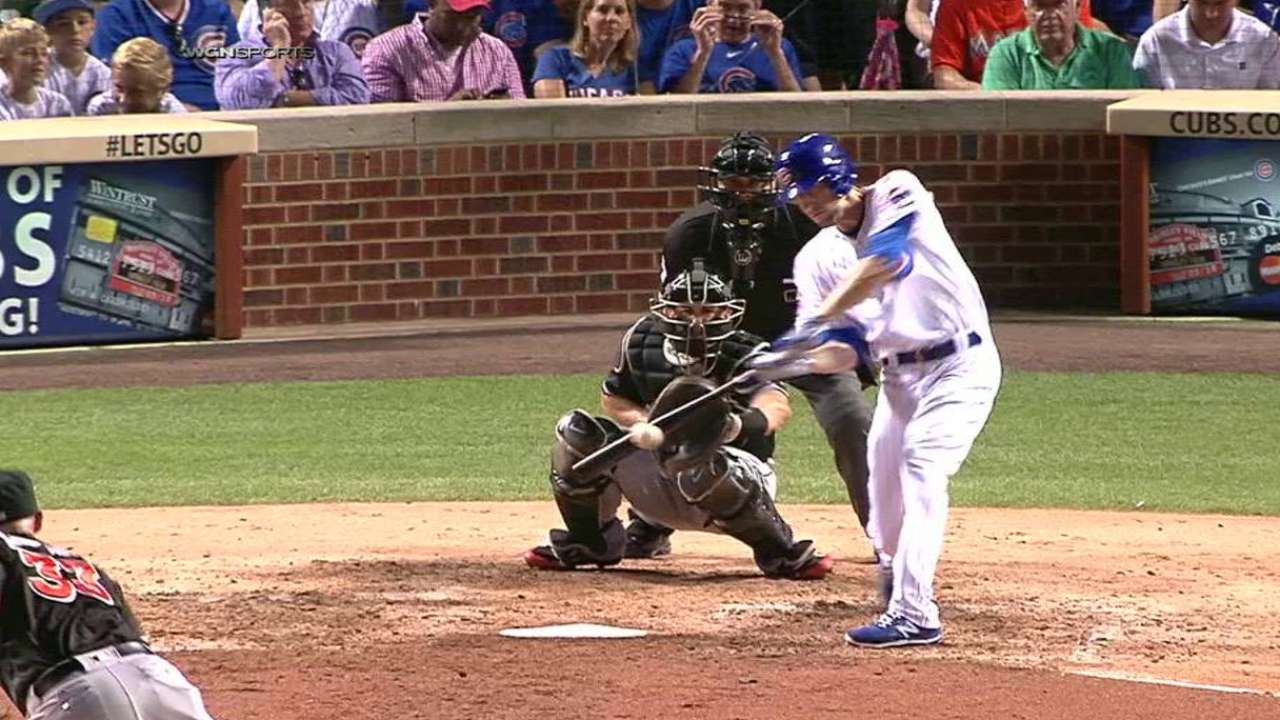 "That's just an accolade," Hendricks said. "We've got a long way to go. Our sights are a lot more than individual honors on this team. My sights are set higher."
Hendricks was 8-7 with a 3.95 ERA in 32 starts last season, and is 10-7 with a 2.22 ERA this year. What's the difference? Maddon said it's Hendricks' command and his ability to be effective even when he falls behind in the count. On Monday, he used his curve more against right-handers, saying rookie catcher Willson Contreras believed in the pitch.
"This is definitely the best I've pitched, the most confident I've been," Hendricks said. "It's been a development all year long."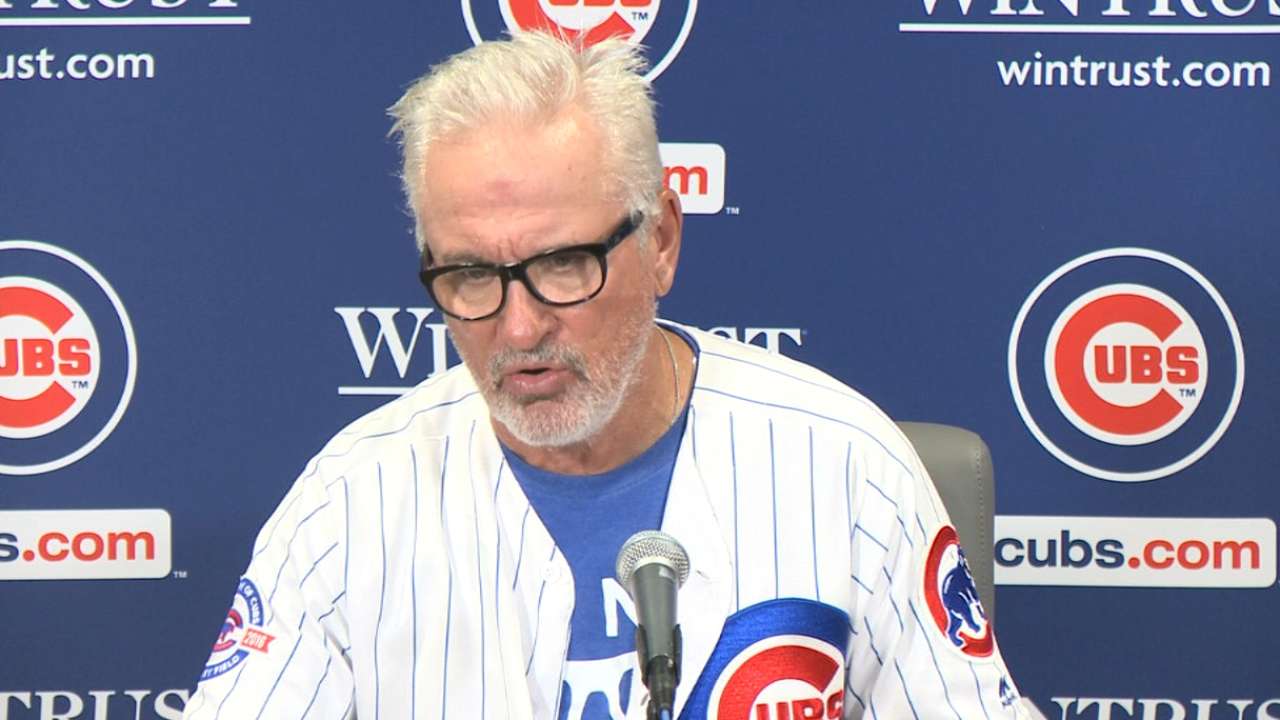 "He just has a nice little game plan going on and he's executing it," Maddon said of Hendricks, who threw a career-high 123 pitches, but will get an extra day of rest before his next start on Saturday against Oakland because of the schedule.
The Cubs played solid defense behind the right-hander. Right fielder Jason Heyward, second baseman Javier Baez and third baseman Kris Bryant combined on a perfect relay to get Derek Dietrich at third as he tried to stretch his double into a triple in the fourth. Contreras threw out Dee Gordon trying to steal in the fifth, and Bryant and Rizzo teamed up for a double play in the seventh.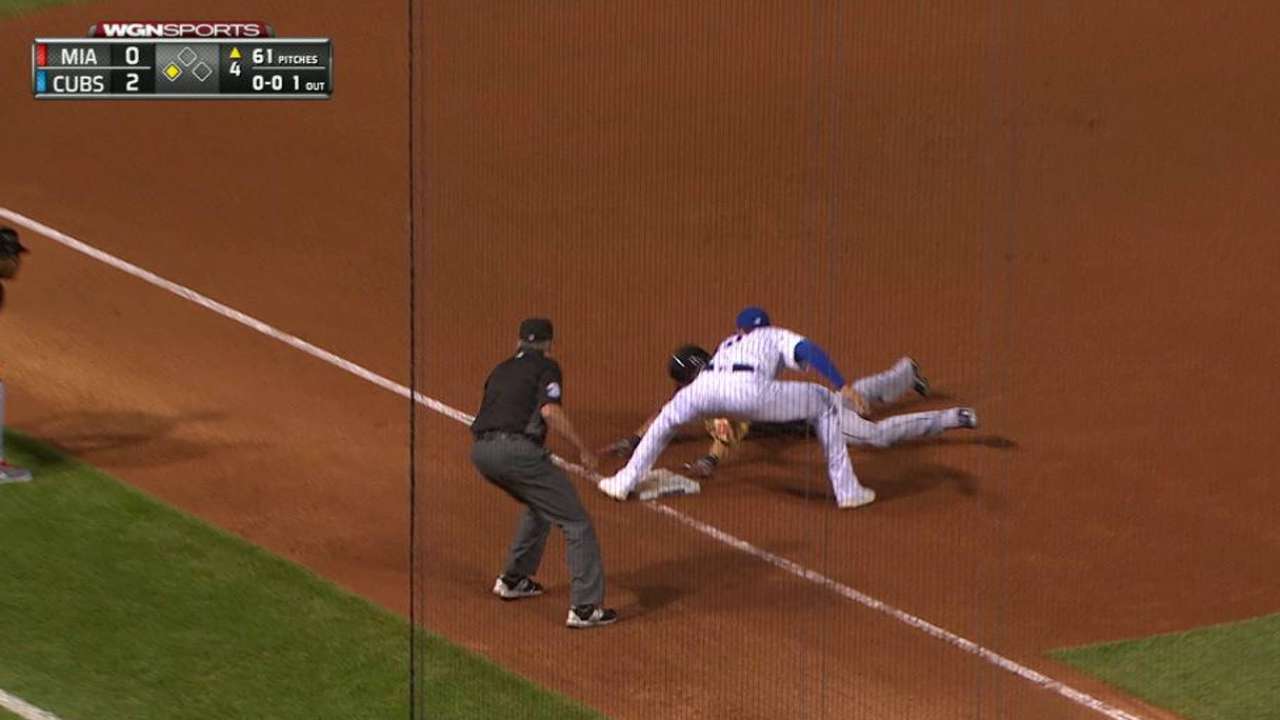 Pitching and defense will win a lot of games. Hendricks is right in the mix.
"It's pretty beautiful to watch," Maddon said. "He's a humble man, he does his work, he's a great team player. He's just a joy to be around and then he goes and does that. With good health, he'll continue to do that for a while."
Carrie Muskat has covered the Cubs since 1987, and for MLB.com since 2001. She writes a blog, Muskat Ramblings. You can follow her on Twitter @CarrieMuskat and listen to her podcast. This story was not subject to the approval of Major League Baseball or its clubs.