Conley's good roll slowed by six-walk outing
Left-hander chased after 4 innings despite allowing 2 runs vs. Cubs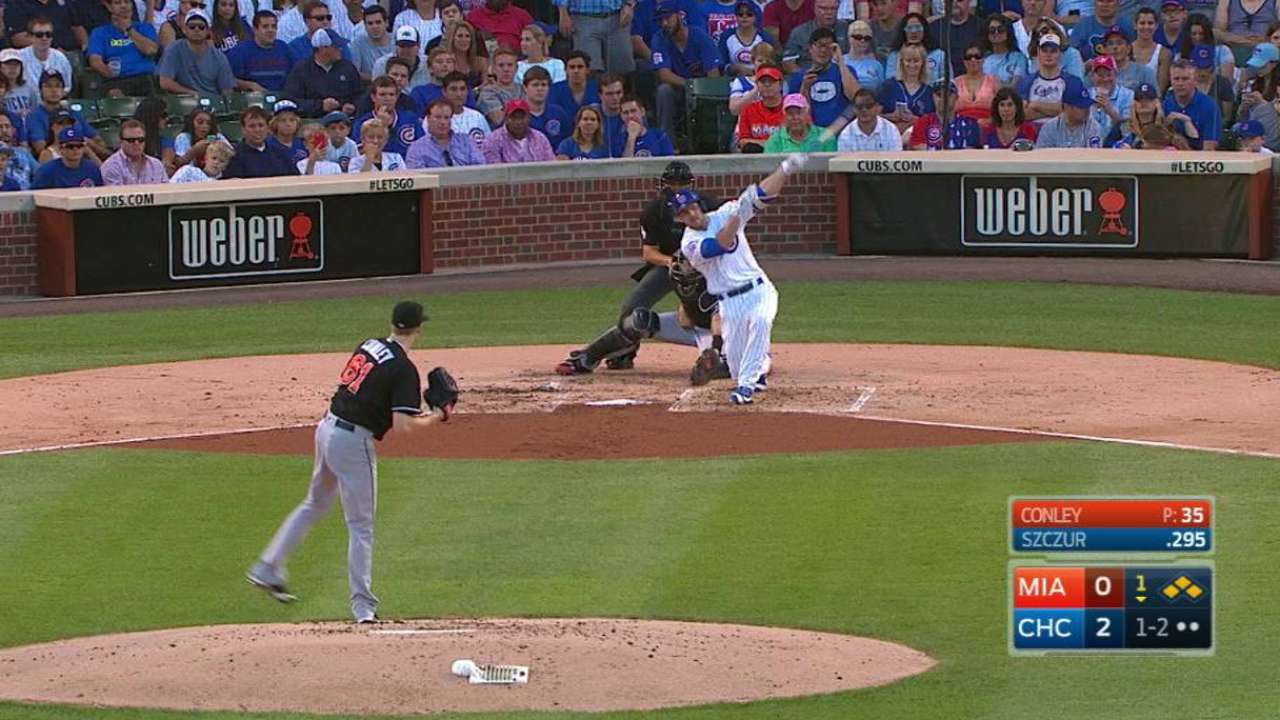 CHICAG0 -- Just when left-hander Adam Conley was starting to settle in, it was time for him to come out. A rising pitch count early resulted in a short, four-inning outing.
The Cubs scored twice in the first, and the Marlins weren't able to recover in a 5-0 loss on Monday in the series opener at Wrigley Field.
Conley threw 36 pitches in the first inning, and he was at 65 through two. In the third and fourth innings, he was getting sharper, although he still allowed four baserunners, but his night was over at 97 pitches.
"You don't get any free tries at adjusting in this game, especially against a lineup like this, at their place," Conley said. "If you're not good, and you're in the zone, there's going to be consequences for that. At the same time, I'm trying to make adjustments and change what I'm doing. I'm also trying to keep us in it, and I'm trying to figure out a way to keep the pitch count reasonable. So there is a lot going on."
For Conley, there were a lot of baserunners, and wondering what could have been done, especially in the first, when Addison Russell lined a 2-2, 93.5-mph four-seam fastball into right field, giving Chicago the early lead.
"I gave up two runs," Conley said. "I think you can attribute a lot of the pitch count to that, because I can't be as aggressive in the strike zone when there is traffic and I'm in bad counts all the time. I can't just lay one in there to these guys. It kind of snowballed on myself by falling behind and not being able to execute early."
The tone was set in the first inning when Kyle Hendricks, who threw a shutout, retired Miami in order in the top of the first.
Conley walked Dexter Fowler on eight pitches to open the first, and wasn't able to put Anthony Rizzo away after going 0-2. Rizzo doubled to right, putting runners on second and third for Russell, who gave the Cubs the lead they never relinquished.
"We know where to go pretty much with these guys," Marlins manager Don Mattingly said. "If you get the ball there, you get outs. If you don't get the ball to your spots, they've got a good club and they're going to put the ball in play on you."
Conley had been on a roll, going 3-0 with a 1.82 ERA in five July starts. But he was hurt by six walks, with one intentional.
"At the end of the day, I'm hoping my strengths match up with a team's weakness," Conley said. "But if my strength matches up against a team's strength, then I'm going to keep pitching the same way. I'm very convicted, and believe very strongly, if I pitch my game, and execute pitches like I ought to, that I'll miss bats and I'll get the best hitters in the world out."
Joe Frisaro has covered the Marlins for MLB.com since 2002. He writes a blog, called The Fish Pond. Follow him on Twitter @JoeFrisaro and listen to his podcast. This story was not subject to the approval of Major League Baseball or its clubs.