Archer can't ace Royals in emotional outing
Rays right-hander takes loss after teammates leave at Deadline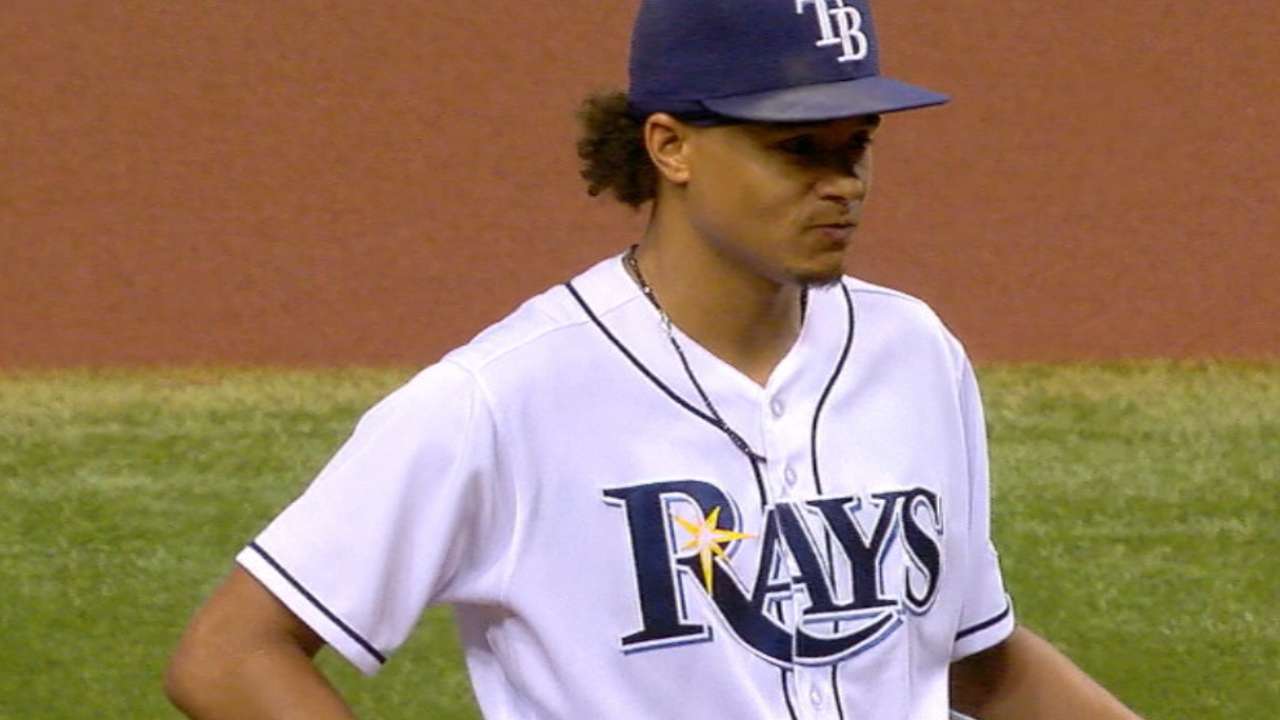 ST. PETERSBURG -- Chris Archer pitched as good as he had all season, going 7 1/3 innings and yielding three runs. He matched zeros with a near-perfect Danny Duffy through six innings and continued to pitch like the Rays' ace.
But Archer's frustration was evident following Monday night's 3-0 loss -- his 15th of the season. When he got back to his locker, Archer tore up a piece of paper sitting on his chair and threw it in the trash. When asked how he thought he pitched, his answer was blunt.
"Not good enough to win," Archer said.
It was, as Archer said, an emotional day. He said goodbye to three teammates that were dealt at the non-waiver Trade Deadline, including starter Matt Moore, who owned a locker next to Archer and has been a friend for many years. Archer's name had also been rumored in trades, but he was still with the team after the 4 p.m. ET Deadline on Monday.
Archer still went out and pitched well, recording six strikeouts and just one walk. He lowered his ERA to 4.38, the best it's been since May 17. It was the third time in the last four starts he's logged at least seven innings. Still, it wasn't good enough to beat the Royals.
"It was a disappointing, frustrating, emotional day," Archer said. "But I don't know if that's why we lost the game. I would probably say that is not the reason we lost the game. That dude [Duffy] was on."
Rays manager Kevin Cash said if Archer could have one pitch back, it would be the one that resulted in an RBI single by Alcides Escobar in the eighth. It extended Kansas City's lead to 2-0, which seemed even greater given the way Duffy had been mowing down Tampa Bay's lineup.
There wasn't any relief to still be with the Rays when the Trade Deadline passed, because Archer said there was no fear that he'd be leaving. His name had been engulfed in rumors with the rest of Tampa Bay's rotation. The emotion on Monday for Archer stemmed from Moore's departure, and taking the mound so soon after that.
"He threw the ball well. Really well," Cash said. "It was just unfortunate we couldn't get anything going to get some runs for him. He was pitching in a 0-0 ballgame and [Kendrys] Morales hits a home run. I couldn't be happier with the way Archer threw the ball."
Sam Blum is a reporter for MLB.com based in St. Petersburg. This story was not subject to the approval of Major League Baseball or its clubs.