Duffy owns Royals mark with 16 strikeouts
Lefty loses no-hit bid in 8th, pins down Rays in series opener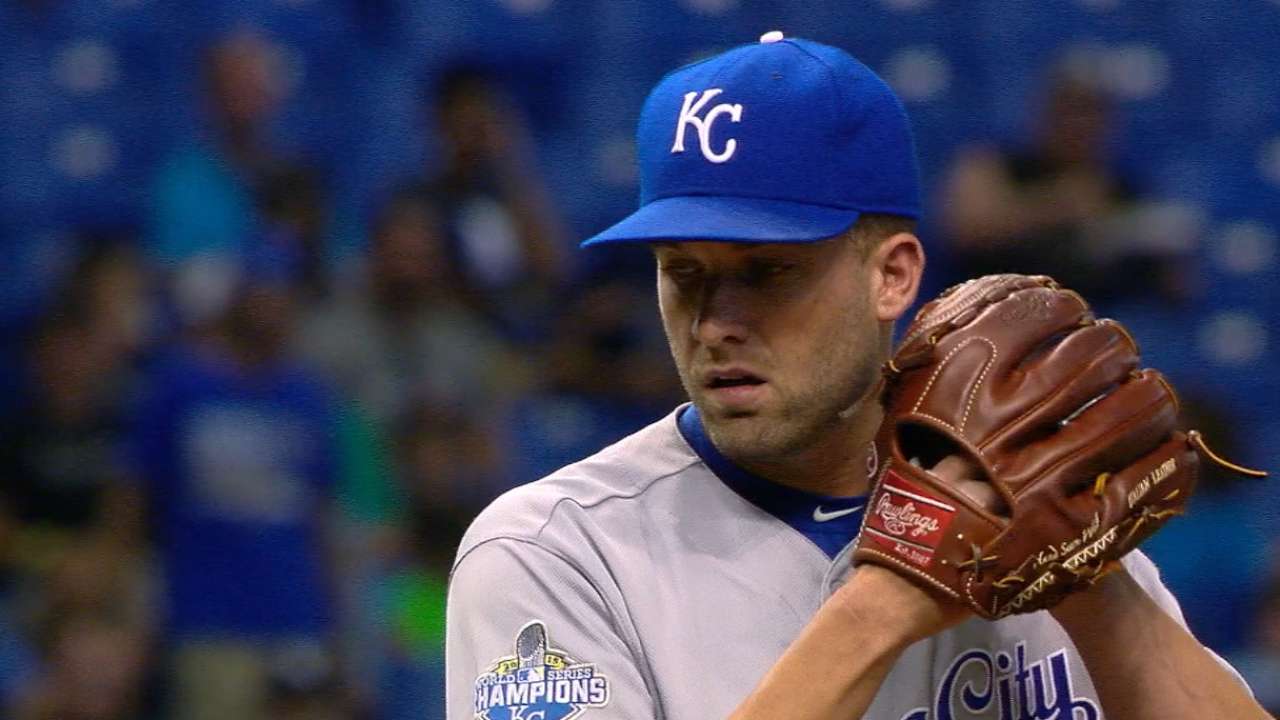 ST. PETERSBURG -- The Danny Duffy that has become the ace of the staff is the one the Royals have envisioned for years.
That Duffy was on full display again on Monday night as he carried a no-hitter through seven innings and dominated the Rays in a 3-0 win at Tropicana Field. Duffy finished with a one-hitter through eight innings and struck out a franchise-record 16.
To put it simply, the Rays simply had no chance -- only nine batters even put the ball in play, none on the ground. Outside of Desmond Jennings' leadoff double in the eighth that broke up the no-no, the Rays either struck out or hit weak popups and fly balls.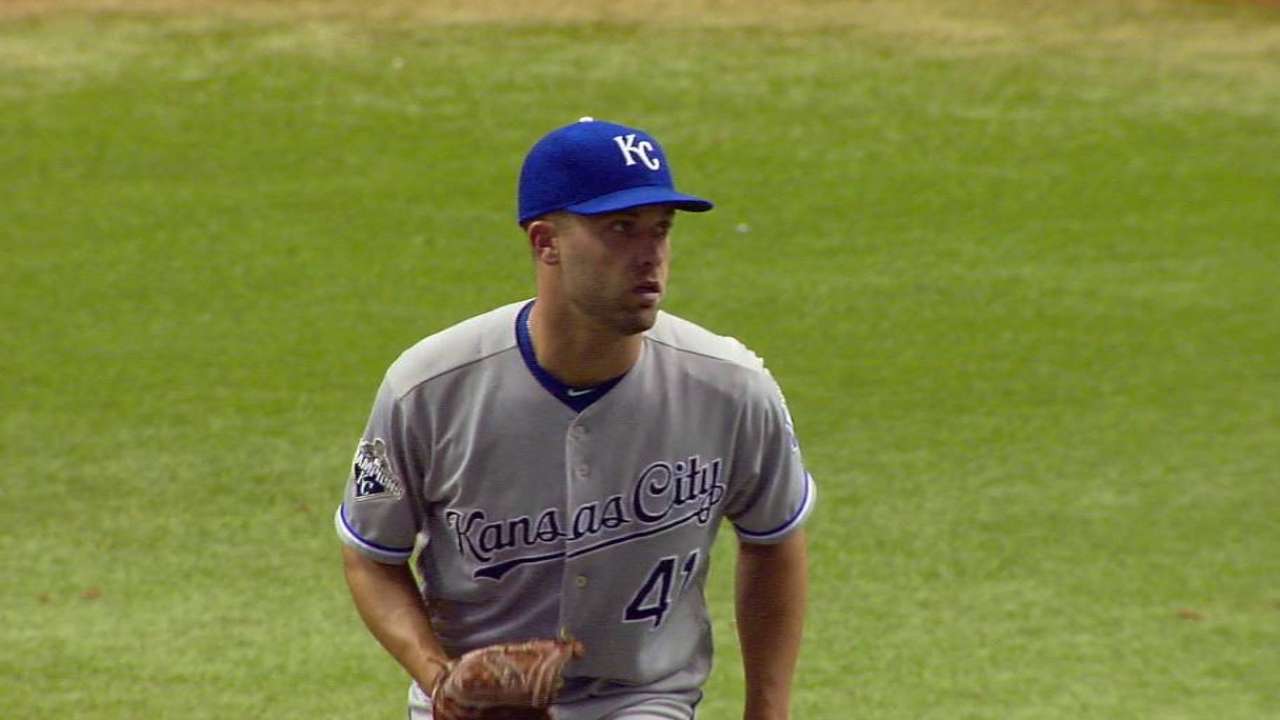 "I've seen a few [outings] that good," manager Ned Yost said, "but not many. He was just electric tonight. He had everything going, seven innings of no-hit baseball and eight innings, 16 punchouts, one walk. It was special."
But the Royals have seen this for months now. Since moving to the rotation in May to replace the injured Chris Young, Duffy is 7-1 as a starter with a 2.98 ERA. He has eight quality starts in his last 10 outings.
Duffy had shown signs of this the last two years. But nothing as consistently dominant as the last 2 1/2 months.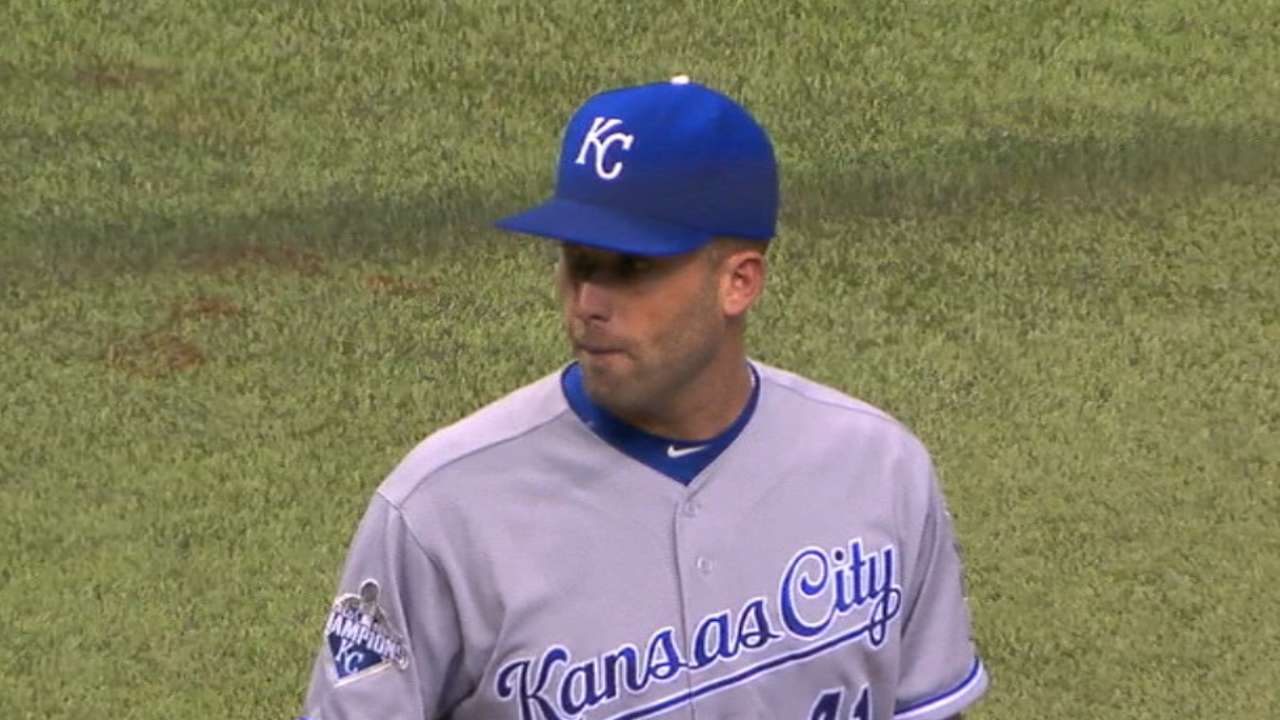 "This is enough for me to say that he's definitely turned the corner," Yost said. "That's a big step, when you just take your game to the next level. Danny would show spurts of this, but he was always a five- or six-inning pitcher.
"Now, he's turned that corner. He understand how to duplicate his mechanics and how to make adjustments and stay on the attack. His confidence is really, really high."
On Monday, that confidence was off the charts.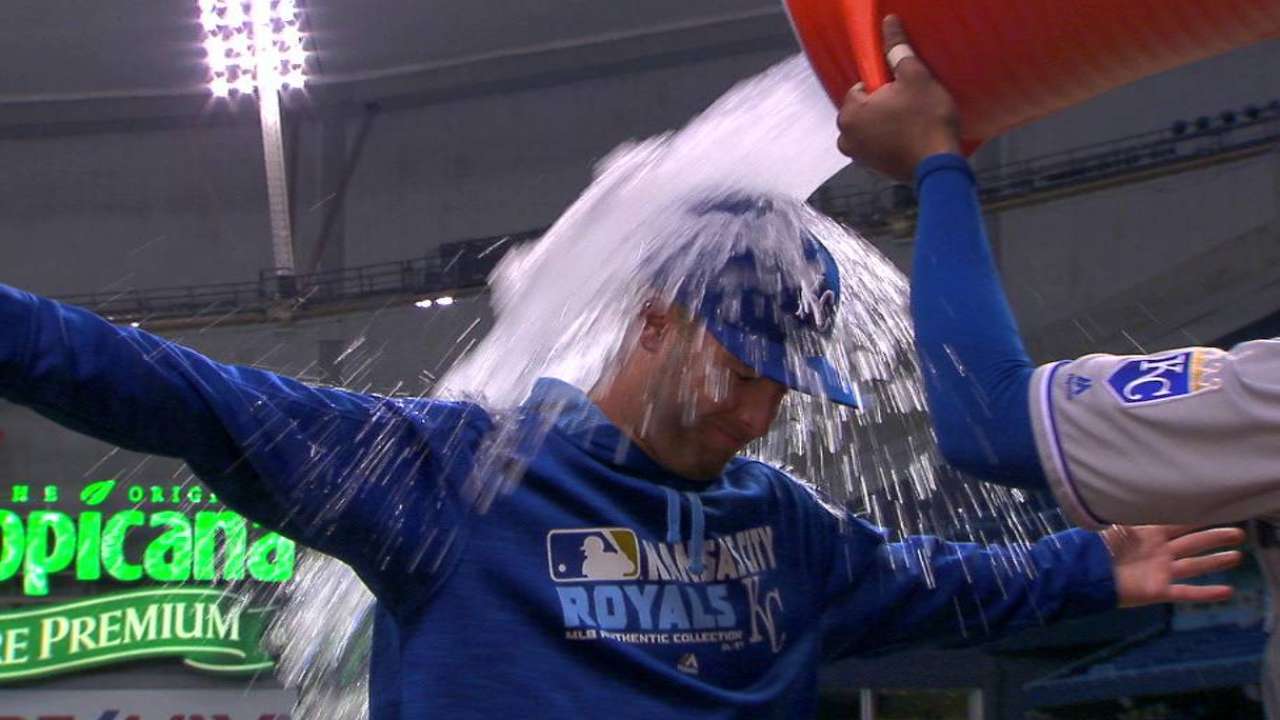 "Early on, my fastball was jumping out of my hand," Duffy said. "My changeup was really good and my slider was there. One of the few times a pitcher has all his pitches working. It felt good."
So good, in fact, that Duffy was seriously flirting with a no-hitter.
"I saw the zero up there," Duffy said, "but I wanted to get quick outs and get a win."
It actually took a while before Yost noticed the no-no.
"Quite frankly, I wasn't even paying attention until about the fifth or sixth inning," Yost said. "I looked up and saw no hits. And I went, 'Whoa.'
"And then we got through the seventh and that's probably as far as I've ever been as a manager with a no-hitter. I'm looking at pitch counts. At that time, it was a one-run lead, if we could just pack on some more runs, because I darn sure don't want to get anybody up in the bullpen when he's got a no-hitter going. That's kind of bad karma in my mind. Luckily, we scored a couple more runs."
Danny Duffy had 35 swing & misses yesterday... Tied with Clayton Kershaw for most in PITCHfx era. https://t.co/sfnyzbrRqz

— Daren Willman (@darenw) August 2, 2016
Meanwhile, as Duffy's pitch count topped 100 [his season high was 110], he pleaded with Yost to let him pitch it out.
Yost obliged, saying he wasn't going to take Duffy out with a no-hitter going until he got 27 outs, no matter the pitch count.
The no-hitter was lost, but Duffy's name is forever etched in the franchise's record books for strikeouts in a game, ahead of Zack Greinke, Bret Saberhagen and Mark Gubicza.
"It's an honor to have a game like those guys used to have all the time," Duffy said. "But I understand they had a lot more of those consistently than I did. So, here's to trying to do it more consistently myself. Yes, it was very, very cool. But more pleased with the win."
And Duffy also vows that Royals fans will see more of them.
"I'm going to go out there and keep it simple," Duffy said. "You're going to get the same me every time out now. I just have to remember what this feels like today and duplicate it over and over again."
Jeffrey Flanagan has covered the Royals since 1991, and for MLB.com since 2015. Follow him on Twitter @FlannyMLB. This story was not subject to the approval of Major League Baseball or its clubs.