Musgrove joins Astros' bullpen, role TBD
Houston's No. 7 prospect expected to be starter in future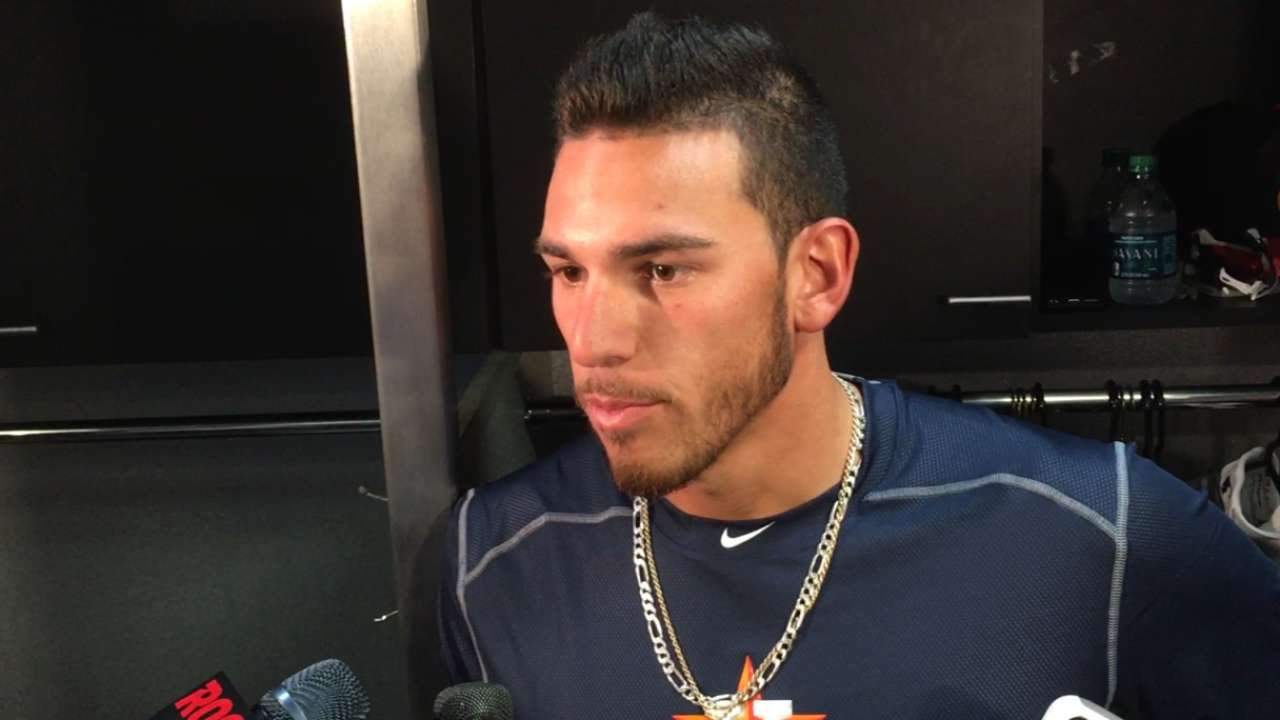 HOUSTON -- With an open spot in the bullpen after trading right-hander Scott Feldman to Toronto, the Astros called up right-hander Joe Musgrove on Monday.
"I had my phone on my chest the whole night," Musgrove said. "I couldn't sleep. I was waiting for something to happen, some call."
Musgrove flew to Houston before Monday night's game against the Blue Jays. With Doug Fister's wife expected to have a baby soon, Musgrove had to be ready for a spot start if Fister was placed on the paternity list.
But Fister was available, and Musgrove -- ranked as the Astros' No. 7 prospect -- was officially called up after the Feldman trade. Musgrove could make his debut against the club that drafted him. The Blue Jays took Musgrove in the first round (46th overall) of the 2011 Draft.
"Hectic, man," Musgrove said of the last 48 hours. "A lot of emotions, a lot of phone calls, a lot of anticipation from family and friends and a lot of people who wanted to be out here for the first game."
Musgrove, a 6-foot-5 right-hander, posted a 3.81 ERA in 10 starts with Triple-A Fresno after starting the year with a 0.34 ERA in six games with Double-A Corpus Christi.
He also flashed his control in the Minor Leagues with an impressive strikeout-to-walk ratio. With Corpus Christi, Musgrove walked a batter every 10 strikeouts, a number that dipped to 8.14 with Fresno.
"I think Musgrove long term is a starter for us," Astros general manager Jeff Luhnow said. "I expect him to be in our rotation next year. What it means for this year remains to be seen."
Musgrove was in the Astros' bullpen Monday night.
"Joe was in a really awkward position because he may start, he may be a reliever," Astros manager A.J. Hinch said. "Fister's baby may come, may not come -- the Trade Deadline. There was a lot that was at stake. We felt confident that Joe was going to come to the big leagues. We didn't know what role he was going to do."
All smiles. pic.twitter.com/QsctELqIWl

— Houston Astros (@astros) August 1, 2016
Gonzalez, Gomez on the mend
Hinch said he hopes to have infielder Marwin Gonzalez and outfielder Carlos Gomez back from injury during this week's four-game series against the Blue Jays.
The Astros have been playing with a short bench since Gonzalez exited Friday night's game early with right hand soreness and then missed Houston's games on Saturday and Sunday. He saw a specialist Monday and was out of the starting lineup.
"Marwin is mending OK," Hinch said. "He might be available for defense. Probably will stay away from him with the bat."
Gomez strained his hamstring in Wednesday's win over the Yankees. He didn't play at all during the club's road trip to Detroit over the weekend.
"As long as things keep progressing forward, Gomez is probably a little closer than Gonzalez," Hinch said, "but we need both of them back within the series."
Gurriel on fast track
Luhnow provided an update on Cuban infielder Yulieski Gurriel, saying Gurriel will play for Class A Lancaster this week and then possibly move up to Double-A as soon as next week.
Luhnow said there's no firm timetable on when exactly the 32-year-old Gurriel will play for Houston, but it's expected to be sometime this season.
"It's like Spring Training," Luhnow said. "You just don't know if a player's going to be ready for a big league game, a real big league game by March 15 or by March 30. … He looked good today."
Jordan Ray is a reporter for MLB.com based in Houston. This story was not subject to the approval of Major League Baseball or its clubs.