Power to the Max: Kepler blasts three homers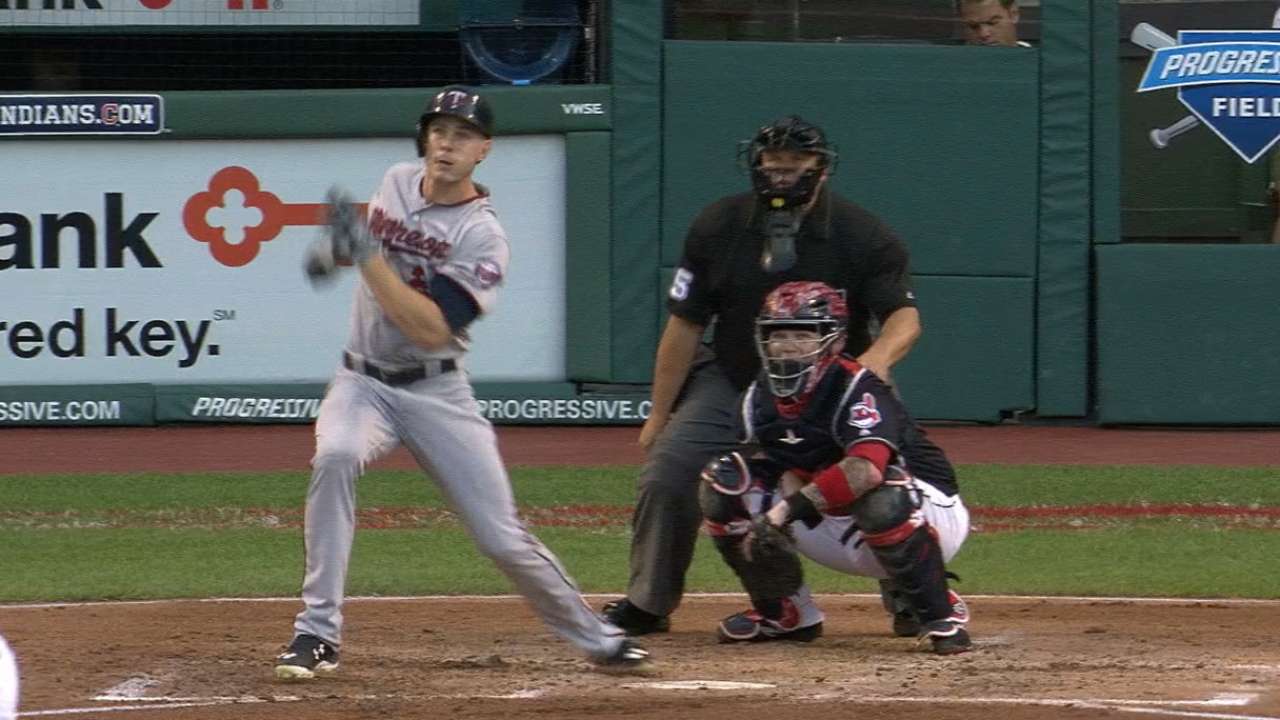 CLEVELAND -- Coming up as one of the Twins' top prospects, one of the only concerns about Max Kepler was how much power he'd produce in the Majors. Kepler has put that to rest during his breakout rookie season, and it was especially evident on Monday, as the German-born right fielder hit three homers and drove in six runs in a 12-5 win over the Indians at Progressive Field.
Kepler, who also grounded out in the fourth, had two chances to hit a fourth homer, but he grounded out to first against newly acquired Andrew Miller in the eighth and singled off reliever Zach McAllister in the ninth.
It still marked the fifth three-homer game in Twins history, and the first since Justin Morneau hit three blasts against the White Sox on July 6, 2007. The other Twins to accomplish the feat are Bob Allison (1963), Harmon Killebrew (1963) and Tony Oliva (1973).
"It's definitely an honor to be added to that list," Kepler said. "Those guys are almost legend status."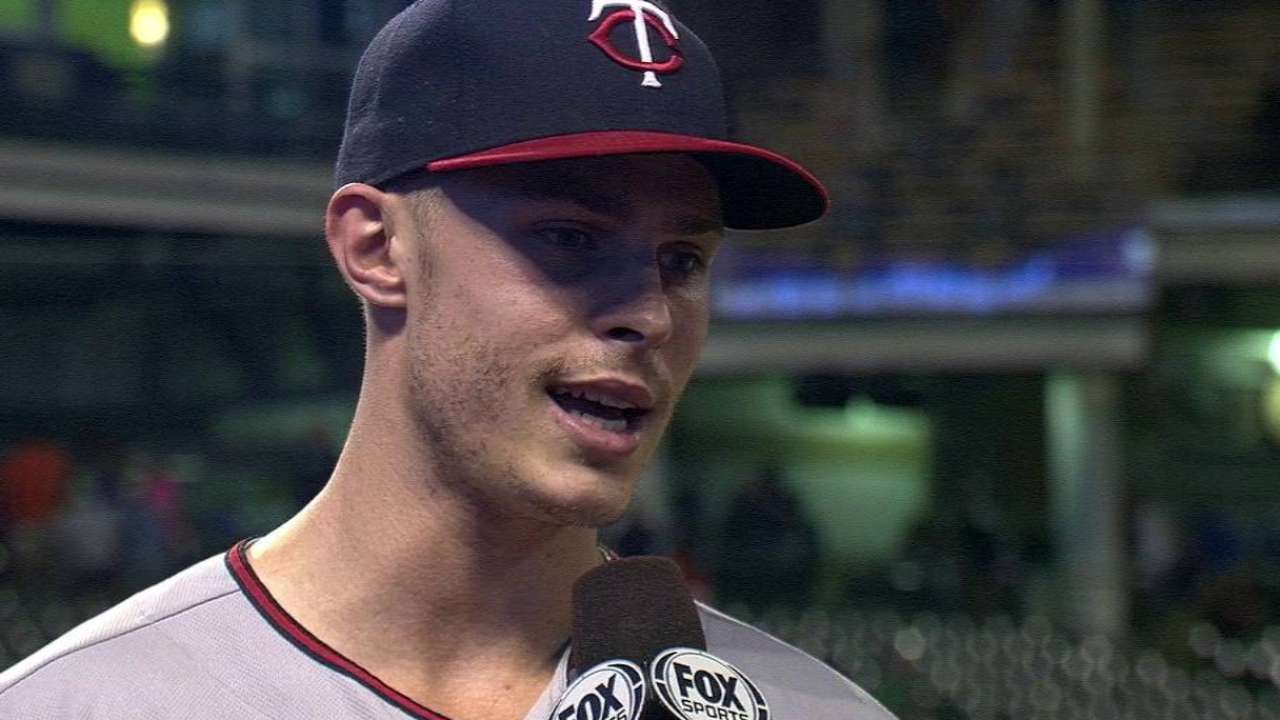 Kepler's first homer came in the first inning against Indians right-hander Danny Salazar. The two-run shot was on a 1-0 fastball and left the bat at 106.7 mph, going a projected 403 feet from home plate, according to Statcast™. It helped Minnesota jump out to an early 3-0 lead.
Kepler recorded his second career multi-homer game with another two-run blast off Salazar in the third on a 3-1 fastball. It was nearly identical to his first homer, leaving the bat at 103.6 mph and going a projected 405 feet, per Statcast™.
The 23-year-old made history with his third homer -- another two-run shot -- in the sixth off reliever Cody Anderson. It also came on a fastball, and it was hit even harder than the first two, as it had an exit velocity of 108.7 mph and traveled a projected 426 feet.
"It's historic in the sense that you don't see three home runs all the time, and he's just one of a handful of Twins to do it," Twins manager Paul Molitor said. "It's fun to watch. He does a really nice job as far as his swing being on a downward plane and getting that backspin. Those balls are basically line drives that went really far and weren't lifted."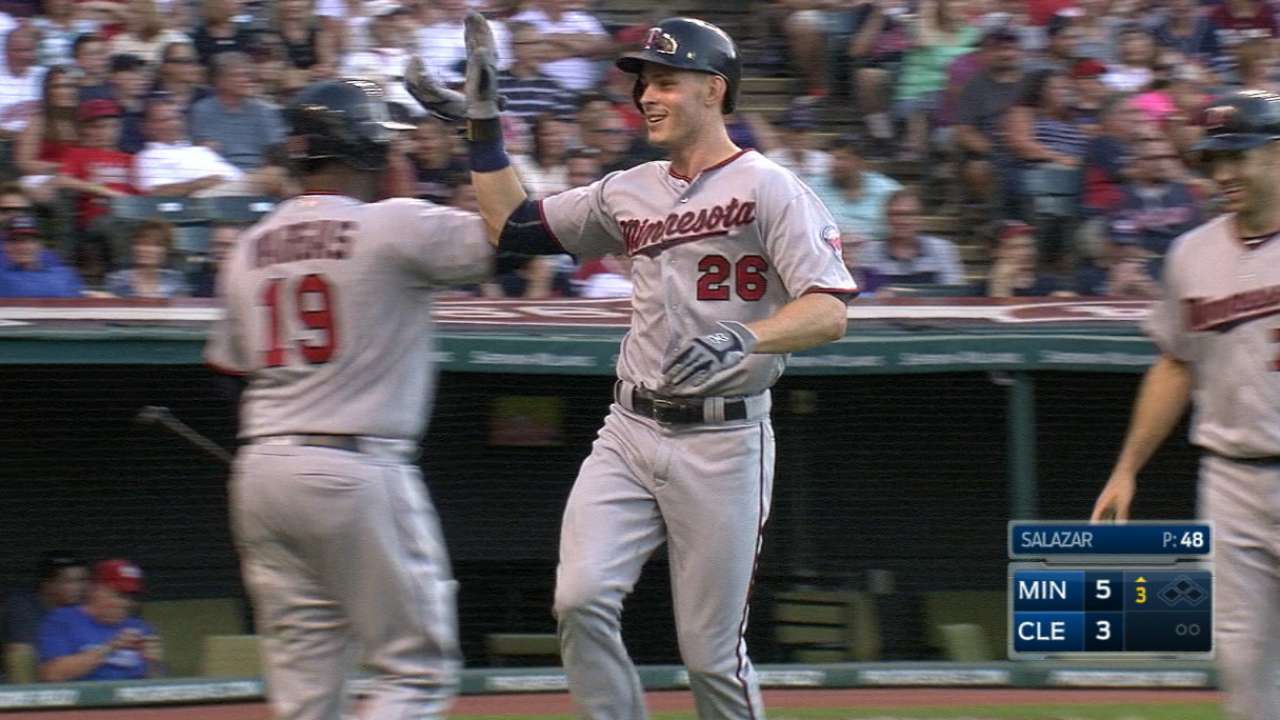 Kepler, who is hitting .256/.332/.547 with 14 homers, 13 doubles and 44 RBIs in 62 games this season, got his final chance in the ninth after the Twins put together a two-out rally in the eighth. Molitor said his teammates were rooting hard for him in the dugout to become the 15th player in Major League history to hit four homers.
"We talked about in the eighth inning getting some hits to give Max another shot," Molitor said. "His first out was a good one because he advanced the runner. The second one, he got an angry Andrew Miller after the home run, and we got him another shot. Guys were pulling for him."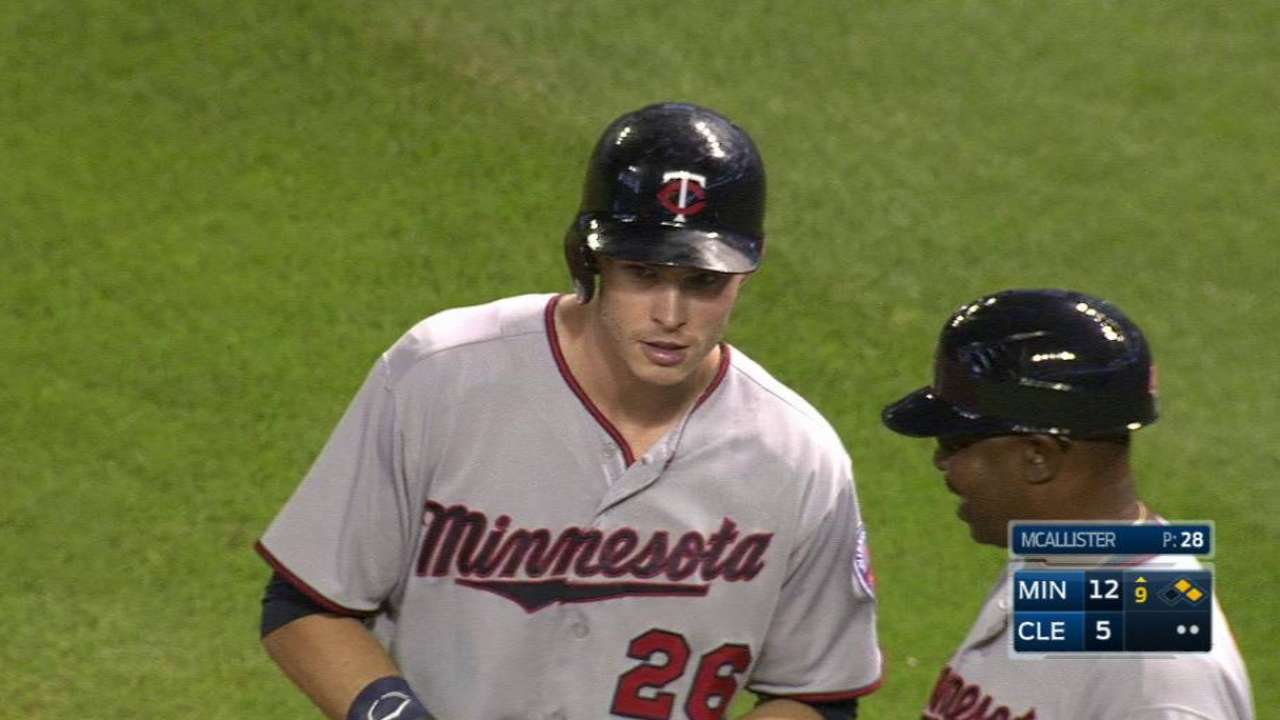 Kepler never hit more than 10 long balls in any Minor League season, but he already has 14 homers in 62 contests with the Twins this season. His 14 homers lead all American League rookies, and he also paces the Majors with 11 dingers since July 1.
"I'm not a home run hitter, so it's rare," Kepler said. "I'm just trying to hit singles. I'm just trying to put the ball in play and hit it hard. I'm thankful for the backspin I was blessed with."
Rhett Bollinger has covered the Twins for MLB.com since 2011. Read his blog, Bollinger Beat, follow him on Twitter @RhettBollinger and listen to his podcast. This story was not subject to the approval of Major League Baseball or its clubs.