Nats stand pat during busy Deadline day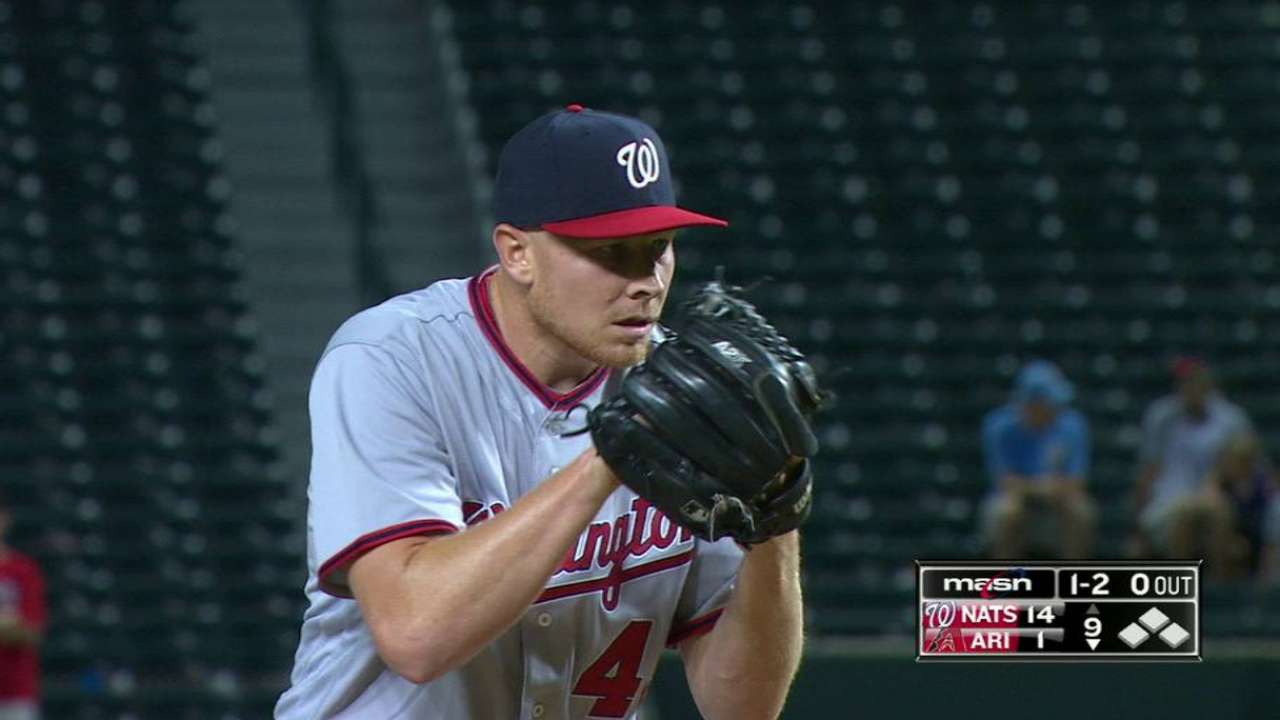 PHOENIX -- The Nationals acquired the new closer they desired this past weekend, so even as a flurry of moves were made across the Majors in the hours leading up to Monday's 4 p.m. ET non-waiver Trade Deadline -- including a few by the National League East-rival Mets -- they did not make any more deals.
Washington accomplished its top priority Saturday afternoon when it improved its bullpen by trading with the Pirates for right-hander Mark Melancon.
Melancon has been one of the top closers in baseball during the past few seasons and will slot into the ninth inning. His numbers this season are impressive; he has allowed seven earned runs in 41 2/3 innings (1.51 ERA) with a 0.96 WHIP adn a 4.22 strikeout-to-walk ratio to go along with 30 saves.
The trade worked for Washington for a few reasons.
Finding a closer had become a pressing need as a result of the recent struggles from Jonathan Papelbon. In his last three appearances, Papelbon allowed 12 of the 15 batters he faced to reach base and eight runs (seven earned) to score. Melancon also came at a price the Nationals were willing to pay. They did not have to surrender any of their top prospects, such as Lucas Giolito, Trea Turner, Victor Robles or Reynaldo Lopez, to acquire their new closer. They considered parting with left-handers Felipe Rivero and Taylor Hearn for Melancon a reasonable asking price compared to what was required for left-handers Aroldis Chapman (traded for the Cubs' top prospect plus three players) or Andrew Miller (traded for Indians' top prospect plus three players).
"You have to [ask], 'Do you sacrifice the future for now?'" Nationals manager Dusty Baker said. "Sometimes you do, but we just couldn't tear up our whole organization for the now."
Just because the Nationals did not make any more moves does not mean they do not have any further concerns. Their bullpen has struggled as a whole recently, so they could still look to add another reliever to help down the stretch. Or perhaps the Nationals could be interested in acquiring a hitter. Although they have struggled mightily in center field and at the leadoff spot this season, however, Turner -- their No. 2 prospect -- has emerged as a viable option to fill both of those roles. And Washington still expects turnarounds from struggling players such as Bryce Harper and Ryan Zimmerman.
But don't count general manager Mike Rizzo out from making any further moves throughout August, when players can still be acquired via trade if they clear waivers. The Nationals have utilized that market during each of their previous runs to the NL East title.
In 2012, the team acquired catcher Kurt Suzuki from the A's. He became Washington's starting catcher down the stretch, batting .267/.321/.404 with .725 OPS in 43 games, and into the playoffs that season. In 2014, the Nationals acquired left-handed reliever Matt Thornton from the Yankees, and he did not allow an earned run in 18 appearances down the stretch.
"We're always looking, always working," Rizzo said after completing the Melancon trade. "If something presents itself, we'll certainly look into it."
Jamal Collier covers the Nationals for MLB.com. Follow him on Twitter at @jamalcollier. This story was not subject to the approval of Major League Baseball or its clubs.