Donaldson rests hamstring; Tulo improving
Carrera placed on DL as Blue Jays recall Schultz, Goins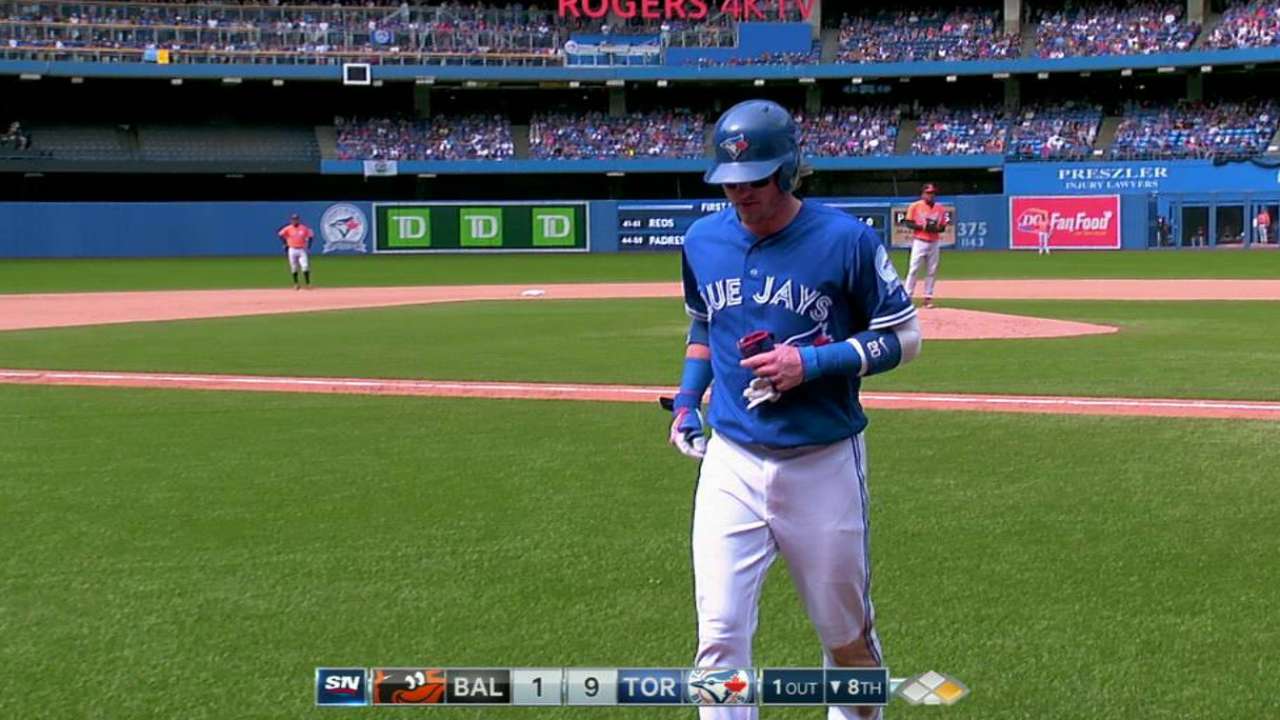 HOUSTON -- Josh Donaldson was held out of the Blue Jays' lineup on Monday night because of a sore left hamstring but did enter the game as a pinch-hitter in the 12th of Toronto's 2-1 loss in 14 innings.
Donaldson started at designated hitter on Sunday for the same reason, but the Blue Jays wanted to give him at least one day off early this week. That goal was not accomplished when Donaldson was pressed into action after the game went to extra innings.
The reigning American League MVP appeared to sustain the hamstring injury during Saturday's victory over the Orioles. It's not considered serious but Donaldson has experienced difficulty running out ground balls, and that was evident on Monday night when he hit a grounder to shortstop in the 12th.
"His hammy is barking today," Blue Jays manager John Gibbons said prior to the game. "We'll give him the day off and hopefully that clears it. After talking to him, I decided, you know what, can't risk it turning into anything long term. That would be a disaster."
Donaldson remained in the game and played third base after he hit for Ryan Goins in the 12th. Donaldson entered Monday ranked first in the Majors with 87 runs. He's second in walks (70), slugging percentage (.578), extra-base hits (55) and third in OPS (.987).
Tulo recovering quickly
It does not appear as though injured shortstop Troy Tulowitzki will require a stint on the 15-day disabled list. Tulowitzki sustained a chip fracture on his right hand when he was hit by a pitch during the sixth inning of Sunday's 6-2 loss to the Orioles.
Tulowitzki's biggest issue is gripping the bat, but he's expected to return once the swelling completely subsides. There was an outside chance he would need to rest on the DL, and though that has not been completely ruled out, it no longer seems likely.
"He feels better but he's not ready to play yet," Gibbons said. "It shouldn't more than a couple of days, I hope. He feels much better. It didn't really swell up as much as we thought, so that's a good sign."
Roster moves
Toronto recalled right-hander Bo Schultz and Goins from Triple-A Buffalo prior to Monday night's game in Houston. Outfielder Ezequiel Carrera was placed on the 15-day disabled list with a left Achilles strain.
Schultz technically took the spot of Carrera on the 25-man roster. Schultz was optioned to the Minor Leagues on July 27 and normally would have been required to spend at least 10 days in the Minors before being recalled but exceptions are made when players go on the disabled list.
Goins took the spot of lefty reliever Franklin Morales, who was officially designated for assignment. Morales was signed to a $2 million contract this season, but he made just four appearances for the ballclub and was never able to regain the velocity on his fastball. Morales was designated after he took the loss Sunday.
Gregor Chisholm has covered the Blue Jays for MLB.com since 2011. Follow him on Twitter @gregorMLB and Facebook, and listen to his podcast. This story was not subject to the approval of Major League Baseball or its clubs.