MLB.com Columnist
Jonathan Mayo
Ranking prospects traded before Deadline
Brewers, Yankees come away as biggest winners among sellers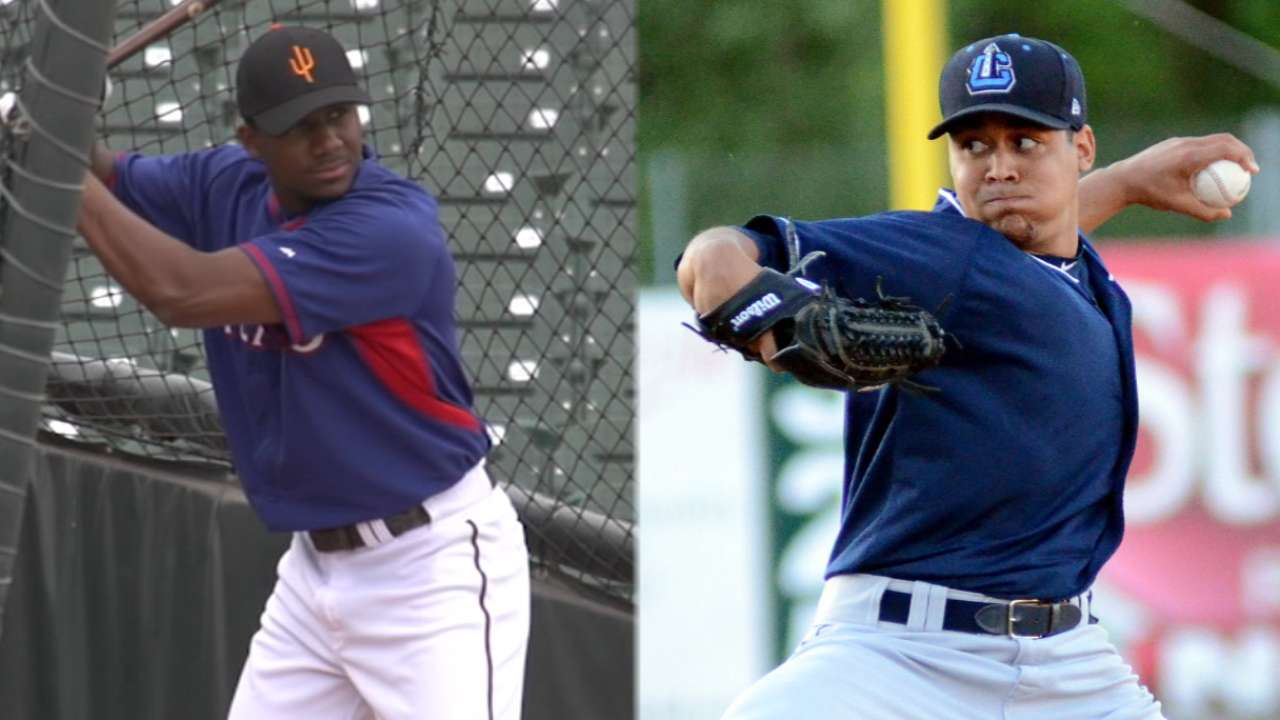 The 2016 non-waiver Trade Deadline period really began back at the All-Star break, when the Padres sent lefty Drew Pomeranz to the Red Sox and got right-handed pitching prospect Anderson Espinoza in return. Between that deal and the Monday deadline for deals without waivers at 4 p.m. ET, teams have been extremely active.
While most focus on the big league players and how they will help teams' playoff chances, the sellers are hoping the prospects they received in return will pay big dividends in the future. Who were the best Minor Leaguers to change hands during this period? We'll rank all of the prospects on Top 30 lists (26 total) who have been dealt, with a total of eight Top 100 prospects moving to new organizations.
1. Espinoza, RHP, Padres, No. 20 overall (from Red Sox in Pomeranz trade)
Originally signed for $1.8 million by the Red Sox during the 2014-15 international signing period, the Venezuelan right-hander made it to full-season ball at age 17 during his pro debut. He's spent all year at that level in 2016 and continues to show an advanced feel for three above-average pitches, especially given his age. He's 6-foot, 160 pounds, so it remains to be seen what he becomes in the future.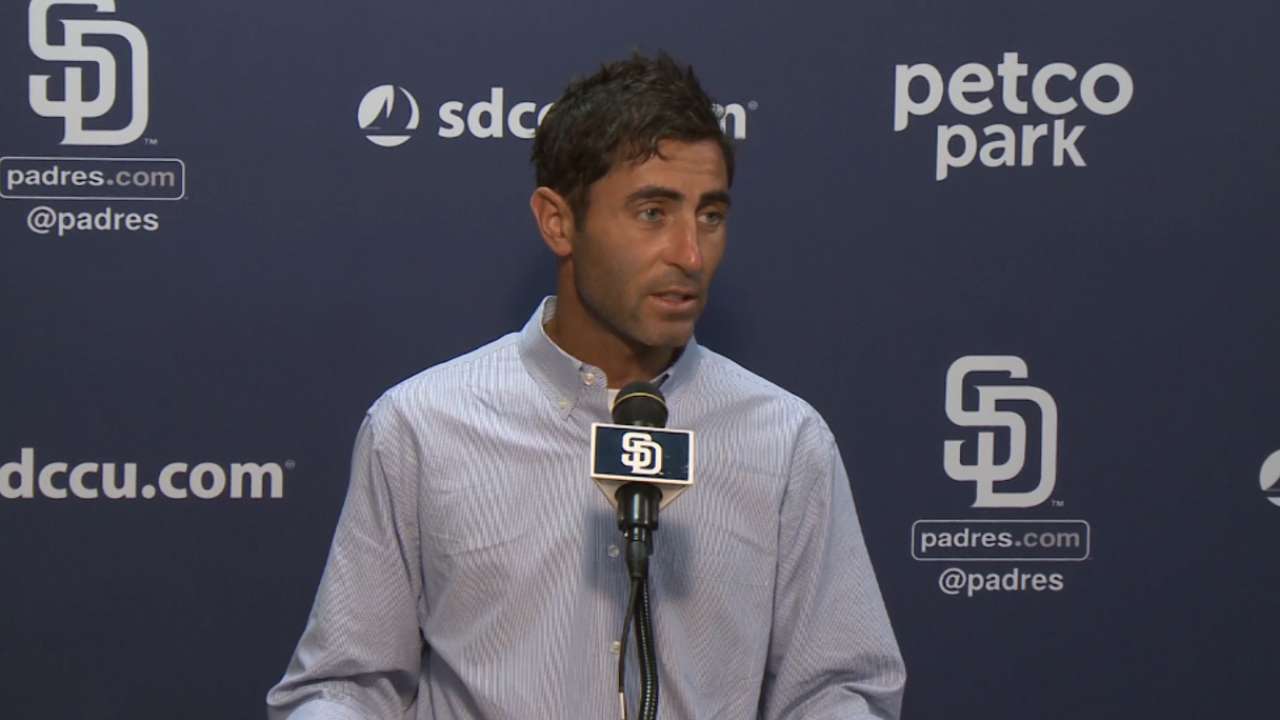 2. Lewis Brinson, OF, Brewers, No. 21 overall (from Rangers in Jonathan Lucroy /Jeremy Jeffress trade)
The toolsy outfielder had made tremendous strides with his plate discipline heading into the 2016 season while improving his work in center field as well. He struggled early, and missed a good chunk of time with a shoulder injury. He was starting to get the bat going more consistently after rehabbing the shoulder and gives the Brewers an outfielder with 30-30 potential.
3. Clint Frazier, OF, Yankees, No. 22 overall (from Indians in Andrew Miller trade)
The 2013 first-round pick had recently been promoted to Triple-A before the trade. The toolsy outfielder has always had a ton of bat speed, but his evolution from an all-or-nothing kind of hitter to a more patient, use-all-fields performer is what has made him a higher-profile prospect. He has the speed to play center field and should have the power profile for a corner spot if needed.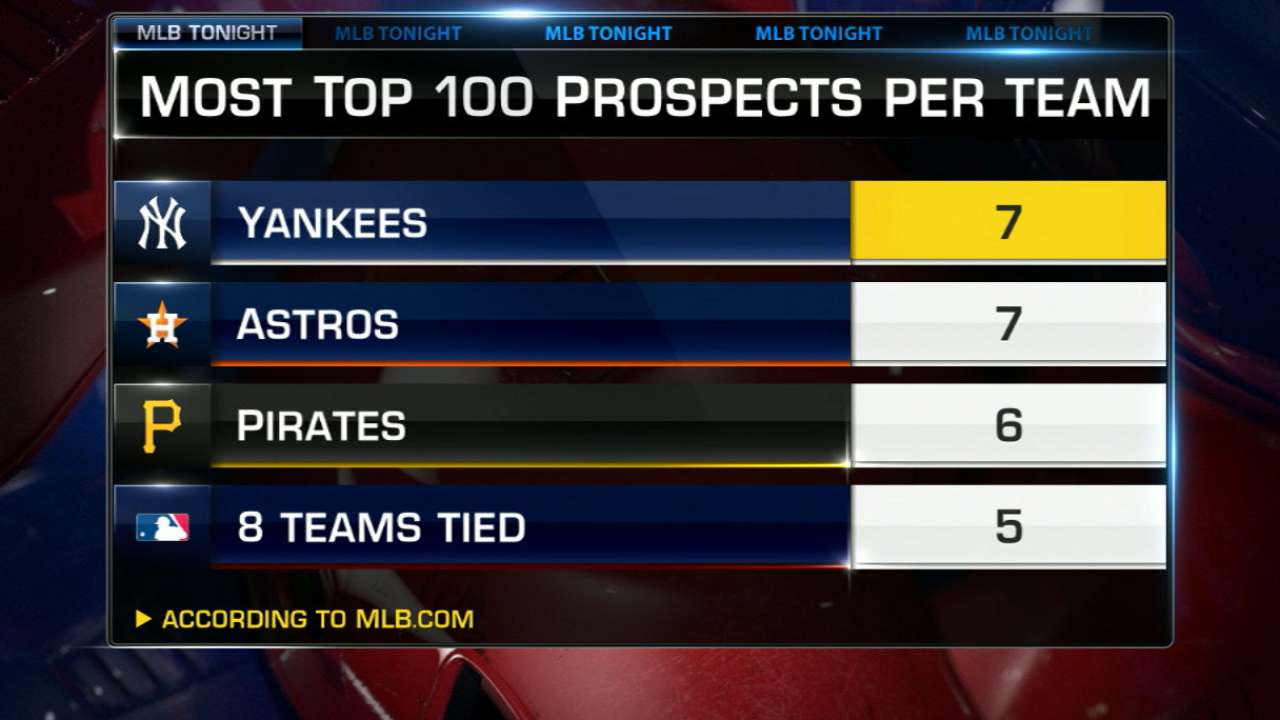 4. Gleyber Torres, SS, Yankees, No. 24 overall (from Cubs in Aroldis Chapman trade)
It's easy to forget Torres is still just 19 years old, especially considering he was more than holding his own in the Class A Advanced Carolina League at the time of the trade. After starting slowly, Torres was hitting .338/.416/.506 in July when he was sent to the Yankees in the Chapman deal. He's also improved his defensive play, to the point where people are not discussing moving him off of shortstop nearly as often as they had been.
5. Luis Ortiz, RHP, Brewers, No. 63 overall (from Rangers in Lucroy/Jeffress trade)
Ortiz somehow managed to pitch extremely well in the hitting haven of High Desert in the California League and earned a promotion to Double-A after seven games. While he was still trying to figure things out at the level until a groin injury put him on the shelf, Ortiz continued to show the exciting combination of stuff and command that gives him a ceiling of perhaps a No. 2 starter.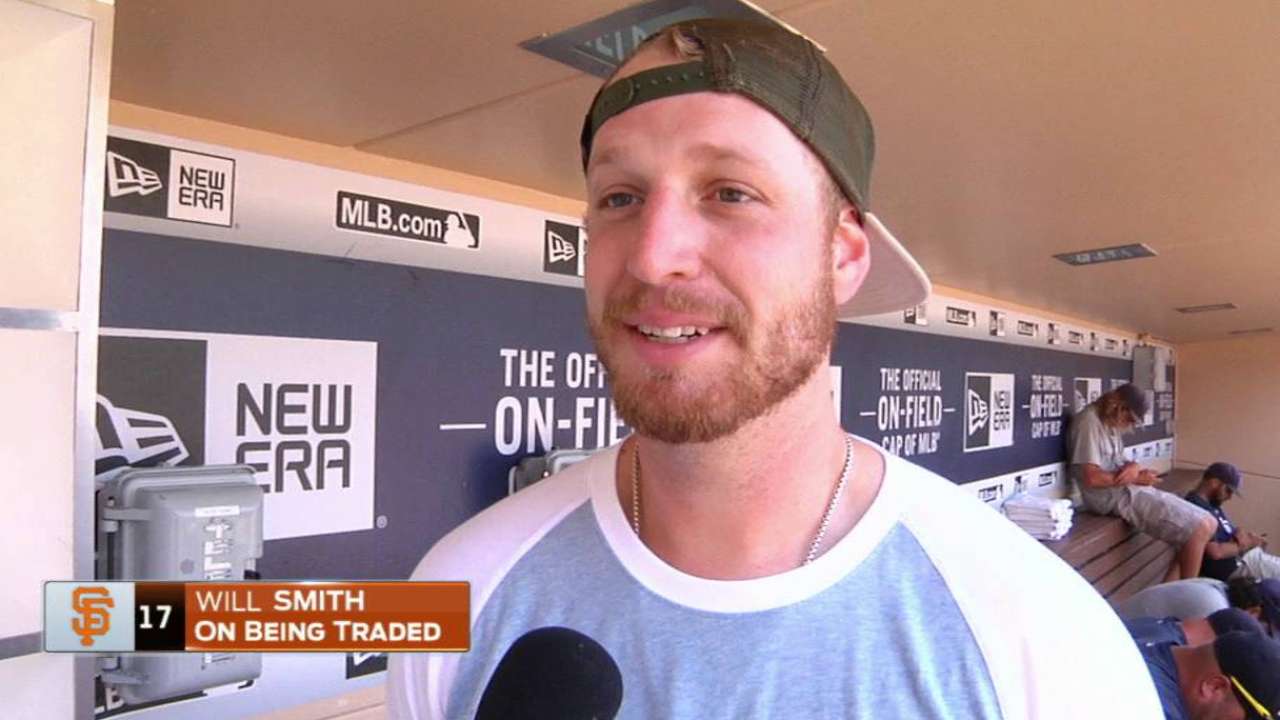 6. Phil Bickford, RHP, Brewers, No. 65 overall (from Giants in Will Smith trade)
Milwaukee did very well to get Bickford, the Giants' No. 1 prospect, 2015 first-round pick and 2016 Futures Game participant, for reliever Smith. Bickford began the year in the South Atlantic League, earned a promotion up to the California League, and pitched well in both places, with a combined 2.71 ERA, .208 batting average against and 10.2 K/9 ratio (vs. just 2.6 BB/9).
7. Grant Holmes, RHP, A's, No. 82 overall (from Dodgers in Josh Reddick /Rich Hill trade)
Holmes had been scuffling of late in the California League, but keep in mind he's just 20 while spending the entire year at that level. The stuff is still very much there, with a fastball that was touching 96 mph in his start the day before he was traded. He backs up the fastball with an outstanding breaking ball while showing a good feel for his changeup as well.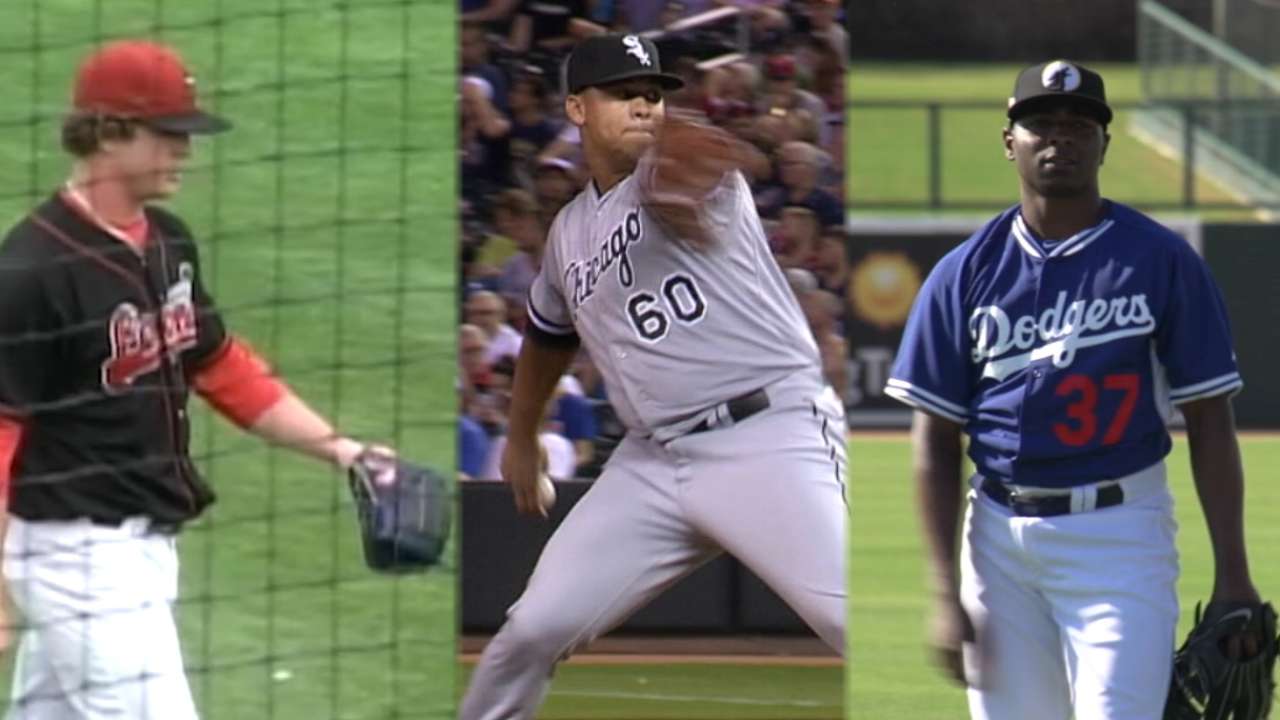 8. Justus Sheffield, LHP, Yankees, No. 93 overall (from Indians in Miller trade)
The third of the three Top 100 players New York got in deals, Sheffield had been competing well at age 20 in the Carolina League. Command issues had negatively impacted his performance at times, but he posted a 2.45 ERA with 33 strikeouts in 25 2/3 July innings. He has the chance to have a very good three-pitch mix and is extremely competitive on the mound.
9. Josh Naylor, 1B, Padres (from Marlins in Andrew Cashner /Colin Rea trade)
The first non-Top 100 player on this list, he is the second of three 2015 first-round picks to appear on this top 10. A 2016 Futures Game participant, the Canadian first baseman has the chance to hit for average and power from the left side, the perfect profile for his position. Having played in the South Atlantic League with the Marlins, the Padres moved him up a level after acquiring him.
10. Dillon Tate, RHP, Yankees (from Rangers in Carlos Beltran trade)
After a very good start to the season (10 2/3 IP, no earned runs, 16 K's over first two starts), the No. 4 pick in the 2015 Draft had scuffled during his first full season, struggling with command, especially within the strike zone. Still, there's a lot to work with here, most notably a fastball that has been electric in the past and a nasty slider, stuff that backed up a bit when he was dealing with a hamstring problem early in the year. At worst, New York might have a future closer on its hands.
Best of the rest
11. Reese McGuire, C, Blue Jays (from Pirates in Drew Hutchison trade)
12. Lucius Fox, SS, Rays (from Giants in Matt Moore trade)
13. Harold Ramirez, OF, Blue Jays (from Pirates in Hutchison trade)
14. Adalberto Mejia, LHP, Twins (from Giants in Eduardo Nunez trade)
15. Vicente Campos, RHP, D-backs (from Yankees in Tyler Clippard trade)
16. Travis Demeritte, 2B, Braves (from Rangers in Lucas Harrell /Dario Alvarez trade)
17. Dan Vogelbach, 1b, Mariners(from Cubs in Mike Montgomery trade)
18. Frankie Montas, RHP, A's (from Dodgers in Reddick/Hill trade)
19. Jharel Cotton, RHP, A's (from Dodgers in Reddick/Hill trade)
20. Charlie Tilson, OF, White Sox (from Cardinals in Zach Duke trade)
21. Billy McKinney, OF, Yankees (from Cubs in Chapman trade)
22. Max Wotell, LHP, Reds (from Mets in Jay Bruce trade)
23. Taylor Hearn, LHP, Pirates (from Nationals in Mark Melancon trade)
24. Michael Santos, RHP, Rays (from Giants in Moore trade)
25. Jonah Heim, C, Rays (from Orioles in Steve Pearce trade)
26. Brett Eibner, OF, A's (from Royals in Billy Burns trade)
27. Ben Heller, RHP, Yankees (from Indians in Miller trade)
Jonathan Mayo is a reporter for MLBPipeline.com. Follow him on Twitter @JonathanMayo and Facebook, and listen to him on the weekly Pipelne Podcast. This story was not subject to the approval of Major League Baseball or its clubs.