In the zone in 'Zona: Stras the first to 15 wins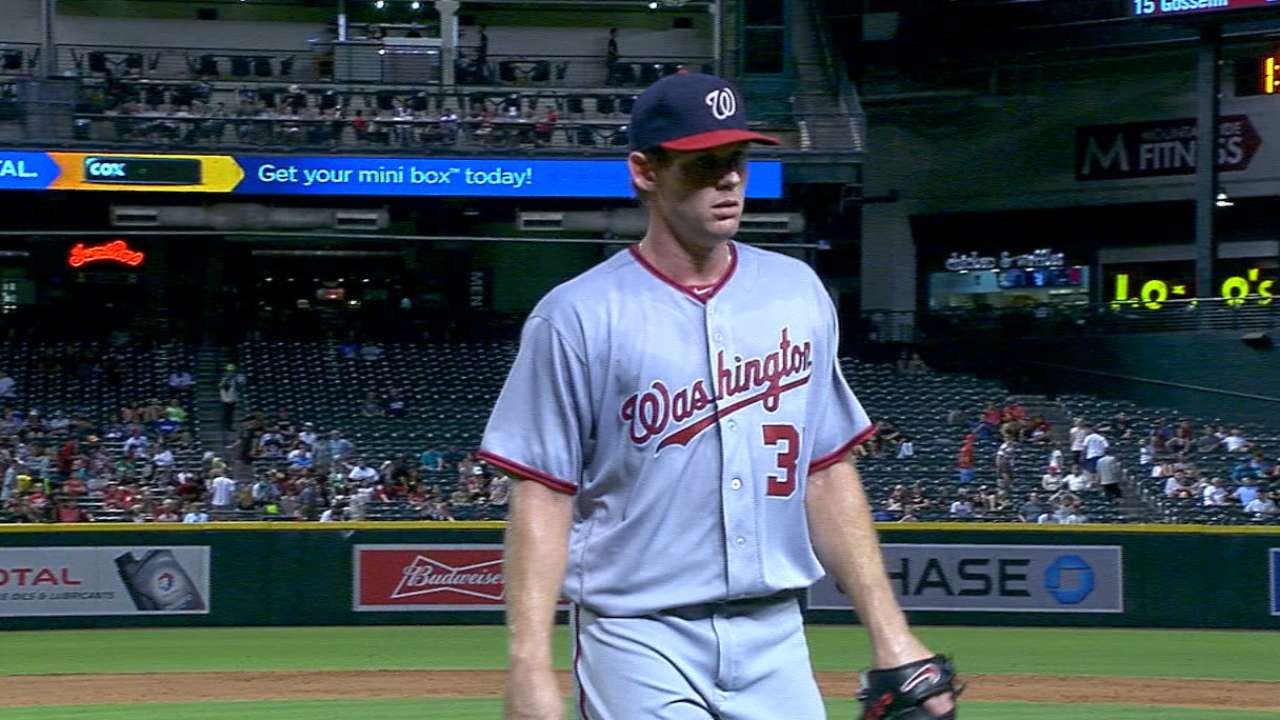 PHOENIX -- One of the most encouraging aspects of this Nationals season to manager Dusty Baker is that they are in first place, despite the fact that they believe they have yet to play their best baseball. Baker said before Monday night's series opener against the D-backs that perhaps August will be when they finally hit their stride.
And Washington began the month with a strong start, pummeling Arizona, 14-1, at Chase Field as Stephen Strasburg became the first pitcher in the Majors with 15 wins. The Nationals' right-hander collected as many hits (three) and drove in as many runs (one) as he allowed in his six innings.
Although Strasburg did not display the dominance he has shown at other games this season, he did not have to. The Nationals set new season-highs with 14 runs and 19 hits.
"You can't complain, that's for sure," Strasburg said. "You just try and not read into it too much, keep telling yourself there's a lot of game left and you just got to go out there and do your job."
The Nationals set new season-highs with 14 runs and 19 hits. They chased D-backs starter Archie Bradley in the fourth inning, tagging him for eight runs on 12 hits. Bradley had been pitching well -- with a 2.63 ERA in his last four starts -- before posting one of the worst outings of his career Monday.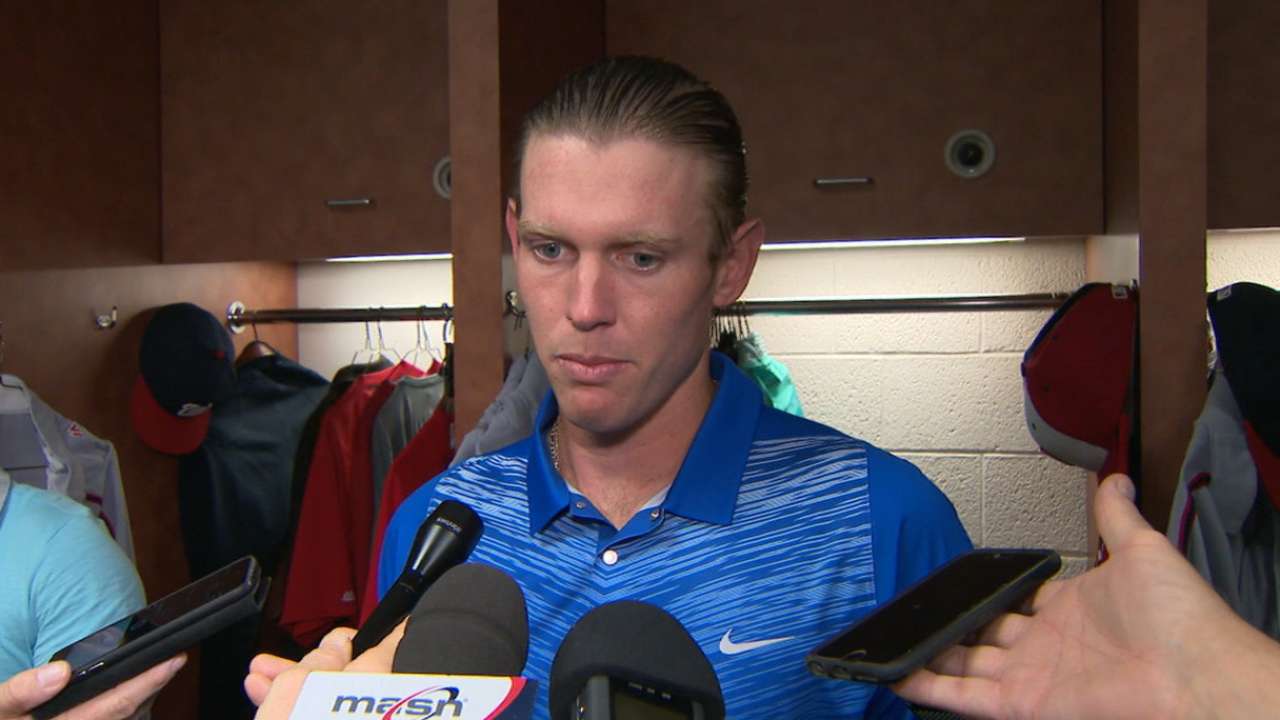 "He just didn't have it tonight -- location, getting ahead in the count, all the things that we teach," Arizona manager Chip Hale said. "Balls were too middle, and they did a good job of hitting them. That's a good lineup, and if you don't have your location and your ability to get ahead in the count, it's tough to face them."
MOMENTS THAT MATTERED
First to 15: Strasburg (15-1) became the first pitcher in MLB to reach his 15th victory of the season, matching his career-high in victories already this season. He tossed six innings of one-run ball with a pair of walks and six strikeouts,
"He has consistently given us a chance to win every single start," second baseman Daniel Murphy said. "And that is probably underselling what he has done for us this year." More >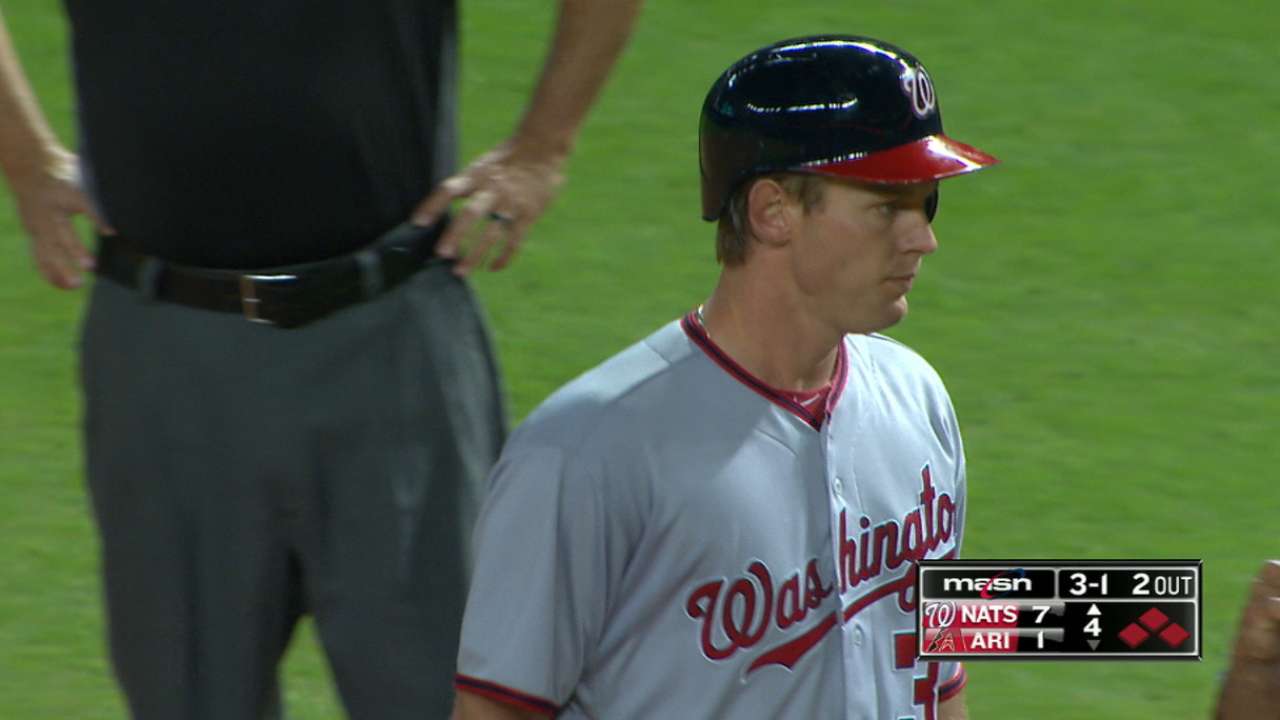 Bradley's early exit: Bradley lasted just 3 1/3 innings, his shortest outing of the season. It was also the first time since April 18 -- his season debut -- that he didn't get through at least five innings. Bradley set new career-highs in runs allowed (eight), earned runs allowed (seven), and hits allowed (12). The right-hander gave up more runs on Monday than he did in his previous four outings combined (seven across 24 innings).
"That was just a head-scratcher, just going to toss that one out the window and move on," Bradley said. "It was one of those outings that you could get too deep into overthinking it and just trying to figure out what went wrong and why and just end up kind of losing your mind. I threw the ball, they hit the ball, and they hit it where our guys weren't."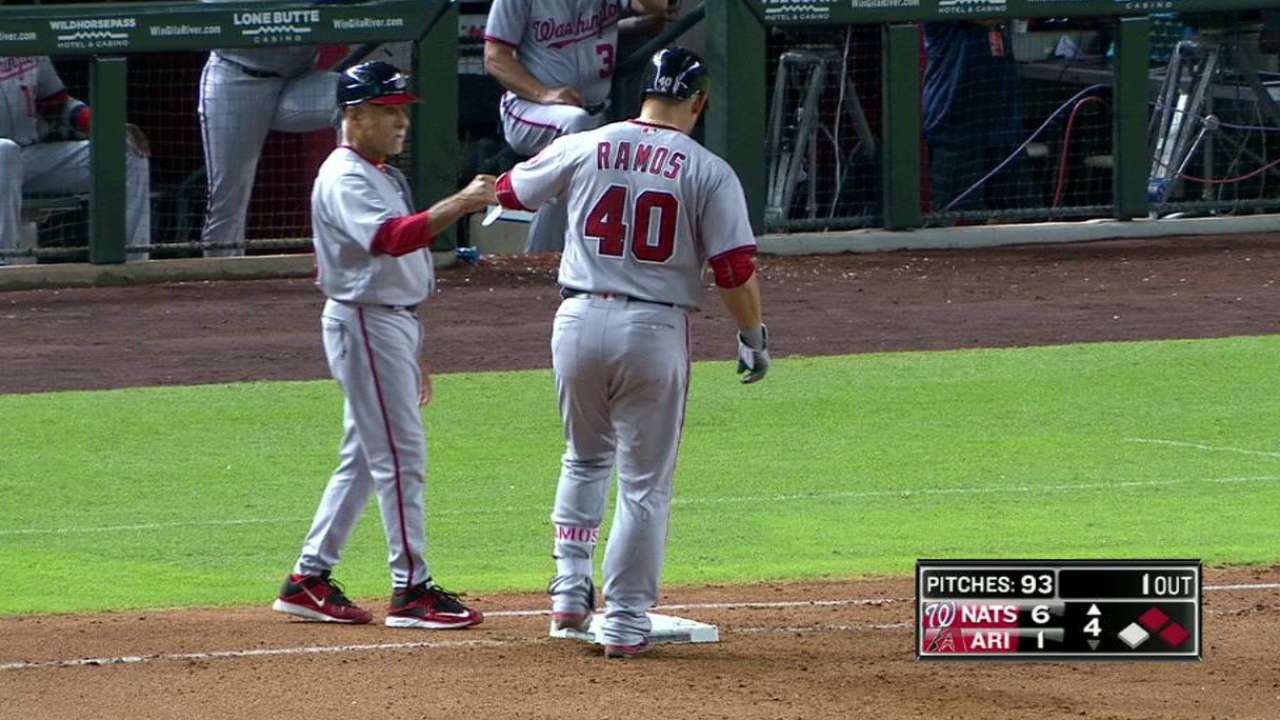 Offensive breakout: The Nationals' offense has struggled at times, but this was one of the unit's most potent performances this season. Every starter collected at least one hit within the first three innings, the first time the Nats have done so this year and only the second time in franchise (2005-present) history, according to STATS LLC.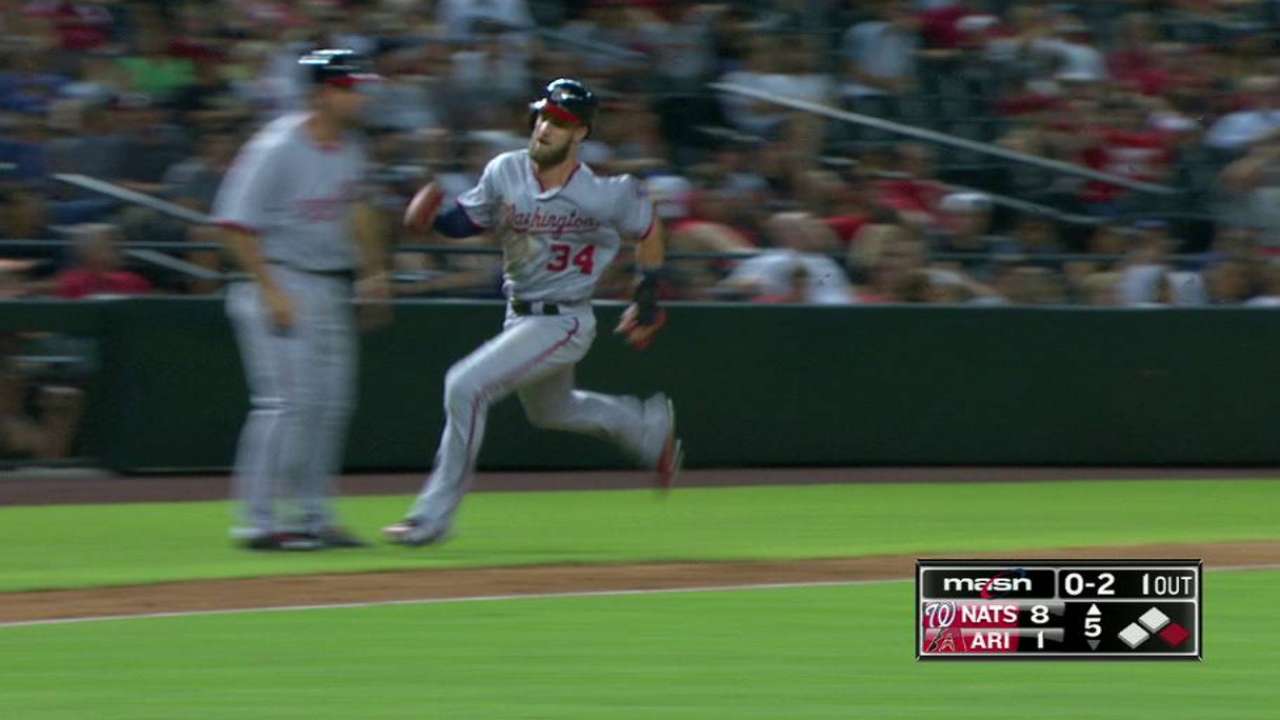 Murphy led the way by going 3-for-3 with a walk and an RBI double after missing two games with tightness in his left hamstring. Wilson Ramos had three hits and drove in pair of runs while third baseman Anthony Rendon collected three RBIs on a pair of hits.
"Everybody got a piece of it tonight," Murphy said. "It was a lot of fun as an offense. I didn't think we gave any at-bats away."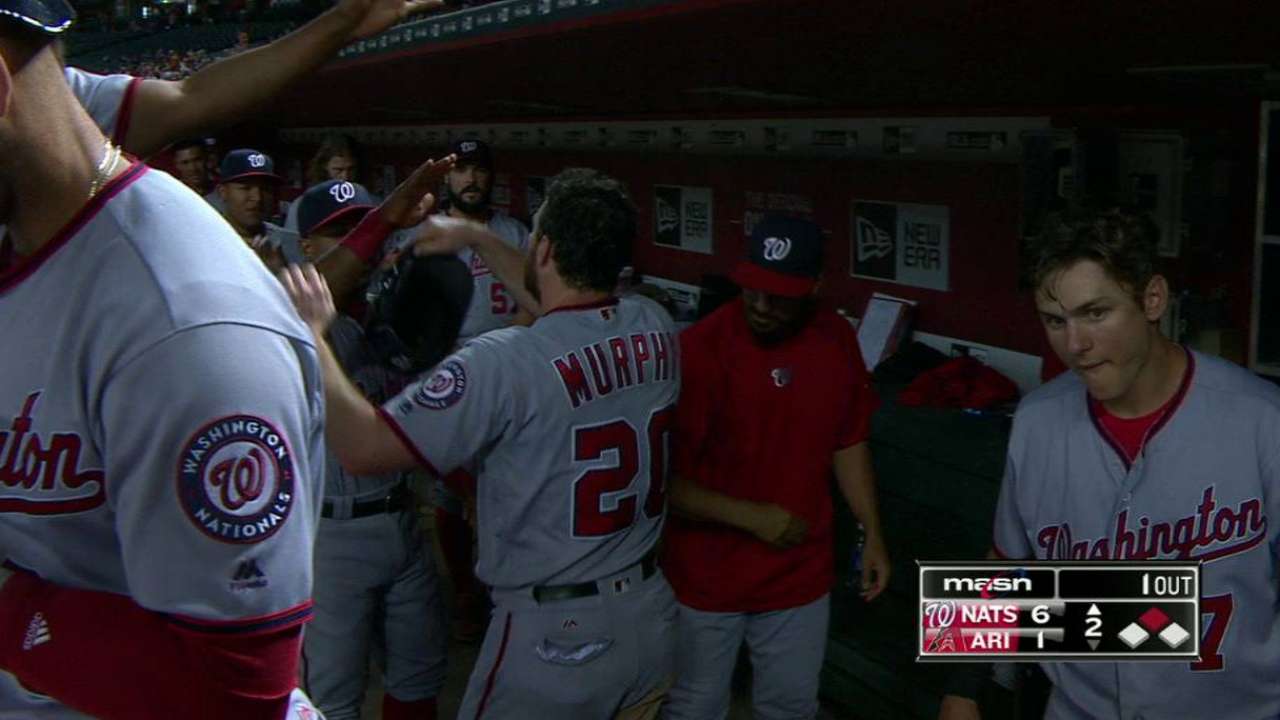 MELANCON'S STRESS-FREE DEBUT
Mark Melancon had not appeared in a game since July 24, so regardless of the score Monday night, Baker wanted to try and get him into the game. So Melancon, who was acquired from the Pirates on Saturday afternoon, made his Nationals debut in the ninth inning of a 13-run game. He struck out a pair in a 1-2-3 inning, throwing 11 pitches.
"We know he throws strikes. We know he's tough to hit and he makes his pitches," Baker said. "You would like to get him in a game like that, especially so [Ramos] could see him because Wilson is going to be catching him most of the time."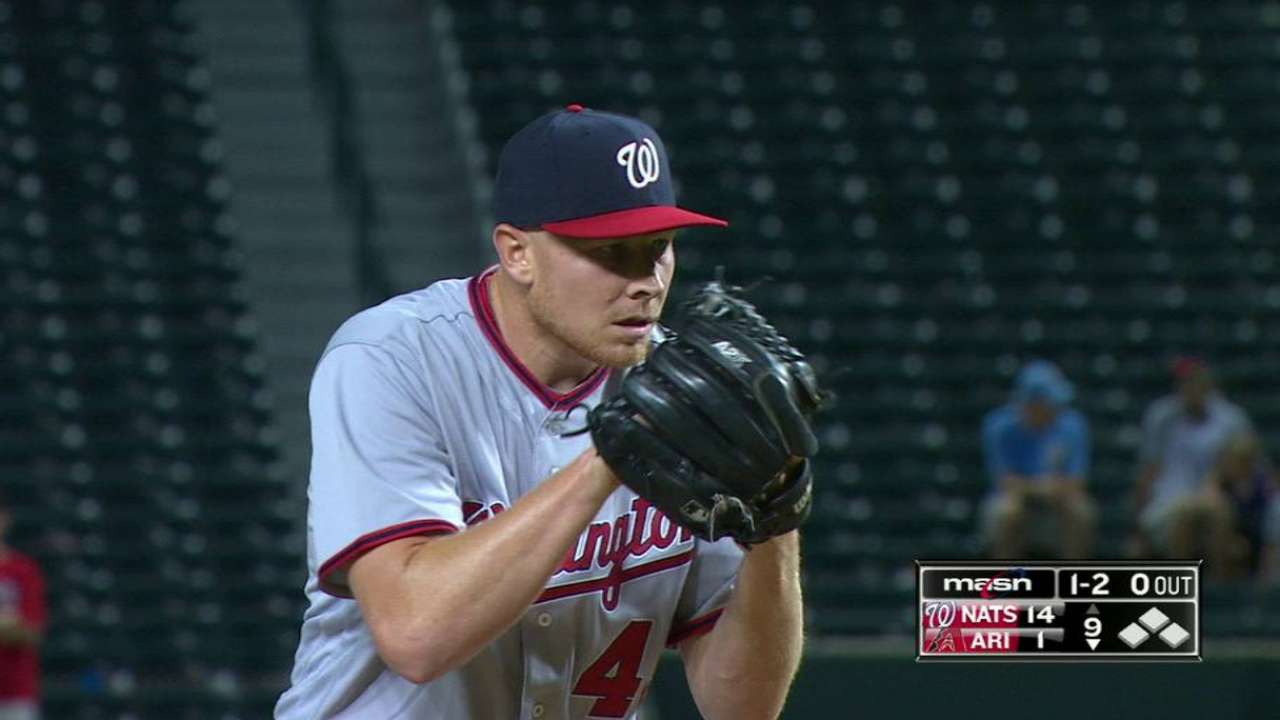 SOUND SMART WITH YOUR FRIENDS
The D-backs allowed 14 runs for the third time this season. Not only that, but they did so for the second day in a row, as they lost 14-3 to the Dodgers on Sunday.
"It's tough. We've given up a lot of runs," Hale said. "These are the tough ones. I know they don't look good; they're not pretty."
WHAT'S NEXT
Nationals: The Nats send steady right-hander Tanner Roark to the mound to continue this three-game series in Arizona. Roark (10-6, 2.96 ERA) has lasted at least seven innings in seven of his past nine starts and his ERA is 14th best in the National League.
D-backs: The D-backs send left-hander Robbie Ray to the mound as the series continues at 6:40 p.m. MST on Tuesday at Chase Field. Ray (5-10, 4.70 ERA) will be making his first career start against Washington -- the organization that selected him in the 12th round of the 2010 Draft.
Watch every out-of-market regular-season game live on MLB.TV.
Jamal Collier covers the Nationals for MLB.com. Follow him on Twitter at @jamalcollier.

Jake Rill is a reporter for MLB.com based in Phoenix. He covered the D-backs on Monday. This story was not subject to the approval of Major League Baseball or its clubs.