Five-run fifth lifts Padres over Brewers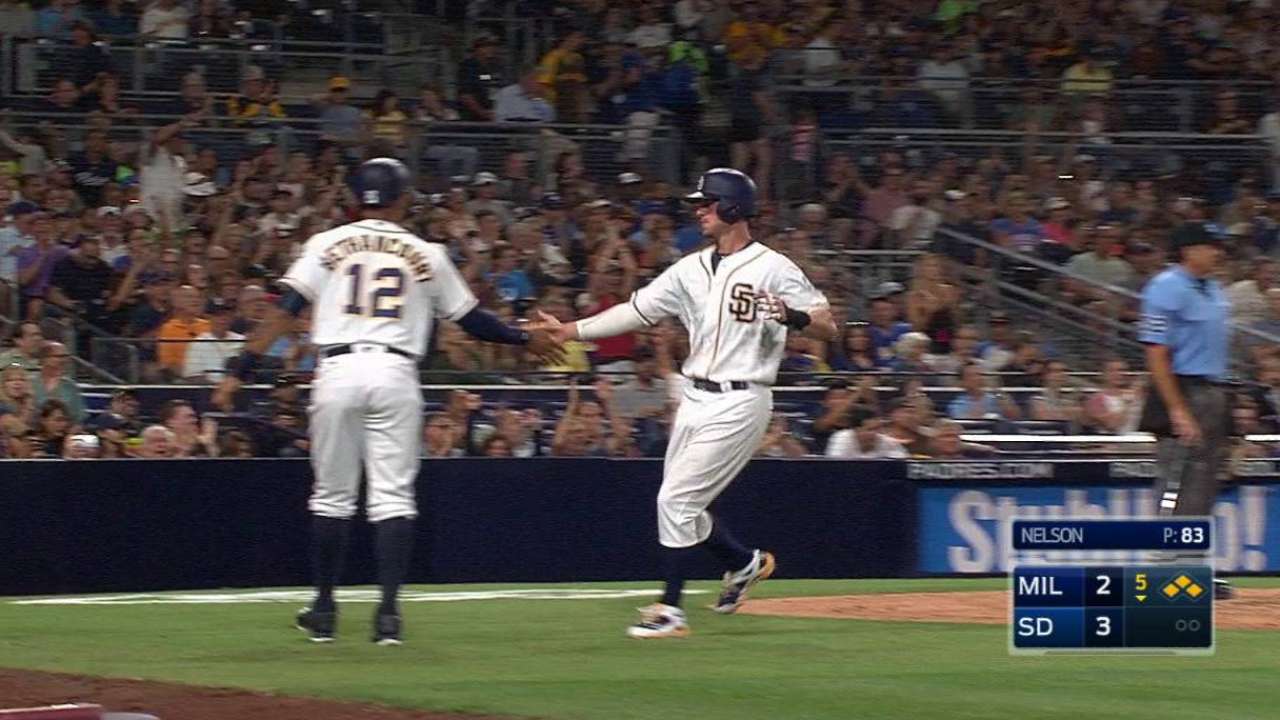 SAN DIEGO -- The Padres struck for five runs in the fifth inning Monday night, paving the way for a 7-3 win over the Brewers in the series opener at Petco Park.
Milwaukee starter Jimmy Nelson worked around four hits and three walks to limit San Diego to just one run during the first four innings, but the 27-year-old righty was unable to record an out in the fifth. The first five Padres batters reached base and eventually scored against Nelson and reliever Blaine Boyer including Ryan Schimpf, who ended Nelson's day with an RBI triple down the right field line -- his second extra-base hit of the game.
Nelson was charged with six earned runs on eight hits and four walks in four-plus innings.
"There's not any words, really, that can describe how frustrated and disappointed I am," Nelson said. "I'm very well prepared, so it almost makes it harder after a tough outing, knowing I've done everything I can. That's not going to change anything, it's just in my genetic code. It's who I am. … I don't take losing great, you know? I hate it."
Padres leadoff hitter Travis Jankowski reached base all five times he came to the plate, while tallying a career-high three hits to pace the San Diego offense.
"He's a game-changer on the base paths," said Padres manager Andy Green. "Anytime you can put him in front of guys like Wil [Myers] it just causes havoc. I think he was the key to the game today for us, offensively."
Jarred Cosart struggled to find the strike zone throughout the entirety of his Padres debut, after dealing with a blister on his right thumb that flared up in the second inning. Cosart walked six batters and hit one in 3 1/3 innings, but managed to avoid surrendering a run.
"It didn't bust open, but it was creating a lot of friction out there and causing a lot of my pitches to go awry," Cosart said. "...We caught it fairly early before it busted open so now there's treatment we can do, and things we can do to get it ready for the next start."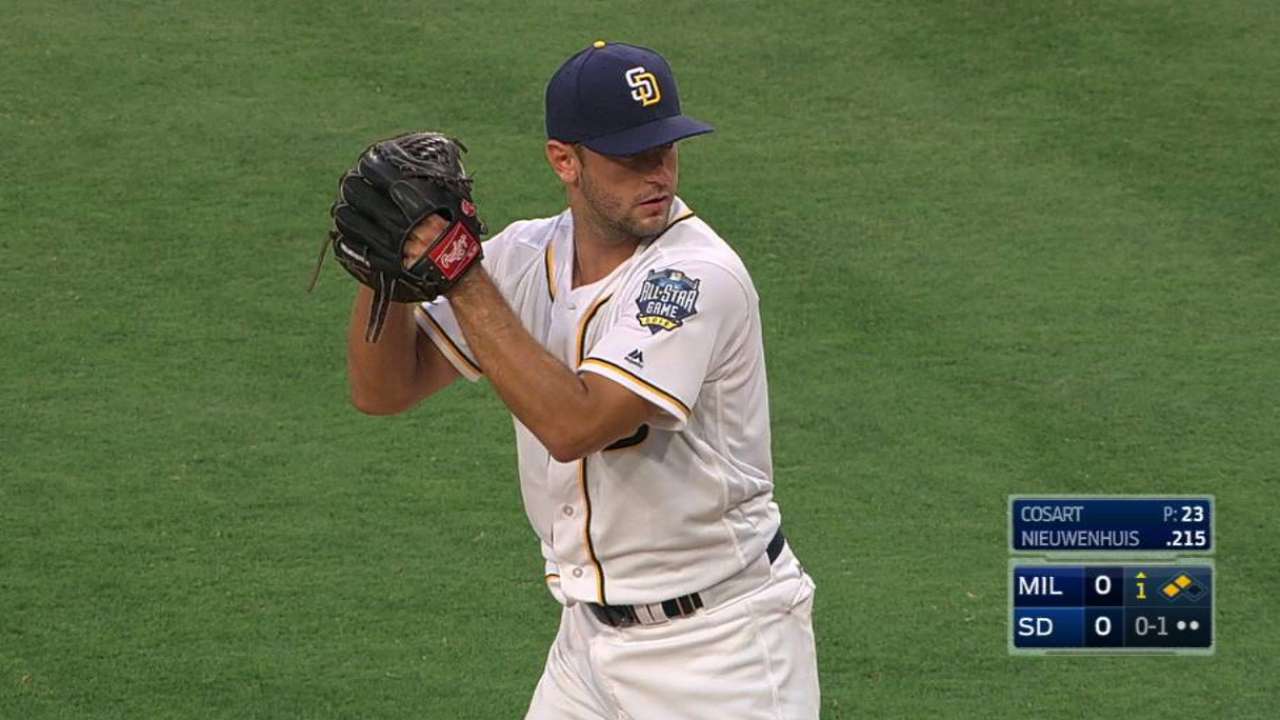 MOMENTS THAT MATTERED
Running wild: Green said that the team was looking to be more aggressive on the bases, and that ideology manifested in the bottom of the eighth inning. Myers stole second after seeing Jankowski go for third, and found himself in a pickle when Brewers catcher Martin Maldonado threw to second base. Myers managed to create enough of a distraction to allow Jankowski to slide safely home and give the Padres a four-run cushion.
"Solarte was up and they had the shift on, so the third baseman was way in the 5-6 hole," Jankowski said. "So I figured, you know, if I go right away the third baseman can still [get back], but Andy mentioned it to me earlier in the game, so as soon as I saw the third baseman shift to that hole I wanted to delay steal. And it worked out and we actually scored a run on it, so it was a pretty huge run there."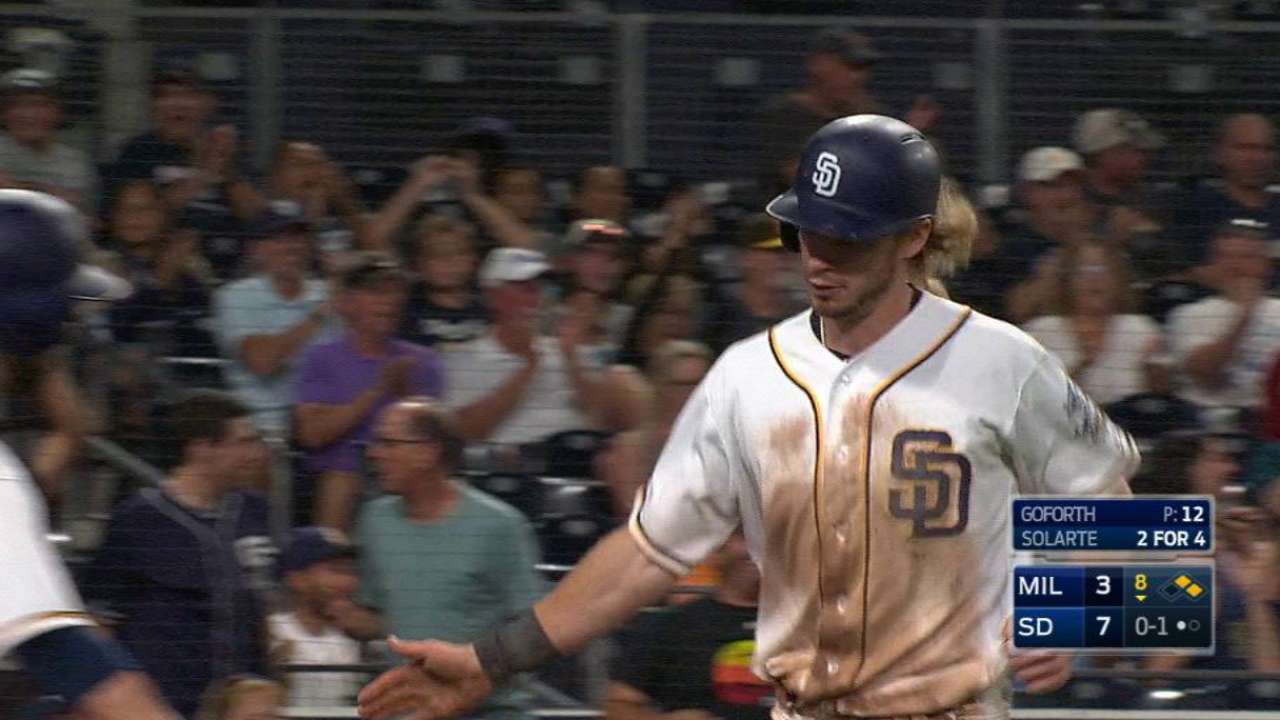 Up and over: The Brewers' July player of the month stayed hot on the first day of August. Hernan Perez, batting in the three-hole for the fourth time in the five consecutive games Ryan Braun has missed with a ribcage injury, hit a go-ahead, two-run shot in the fifth inning that bounced off the top of the right-field wall and into the seats for a short-lived, 2-1 Brewers lead. Perez has homered in three of the five games he's batted in Braun's spot, but now faces diminished playing time with the news that top Brewers prospect Orlando Arcia is joining the team Tuesday.
"The thinking is it's time to get him started," Brewers manager Craig Counsell said of Arcia, who is No. 13 on MLBPipeline.com's list of baseball's top prospects. "We've still got [58] games left, a good chunk of the season left, where we're hopeful that it gives him good experience going into next year. I think it's a little shot in the arm for us, a little boost for us, as well." More >
Trust in Travis: Jankowski has excelled in the leadoff spot for the Padres this season, and that continued Monday night as he had three hits and sparked a five-run fifth with a walk and his 19th stolen base of the season. Jankowski has heavily utilized his speed, with 42.8 percent (24-of-56) of his hits staying in the infield.
"Coming back from the break I wasn't playing my best baseball," Jankowski said, "So getting that game, getting a couple hits and getting the confidence back is huge for me, and it was a good team win tonight."
Long time coming: Chris Carter hit his team-leading 25th home run for the Brewers in the eighth, but the inning's more sentimental hit belonged to pinch-hitter Manny Pina. A catcher called up after the Brewers traded Jonathan Lucroy to the Rangers earlier in the day, Pina smacked a pinch-hit single for his first Major League hit since Aug. 4, 2011 for the Royals against the Orioles. Before Monday, Pina hadn't played in the Majors since 2012, and he said he considered quitting baseball in 2014.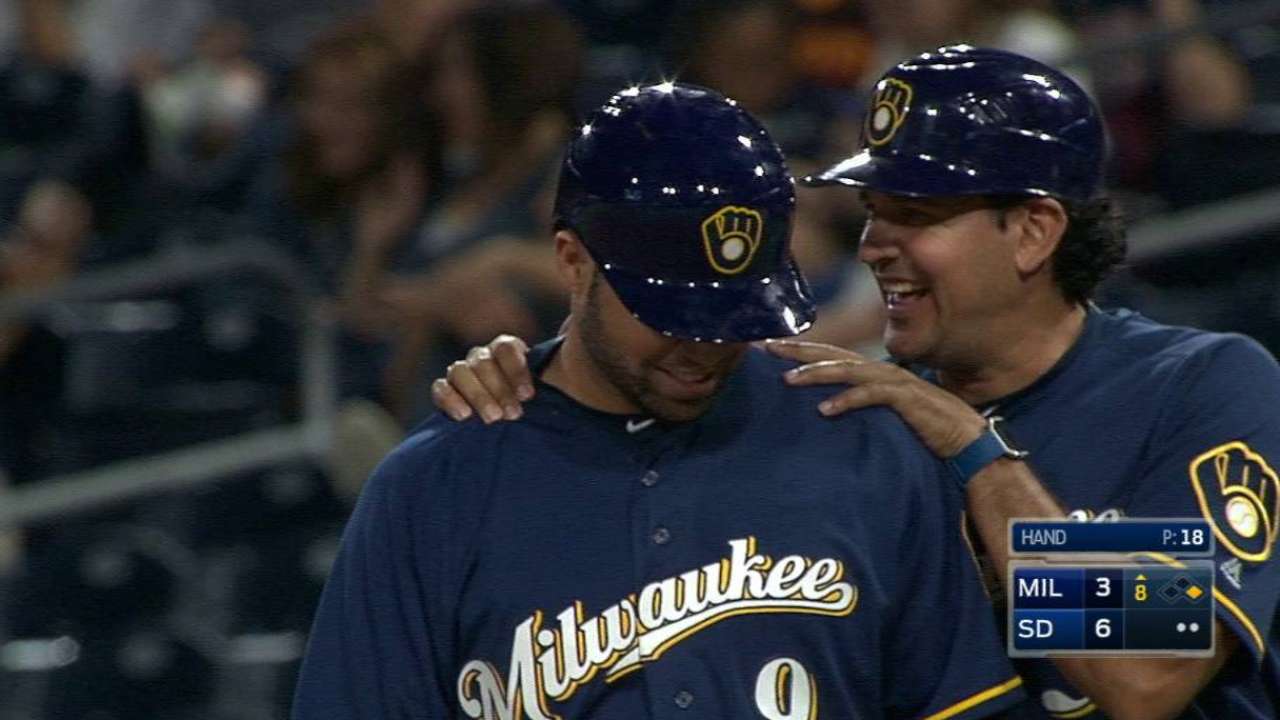 QUOTABLE
"Your expectation is that players will be traded, but when they're actually traded, it hurts, just because of who they are and how much they've meant and your relationship with them, as much as anything. So it hurts for a little while, for sure. But you bounce out of it, and you understand that this is the profession we chose and we have to move on from it." -- Counsell, on Monday's trades sending Lucroy, Jeremy Jeffress and Will Smith away
SOUND SMART WITH YOUR FRIENDS
Myers stole his 20th base of the season in the eighth inning Monday night -- which is a goal that he's had for himself the whole year -- becoming just the ninth player in Padre history to hit 20 home runs and steal 20 bases in the same season.
"Wil's been great. Wil's who we're building this thing around from an offensive perspective," Green said after the game. "He does more things for this club than anybody offensively."
BREWERS' SANTANA SEES DOC
Milwaukee right-fielder Domingo Santana has received a second opinion on his lingering right elbow injury and will avoid surgery for now, Counsell said.
"We're really at the stage where I think he's going to make another attempt [at rehab]," Counsell said. "One more attempt. It's close, you know what I mean? So he's going to make one more try at it, and then we might end up going in a different direction. The second opinion didn't show anything different than [Brewers head physician William] Raasch really was recommending. … There's a couple of ways we can pivot after this. I think at this point his options are starting to get limited, and we're going to have to make a decision shortly."
A surgery would be "not even close" to as serious as a Tommy John procedure, Counsell said. The Brewers have not released the nature of Santana's injury other than saying his elbow is sore.
WHAT'S NEXT
Brewers: The Brewers hope to have Braun back in the lineup when the series continues Tuesday at 9:10 p.m. CT with Zach Davies on the mound for Milwaukee. Braun has missed five straight starts with right side discomfort but was a full participant in batting practice Monday.
Padres: Luis Perdomo takes the mound for the Padres in game two. The 23-year-old, Rule 5 pick has allowed three runs or fewer in four of his last five starts, thanks in part to an improved sinker that is helping him record a 57.6 ground ball percentage.
Watch every out-of-market regular-season game live on MLB.TV.
Adam McCalvy has covered the Brewers for MLB.com since 2001.

Carlos Collazo is a reporter for MLB.com based in San Diego.

This story was not subject to the approval of Major League Baseball or its clubs.