Without appropriate offers, Phils hold onto assets
If not part of future, Hellickson may bring back compensatory Draft pick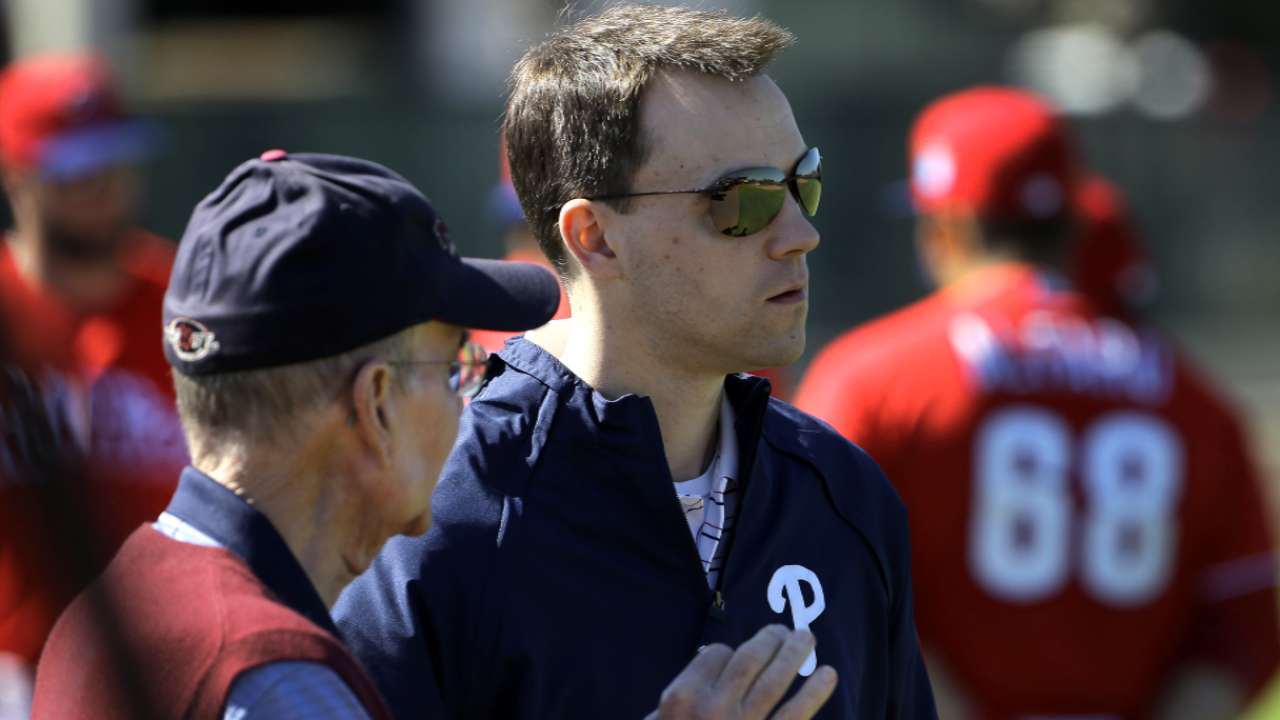 PHILADELPHIA -- Matt Klentak had talent to trade, but the Phillies stood pat as Monday's non-waiver Trade Deadline passed.
Sources indicated that the Phillies had a high asking price for Jeremy Hellickson. It is unclear if the club came close to a deal, but some teams balked at the Phillies' demands because Hellickson can become a free agent following the season. Phillies relievers Jeanmar Gomez and David Hernandez received little interest. The Phillies and Rangers seriously discussed a Vince Velasquez trade, but such a deal was never close to completion.
"We were pretty focused on making sure we appropriately balanced both the present and the future," Klentak said on Monday evening. "If there was a trade to be made that made sense on both fronts, then we would have done it. We had a lot of dialogue with quite a few teams about a number of players on our club. Never once did I feel that the appropriate balance would be struck with the return in a trade."
The Phillies, one of just three teams not to make a trade before the Deadline, had plenty of interest in Hellickson. The Marlins had engaged in serious talks. The Tigers, Blue Jays, Giants, Rangers and Orioles had scouted the right-hander's starts. But while 13 big league starting pitchers got moved before the Deadline, Hellickson remains with the Phillies.
"Whether we have overvalued him in the trade market, I don't know," Klentak said. "But certainly, we do value what he brings to our team. The last two months of the year are as important as the prior four. We have some younger pitchers that are going to be approaching innings totals for the season that they have never approached. To me, having a veteran starter that is able and capable of giving us six or seven innings a night to continue to allow our young starters to develop the way that we want them to -- there's a huge value in that to us."
Klentak also felt comfortable sticking to his demands because the Phillies are expected to make a qualifying offer to Hellickson following the season. Teams that make a qualifying offer receive a compensatory Draft pick if a player signs with another team.
If history is any indication, Hellickson will reject the Phillies' qualifying offer. Only three of 20 players accepted a qualifying offer last year, and none accepted over the previous three years. Hellickson's agent is Scott Boras, who is likely to tout his client as a top pitcher in a relatively thin free-agent market for starting pitching.
Expecting that Hellickson will decline the offer, the Phillies wanted a prospect commensurate in talent to a top Draft pick.
If Hellickson surprises the Phillies and he accepts a qualifying offer, they can afford the one-year contract, which would be worth roughly $16.5 million, because they have almost no financial commitments beyond this season. And while Aaron Nola, Velasquez, Jerad Eickhoff, Zach Eflin and Triple-A right-hander Jake Thompson certainly look to be the makings of a talented rotation, pitchers get injured and struggle. Hellickson could be a steadying presence in the rotation for another season.
"I will say that we have very supportive ownership and very few future commitments," Klentak said about possibly retaining Hellickson next season.
Of course, there is risk involved.
First, prospects are coveted because they have a track record in professional baseball and are projectable, whereas top Draft picks are valuable but untested in pro ball. Second, teams that sign a free agent with a qualifying offer forfeit their highest unprotected Draft pick. The teams with the top 10 selections have their first-round picks protected. Attaching a qualifying offer to Hellickson could make him less attractive to teams and potentially push him toward accepting the one-year deal.
Hellickson's stock might never be higher than it is now. He is 8-7 with a 3.70 ERA in 22 starts, having posted a 2.49 ERA in his last eight starts. He had a 4.86 ERA in 71 starts over the previous three seasons with the Rays and D-backs. Next season, if Hellickson regresses to his performance from 2013-15, the Phillies will have lost an opportunity to acquire talent for a pitcher who is not expected to be part of their long-term plans.
"We have to factor in the risk, the reward, what harm it does to our Major League club if a player is not here anymore and assess that in totality," Klentak said. "Once a player is in professional baseball and has a track record of facing professional competition, we have a better sense of how that player is going to develop than we do at the collegiate and high school level. I'm happy to acknowledge that. I don't think that will come as a shock to anybody. But those Draft picks have value as well."
So Klentak's first non-waiver Trade Deadline was a quiet one. Of course, trades can still be made before the Aug. 31 waiver Trade Deadline, although they become more difficult. Perhaps Hellickson, Gomez, Hernandez, Peter Bourjos, Carlos Ruiz or others will be traded before then.
"We're not under economic pressure to send money out the door, and we're not looking to just dump veterans for the sake of dumping veterans," Klentak said. "That's not the business we are in. We want to make sure that the kids on our team are being mentored by the right veterans and the product on the field is as good as it can be. Our position in August will be the same as it was this week. If there's a good baseball trade that provides us with the right value, then we will pursue it. If not, we will let it pass."
Todd Zolecki has covered the Phillies since 2003, and for MLB.com since 2009. Read his Phillies blog The Zo Zone, follow him on Twitter and listen to his podcast. This story was not subject to the approval of Major League Baseball or its clubs.