Silverman feels Rays are 'better' after trades
Tampa Bay's 3 deals at Deadline help bolster Minor League system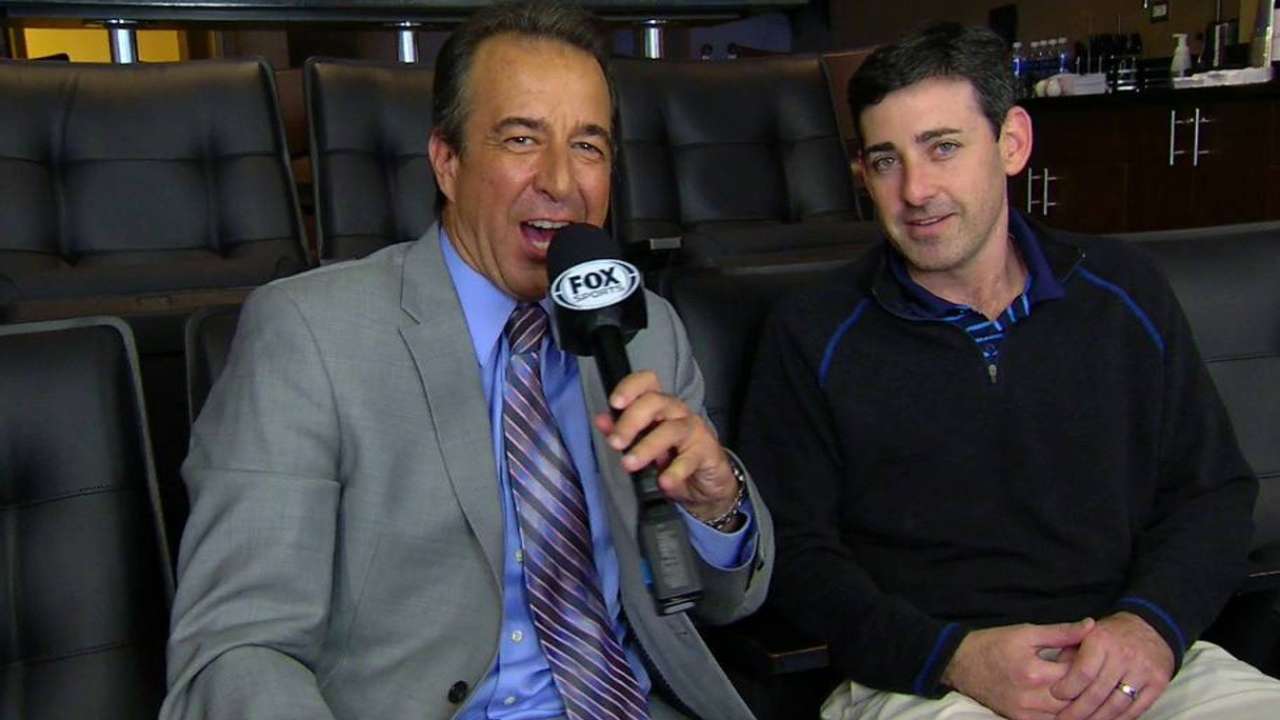 ST. PETERSBURG -- Matt Silverman is the Rays' decision maker.
Ultimately, the buck stops with whatever the executive president of baseball operations decides. So once the dust settled from a Monday afternoon that saw the Rays make three deals before the non-waiver Trade Deadline, Silverman talked about the moves and the direction the organization is headed.
Prior to the Deadline, Tampa Bay had not made any deals, which left those prone to speculation to figure the Rays had decided to hold onto their pitching and wait until the offseason.
Then, Brandon Guyer was traded to the Indians, Steve Pearce to the Orioles, and Matt Moore to the Giants.
Everybody expected Pearce to get traded. No one saw the Guyer trade coming. And the Moore trade pooh-poohed the idea of "hold on now, trade later."
Silverman explained how he read the market, which prompted the Moore trade.
"It's hard to tell [what the market is going to be like in the offseason]," Silverman said. "There were lots of conversations. There was lots of talk. Chatter in the industry about what it's going to be like in the offseason given the crop of free-agent pitching.
"We found a deal that made sense for us. San Francisco made a deal that made sense for them. To help them try to win a pennant this year. We're a better club after this trade. We're a better club looking forward. But we're certainly going to miss the contributions of Matt Moore."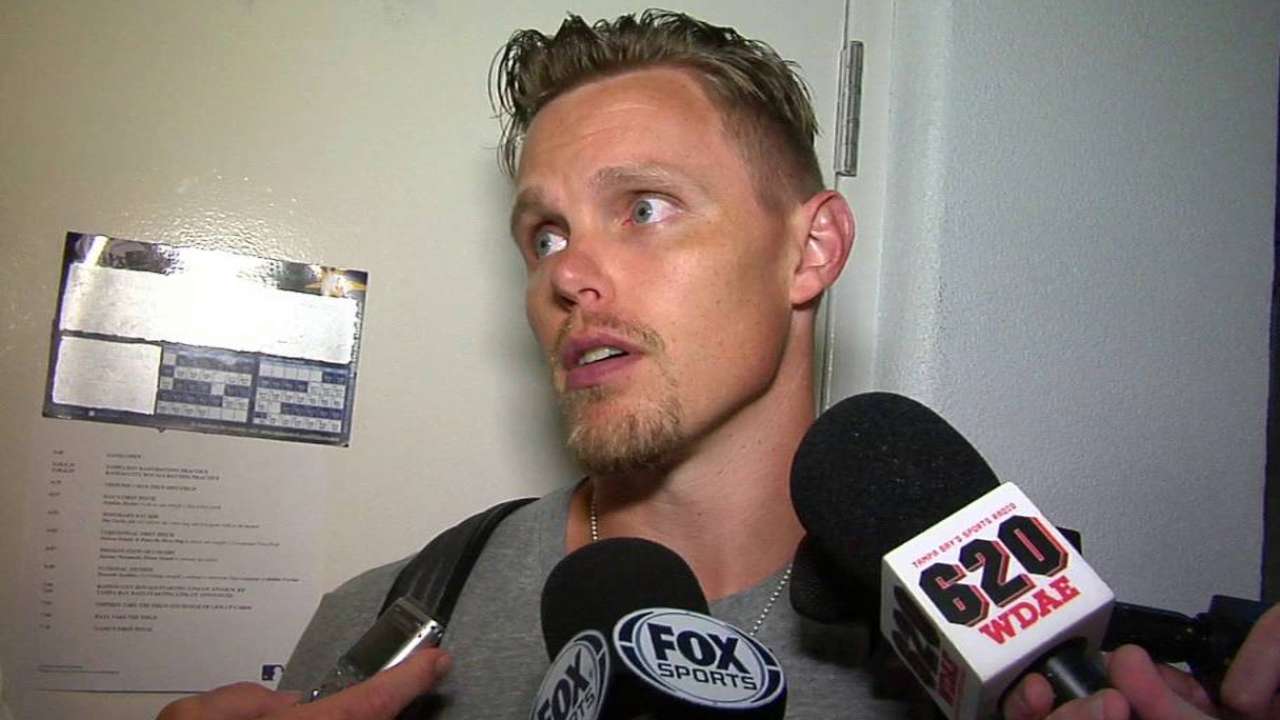 Matt Duffy was the main player in the return for Moore. Silverman told reporters, "We think he is going to be a very good shortstop for us."
"He's an all-around player," Silverman said. "Last year, one of the top rookies in the National League. And was off to a great year this year before the Achilles injury. ... Just someone who can fortify our infield up the middle.
"That defense is critical for the success we're going to have going forward. And to have another young infielder that can be a part of the team's future was something that was a big part of the trade today."
The Rays are expecting Duffy to join the team in the not-to-distant future. So what did that say about incumbent shortstop Brad Miller's future at the position?
"Brad Miller is a very good Major League player," Silverman said. "He's got a dynamic bat, a power bat that we've seen especially of late. He's a shortstop. And he also has some versatility.
"That versatility is a not a negative, it's a positive. We're going to get him some time at first base, we're going to get him some time in the outfield. Just so we have a better sense of what he can do for us."
Trading any starting pitchers -- particularly ones under club control, has always gone against the grain for the Rays. Given that philosophy, Silverman was asked why they felt they could trade a pitcher like Moore.
"We're fortunate to have a number of very talented Major League pitchers and guys who are in the Minor Leagues knocking on the door," Silverman said. "In some ways it was a numbers problem. We've been very successful in developing pitchers. And it's been our business plan, in a way, to trade from depth to address other areas of need."
In addition to Duffy, the Rays got prospects, shortstop Lucius Fox and right-hander Michael Santos from the Giants. Pearce went to the Orioles in exchange for Minor League catcher Jonah Heim. And for Guyer, the Rays received prospects, outfielder Nathan Lukes and right-hander Jhonleider Salinas.
"If you take a snapshot of our system today compared to yesterday, we're in much better shape," Silverman said. "We have some more athleticism, we have some young arms. We have another catcher to add to the mix. It's a good day for our minor league system in terms of fortifying that and add to the additional talent to that group."
Silverman called the interest in Rays players "overwhelming."
"We came into the season thinking we were competing for a division crown," Silverman said. "We thought we were a playoff caliber club and believe that that talent still exists. But it hasn't materialized.
"We had an incredibly rough month and fell behind in the standings. We didn't think we'd be in a position of selling at the Deadline. But that's where we were, so the number of phone calls is correlated to the amount of talent that we have on our club and in our system. We were able to work through those and find a couple of deals that made sense for us."
At the end of the day, the Rays held true to their core philosophy of having one eye on the present and the other on the future.
"You look at the club today, projecting forward to next year," Silverman said. "We should be a more talented club. Expect to compete again. Recharge and get re-focused and go back after it. Next year and the rest of this year, we're going to keep trying to win as many games as possible."
Bill Chastain is a reporter for MLB.com. This story was not subject to the approval of Major League Baseball or its clubs.