Miller excited though uncertain about role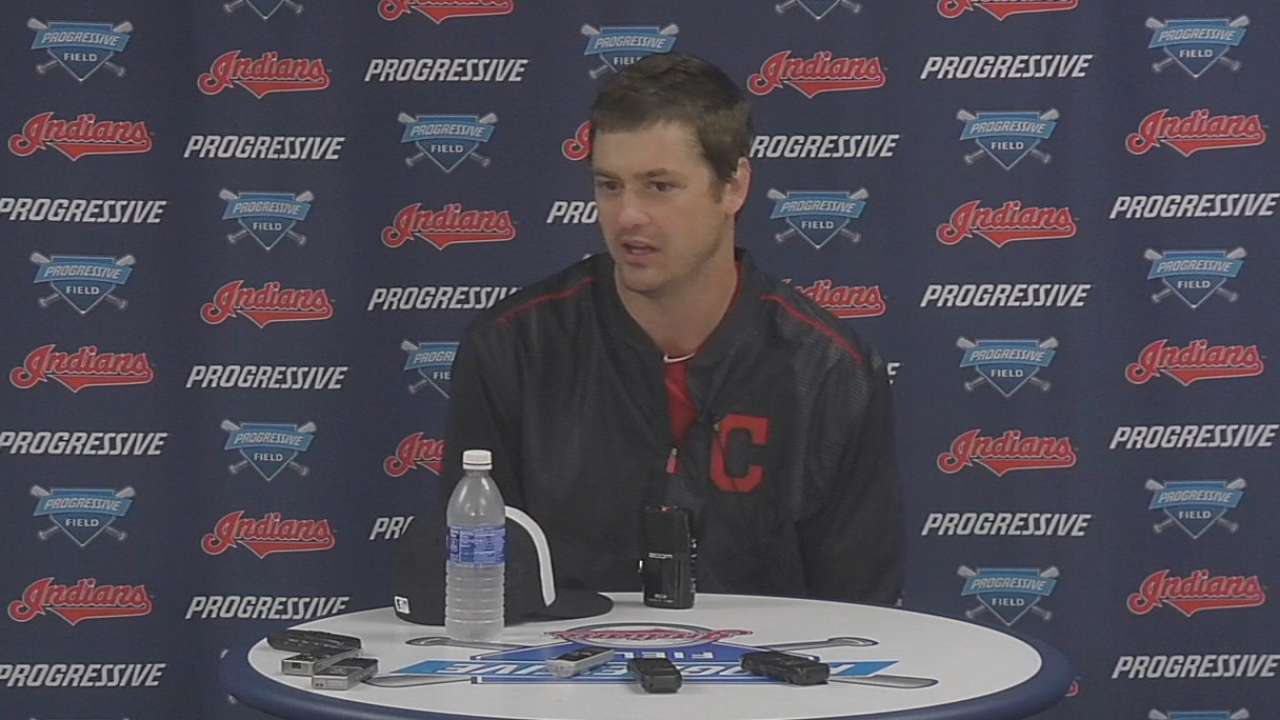 CLEVELAND -- Reliever Andrew Miller's alarm hadn't gone off yet when he received the call on Sunday morning. The voice on the other end told him he was being traded to the Indians.
"I was shocked," Miller said. "It was 8 o'clock in the morning. But I think ultimately when everything settled in, I knew I was coming to a good place, a good team. That's exciting. That's where you want to be."
Miller arrived in Cleveland late Sunday night. He officially joined the club on Monday afternoon prior to the 12-5 loss to the Twins at Progressive Field, making his debut in the eighth inning.
With Miller's new team trailing by seven runs, Indians manager Terry Francona elected to go to him in the lopsided affair due to the fact that he hadn't pitched since July 26. Miller was greeted with a standing ovation from the crowd when he jogged from the bullpen. He gave up a solo shot to Twins first baseman Joe Mauer and then got Max Kepler to ground out before exiting the game.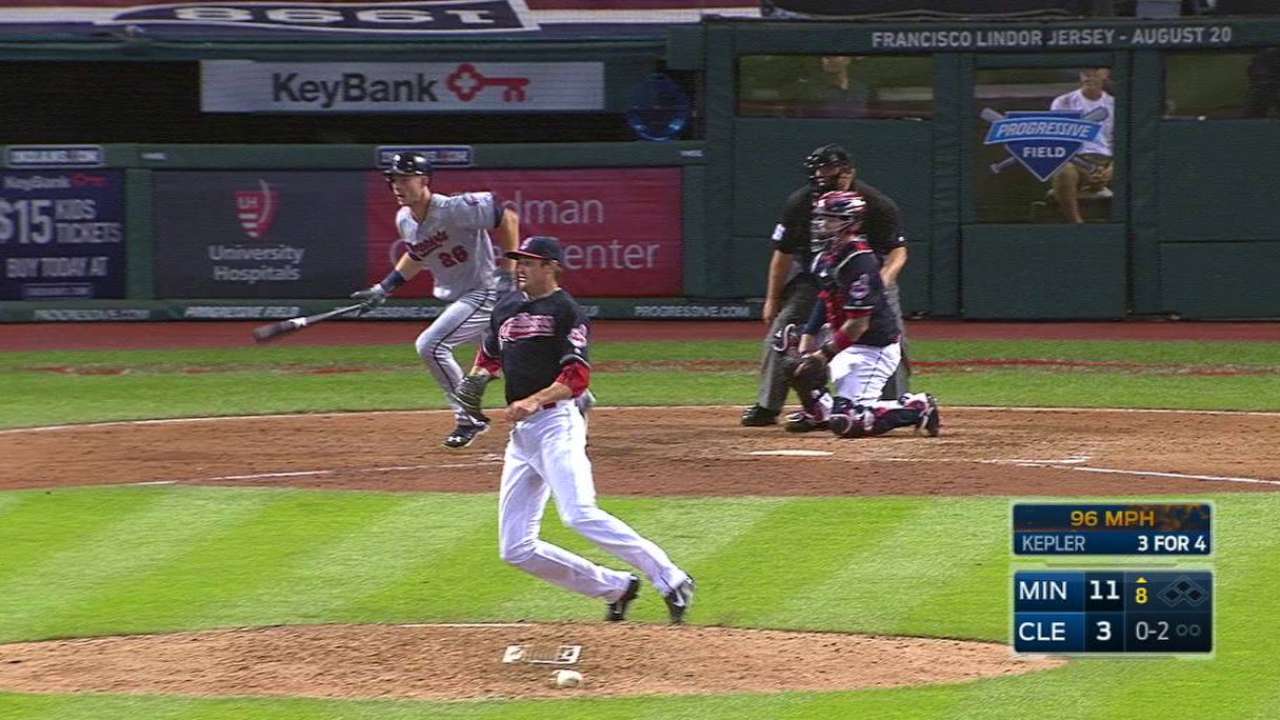 The former Yankee vastly improves a Tribe bullpen that posted a 5.04 ERA in July. Still, his official role with his new team remains up in the air, though he knows where he will be watching the games from.
"I'll be a bullpen pitcher," Miller said. "Other than that, I don't really know. Wherever Tito asks me to pitch, I'll pitch. I've been pretty consistent with the Yankees, and hopefully that has shown. I'm going to be the same way here. However I can help the team, and if we win games, that's what is important."
Entering Monday, Miller posted a 1.39 ERA in 44 relief appearances this season. He has recorded 77 strikeouts over 45 1/3 innings with nine saves. Meanwhile, incumbent closer Cody Allen said he was willing to move. He sits at 20 saves with a 2.58 ERA in 44 outings.
"I haven't really gotten to know Cody that well, but I'm looking forward to it," Miller said. "For me, the best place to be is a place where winning is the most important thing. For him to say that, it obviously shows he's on board with that."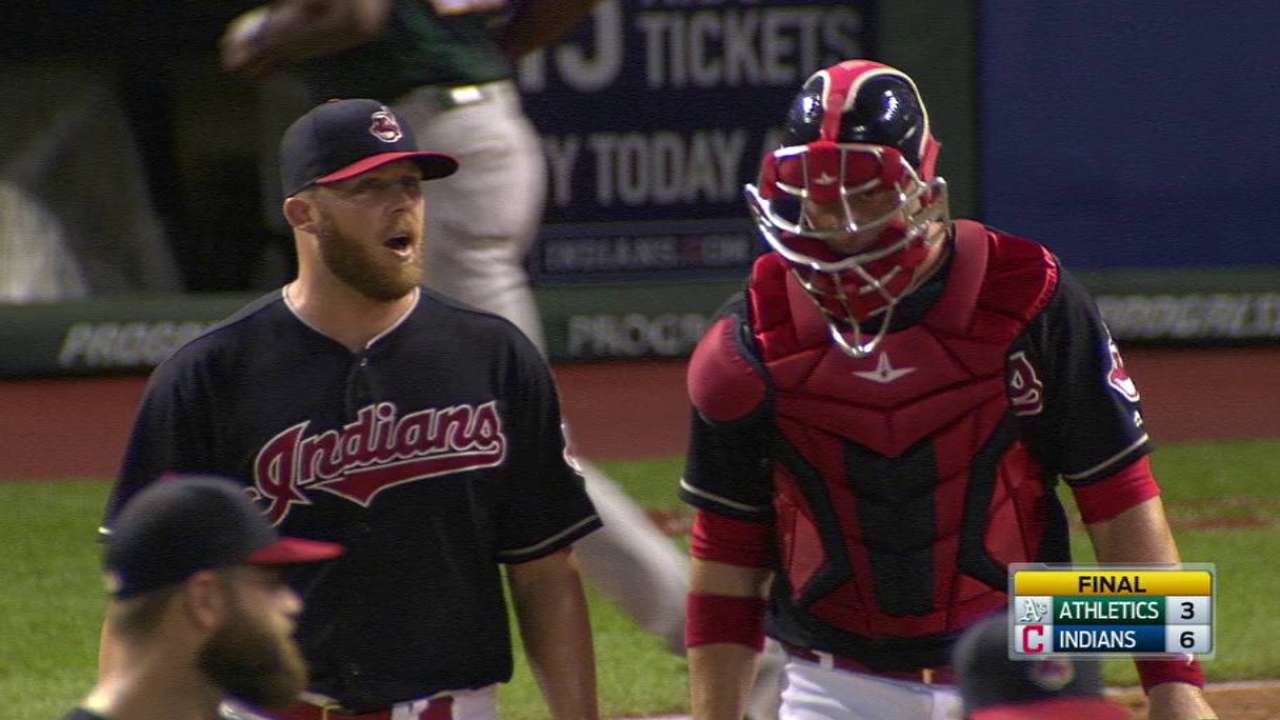 Francona spoke with Allen and Miller in addition to current setup man Bryan Shaw about the game plan going forward. Though he didn't assign a certain inning role to one player, he did indicate that it was going to be pretty simple going forward.
"The guys that Cody's been really tough are some of the tougher lefties in the league. Well, that's Andrew's real strength," Francona said. "I feel like the games are won and lost [in the] seventh and eighth with people on base. There are going to be times when maybe the upcoming inning has three lefties, which would seem to make sense to have Andrew pitch that inning. But we're going to leverage those guys the best we can, and they're all on board."
Miller has had great success against both righties and lefties this season as left-handers are hitting .195 while right-handers are batting .167. Allen has success against both as well, but he is marginally better against right-handers. Righties are .173 and lefties are .215 vs Allen.
Regardless of what roles are given out, Miller believes his transition to his new ballclub will be smooth based on previous experiences and the shared interest in winning. It makes getting woken up at 8 a.m. on a Sunday much easier.
"Last time, I was a little bit anxious going into Baltimore a couple years back," Miller said. "It turned out to be a great fit, and it was a lot of fun. It turned out to be a really good experience. So I've got that to draw from, and hopefully the transition is a bit easier. Seems like a similar situation. Great team, good people, [and a] good place to be."
Shane Jackson is a reporter for MLB.com based in Cleveland. This story was not subject to the approval of Major League Baseball or its clubs.