Royals don't find any deals at Trade Deadline
GM Moore staying focused on bolstering 2017 club and beyond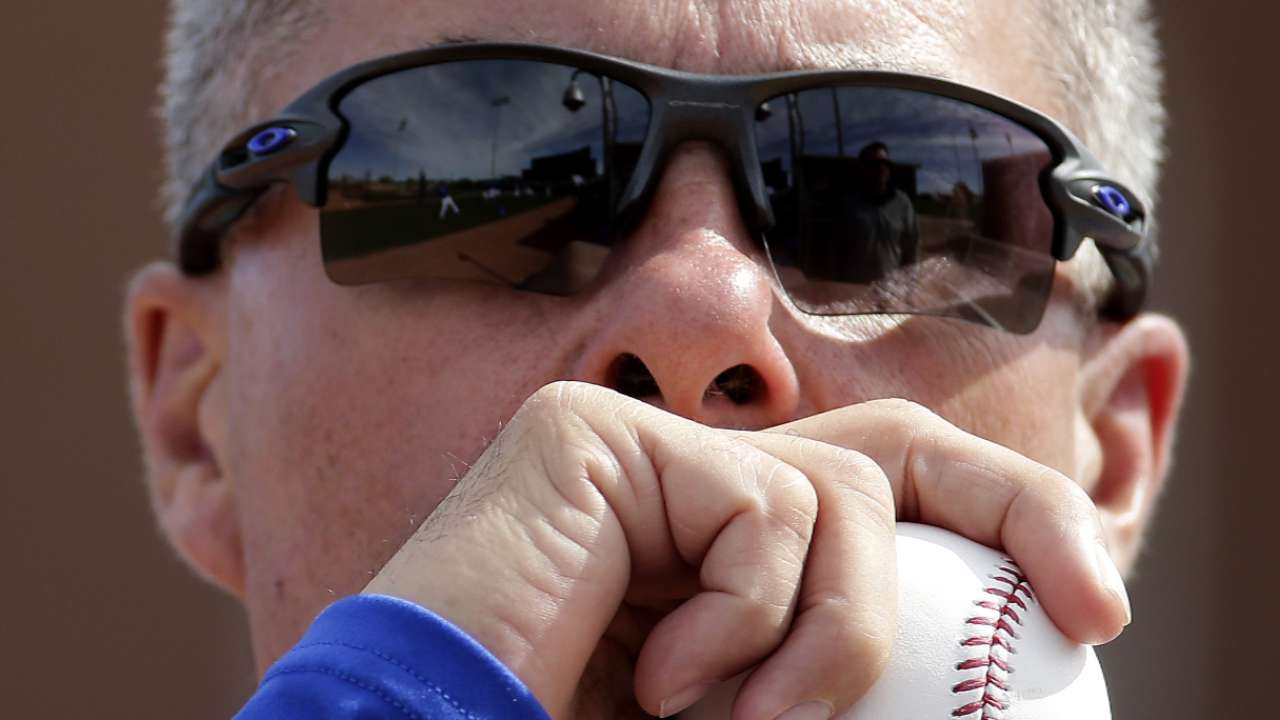 ST. PETERSBURG -- The non-waiver Trade Deadline rumors may have swirled with other teams, but trade speculation remained relatively quiet all week for the Royals before the Deadline passed at 3 p.m. CT on Monday.
Some of that perhaps was by choice, some no doubt by circumstance.
Royals general manager Dayton Moore said early last week that he wasn't about to "dismember" his team because of pending free agents. He also added that any deal made would have had to make the present team better as well as the 2017 club.
Nothing evidently unfolded meeting that criteria.
"We didn't see anything out there that we believed could make us significantly better," Moore said, "that fit into our financial situation or with regards to what players we would have had to give up."
Sure, there was a minor deal, the Royals swapped Minor League outfielders, getting speedy, switch-hitting Billy Burns from the A's for Brett Eibner on Saturday.
But there were no deals to help the fading 2016 Royals, who had lost 19 of 26 entering Monday, and no deals yet to bolster the '17 group.
There were some teams who reportedly inquired about relievers Wade Davis and Luke Hochevar. But that interest was zapped when Hochevar was diagnosed with thoracic outlet syndrome last week, and when Davis was diagnosed with a strained flexor muscle in his right forearm.
Hochevar, a pending free agent, will get a second opinion, but he likely is headed for season-ending surgery. Davis is on the 15-day disabled list.
Despite some reports that indicated the Royals had shopped Davis and Hochevar, Moore said that simply wasn't true.
"In 10 years of being here, we have never shopped a player," Moore said. "We don't shop players. We have never pushed a player. When we pursue deals, we look at other players and see if there is some way we can match up."
Right-hander Edinson Volquez, a pending free agent, was believed to have drawn some interest, but no deal was hatched. Volquez and designated hitter Kendrys Morales have mutual options for the 2017 season, but the Royals have never exercised a mutual option under the present regime.
It is possible they plan to offer Volquez a qualifying offer next year in hopes of a acquiring a Draft pick -- the Royals did not have a first-round pick this season after the free-agent signing of Ian Kennedy. Then again, it also is possible the Royals would entertain the thought of re-signing Volquez because of a thin rotation heading into 2017 that as of now features Kennedy, left-hander Danny Duffy and right-hander Yordano Ventura, and question marks in Jason Vargas (rehabbing from Tommy John surgery) and Mike Minor (rehabbing from labrum surgery).
Asked if the Royals might give Volquez a qualifying offer, Moore said, "That is part of our thinking. We're going to need pitching. We like Eddie and what he has done for us and we believe he likes it with us."
Volquez seemed relieved he was still with the Royals.
"I made it!" Volquez said. "Thanks, God."
Morales could be a candidate to pass through waivers and still be dealt. The non-waiver Trade Deadline market for him was thin, but some teams may still covet a bat. Morales is hitting .244 this season with 16 homers and 49 RBIs, but was the top designated hitter in the league last season after hitting .290 with 22 homers and 106 RBIs.
Going forward, Moore and his staff will turn their focus to strengthening the 2017 team which will feature several core players in the final year of their contracts -- Eric Hosmer, Mike Moustakas, Lorenzo Cain, Alcides Escobar and Duffy.
The 2016 team struggled in July -- going 7-19, which tied a franchise record for the worst month of July.
Jeffrey Flanagan has covered the Royals since 1991, and for MLB.com since 2015. Follow him on Twitter @FlannyMLB. This story was not subject to the approval of Major League Baseball or its clubs.