Hendricks reels in Fish with 2nd career shutout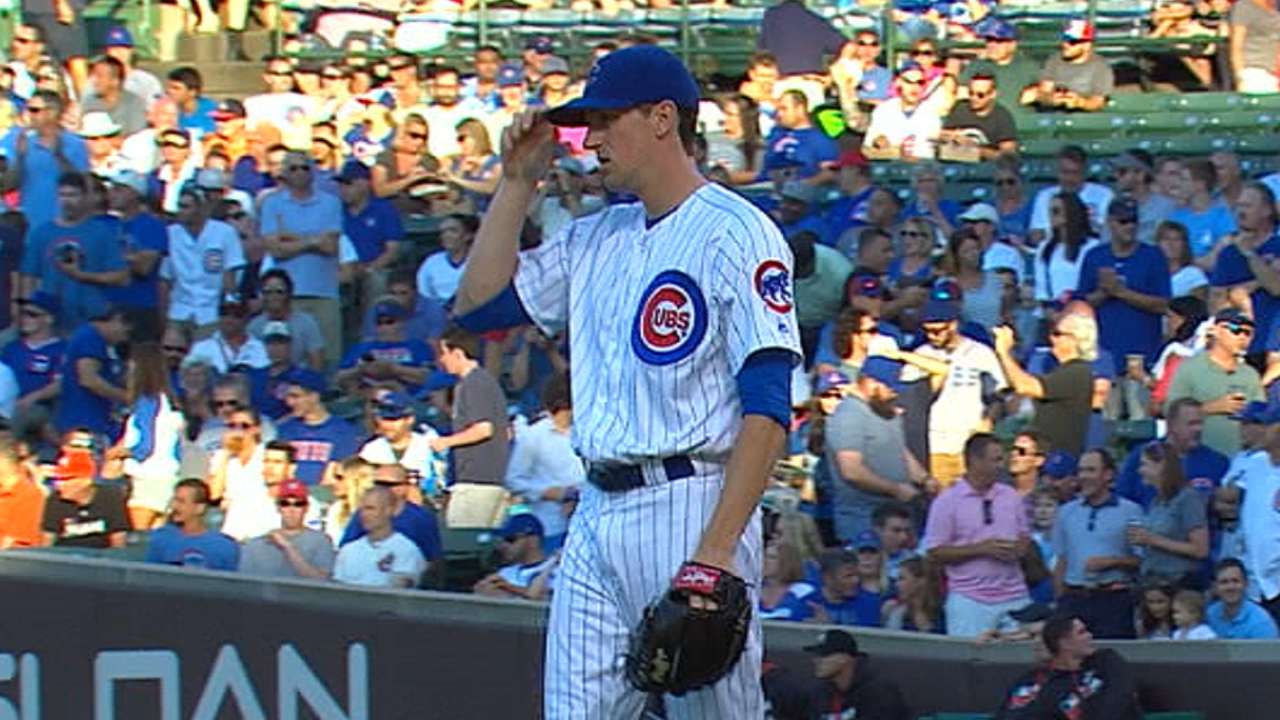 CHICAGO -- After a crazy 12-inning win on Sunday night, the Cubs needed an extended outing by Kyle Hendricks and he delivered. Cy Young voters need to pay attention to the Cubs' fifth starter.
Hendricks scattered seven hits in his second complete game this season and third of his career and hit an RBI single to spark the Cubs to a 5-0 victory on Monday night over the Marlins for their 12th win in the last 18 games. Addison Russell smacked a two-run single, and Dexter Fowler and Javier Baez each added sacrifice flies for the Cubs.
"With the bullpen being somewhat depleted, we needed that tonight and he absolutely nailed it," Cubs manager Joe Maddon said of Hendricks. "Everything he did tonight was stellar. … Right now, he's he's one of the best pitchers in the National League, period."
• Cubs add 'funk' to bullpen, acquire Smith from Angels
Miami again was kept quiet by a pitcher with strong offspeed pitches and command, something manager Don Mattingly has seen enough this season.
• Marlins return Rea to SD, mull rotation options
"It was kind of that same guy we've talked about so many times for us, that changes speeds, uses his changeup a lot," Mattingly said. "It's still an area that we're going to have to get better. The guys that are throwing 98, 97 [mph], we're right on, but when they start throwing multiple changeups over and over ... those are the kinds of guys that have given us trouble."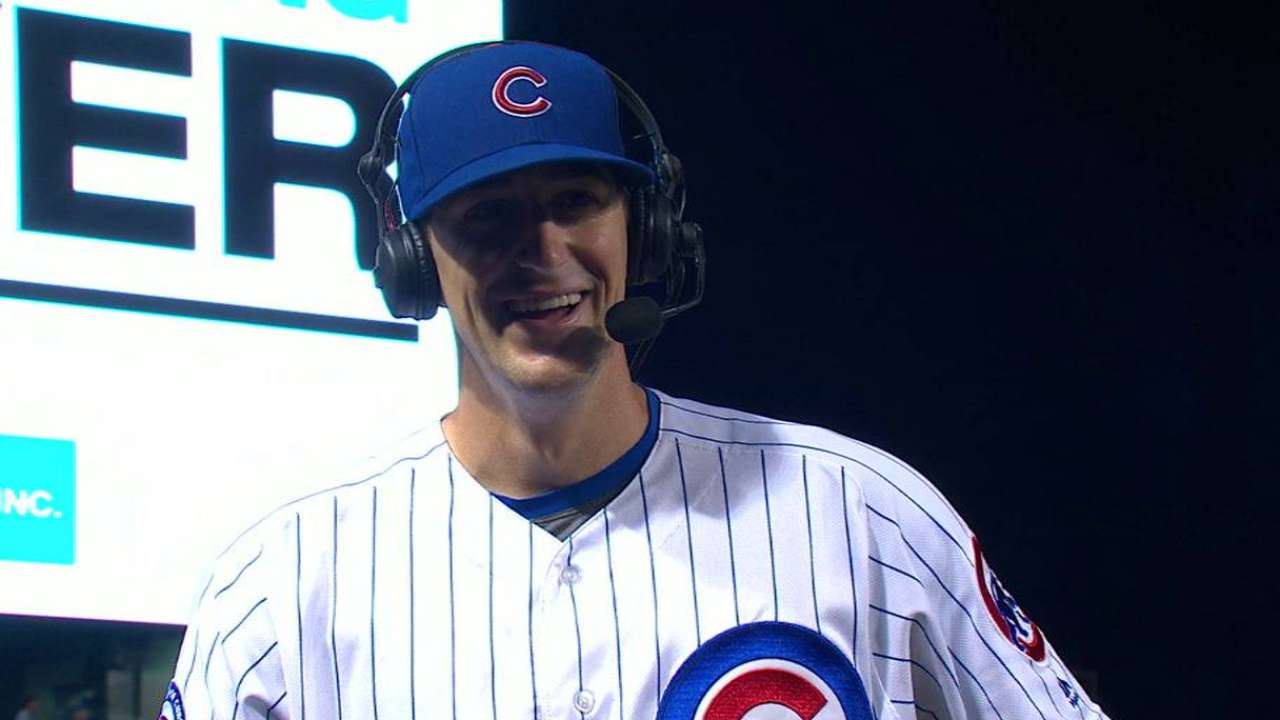 Marlins starter Adam Conley needed 36 pitches to get through the first, and was lifted after throwing 97 pitches over four innings. He walked six and the Cubs stranded nine baserunners in those four innings.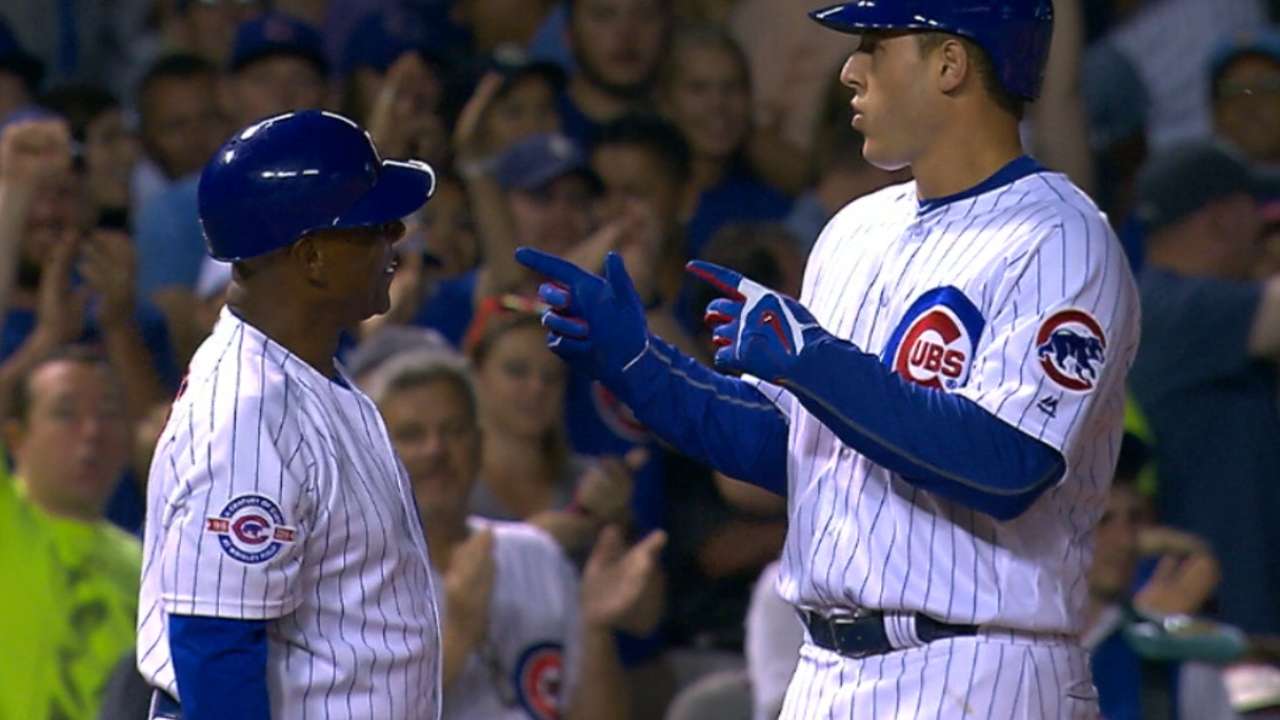 Ichiro Suzuki, who is two hits shy of 3,000, pinch-hit with one out and one on in the Marlins seventh and lined into a double play to third baseman Kris Bryant. The crowd of 40,937 greeted Ichiro with a standing ovation when he came up to the plate.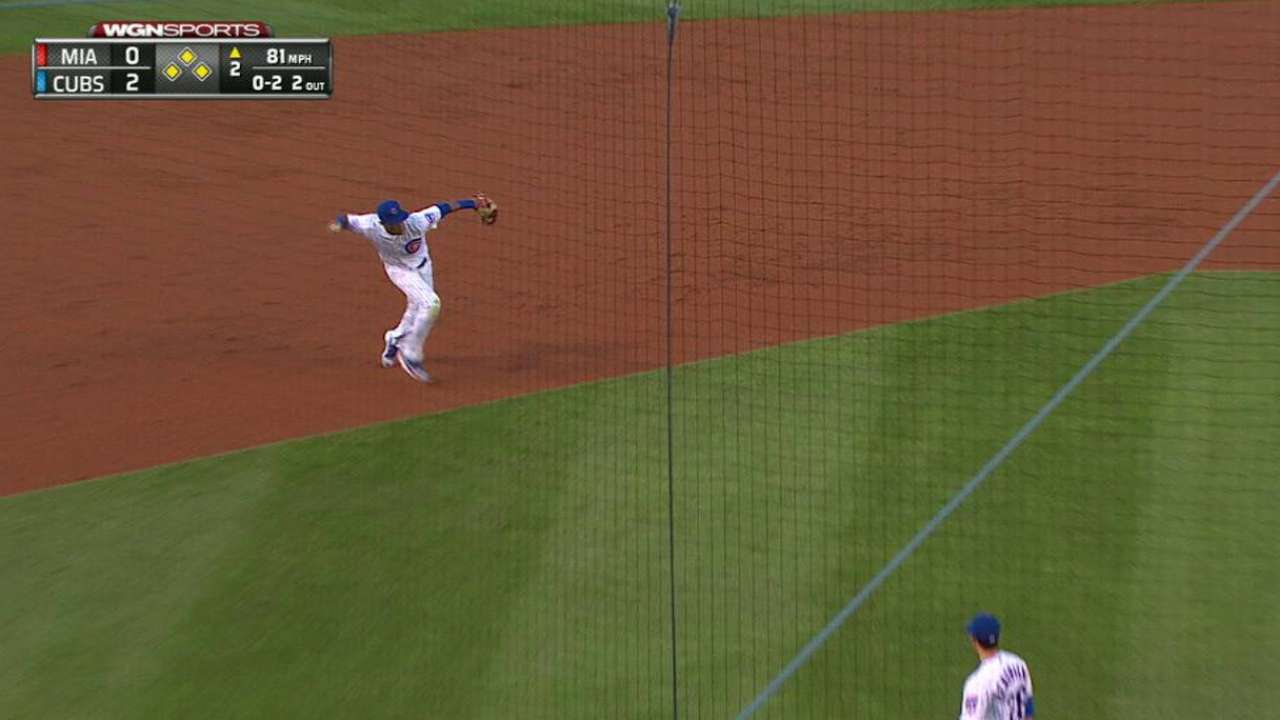 MOMENTS THAT MATTERED
Off base: The Marlins made key outs on the bases in the fourth, fifth and seventh, but only one irritated Mattingly. He was fine with Derek Dietrich being thrown out at third in the fourth, trying to stretch a one-out double into a triple, and didn't have much issue with Dee Gordon getting caught stealing in the fifth. Adeiny Hechavarria, however, was doubled off first for the third out in the seventh, turning Ichiro's line-drive out into an inning-ending double play after a video review.
"I thought Dietrich's was alright," Mattingly said. "You're in the back of the order, there's one out there. If he gets to third with one out, you're going to get a shot at getting a run there, so I was OK with that. Dee's going to be aggressive. He's going to go. You just want to make sure we're taking good chances with that and getting good times. [Hechavarria] that's a whole different situation. You really shouldn't get doubled [off] on a ball on the other side of the diamond, so that's different."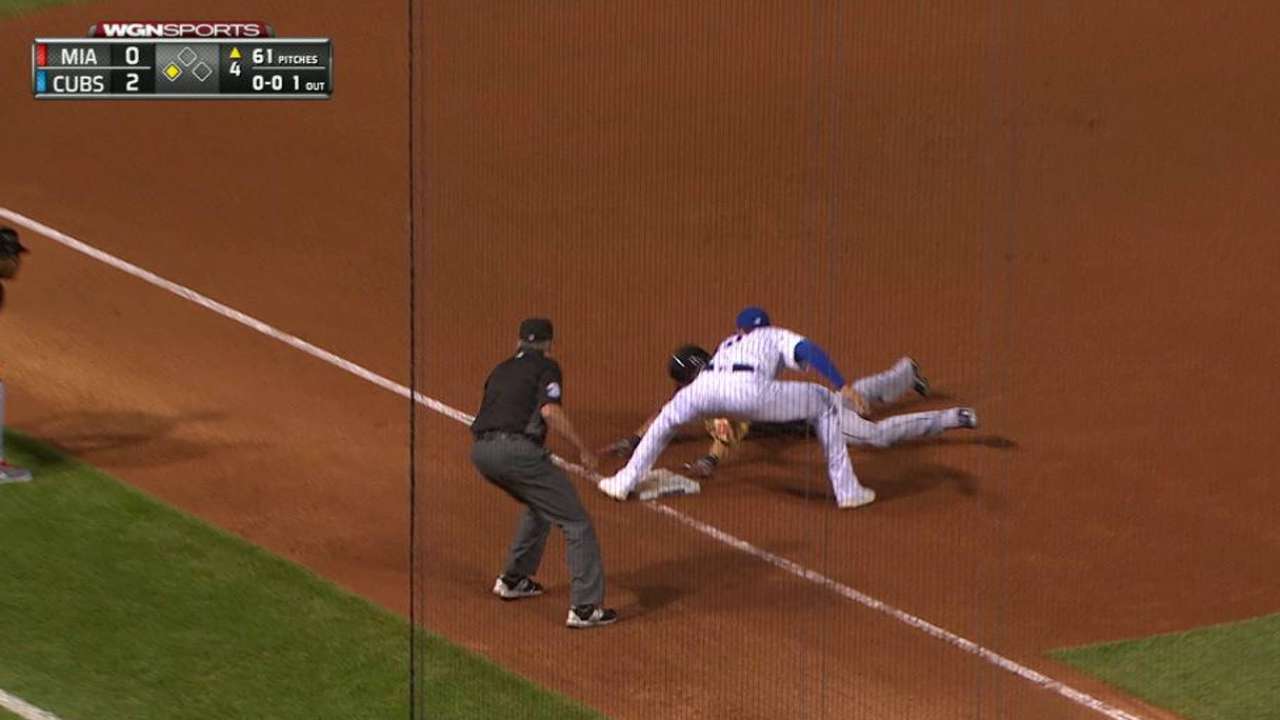 Mr. July: Russell, who led the Cubs with 22 RBIs in July, added two more in the first. Fowler walked and one out later, was held up at third when Anthony Rizzo hit a double that lodged into the ivy in right. One out later, Russell lined a single to right to give the Cubs a 2-0 lead. But Chicago loaded the bases against Conley and couldn't take advantage of the moment as the left-hander struck out Matt Szczur to end the inning.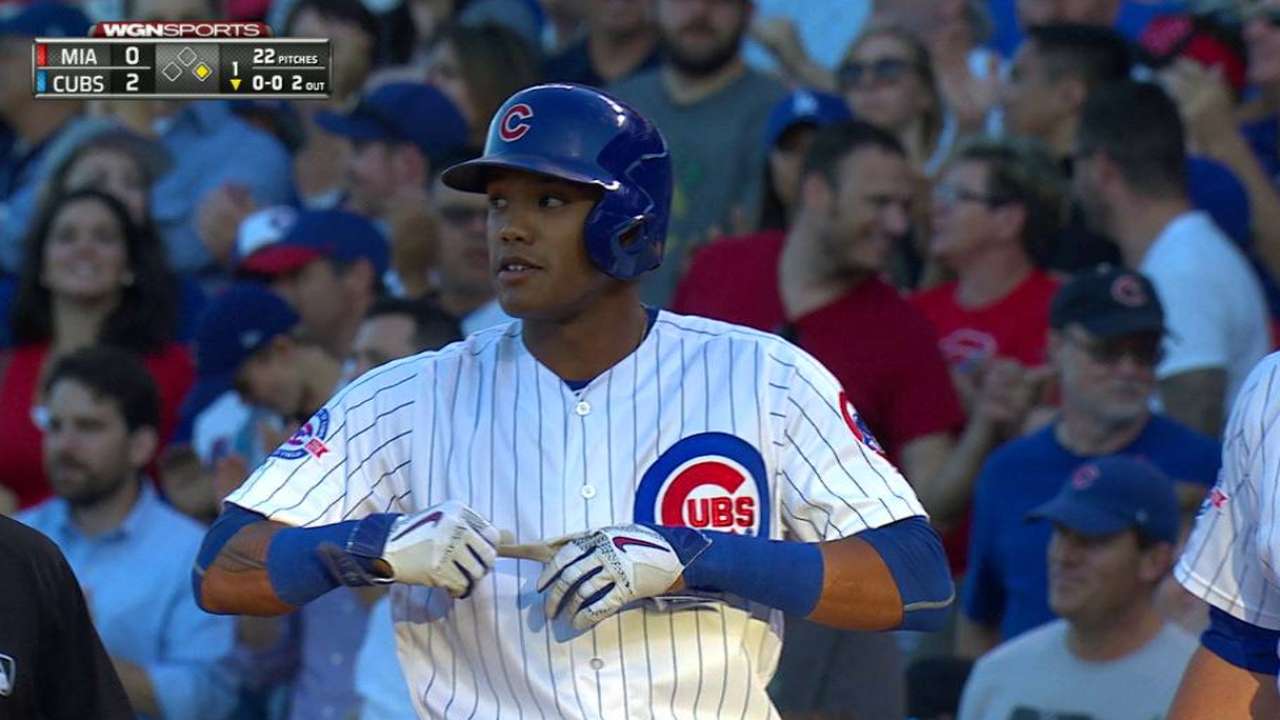 Control issues: Conley's outing was his shortest since June 28 in Detroit, when he lasted just 4 1/3 innings against the Tigers. His six walks against the Cubs were one less than his season high and he threw just 50 strikes. Only one of the walks was intentional in his first career start and appearance against the Cubs. The other five were issued in the first two innings, when Conley needed inning-ending strikeouts to keep Chicago's lead at 2-0.
"Those first two innings, mechanically, I just wasn't putting myself in a position to be able to get on top of the ball," Conley said. "And with my slot and all the moving parts, you see me miss East and West a lot more. Obviously, I minimized it as best I could, but I just eliminated the opportunity to get deep into that game in those first two innings, putting guys on for free." More >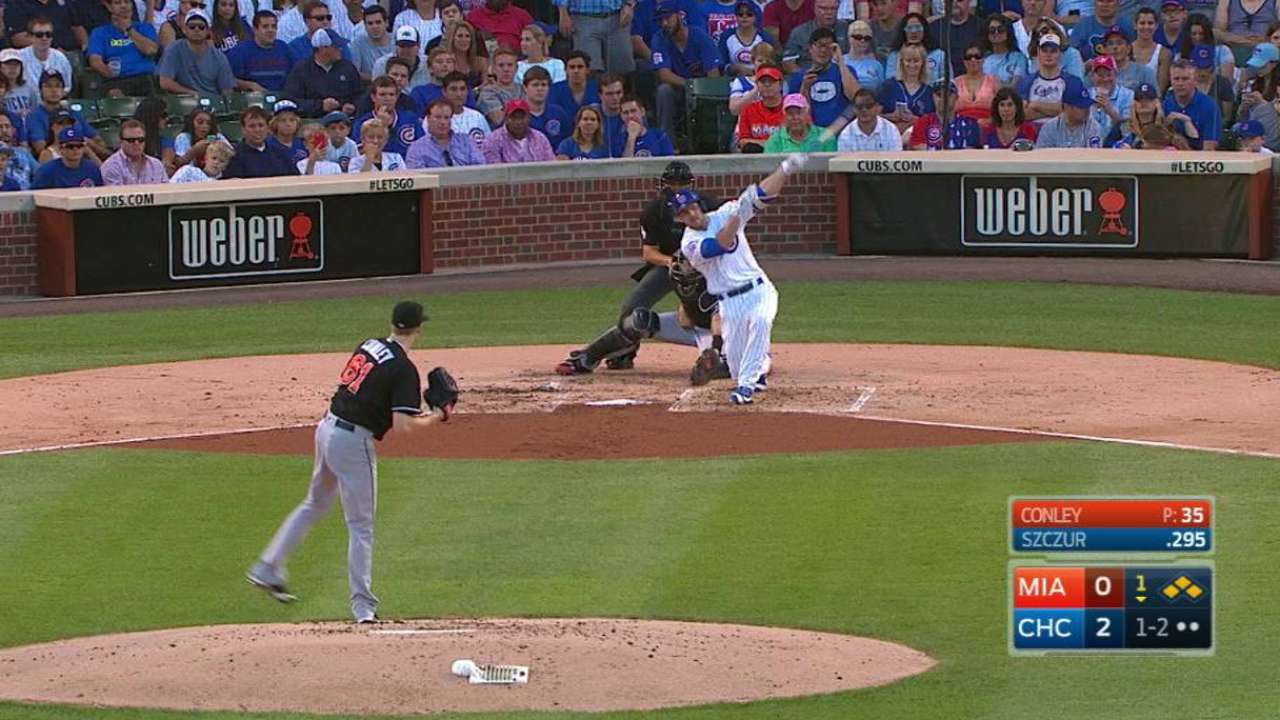 Pitchers who rake: With one out in the Chicago fifth, Willson Contreras walked and reached third on Szczur's single. Szczur then stole second, and he and Contreras scored on Hendricks' single to left. With the right-hander's hit, Cubs pitchers now have 21 RBIs this season, second most in the National League to the Giants (24). More >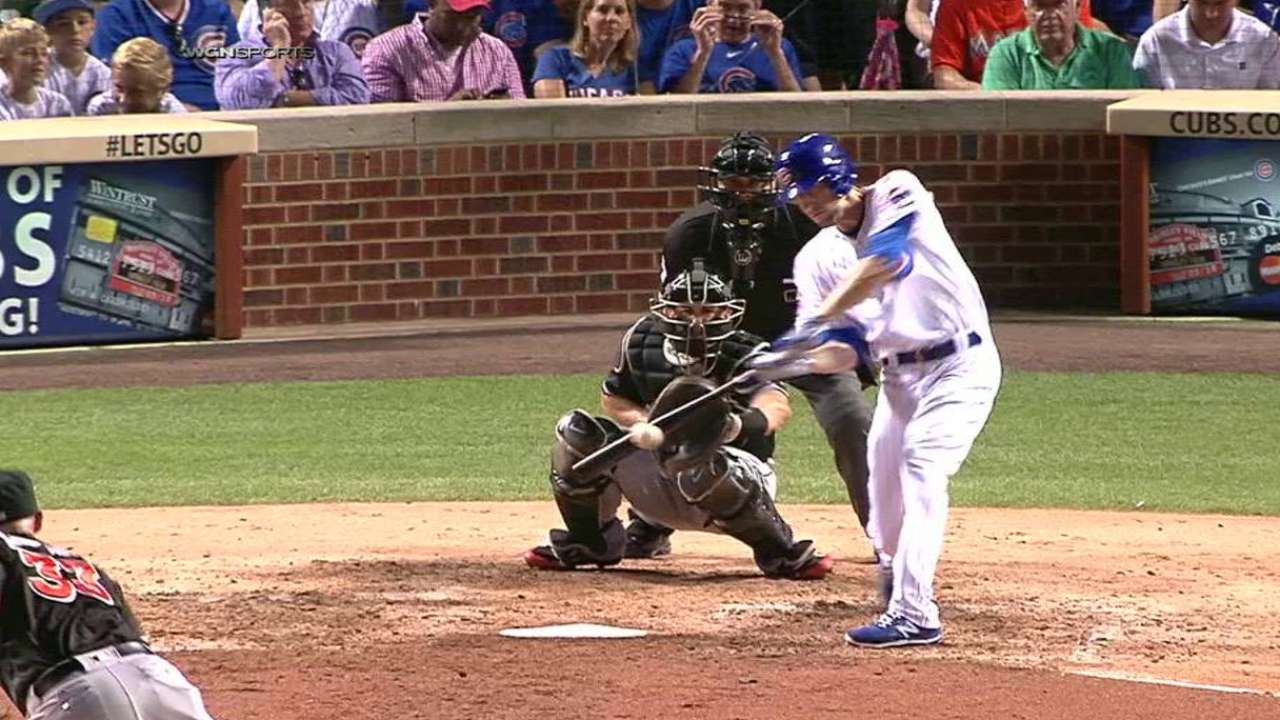 QUOTABLE
"The first one, I'd like to get an explanation. We've seen safe and I'd love to get an explanation on why that doesn't get overturned, and also I'd like to see a little bit about the [camera] angles. I know our guy was complaining that the angles when [the Cubs] were trying to overturn, they had really good angles, and when we were doing it, we didn't get very good angles. So, I'm not sure what that's all about, but that's a couple things about that. Again, we don't score, so it doesn't matter." -- Mattingly, on having all three video reviews going against the Marlins
"It's pretty beautiful to watch. He's a humble man, he does his work, he's a great team player. He's just a joy to be around and then he goes and does that. With good health, he'll continue to do that for a while." -- Maddon, on Hendricks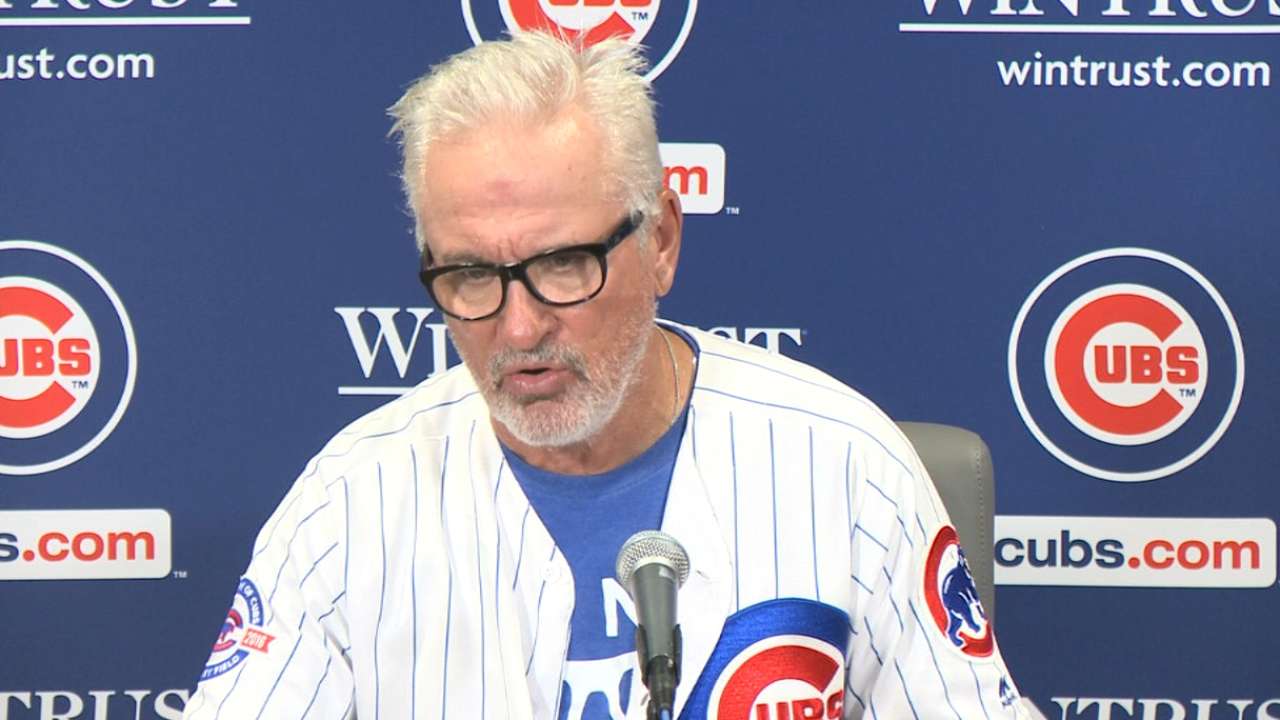 SOUND SMART WITH YOUR FRIENDS
Hendricks also went the distance May 28 against the Phillies. This was his second career shutout; the other was May 21, 2015, against the Padres. He lowered his home ERA to 1.19, best mark in the Major Leagues.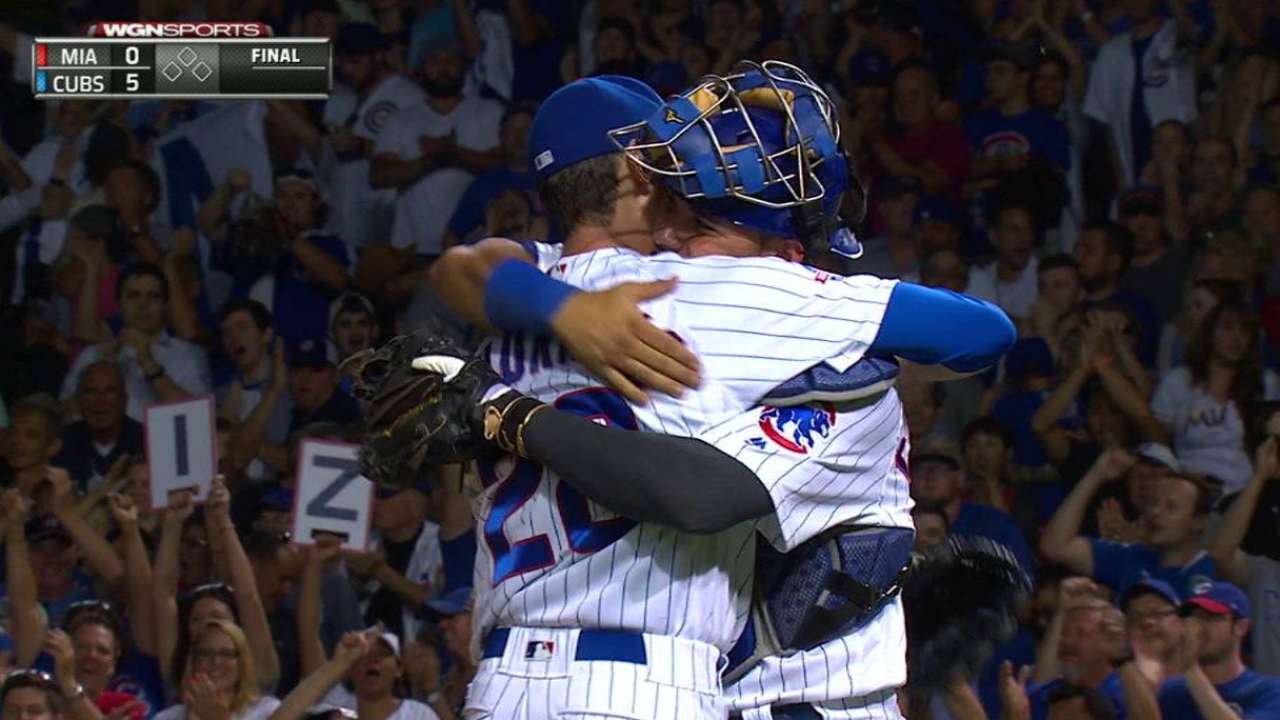 ICHIRO COUNTDOWN
Suzuki did not start Monday, but lined into a double play in the seventh as a pinch-hitter. Ichiro has 2,998 hits, and the only player to record his 3,000th hit at Wrigley Field was Stan Musial, who did so as a pinch-hitter on May 13, 1958, off Cubs pitcher Moe Drabowsky.
"You never try to have a different mindset regardless of the hitter, the count or anything," Hendricks said of facing Ichiro. "I fell behind 1-0, and was just trying to make good pitches. It was a curveball and he squared it up.
"I think it's cool [to face him] but you try to put it in the back of your mind and focus on making good pitches because you want to get him out," he said.
REPLAY REVIEW
With one out in the Marlins second, Marcell Ozuna and J.T. Realmuto each singled, and Dietrich hit a grounder to Rizzo, who deflected the ball into foul territory but recovered in time to flip to Hendricks covering at first. Dietrich was ruled out, and the Marlins challenged. After a review, the call was allowed to stand.
With two outs in the top of the sixth, Realmuto hit a chopper to Russell, who threw to first. Realmuto was ruled safe, but the Cubs challenged the call, and after a review, the call was overturned.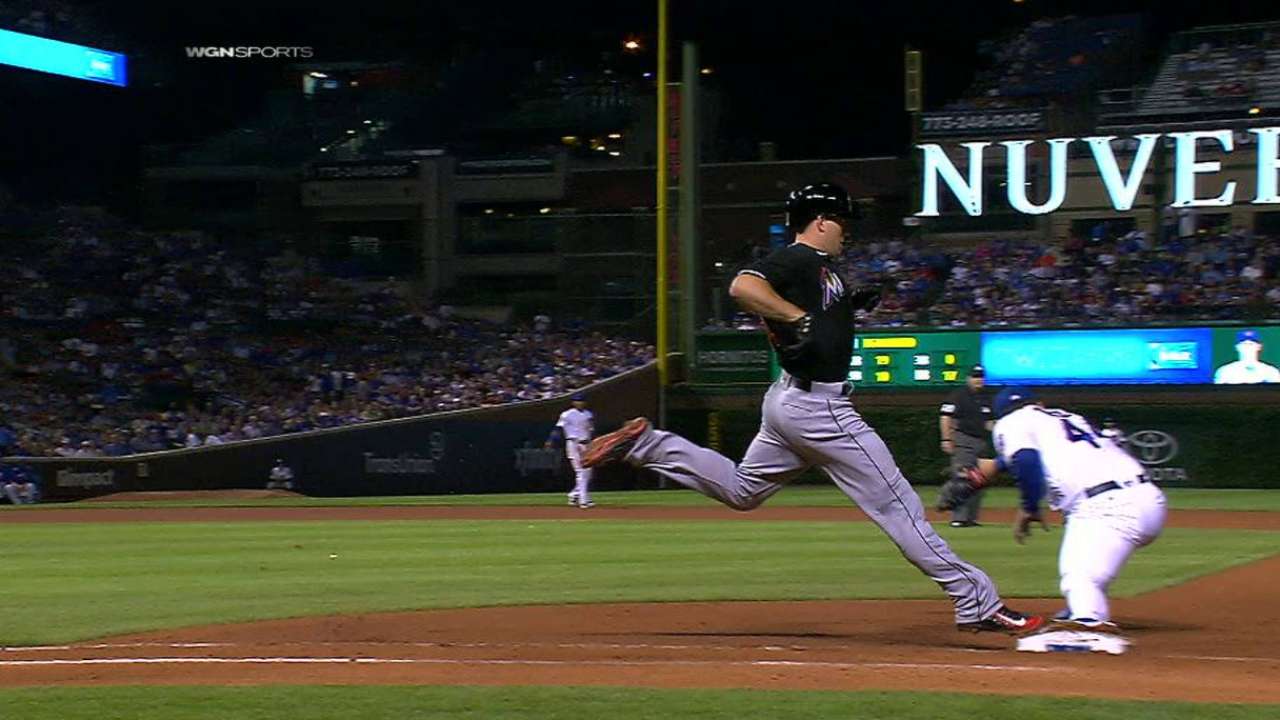 With one out in the seventh and Hechavarria on first, Ichiro's line drive was caught by Bryant at third. He threw to first, attempting to double off Hechavarria. The Marlins' shortstop was ruled safe, but after a review, the call was overturned for the third out.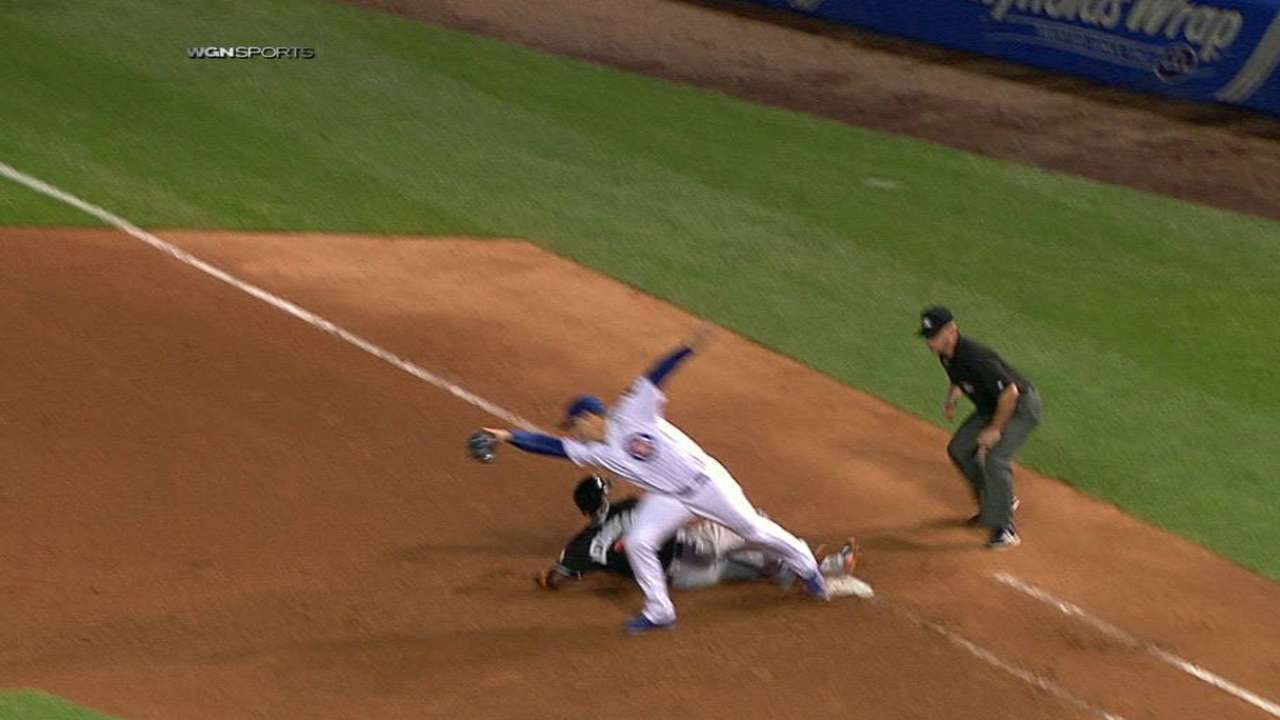 WHAT'S NEXT
Marlins: Jose Fernandez will aim for his 13th win Tuesday at Wrigley Field by replicating his dominance against the Cubs from his lone career start against them June 26 at Marlins Park. Fernandez struck out 13 and allowed just one run in seven innings to earn the win in that outing. His last start, Thursday against the Cardinals, wasn't nearly as smooth. Fernandez allowed five runs in just five innings, including two home runs. First pitch is scheduled for 8:05 p.m. ET.
Cubs: Jason Hammel will try to improve to 4-0 since the All-Star break when he faces the Marlins on Tuesday at Wrigley Field. Hammel has given up four earned runs over 18 innings in three starts since the break. The right-hander is 2-5 with a 3.97 ERA in 11 games (nine starts) against the Marlins. First pitch is scheduled for 7:05 p.m. CT.
Watch every out-of-market regular-season game live on MLB.TV.
Carrie Muskat has covered the Cubs since 1987, and for MLB.com since 2001. She writes a blog, Muskat Ramblings. You can follow her on Twitter @CarrieMuskat and listen to her podcast.

Brian Hedger is a contributor to MLB.com. He covered the Marlins on Monday.

This story was not subject to the approval of Major League Baseball or its clubs.