Lucroy, Jeffress go to Rangers for high-ranked prospects
Catcher leaves Milwaukee with club-record numbers for backstop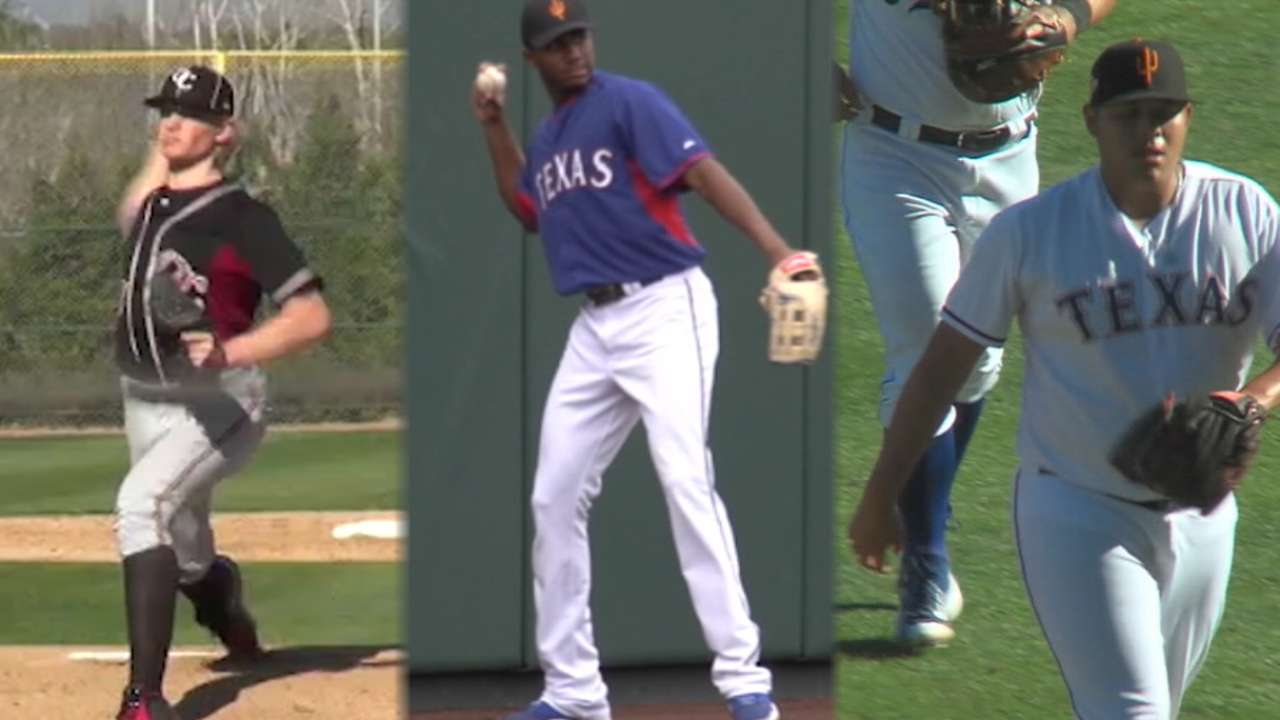 SAN DIEGO -- Let's try this again: Jonathan Lucroy is on the move. Jeremy Jeffress is, too.
A day after Lucroy vetoed a trade to the Indians, the Brewers dealt the two-time All-Star catcher to the Rangers -- a club that was not on his eight-team no-trade list -- along with emerging closer Jeffress for two of baseball's top 100 prospects plus a player to be named.
• MLBPipeline.com: Brewers' Top 30 Prospects
The Brewers did not get slugging corner infielder Joey Gallo, Texas' No. 1 prospect and a player widely speculated upon before Monday's 3 p.m. CT non-waiver Trade Deadline, but they did get the next two players on MLBPipeline.com's Rangers list. Those players are 22-year-old outfielder Lewis Brinson and 20-year-old right-hander Luis Ortiz, both of whom are former first-round Draft picks currently in Double-A.
Brewers general manager David Stearns said the third player would not be named until after the Minor League season.
It was the Brewers' second significant trade of the day. In the other, they sent lefty reliever Will Smith to the Giants for San Francisco's No. 1 prospect, right-hander Phil Bickford, and catcher Andrew Susac. Brinson (No. 21), Ortiz (No. 63) and Bickford (No. 65) are all on MLBPipeline.com's Top 100 prospects list, as was Susac before he accrued too much Major League time to qualify.
The trades capped a busy final 30 hours for Stearns, who quickly re-engaged teams after Lucroy vetoed the Cleveland deal.
"I can tell you that when I was talking to you guys in the dugout [on Sunday morning], my phone didn't stop buzzing in my pocket," Stearns said. "That was a pretty good indication teams wanted to connect and get back in it. We actually had an additional team or two make contact that hadn't previously."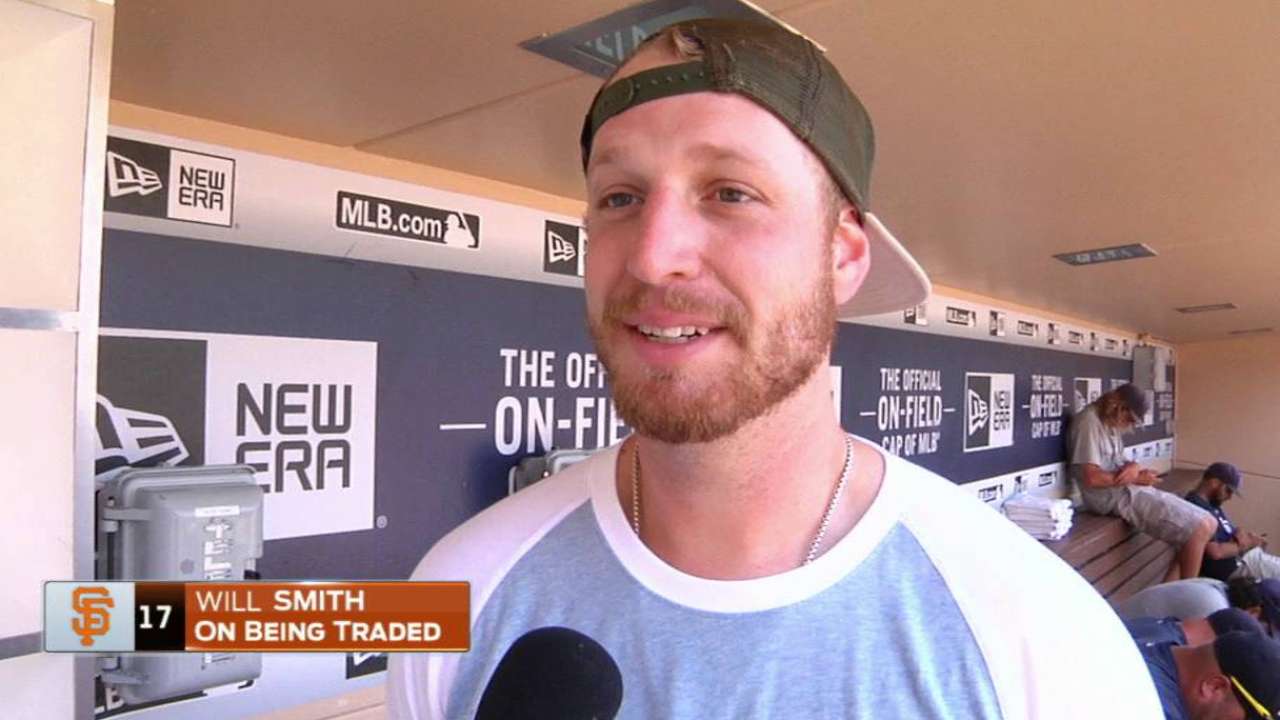 Lucroy, 30, was among the best hitters available in the runup to the Deadline, in part because his 120 weighted runs created plus ranked third among Major League catchers entering Monday, and in part because he is contractually controllable through the end of 2017 on a $5.25 million club option.
While the rest of the Brewers traveled to San Diego on Sunday evening, Lucroy remained in Milwaukee while Stearns worked through alternative offers. As the Deadline neared, Lucroy began driving to Chicago's O'Hare airport to catch a flight. He was sitting in his truck in the parking lot when word of the trade came.
"Today was crazy; it was hectic," Lucroy said. "I don't think I would ever want to go through it again, just because of how stressful it was. It was a very unique experience."
Milwaukee Brewers thank you and I love you. To the fans in Milwaukee I can't thank you enough on the support. And how u have stuck by me.

— Jeremy Jeffress (@JMontana41) August 1, 2016
Lucroy said he'd been hoping to land with the Rangers, a contending team close to his Louisiana home, calling Texas "the best-case scenario for me and my family." Plus, the Rangers lead the American League West by six games over the second-place Astros.
"It's like a shot in the arm," Lucroy said. "It's an energy boost. It's really cool. New team; new, fresh feeling. It's going to be a lot of fun. I can't wait to join the hunt with them."
Lucroy represents an upgrade over the Rangers' catching tandem of Robinson Chirinos and Bobby Wilson.
A third-round pick in the 2007 Draft, Lucroy was arguably the best catcher in Brewers history, and certainly the best one drafted and developed by Milwaukee. He logged a .284/.342/.436 slash line over parts of seven seasons beginning in 2010, when he was promoted to an injury-plagued Milwaukee team after only 21 games at the Triple-A level. He was a raw defender with a promising bat but developed into one of baseball's best all-around catchers by 2014, when Lucroy started the All-Star Game and became the first catcher in history to lead the Majors in doubles (with 53), finishing fourth in National League MVP balloting.
Lucroy's 18.4 wins above replacement, 111 OPS+ and 79 home runs are all best in franchise history for a catcher. The Brewers held him out of the lineup the past two days while Stearns worked on a trade, but Lucroy did pinch-hit in Sunday's win over the Pirates and was treated to a standing ovation.
"The fans in Milwaukee were unbelievable," Lucroy said. "Through good and through bad, they're always there and they're always with you."
Jeffress has long said the same, crediting the supportive environment at Miller Park for helping him revive his career. The Brewers' first-round Draft pick in 2006, Jeffress struggled through suspensions for marijuana use, health issues and unsuccessful stints with the Royals and Blue Jays before returning to the Brewers organization in 2014 and enjoying a renaissance. He was 27-for-28 in save opportunities for the Brewers this season, converting his last 16 chances. He logged saves on each of the four days before the trade.
To offset the players dealt away, the Brewers called up reliever David Goforth and catcher Manny Pina from Triple-A Colorado Springs for Monday's game against the Padres. The team will add another player on Tuesday.
Adam McCalvy has covered the Brewers for MLB.com since 2001. Follow him on Twitter @AdamMcCalvy, like him on Facebook and listen to his podcast. This story was not subject to the approval of Major League Baseball or its clubs.