Angels net pitching depth for Santiago, Smith
Club acquires Nolasco, Meyer from Twins along with prospect Castillo from Cubs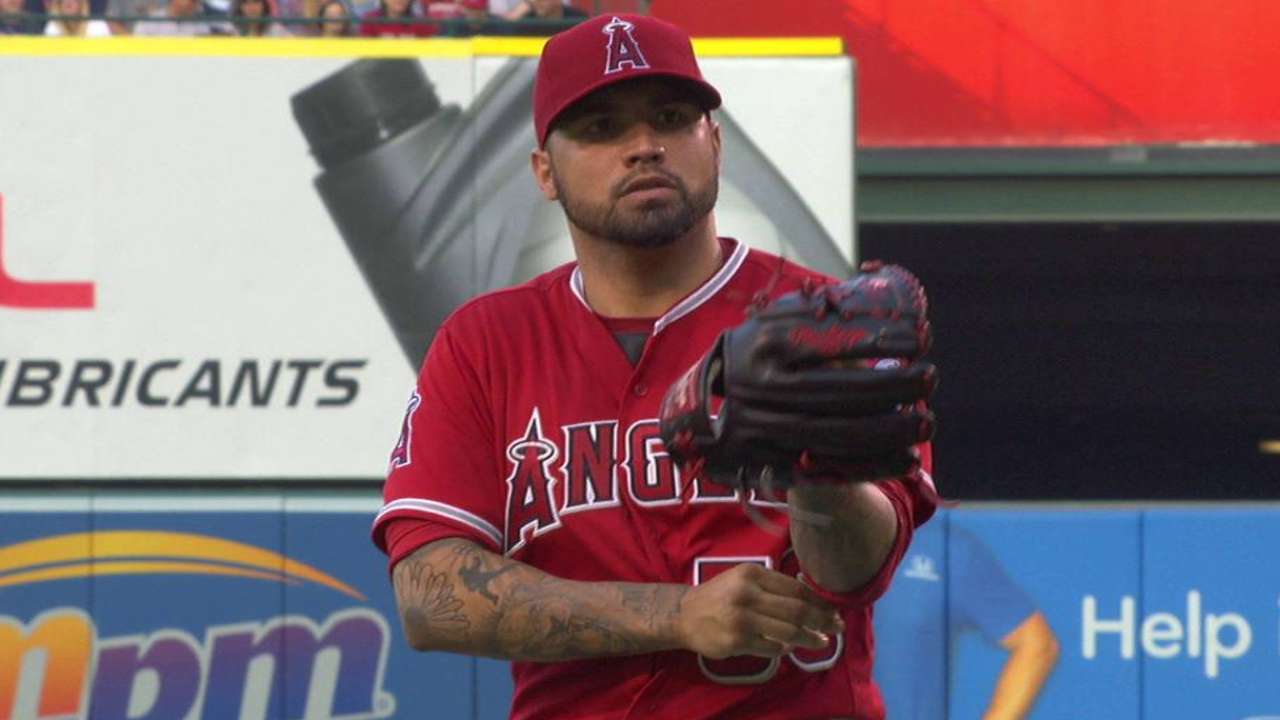 ANAHEIM -- The Angels traded starting pitcher Hector Santiago and reliever Joe Smith in the minutes before Monday's 1 p.m. PT non-waiver Trade Deadline, sending Santiago to the Twins and Smith to the Cubs in exchange for three starting pitchers.
Santiago was dealt alongside relief-pitching prospect Alan Busenitz for veteran Ricky Nolasco and former top prospect Alex Meyer. Smith's trade to the Cubs netted lower-level starting-pitching prospect Jesus Castillo.
Angels general manager Billy Eppler called it "an opportunity just to continue to grab some talent while we had that opportunity, and to help rebuild a farm system that needs a lot of attention." The Angels will shed the pro-rated portion of Smith's contract -- roughly $1.8 million -- and may not take on additional money in the Santiago trade, even though Nolasco will make more next season.
The Angels will pay the rest of Santiago's $5 million contract this year and the Twins will do the same with Nolasco, who's making $12 million. The Twins will then send the Angels $4 million to cover the potential difference in salaries in 2017, with Nolasco set to make another $12 million -- before a $13 million club option for 2018 -- and Santiago heading into his final year of arbitration.
The Angels are still close to finishing above the $189 million luxury-tax threshold, but are expected to comfortably dip below that mark before season's end.
Their big target was Meyer, the 26-year-old former first-round pick who is not long removed from his days as a consensus Top 50 prospect in the industry. Eppler, ever mindful of a farm system that is among the thinnest in the industry, called it "a calculated risk, but one that we needed to take."
"They kept pushing for that," Twins interim GM Rob Antony said of the Angels. "For us to make this deal work, we had to part with him."
Meyer, 6-foot-9, has not pitched since May 3 because of a right shoulder strain, but he was rehabbing at the Twins' Minor League facility in Fort Myers, Fla., and is close to returning. Meyer had a 3.52 ERA, with 10.6 strikeouts and 4.4 walks per nine innings, with the Twins' Triple-A affiliate in 2014, then transitioned to the bullpen in '15, finishing with a 4.79 ERA in 38 games (eight starts).
At his best, Meyer combines an upper-90s fastball with a sharp curve, but the Angels have not seen him in person since his brief stint with the Twins in early May.
Eppler said the Angels went over Meyer's medicals "with a fine-tooth comb" and were privy to the MRI results for his shoulder. He'll throw batting practice in Tempe, Ariz., this week. The Angels expect him to be in the Majors before the end of September, then head to Spring Training next year with a chance to crack the rotation.
Several teams expressed interest in Santiago, but they offered young pitchers that Eppler said "might have been a little lower-risk."
"I think for us to get to where we are now to where we want to go, we have to take a little more of a risk than the play-it-safe type," Eppler added. "Alex Meyer represents that. He has an extraordinary ceiling of potential that we hope to be able to harness and reap the rewards of."
Nolasco, a product of Southern California, is 104-97 with a 4.58 ERA in his 11-year career. This year, the 33-year-old right-hander is 4-8 with a 5.13 ERA in 21 starts, including a 1.35 WHIP and a 3.21 strikeout-to-walk ratio in 124 2/3 innings, though he has issued the fourth-fewest walks among American League pitchers with at least 20 starts.
Castillo, a 20-year-old right-hander from Venezuela, spent the early part of this season battling elbow soreness and has made seven starts for the Cubs' Class A affiliate, with a 3.27 ERA, 38 strikeouts and 11 walks in 33 innings.
Eppler said Castillo, who will report to Class A Burlington, has a "solid-average fastball and a solid-average curveball" with an athletic, clean delivery.
Santiago and Smith, two of the most beloved players in the clubhouse, both joined the Angels for the 2014 season and were each pitching at their best in the days leading up to the Deadline.
Santiago went 6-0 in July and posted a 3.82 ERA in 428 2/3 frames from 2014-16, with 7.9 strikeouts and 3.8 walks per nine innings. The 28-year-old left-hander has also come out of the bullpen in his time with the White Sox from '11-13. Smith, who has carved out a career as one of the game's most reliable middle relievers, has recovered from a slow start to post 7 2/3 consecutive scoreless innings in his final year before free agency. Since 2010, the 32-year-old right-handed sidearmer has a 2.76 ERA and a 1.14 WHIP while averaging 64 appearances per season.
Busenitz, 25, is a 25th-round Draft pick who can throw his fastball in the triple digits and stormed past Double-A Arkansas this year, with a 1.93 ERA and a 1.04 WHIP in 24 appearances. Busenitz then gave up 13 runs (11 earned) in his first 10 appearances at Triple-A.
The Angels have seen three young starting pitchers -- Garrett Richards, Andrew Heaney and Nick Tropeano -- sustain tears in their ulnar collateral ligaments this season.
Currently in line for next year's rotation are Tyler Skaggs, Matt Shoemaker, Nolasco, Meyer and top pitching prospect Nate Smith, though Richards and Tropeano have yet to decide whether to undergo Tommy John surgery.
Getting starting pitching back in trades "was an objective of ours," Eppler said.
"We know that in the next week we're going to be provided with the outcomes of Richards and Tropeano, and we could potentially be in a situation where we're looking for a number of starters. Making sure that we could provide candidates to do that was definitely in our mind."
Alden Gonzalez has covered the Angels for MLB.com since 2012. Follow him on Twitter and Facebook, and listen to his podcast.

MLB.com reporter Rhett Bollinger contributed to this report.

This story was not subject to the approval of Major League Baseball or its clubs.