Maddon seemingly works magic in wild win
Manager's moves go Cubs' way in 7-6, comeback win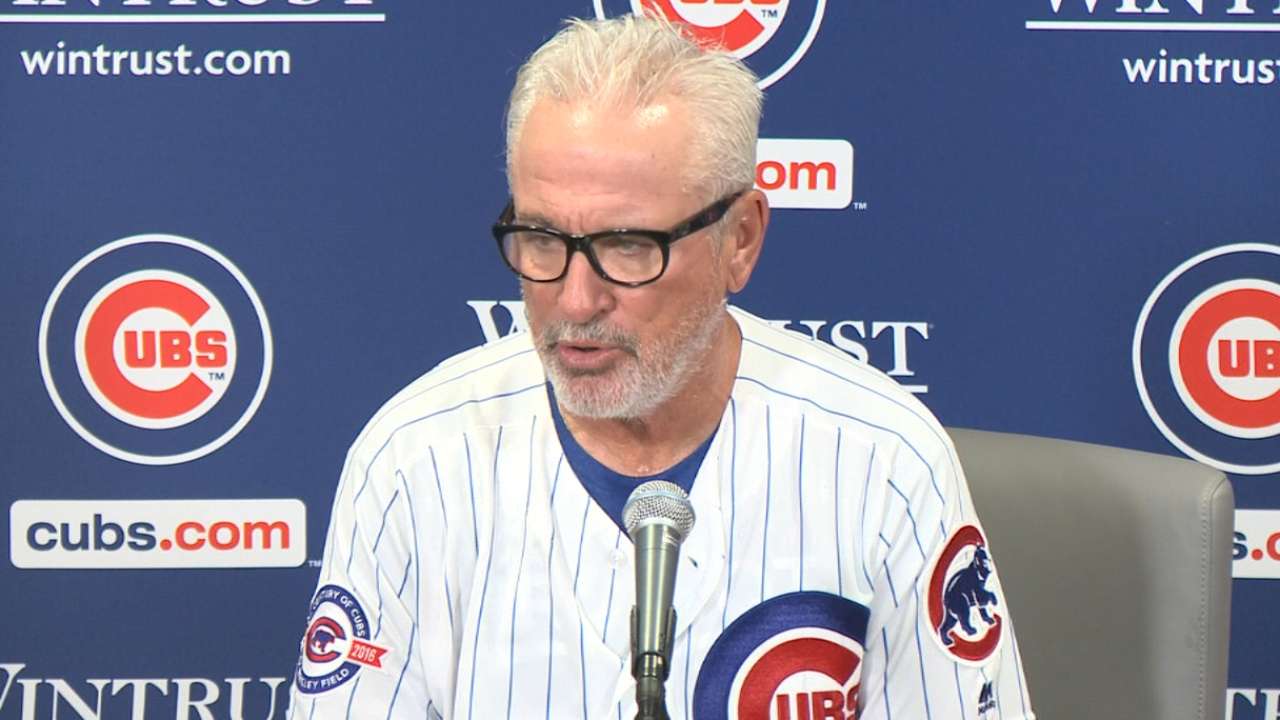 CHICAGO -- Who would ask a pitcher with an .051 career batting average to deliver the game-winning hit? Joe Maddon would.
In a wild and crazy Interleague game on Sunday night, Maddon's Cubs trailed the Mariners, 6-0, after three innings, yet rallied for a 7-6, 12-inning win, using all but three pitchers, and the trio was probably ticked that they didn't get an at-bat or a chance to play in the outfield. There were pitchers in left, and pitchers at the plate, and another pitcher, John Lackey, warming up in case he was needed. He'd already thrown a bullpen earlier in the day.
Chicago tied the game with a three-run ninth against Seattle's Steve Cishek, and the Mariners' Cody Martin had retired Anthony Rizzo, Ben Zobrist and Addison Russell in the 11th. The 12th was all about unlikely heroes. Jason Heyward, who began the day batting .230, doubled to lead off the inning and advanced on rookie Willson Contreras' fly ball to center.
"He's a good baseball player," Maddon said of Heyward. "I don't get hung up on batting average. This guy is going to win games with his glove, his arm, his legs, with his bat, with his brains."
This time, it was a combination of things.
Former closer Hector Rondon's spot was next. He has one career at-bat. Jake Arrieta was on the bench, batting .279 this season with two home runs. Instead, Maddon called on Jon Lester, who has seven career hits, all coming in the last year and a half. Why?
"Because Jonny can do what you just saw," Maddon said. "Lester gave us two options. Jake isn't as good as Jonny is. Jon's a really good bunter, he's really good at that."
Yes, he is. Lester laid down a sacrifice bunt for his first career walk-off bunt as Heyward scored from third with the game-winner.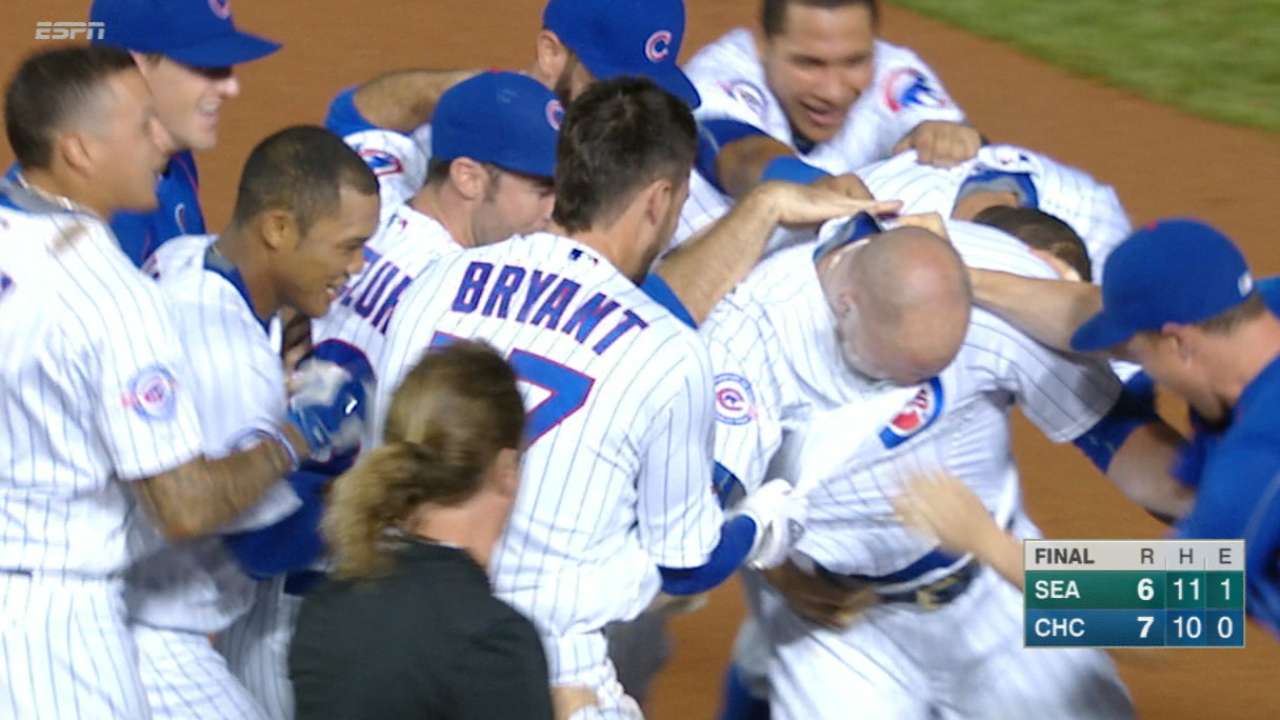 Maddon had given Lester a heads up that he might be called on to bunt.
"I was surprised when I first got up there, I was swinging," Lester said. "They put [the bunt sign] on, took it off, put it back on. I was happy I did what I was supposed to do and it worked out."
What was he thinking about at the plate?
"I wasn't thinking at all," Lester said. "There was no thinking at all. I was trying to pay attention and not miss any signs."
It was the Cubs' first walk-off bunt since Vance Law did so against the Padres on May 11, 1988, at Wrigley Field. And nobody in the Cubs' clubhouse was surprised that it worked.
"I'm not ever surprised by [Maddon]," Heyward said. "In that situation, I'm just watching signs, watching Joe, watching the game, just trying to be on my toes to do whatever I can."
The players rewarded their manager with a post-game drenching in the celebration room. Maddon enjoyed it.
"Joe does it again," Lester said. "You sit there sometimes and scratch your head and it seems to always work out."
Carrie Muskat has covered the Cubs since 1987, and for MLB.com since 2001. She writes a blog, Muskat Ramblings. You can follow her on Twitter @CarrieMuskat and listen to her podcast. This story was not subject to the approval of Major League Baseball or its clubs.