Norris in limbo as Trade Deadline looms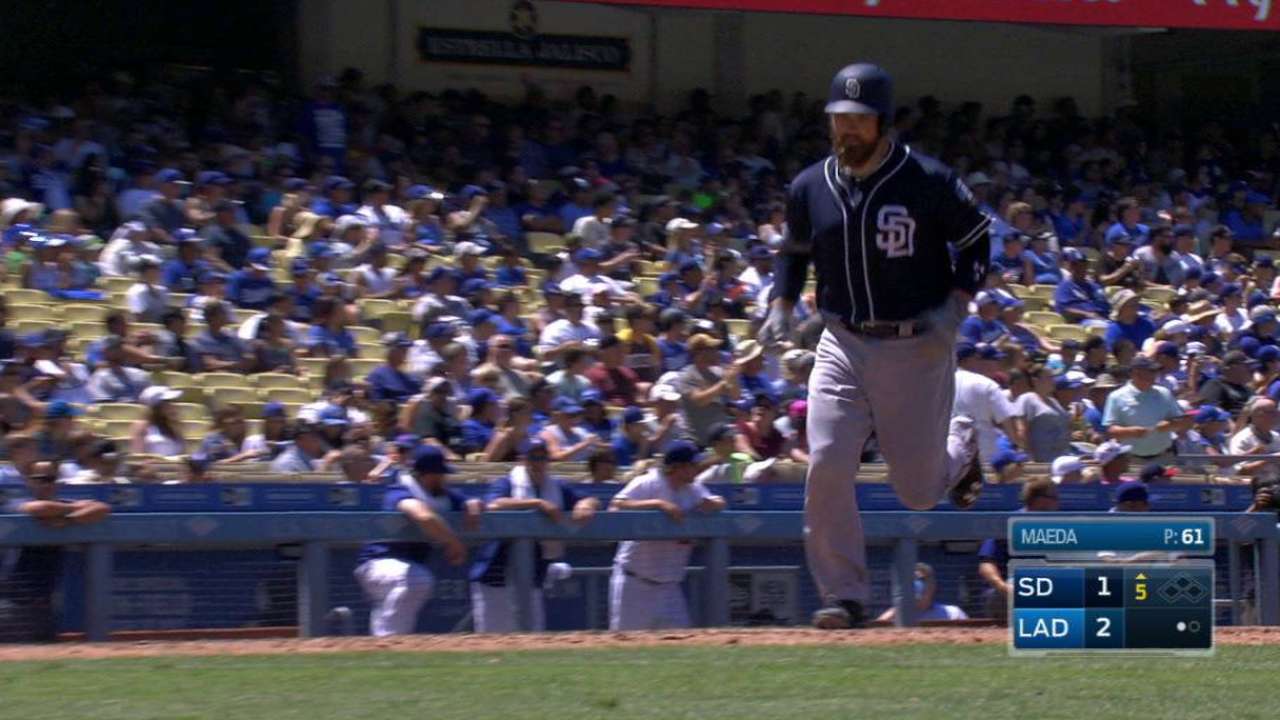 SAN DIEGO -- Perhaps it was fitting that the final at-bat of the Padres' 3-2 loss to the Reds on Sunday afternoon belonged to catcher Derek Norris.
It remains to be seen whether the at-bat -- a game ending flyout to center field -- was Norris' last for San Diego. But it's was his last before Monday's non-waiver Trade Deadline.
The next time Norris dons a uniform -- Padres or otherwise -- his trade fate for the 2016 season will, mercifully, have a conclusion.
Over the past two months, Norris has received as much speculation as any player in the organization. And yet, with the clock ticking toward the 1 p.m. PT Deadline on Monday, he's still a Padre.
"I'd be lying to you if I said it's not hard," Norris said. "But everyone goes through it. It's part of the game. You can't control it, so you just do what you have to do."
The Padres are reportedly actively searching for a potential suitor for Norris. On Sunday, MLB Network contributor Jon Heyman reported that the Brewers, Astros and Rangers are the most interested parties.
The Padres aren't exactly desperate to move Norris, who has two years of team control after this season. He's struggled lately, and his value on the open market could end up being lower than what the Padres view it as.
Still, Austin Hedges is widely believed to be the club's catcher of the future. He's batting an absurd .348/.391/.672 at Triple-A El Paso, and the Padres have said they won't recall him unless they can give him routine playing time.
"Whether it ends up being something or it's nothing, I'll hear about it sooner or later," Norris said. "Come time, you show up for the game tomorrow if nothing's happened, you strap on and play the Brewers."
It's been a rough month for Norris, who is 2-for-37 over the past two weeks, dropping his average to .193. Despite the recent struggles, Norris took the time to reflect fondly on his time in San Diego after Sunday's game.
"It's been great; I've played with a lot of talented players last year and this year," Norris said. "I've learned a lot about myself, learned a lot about my game. The staff here does a great job. They're very prepared. That's something I'll take with me, if that opportunity comes along."
Already this season, the Padres have traded seven players from their Opening Day roster -- James Shields, Fernando Rodney, Drew Pomeranz, Melvin Upton Jr., Andrew Cashner, Colin Rea and Matt Kemp.
Norris is the biggest trade piece remaining, though the Friars are also fielding calls on their relievers. It remains to be seen whether anyone in that group gets moved, but answers are coming shortly.
"It's nice to say that the next time we play a game, we'll be past the Trade Deadline," said Padres manager Andy Green. "I think we feel good about that. It's been a lot going on."
AJ Cassavell covers the Padres for MLB.com. Follow him on Twitter @ajcassavell. This story was not subject to the approval of Major League Baseball or its clubs.