After strong road trip, Rox open crucial homestand
Only one game over .500 at Coors, Colorado faces clubs leading Wild Card races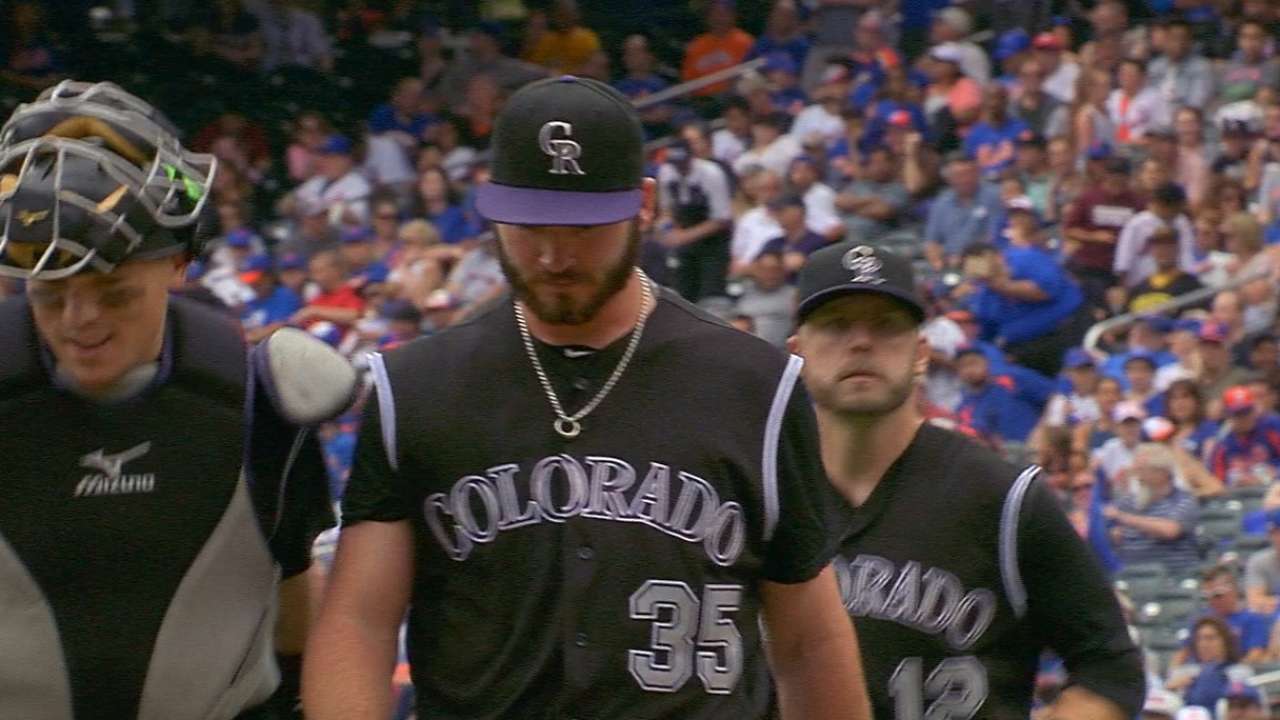 NEW YORK -- The Rockies hope they return to Coors Field on Tuesday with a winning formula that they concocted on the road.
After winning five of seven games on the road trip -- it might've been six wins, but Boone Logan gave up a rare home run and the Rockies lost to the Mets on Sunday, 6-4 -- the Rockies will face the Dodgers, Marlins and Rangers in an important eight-game homestand.
The trip has the Rockies 52-53 and five games back in the race for the second National League Wild Card. To climb -- especially against the Dodgers and the Marlins, who hold the two Wild Cards -- the Rockies will have to improve upon a 25-24 home record. They had to sweep the Braves in a four-game set to peek above the break-even point at Coors.
"We just need to keep doing what we're doing, no matter where we play," Rockies second baseman DJ LeMahieu said. "We need to keep executing. If we keep up that, we can be a dangerous team down the stretch."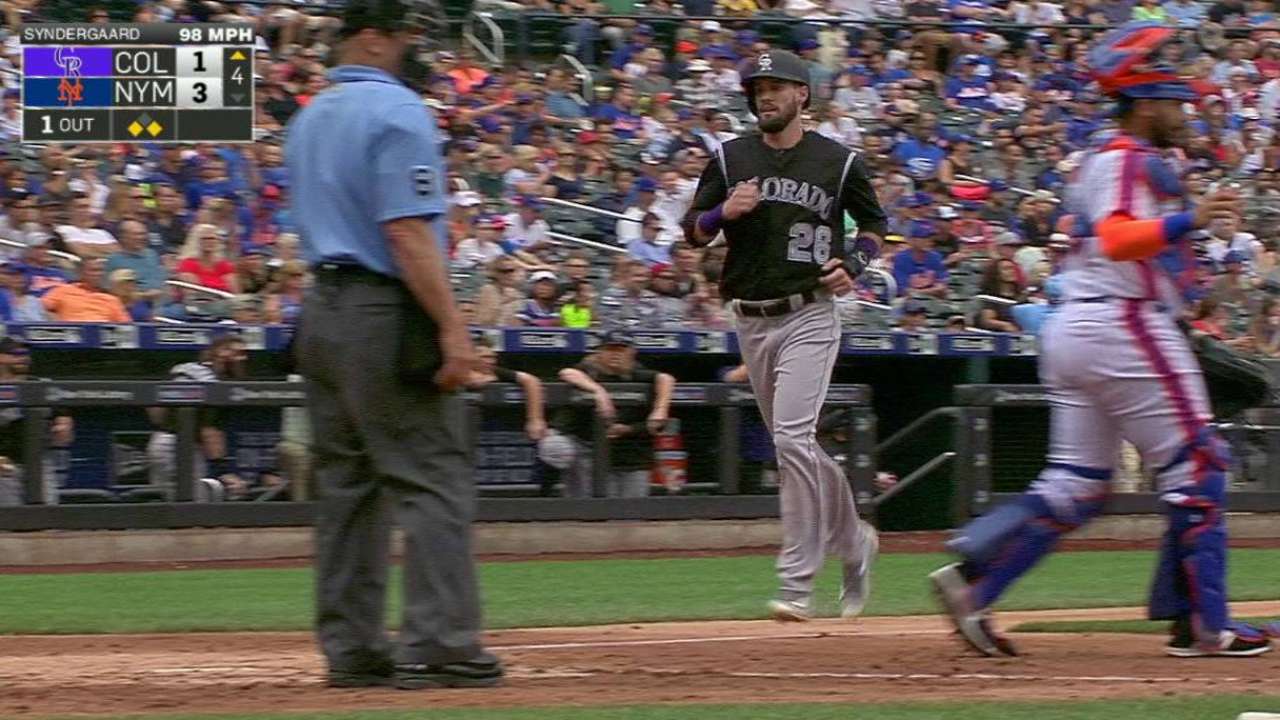 Sunday's game followed the formula until the Mets' Neil Walker hit a three-run, seventh-inning shot off Logan, who had a 45 2/3-inning homerless streak since last June 9.
Starting pitching was solid again. Righty Chad Bettis gave up three runs in the first three innings, but retired the last 10 and finished with the Rockies' 20th quality start (six or more innings, three or fewer earned runs) in July, a club record for one month. In the past 11 games, nine of them Rockies wins, the starters are 8-0 with a 2.05 ERA.
"It's huge for us, especially for our starting guys," Bettis said. "We've got to just keep it going."
The Rockies' poor first-half record was rooted partly in an offense that was often impatient and unproductive before the All-Star break, when several quality starts went to waste.
But Sunday started with Charlie Blackmon (1-for-4, double) extending Mets starter Noah Syndergaard to 11 pitches before lining to right field. Syndergaard needed a career-high 118 pitches to complete six innings.
In the past 11 games, the Rockies have faced some standout pitchers -- the Rays' Chris Archer, the Braves' Mike Foltynewicz and Julio Teheran, the Orioles' Yovani Gallardo, Chris Tillman and Dylan Bundy, and the Mets' Jacob deGrom, Steven Matz, Bartolo Colon and Syndergaard. Only Archer and Gallardo made it beyond six innings. Many games were like Sunday's, when the Rockies battled Syndergaard and drove up his pitch count before taking a lead on the bullpen.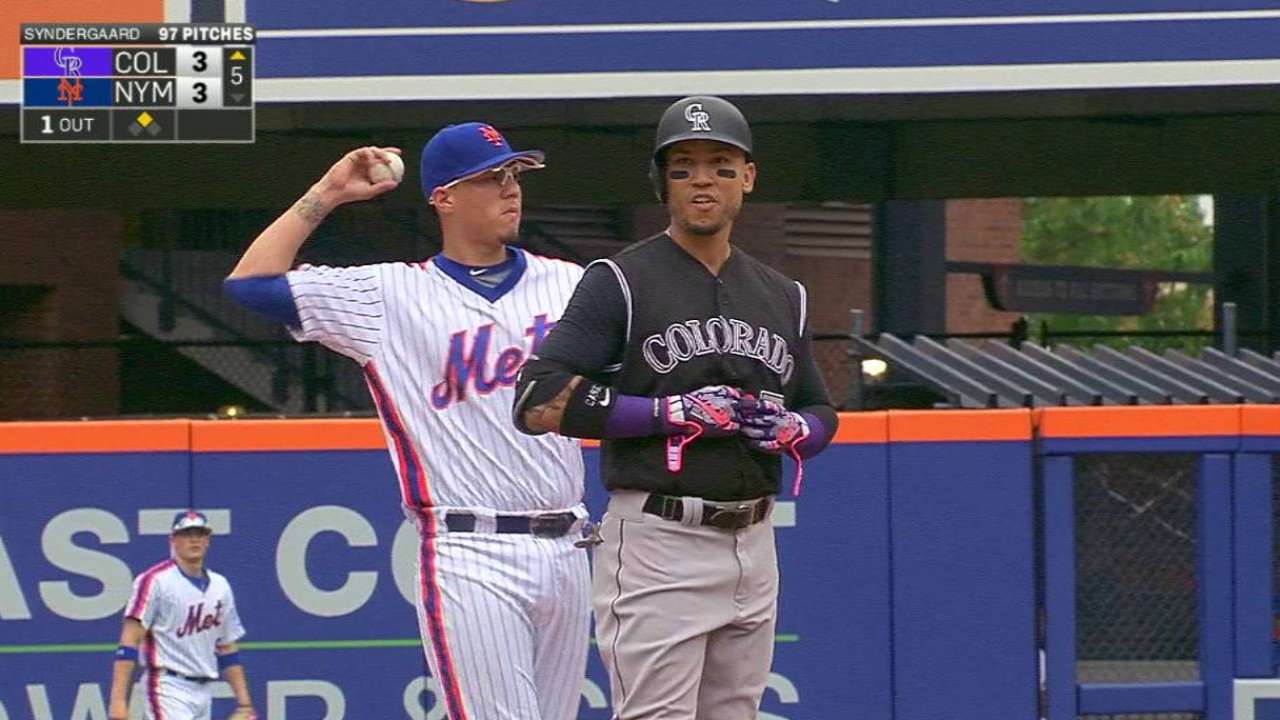 "We have enough good hitters in this lineup, but the key is trying to play for the guy next to you," said Carlos Gonzalez, who extended his hit streak to 13 games. "Make opportunities for the other guys. When we play that way, things happen. Play for your team instead of playing for your numbers."
The bullpen pitched well, despite Sunday, although it would be the area the Rockies would most likely address if they make a move before Monday's 2 p.m. MT non-waiver Trade Deadline. At any rate, the Rockies have made themselves part of the playoff conversation after losing records the past five seasons.
Manager Walt Weiss has been preparing his club for the fun times of competing for the postseason.
"That was my message last year," Weiss said. "When we were struggling and we were out of it, we were still grinding, still competing, but wins were hard to come by. I talked to the guys and told them we were investing in our mental toughness, and it's going to pay off. It's tougher to play under those circumstances.
"People talk about the pressure of the pennant race. That's a lot easier than playing when you're out of it. But when everyone's playing to win, it's easier and a lot more fun. We are reaping the rewards of competing through the tough stuff."
Thomas Harding has covered the Rockies since 2000, and for MLB.com since 2002. Follow him on Twitter @harding_at_mlb, listen to podcasts and like his Facebook page. This story was not subject to the approval of Major League Baseball or its clubs.