Defensive-minded Maile delivers clutch hit
Rays rookie catcher comes through with bases loaded during win vs. Yanks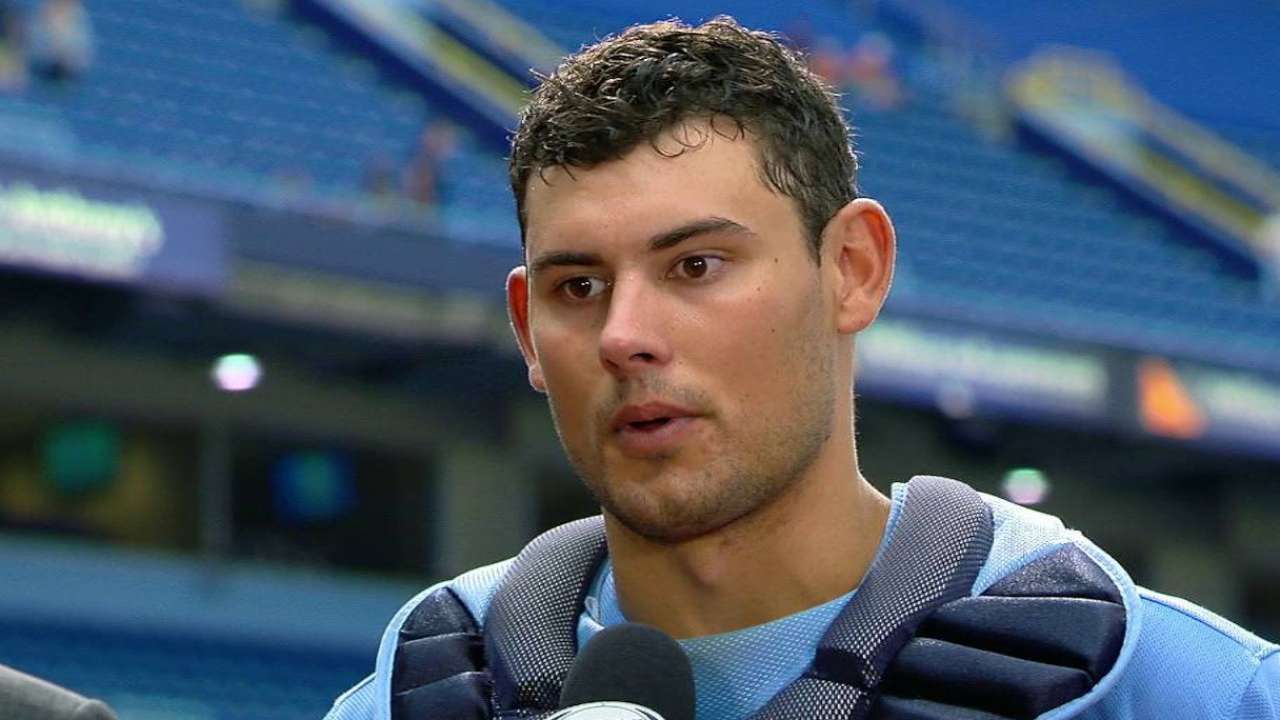 ST. PETERSBURG -- Reporters teased with rookie Luke Maile that the Yankees paid for disrespecting him by intentionally walking Nick Franklin to pitch to him with the bases loaded in the sixth.
Maile smiled: "That won't be the last time that happens."
Given the fact that Maile's defense is better than his offense at this juncture, the self-assessment by the Rays catcher will likely prove correct. But on Sunday he could enjoy that he came through on offense when he needed to in the 5-3 win.
Maile struck out against Yankees starter Michael Pineda with the bases loaded to end the second inning, so it wasn't surprising that the Yankees intentionally walked Franklin with two outs in the sixth. This time Maile threaded a single back through the middle on the first pitch to drive home two and put the Rays up 5-2.
"Obviously, it's a great feeling," Maile said. "Just helping the team win. Defense is obviously something I take a lot of pride in. But any time the offense clicks it's a good feeling."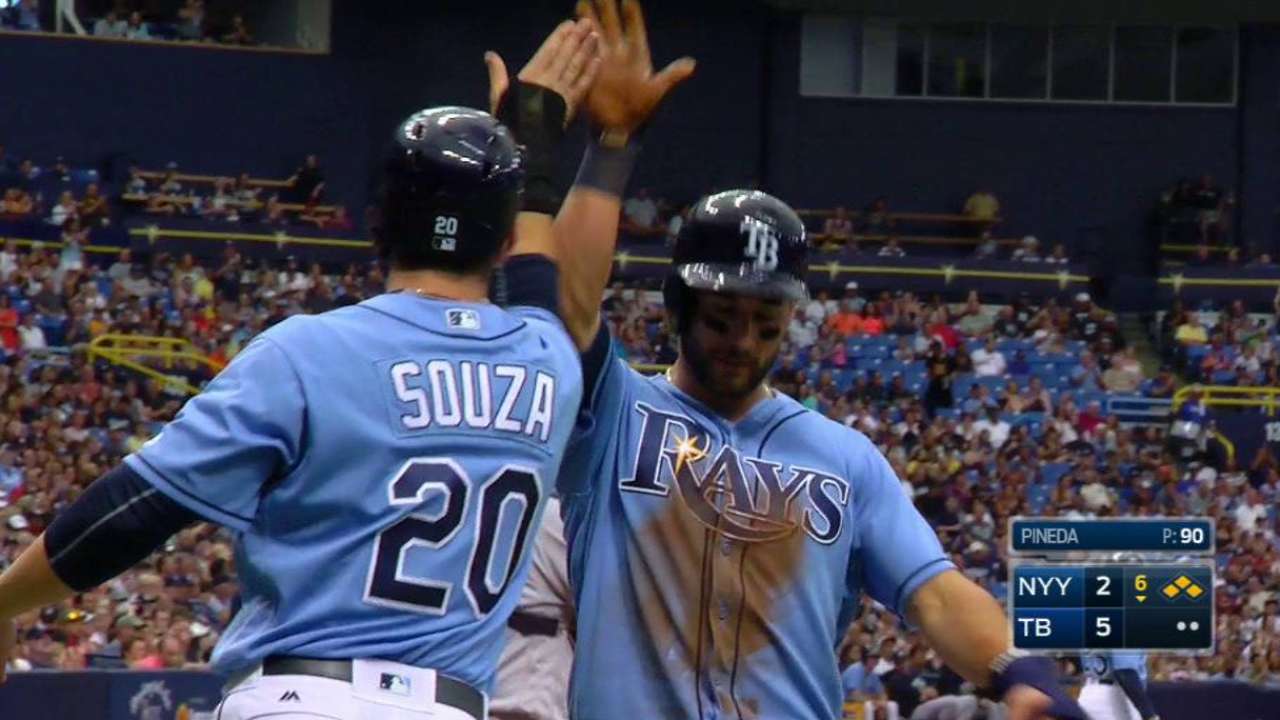 Maile had two hits in his previous 24 at-bats before the sixth. He got the big hit off a Pineda slider, giving him his fourth hit in eight at-bats with runners in scoring position.
Pineda "started me off with it the previous two at-bats with his first pitch," Maile said. "So I figured now was as good a time as any to try and sit on something, for at least one pitch. And then try and battle if it didn't work out. But I was trying to stay through a slider there."
Rays manager Kevin Cash called Maile's hit a "big knock."
"You know what, he smoked the ball to short [earlier in the game] and [Yankees shortstop Didi] Gregorius made a really nice play on it," Cash said. "I was glad he got one through the middle there and was able to separate it a little bit for us. We needed those runs."
While Maile delivered on offense, he continued to stand out on defense.
"He blocked tremendously well," Cash said. "By the third inning we were already complimenting him on what he was doing. Bases-loaded situations. Guys on base. He really hunkered down and did a tremendous job."
Maile entered the season considered to be the best defensive catcher in the Rays' system. So it might not be a coincidence that since he got recalled from Triple-A Durham on July 15, Rays starters have found the consistency they had been lacking all season.
Sunday's starter, Blake Snell, has thrown to Maile for a long time, first in the Minor Leagues and now in the Majors.
"Him and me get on the same page pretty quick and he makes it a lot easier on me," Snell said. "Especially today, I was throwing a bunch of balls in the dirt and nothing to them. Just blocking it and doing what he does best. It's really fun to have him back there. Puts a lot of confidence in me. A lot of trust that I have with him. He's fun to have back there.
"I'll throw them in the dirt the whole game. I know he's going to block it. He's really good back there. He's the best."
Bill Chastain has covered the Rays for MLB.com since 2005. This story was not subject to the approval of Major League Baseball or its clubs.