Clemens leaves start with back tightness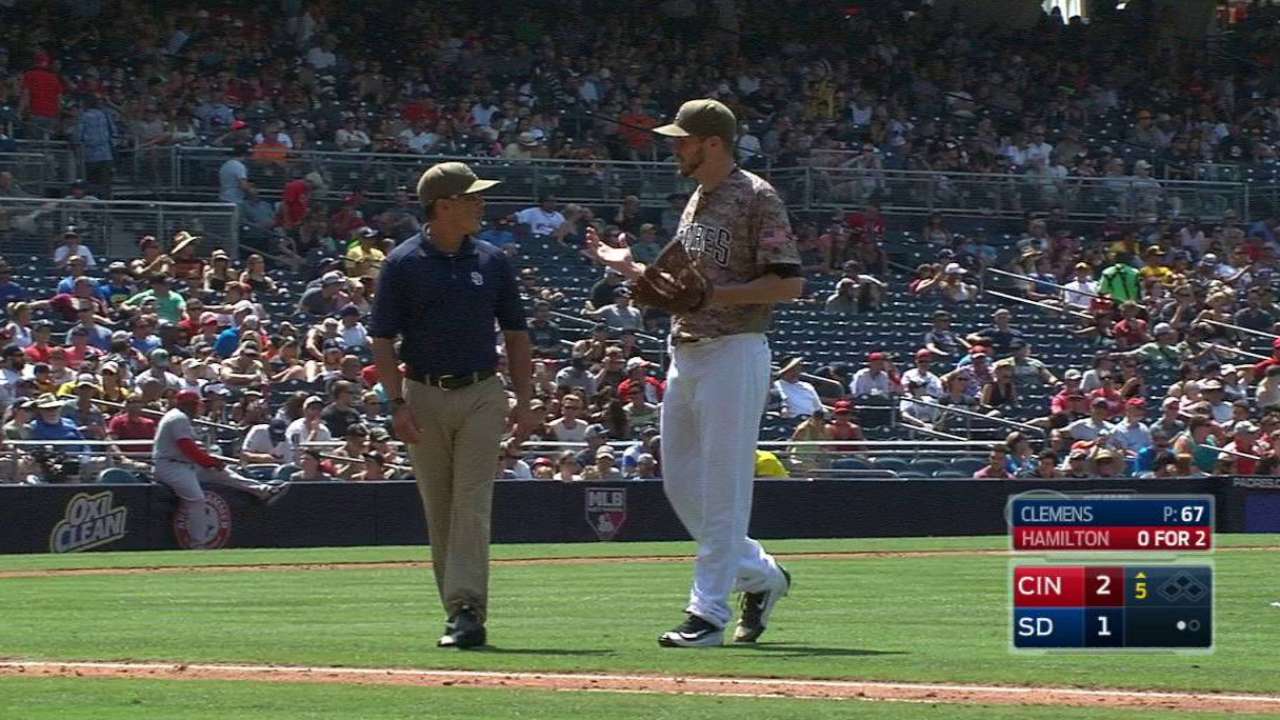 SAN DIEGO -- Padres right-hander Paul Clemens exited Sunday's 3-2 loss against Cincinnati with lower-back tightness during the top of the fifth inning, but said he doesn't expect to miss his next start or any bullpen sessions because of it.
Clemens, who had allowed two runs over 4 1/3 innings, got opposing pitcher Homer Bailey to ground to second base, before the Padres training staff emerged from the dugout. Clemens was removed shortly thereafter.
"He felt it in the fourth inning, first time, then he felt it again when we went out and got him," said Padres manager Andy Green. "When he kept stretching out there, at that point in time, I guess I thought better about him being in the game."
Clemens said that the pain was minor -- calling it a three on a scale of one-to-10 after the game -- and he had been dealing with it prior to Sunday's game.
"I've been dealing with it for a week, 10 days," Clemens said. "Just trying to get the ball down and away to a right-hander I can feel it shoot up my back a little bit. I feel like I could have stayed in their five more outs, get us into the sixth, but [you] want to be cautious I guess."
Given the lack of depth that the Padres have in the starting rotation after trading Andrew Cashner and Colin Rea to the Marlins and with Tyson Ross still rehabbing and Erik Johnson likely out for the rest of the season -- it makes sense to be cautious.
The good news, though, is that Clemens is confident that the issue will not prevent him from making his next start.
"I don't see myself missing any time. I'm not here to be hurt. I'll be ready to go in five, six days," Clemens said. "I think we got a day off Thursday so maybe an extra day [there]. Get in here early tomorrow, get some treatment on it.
"But yeah, I don't think it's anything to the point where I've gotta miss time, miss a bullpen -- none of that."
Left-hander Matt Thornton came on in relief of Clemens, who had retired nine straight at the time of the injury.
Carlos Collazo is a reporter for MLB.com based in San Diego. Follow him on Twitter @CarlosACollazo. This story was not subject to the approval of Major League Baseball or its clubs.