MLB.com Columnist
Jim Callis
Yanks' haul makes farm arguably MLB's best
Trade acquisitions improve upon already impressive system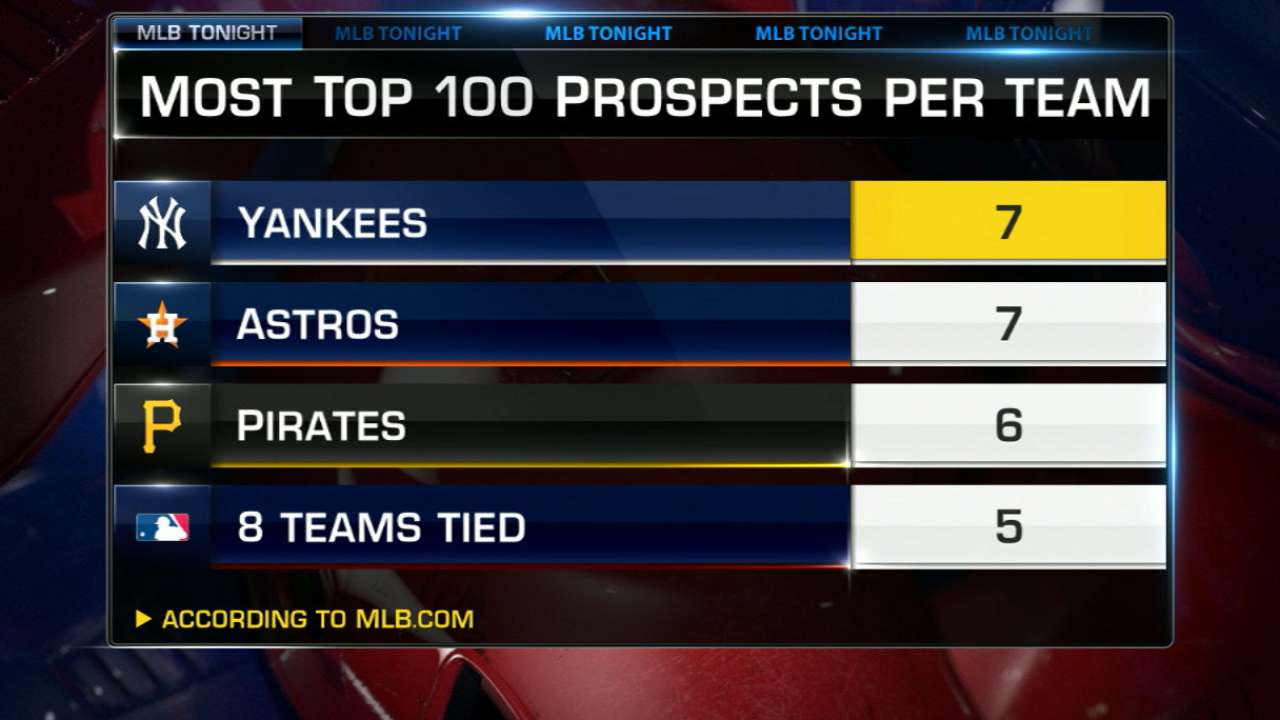 Despite spending $901.6 million on big league payroll from 2012-15, more than any club except for the Dodgers and nearly double what the average team paid, the Yankees have a grand total of two postseason appearances and three playoff victories to show for it. New York's Opening Day payroll of $227.9 million this year again trailed only Los Angeles, but has translated into just the fourth-best record in the American League East and the ninth-best overall in the Junior Circuit.
The Yankees have learned the hard way that their financial might alone can't carry them to October glory. With one of the oldest teams in baseball, their 2017 and '18 outlooks didn't seem any brighter. So they've changed course this summer, trading coveted relievers for blue-chip prospects as they look more toward the future and present.
After shipping Aroldis Chapman to the Cubs for Adam Warren and three prospects, including shortstop Gleyber Torres (No. 26 on MLBPipeline.com's Top 100 Prospects list), and then spinning Andrew Miller to the Indians for a four-prospect package headed by outfielder Clint Frazier (No. 24) and left-hander Justus Sheffield (No. 95), the Yanks have arguably the best and deepest farm system in the game. (We'll update our system rankings after the Trade Deadline arrives on Monday.)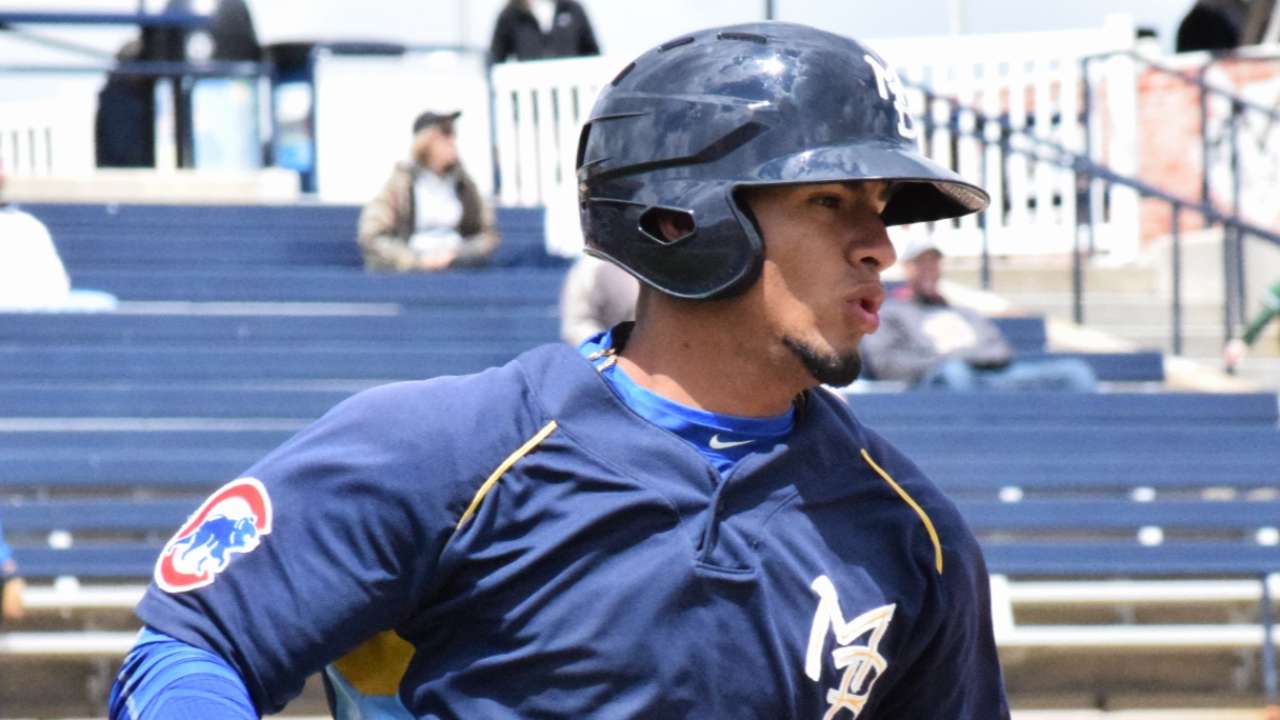 "I think our system that currently is now in play is starting to mirror what that system started to produce which propelled us into the '90s," Yankees GM Brian Cashman said Sunday in a conference call following the Miller deal. "We're trying to get back to a situation where we can build an uberteam, and a sustainable one. We'll see where it takes us, but that's the effort that we've got going on and I think fans should be excited by that."
Since Cashman first joined the Yanks as an intern in 1986, their farm system has never been stronger than it was in the early 1990s. New York signed and developed Derek Jeter, Andy Pettitte, Jorge Posada, Mariano Rivera and Bernie Williams, who formed the core of clubs that won four World Series in five years and made 13 straight playoff appearances.
While it's too early to put the current crop of Yankees farmhands in the same class as future Hall of Famers, they are an impressive group. Only Houston can match New York's total of seven Top 100 Prospects: Frazier, Torres, shortstop Jorge Mateo (No. 27), outfielder Aaron Judge (No. 32), catcher Gary Sanchez (No. 39), outfielder Blake Rutherford (No. 64) and Sheffield. The Yanks have quantity to go with their quality too, as their total of 17 players who received overall grades of 50 or better on MLBPipeline's Prospect Watch trail only the Padres, who have 19.
New York's trades in the past week have placed more of a spotlight on its prospects, and rightfully so. The fifth overall pick in the 2013 Draft, Frazier has electric bat speed and could become a 25-homer center fielder. Torres, who signed for $1.7 million out of Venezuela as one of the top players on the 2013-14 international market, is a precocious hitter with a chance to have solid tools across the board at shortstop.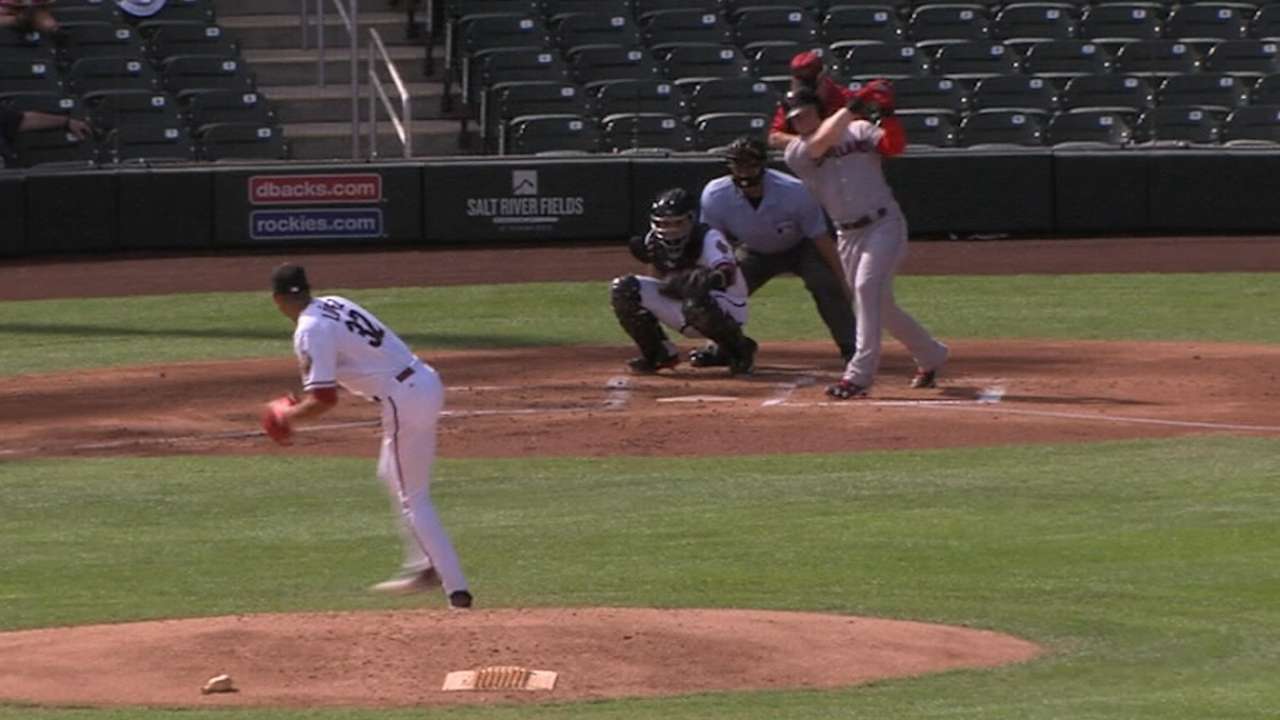 Sheffield, the 31st overall choice in 2014, is a live-armed lefty with a 92-96 mph fastball and a curveball than can overpower hitters at times. Another piece from the Chapman trade is another first-round choice, as Billy McKinney was selected 24th overall by the Athletics in 2013 and sent to Chicago in a deal for Jeff Samardzija a year later. McKinney is a usually sweet-swinging outfielder who's having a down year at the plate.
Even before those acquisitions, the Yankees were doing a strong job of building up their farm system. They're one of the most aggressive teams on the international market, landing impact players such as Mateo (who led the Minors with 82 steals last year), Sanchez, third baseman Miguel Andjuar, 103-mph right-hander Domingo Acevedo, shortstop Wilkerman Garcia (the highlight of a $17 million spending spree in 2014-15) and catcher Luis Torrens.
New York has drafted better in recent years as well. Judge (32nd overall, 2013) and Rutherford (18th overall, '16) have huge offensive ceilings and were first-round picks, as were right-hander James Kaprielian (16th overall, '15) and left-hander Ian Clarkin (33rd overall, '13). The Yanks also have had made some later-round finds, such as outfielder Dustin Fowler (18th round, '13), righty Chance Adams (fifth round, '15) and middle infielder Tyler Wade (fourth round, '13).
New York has star-quality talent and depth at most positions, particularly in the outfield and at shortstop. Cashman said the Yankees' system gets a lot of compliments from officials with other clubs.
"At every level when scouts parachute in to do their coverage, they walk away impressed with the work we've done," Cashman said. "I know that recognizably that hasn't been the case for a period of time. I think we've improved in the international and drafting side of things as well as the player acquisition side. I think the picture is much brighter today than it was since any time since I started."
Jim Callis is a reporter for MLB.com. Follow @jimcallisMLB on Twitter and listen to him on the weekly Pipeline Podcast. This story was not subject to the approval of Major League Baseball or its clubs.