MLB.com Columnist
Alyson Footer
SU2C auction winner is Royals 'correspondent'
KC superfan Daly gets up-close view at life as an MLB.com reporter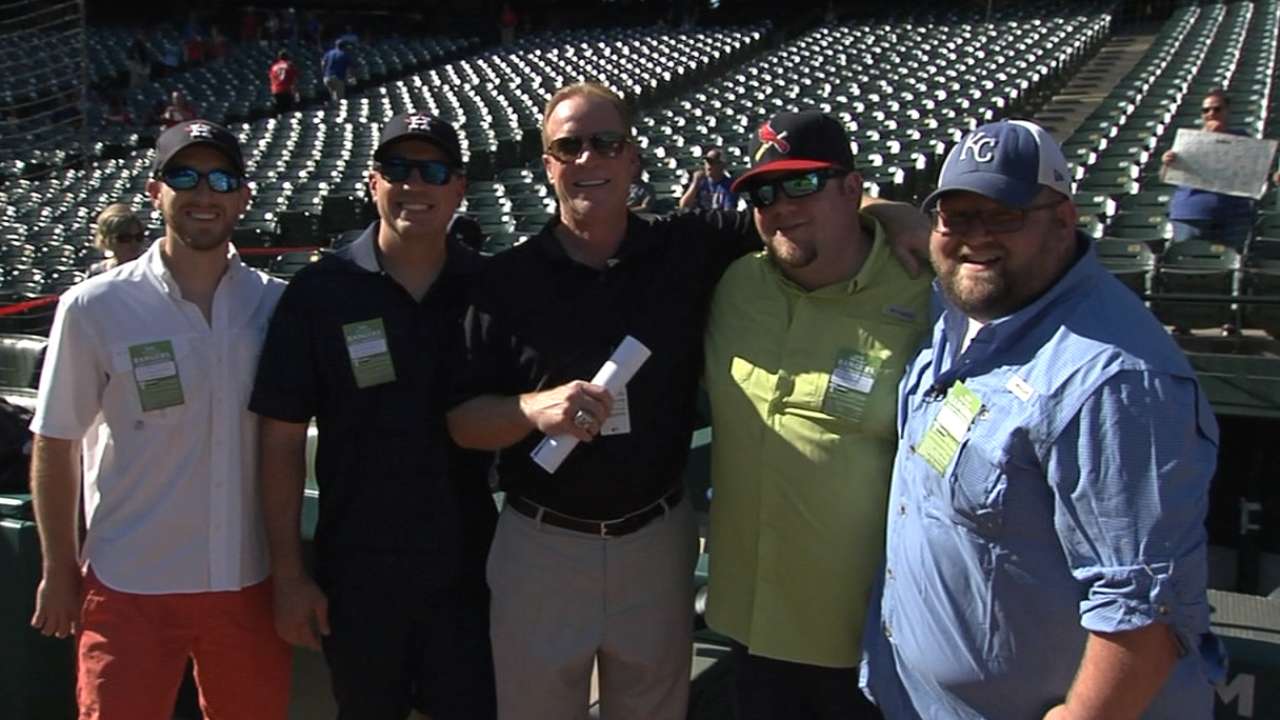 Lifelong Royals fan Sean Daly, a born and raised Kansas City native, lives in Houston, travels extensively for work, and is residing, temporarily, in Iowa.
So it only made sense that when he won the "MLB.com Correspondent for a Day" package in last year's MLB Winter Meetings Stand Up To Cancer auction, he collected at a venue that required yet another road trip. Daly picked Globe Life Park in Arlington, where the Rangers were hosting his beloved World Champion Royals, to claim his winnings.
"Everybody was so gracious with their time," Daly said after chatting with several key Royals figures on the field Saturday during batting practice. "This is work for them. It's not just goofing around like it is with me."
The MLB.com Correspondent package offered an up-close view from a reporter's perspective, which included spending ample time on the field during batting practice gathering information from team personnel, as well as mingling in the press box with reporters, multimedia crews and team broadcasters. The deal also included four tickets to that day's game.
Standing on the field with three of his buddies, Daly, who also successfully bid on a Royals Spring Training meet-and-greet the prior year, chatted with manager Ned Yost, obtained autographs from Eric Hosmer and Salvador Perez -- who included "MVP" on the World Series ball he signed -- and met Royals broadcaster Rex Hudler.
Daly also mingled with royals.com beat reporter Jeffrey Flanagan and met two more broadcasters, Ryan Lefebvre and Steve Stewart, in the press box.
For a fiercely loyal Royals fan who tries to see them play in a different ballpark every year, the experience could not have been better received.
"This is a really awesome opportunity," Daly said. "I've been a Royals fan my whole life. I went to Game 5 of the World Series last year and all the games the year before that. It's a family tradition -- with my grandparents, and my folks and my sister. All big fans. It's been awesome."
For the past four years, Major League Baseball and its 30 Clubs have organized a Winter Meetings charity auction that includes once-in-a-lifetime experiences and unique items to benefit Stand Up To Cancer (SU2C). The initiative was inspired by the numerous members of the baseball family who have been diagnosed with cancer in recent years, some of whom have succumbed to the disease.
In addition to contributing to Stand Up To Cancer, funds raised from the auction also go to charities that have been championed by front office members afflicted with cancer, or to the families of those who have passed away.
Media relations departments have been an integral part of making this auction unlike any other. Up-for-bid items go well beyond the standard jerseys, autographed balls and other signed mementos typically offered at charity functions, and that's a credit to the public relations directors, who are among the closest to those in uniform and in turn can take liberties in thinking outside the box.
That's how prized packages such as taking batting practice on the field, private hitting lessons with Hall of Famers, Spring Training workout sessions with team icons and lunches with entire coaching staffs are put into motion. Creativity is at a premium, as evidenced by the prize the Mets offered a couple of years ago -- a haircut with follicly-blessed pitcher Jacob deGrom.
In four years, the auction has raised approximately $650,000.
"MLB really takes it seriously," said Daly, who spent more than $2,600 for his Royals prize. "They keep doing things like this, they'll keep raising money. I see the values of these [prizes] goes up every year, which is awesome."
Alyson Footer is a national correspondent for MLB.com. Follow her on Twitter @alysonfooter. This story was not subject to the approval of Major League Baseball or its clubs.