Harrison sore after collision at first base
Throw took Pirates second baseman into oncoming runner Broxton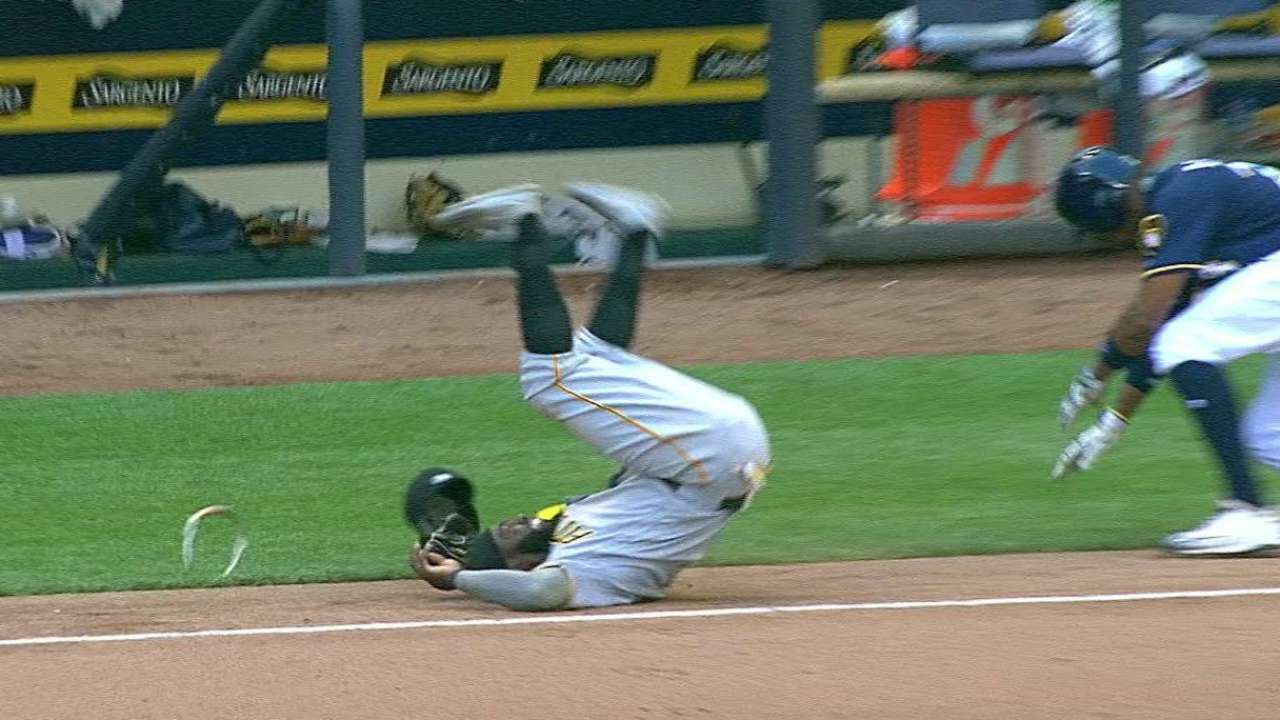 MILWAUKEE -- Pirates second baseman Josh Harrison left Sunday's 4-2 loss to the Brewers at Miller Park with a sore right leg following a collision at first base.
After the game, Harrison said he felt some pain throughout his right leg, like a muscle cramp or spasm that wouldn't go away, but he wasn't sure if the injury would keep him out of the lineup Tuesday in Atlanta. The Pirates are off Monday.
"I've been worse. I've been better," Harrison said. "We'll see. I think it's a good thing that I'm not being carted out of here."
Brewers outfielder Keon Broxton, a former Pirates prospect, dropped a sacrifice bunt with two on and nobody out in the sixth inning. Third baseman David Freese fielded the bunt and fired to Harrison, who was covering first base.
"I knew it was one of those plays where we were going to collide. I just didn't know how. I just took cover," Harrison said. "He's going full-speed, and I'm at a standstill waiting on the ball. Where he was, I've just got to brace myself."
Broxton crashed into Harrison, and both players fell to the ground after Broxton's left leg banged into Harrison's right leg. The Brewers outfielder quickly popped up and walked into the dugout. After getting the all to home plate to keep a run from scoring, Harrison began writhing in pain.
Yet Harrison had the presence of mind to flip the ball to first baseman John Jaso, keeping Brewers catcher Martin Maldonado at third base.
"I was thinking if I was on base, I would have tried to go," Harrison said. "So I was trying to be aware, keep that guy from scoring."
Head athletic trainer Todd Tomczyk and manager Clint Hurdle came out to check on Harrison, who slowly stood up and walked off the field.
Rookie Adam Frazier replaced Harrison at second base. The Pirates called up utility infielder Max Moroff on Sunday to give them additional position-player depth behind Frazier.
"We'll continue to see how I feel," Harrison said.
Adam Berry has covered the Pirates for MLB.com since 2015. Follow him on Twitter at @adamdberry. This story was not subject to the approval of Major League Baseball or its clubs.