Locke, Vogelsong set to rejoin Bucs' rotation
Lefty to start Wednesday; veteran right-hander will toe rubber Thursday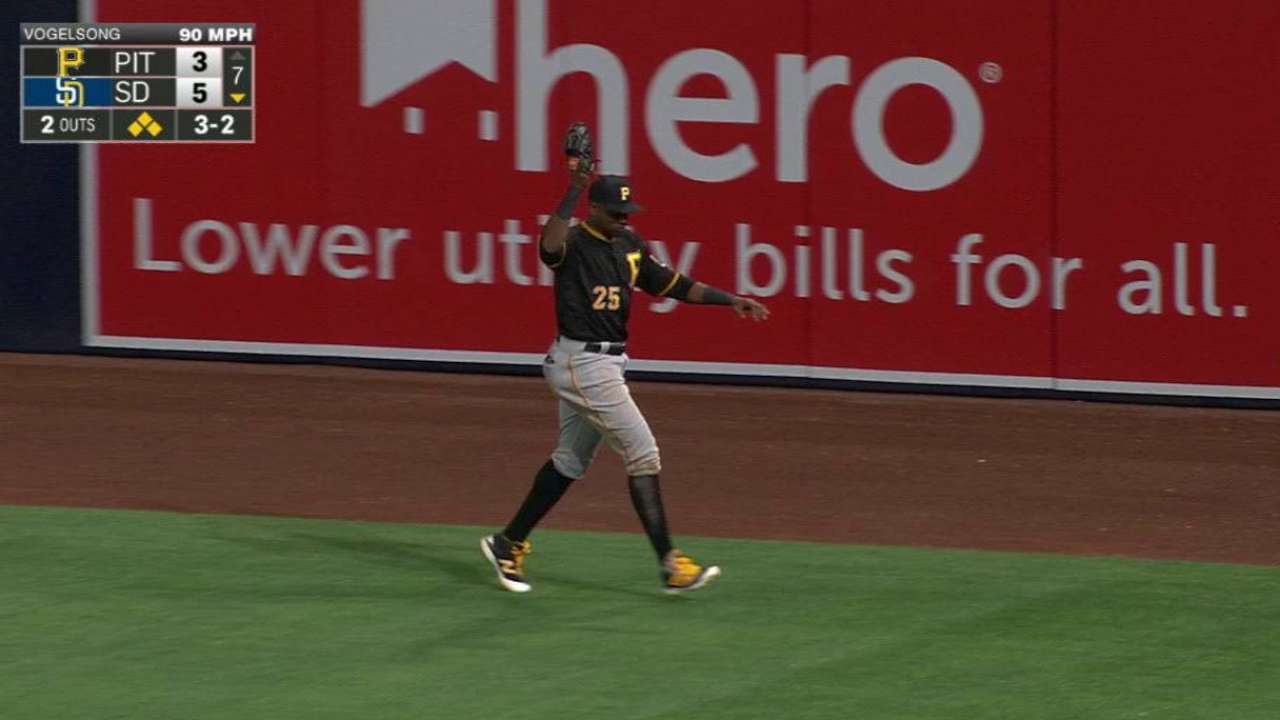 MILWAUKEE -- With the non-waiver Trade Deadline a day away, the Pirates' rotation remains in flux. But they provided some clarity, at least in the short term, on Sunday morning.
Left-hander Jeff Locke and right-hander Ryan Vogelsong will start Wednesday and Thursday, respectively, in the Pirates' last series against the Braves at Turner Field.
For Locke, it will be a return to the rotation after a brief stint in the bullpen. For Vogelsong, it will be a rewarding end after a long road back following a scary injury that he briefly feared would end his career.
Vogelsong sustained multiple facial fractures when he was hit in the left eye by a Jordan Lyles fastball on May 23. He was initially afraid he'd lose his eyesight, or that it would never be good enough to pitch.
"You can't replicate the playoffs or World Series baseball, but from an emotional standpoint, it's going to be way up there," Vogelsong said. "The last couple days, I've thought about what happened. I feel very blessed and fortunate that I'm even getting another chance to play this game, because there was a couple days there where I didn't know."
Vogelsong is 1-1 with a 3.74 ERA in 21 2/3 innings this season. Signed as a starter, the 39-year-old right-hander primarily pitched out of the bullpen before the injury.
"Being able to do what I came here to do, which is start and help get this team where we want to be, is exciting," said Vogelsong, already watching video of Braves hitters on Sunday. "I didn't exactly see it going this way to get to this point, but I'm excited about the opportunity to start and help this team win."
Locke (8-6, 5.43 ERA) was assigned to the bullpen after the All-Star break. He has made some strong starts this season but remains bafflingly inconsistent, a reputation he still hopes to change.
"Maybe you need to get that fire lit, whatever the case may be," Locke said. "We're working hard to get back to where we need to be. Just excited for the opportunity."
With the addition of Locke and Vogelsong, and the demotion of lefty Steven Brault, the Pirates will have five starters in their rotation: Jameson Taillon, Francisco Liriano, Gerrit Cole, Locke and Vogelsong.
However it's too early to say those five, particularly Locke and Vogelsong, are set in stone as their second-half rotation.
"That's always a tough question," general manager Neal Huntington said Sunday on 93.7 The Fan, "because we don't want guys looking over their shoulders thinking they're pitching for their lives."
The Pirates still have a number of intriguing prospects in the Minors (Brault and Trevor Williams), recovering from injuries (Tyler Glasnow) or both (Chad Kuhl). Huntington said Pittsburgh's rotation could change over the final two months based on who's available, off-days and matchups.
It also could change based on what happens leading up to Monday's 4 p.m. ET Trade Deadline. The Pirates are in the market for a young, controllable starting pitcher, and Huntington repeated on Sunday that the Bucs "absolutely continue to try to add to this club."
Adam Berry has covered the Pirates for MLB.com since 2015. Follow him on Twitter at @adamdberry. This story was not subject to the approval of Major League Baseball or its clubs.