Rangers will aim to show patience with Gallo
Choo expecting to come off the disabled list on Thursday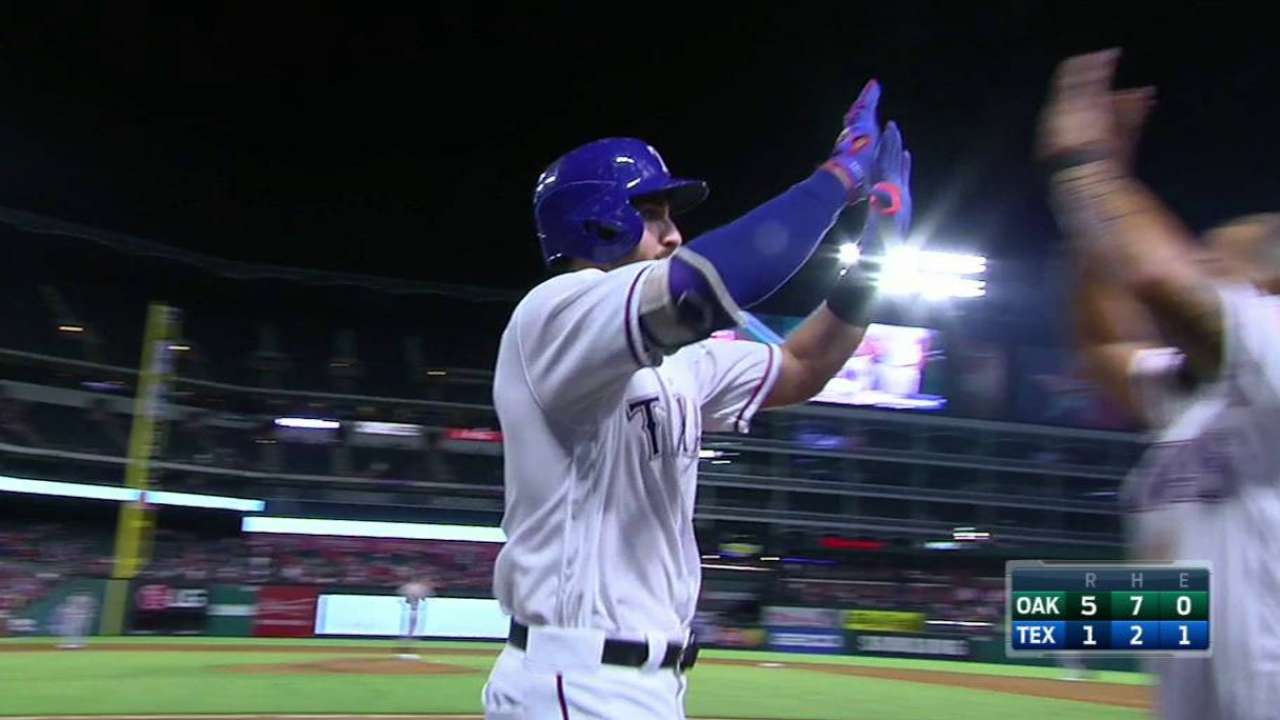 ARLINGTON -- It didn't take Joey Gallo long to display his prodigious power in his second stint with the Rangers this season. Gallo, the club's No. 1 prospect according to MLBPipeline.com, hit a 448-foot homer of A's right-hander Sonny Gray in his second at-bat after being recalled on Tuesday.
The 22-year-old slugger hadn't recorded another hit since entering Sunday, though, and had struck out nine times in 14 at-bats. Rangers manager Jeff Banister is urging patience with the team's prized prospect.
"He's still young. Still a lot of growth and adjustments that need to be made," Banister said. "This guy has a Minor League power pedigree that we're willing to be patient with. This is a guy given an opportunity to make some adjustments, he can impact the game like very few can."
Banister gave the left-handed-hitting Gallo the day off in Sunday's series finale against the Royals, despite right-hander Dillon Gee starting for Kansas City. Five of Gallo's nine strikeouts during this stint with Texas had come over the previous two games, including three on Saturday.
"Obviously [Saturday] didn't go the way I liked it to," Gallo said. "I thought the days before that the at-bats were good, the results just weren't there. Yesterday, I kind of just swung at what they wanted me to swing at."
Banister didn't want to look too deep into the strikeouts over the previous two days. Especially considering Gallo was going up against veteran right-handers Ian Kennedy and Edinson Volquez.
"Kennedy didn't make a whole lot of mistakes last night," Banister said of the Royals starter, who yielded just one run on six hits in seven innings on Saturday. "Volquez is pretty good, too. He can be pretty tough on young guys."
"You don't see those kind of guys down [in the Minors]," Gallo said. "So when you're down there for so long it's tough to just jump right back in and be good."
Choo ready for Thursday
Outfielder Shin-Soo Choo, on the 15-day disabled list with lower back inflammation, said he thinks he'll be ready to be activated on Thursday, the first day he's eligible to return.
Choo has been on the DL since July 20. He's been able to go through all baseball activities pain free the last couple of days.
He's scheduled to hit live batting practice against left-hander Derek Holland, who's recovering from shoulder inflammation and is on the 60-day disabled list, on Tuesday in Baltimore. Choo has been standing in on bullpens, as well, to help get his timing back.
Choo doesn't expect to go on a rehab assignment.
"This time I don't really need it, it's just been two weeks," Choo said. "If it was a month, maybe a couple games. ... I think I'll be fine."
Worth noting
• Reliever Tanner Scheppers, on the disabled list while recovering from left knee surgery, has returned to Arlington for a routine checkup with Dr. Keith Meister. Scheppers threw a two-inning simulated game on Wednesday and is hoping to be cleared for a medical rehab assignment.
• Mitch Moreland's walk-off home run on Saturday was the second of his career. He is just the third first baseman in Rangers history with two career walk-off homers -- joining Pete O'Brien (three) and Rafael Palmeiro (two).
Ryan Posner is a reporter for MLB.com based in Texas. This story was not subject to the approval of Major League Baseball or its clubs.