Bruce out of lineup prior to Trade Deadline
Rumors continue to swirl around Reds' veteran outfielder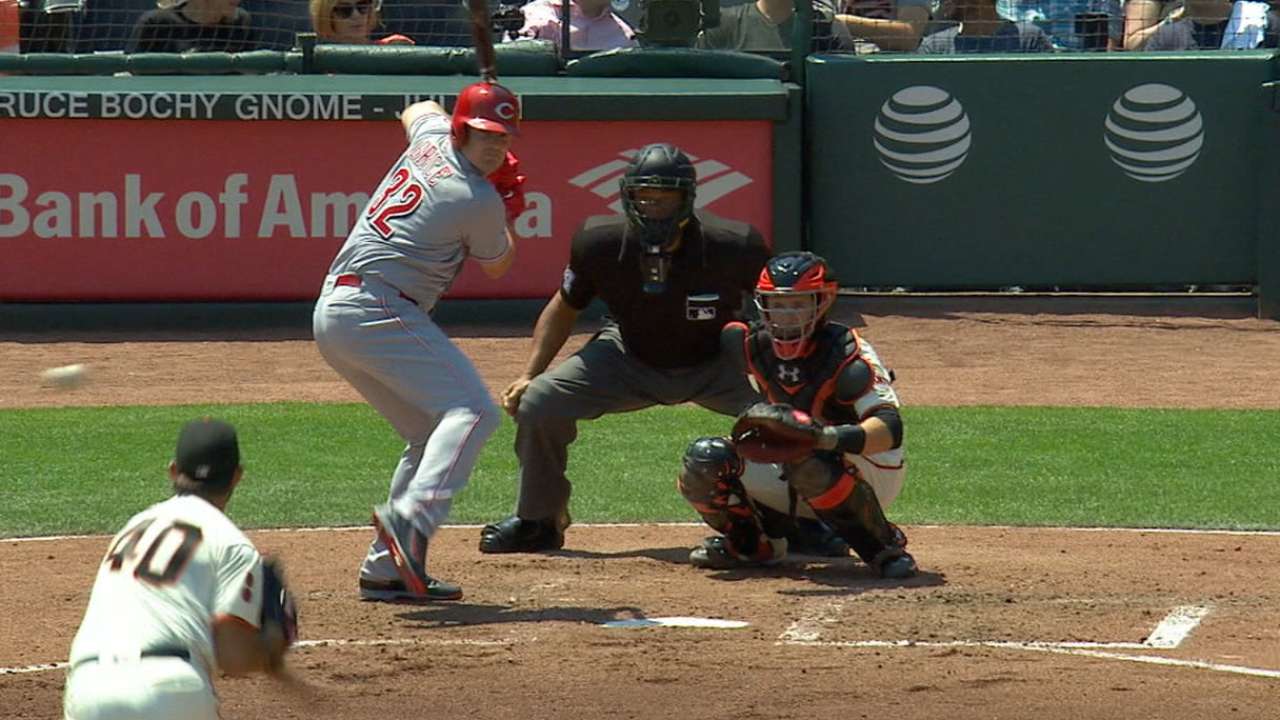 SAN DIEGO -- If Sunday was in fact right fielder Jay Bruce's last game with the Reds before Monday's 4 p.m. ET non-waiver Trade Deadline, he spent it out of the starting lineup. After initially penciling Bruce in the order, manager Bryan Price decided to scratch him against the Padres.
According to Price, no deal was imminent for Bruce. However, USA Today's Bob Nightengale reported on Monday morning that the Reds had reached an agreement to deal the three-time All-Star to a National League club not expected to be the Dodgers. The Reds have not commented on or confirmed the report.
"Nothing has happened, but I'm just giving him the day off today. It's a little bit of a mental blow," Price said on Sunday. "This kid has been through the ringer with this for a couple of years. And it's tough, because he loves it here. It doesn't mean anything is going to happen. We might be playing Tuesday with Jay in right field. You can only imagine what it's like to be out there, not knowing exactly what your future looks like.
"I'm not doing anything based on a request by him or anyone else."
The Reds have a scheduled day off on Monday. With Bruce out, Adam Duvall shifted to right field and Jose Peraza was given the start in left.
Bruce, who saw his five-game streak with a home run end on Friday, has largely been able to block out the distraction of trade rumors. But he said it has been weighing on him as the Deadline gets closer and the rumors intensify.
"Obviously, I like to play every day. Obviously with everything going on, they just wanted to kind of give me a breather," Bruce said. "It's been tough. This has been the most crazy situation I've ever dealt with in baseball. I'm an employee. I'm following what they tell me. I respect their decision."
Bruce, who was nearly dealt at the Deadline last season and again before the start of Spring Training this year, has been glued to his phone and checking the internet for trade rumors. He did not think sitting out could give him too much time on his hands to worry.
"I think regardless of the time being idle or not idle, I think about it pretty much 100 percent of the day at this point," Bruce said. "I think that's just the nature of it. I really pride myself on dealing with this stuff professionally, respecting everyone else. The thing I did not want to happen that has happened a little bit, it's kind of consumed the clubhouse. I don't ever want to be a distraction."
• Bruce wants conclusion to trade speculation
Bruce has been linked in rumors to the Mets and Dodgers the past couple of days, but teams such as the Orioles, Giants and Blue Jays also could use a left-handed power-hitting outfielder. He is making $12.5 million this season, with a $13 million club option for 2017 that has a $1 million buyout.
Overnight Saturday and early Sunday, a proposed trade that would have sent All-Star Brewers catcher Jonathan Lucroy to the Indians for prospects was called off when he would not waive his limited no-trade clause. That put the Mets back into play in pursuing Lucroy, and that could also have ramifications for Bruce if the Reds and Brewers are pursuing similar returns.
"It's starting to come to a bit of a head," Bruce said of the Deadline. "It's just the nature of the time of the year. It's everywhere. I can't imagine what Milwaukee's clubhouse is like right now."
Mark Sheldon has covered the Reds for MLB.com since 2006, and previously covered the Twins from 2001-05. Follow him on Twitter @m_sheldon and Facebook and listen to his podcast. This story was not subject to the approval of Major League Baseball or its clubs.