Snitker on Francoeur: 'He's a special guy'
Hometown hero hits first Braves homer at Turner Field since 2009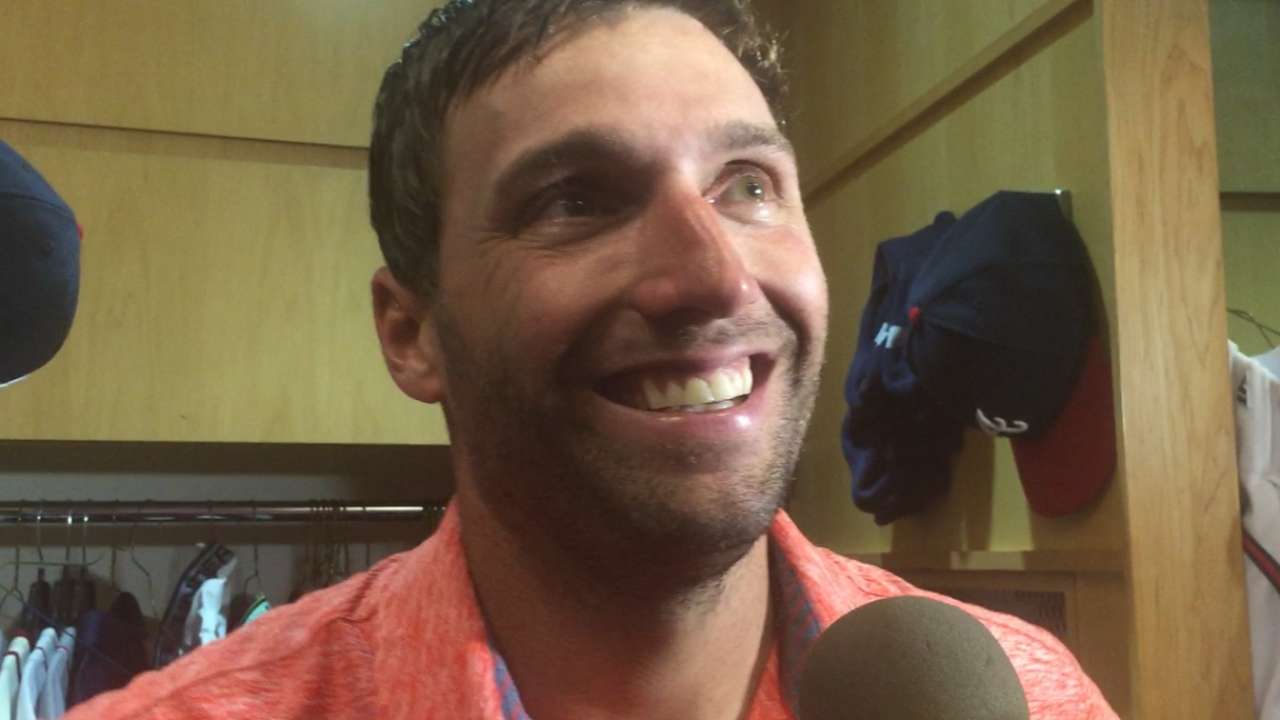 ATLANTA -- Though he spent seven years away from his hometown team and has reached a point to where he's had to accept a backup role, Jeff Francoeur has still received royal treatment from those Braves fans who still fondly remember those days when he was recognized as their team's next king.
Francoeur has savored the opportunity to play in Atlanta again this season and experience thrills like the one he created on Sunday, when he drilled a two-run homer in the seventh inning that proved decisive for the Braves in their 2-1 win over the Phillies. This marked the first time in nearly seven full calendar years that he had homered at Turner Field as a member of his hometown team.
"I think when you're 22 or 23, you think you'll just do it again tomorrow," Francoeur said. "This was a good way for me to get in there today and contribute. When they signed me, that's the kind of stuff they wanted me to do. When you get a spot start like today and provide a big hit, it's nice."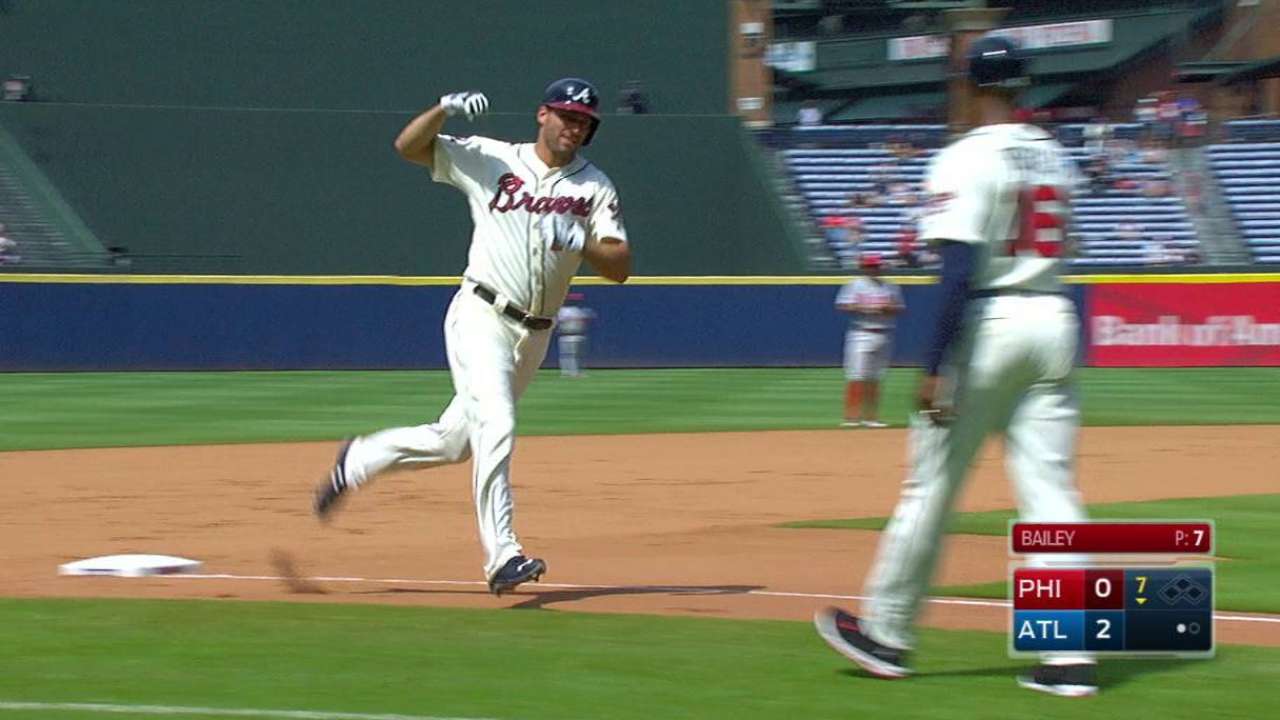 Long removed from those glory days when he was in his early 20s and stood as one of the Braves' most popular players, Francoeur has come to realize there is never reason to take anything for granted. He spent most of the 2014 season at the Minor League level and then experienced a rebirth, as he spent last year benefiting from the guidance of Charlie Manuel, who provided both mechanical and mental guidance.
Francoeur might have been the last position player to gain a roster spot for the Braves out of Spring Training, but the value he has provided as a backup outfielder and clubhouse leader has led Atlanta general manager John Coppolella to make it clear he has no intention to flip Francoeur before Monday's 4 p.m. ET non-waiver Trade Deadline. Coppolella has asked for a team's top-10 prospect in return whenever he has received calls regarding Francoeur.
"Coppy has been very open with me, so I know if something out of the blue was to happen, we'll be in contact," Francoeur said. "That's always nice when you have a GM like that who is open to you and communicates, because there are a lot of places where that doesn't happen. I hope I'm here Tuesday, ready to face the Pirates."
Francoeur has batted .250 with seven home runs and a .683 OPS through his first 253 plate appearances of this season. His two-run shot off Andrew Bailey in Sunday's win was the first home run he has hit as a Brave at Turner Field since June 24, 2009, when he homered off the Yankees' Joba Chamberlain.
Having known Francoeur throughout most of his professional career, Braves manager Brian Snitker is among the many who have come to appreciate the many special moments the likable outfielder has experienced back home this year. Snitker had the pleasure of informing Francoeur he was going to the Majors for the first time back in 2005, when they were together with Double-A Mississippi.
"I've known him from the get-go, and you can't help but to gravitate toward the guy and love him to death," Snitker said. "When he does well, I'm as happy as anybody. He's a special guy."
Mark Bowman is a reporter for MLB.com. Listen to his podcast. This story was not subject to the approval of Major League Baseball or its clubs.